Ethics in Law Enforcement
Ethics in Law Enforcement
BCcampus
Victoria, B.C.
Ethics in Law Enforcement
Ethics in Law Enforcement by Steve McCartney and Rick Parent is licensed under a Creative Commons Attribution 4.0 International License, except where otherwise noted.
© 2015 Steve McCartney and Rick Parent
The CC licence permits you to retain, reuse, copy, redistribute, and revise this book—in whole or in part—for free providing the author is attributed as follows:
Ethics in Law Enforcement
by Steve McCartney and Rick Parent is used under a
CC BY 4.0 Licence
.
If you redistribute all or part of this book, it is recommended the following statement be added to the copyright page so readers can access the original book at no cost:
This textbook can be referenced. In APA citation style, it should appear as follows:
McCartney, S. & Parent, R. (2015). Ethics in Law Enforcement. Victoria, B.C.: BCcampus. Retrieved from http://opentextbc.ca/ethicsinlawenforcement/.
Cover image attribution:
Ebook ISBN: 978-1-989623-63-3
Print ISBN: 978-1-989623-62-6
Visit BCcampus Open Education to learn about open education in British Columbia.
Accessibility Statement
1
BCcampus Open Education believes that education must be available to everyone; this means supporting the creation of free, open, and accessible educational resources. We are actively committed to increasing the accessibility and usability of the textbooks we produce.
Accessibility features of the web version of this resource
The web version of Ethics in Law Enforcement includes the following features:
It as been optimized for people who use screen-reader technology:

all content can be navigated using a keyboard
links, headings, tables use proper markup
all images have text descriptions

It includes an option to increase font size. (See tab on top right of screen titled, "Increase Font Size.")
Other file formats available
In addition to the web version, this book is available in a number of file formats including PDF, EPUB (for eReaders), MOBI (for Kindles), and various editable files. Here is a link to where you can download this book in another file format. Look for the Download this book drop-down menu to select the file type you want.
If you are using a print copy of this book, you can find the web addresses of all websites reference in this book in the back matter.
Known accessibility issues and areas for improvement
There are no known accessibility issues at this time.
Let us know if you are having problems accessing this book
If any of the above accessibility issues are stopping you from accessing the information in this textbook, please contact us to let us know and we will get it fixed. If you discover any other issues, please let us know of those as well.
Please include the following information:
The location of the problem by providing a web address or page description
A description of the problem
The computer, software, browser, and any assistive technology you are using that can help us diagnose and solve your issue
e.g., Windows 10, Google Chrome (Version 65.0.3325.181), NVDA screen reader
You can contact us through the following form: Report an Open Textbook Error
Help us improve the accessibility of our resources
Are you interested in helping us make more of our textbooks accessible? If you have Pressbooks experience, a basic knowledge of web accessibility guidelines, and some time your are willing to volunteer, we would love some help as we have a number of textbooks that need remediation work. Contact us.
This statement was last updated on July 11, 2019.

About BCcampus Open Education
2
Ethics in Law Enforcement was published by BCcampus.
BCcampus Open Education began in 2012 as the B.C. Open Textbook Project with the goal of making post-secondary education in British Columbia more accessible by reducing student costs through the use of openly licensed textbooks and other OER. BCcampus supports the post-secondary institutions of British Columbia as they adapt and evolve their teaching and learning practices to enable powerful learning opportunities for the students of B.C. BCcampus Open Education is funded by the British Columbia Ministry of Advanced Education and Skills Training, and the Hewlett Foundation.
Open textbooks are open educational resources (OER) created and shared in ways so that more people have access to them. This is a different model than traditionally copyrighted materials. OER are defined as teaching, learning, and research resources that reside in the public domain or have been released under an intellectual property license that permits their free use and re-purposing by others. Our open textbooks are openly licensed using a Creative Commons licence, and are offered in various e-book formats free of charge, or as printed books that are available at cost. For more information about open education in British Columbia, please visit the BCcampus Open Education website. If you are an instructor who is using this book for a course, please fill out our Adoption of an Open Textbook form.
The police are essential to democracy. By ensuring that no person is above the law, the police protect citizens from victimization. Through the enforcement of the law, police ensure that no individual or group violently asserts its will over public order.

Caldero, M. and Crank, J. (2004) Police Ethics: The Corruption of Noble Cause, Second edition. Mathew Bender and Company.
Debate the major arguments concerning the importance of ethics in law enforcement.
Distinguish the issues relating to morals, ethics, values, ethical codes, ethical standards, and ethical dilemmas.
Contrast individual and organizational values and responsibilities.
Analyze an ethical dilemma.
Contrast issues that include decision making, discretion, and the structure of accountability.
Differentiate between organizational and individual misconduct and issues related to consequences and liability.
Using critical thinking, evaluate the moral issues related to a course of action including the resolution of an ethical dilemma.
In this book, you will examine the moral and ethical issues that exist within law enforcement. This book will also familiarize you with the basic history, principles, and theories of ethics. These concepts will then be applied to the major components of the criminal justice system: policing, the courts, and corrections. Discussion will focus on personal values, individual responsibility, decision making, discretion, and the structure of accountability. Specific topics covered will include core values, codes of conduct, ethical dilemmas, organizational consequences, liability, and the importance of critical thinking. By the end of this book, you will be able to distinguish and critically debate contemporary ethical issues in law enforcement.
Appendix. The British Columbia Police Code of Ethics
1
The people of British Columbia expect the police to serve with courage, fairness, impartiality and integrity and to apply democratic principles that honour human dignity in the pursuit of justice. Recognizing that the policing profession is distinguished by the character and values of the individuals within it, the British Columbia Police Code of Ethics reflects the commitment of all Police Officers in British Columbia, regardless of their rank or position, to ethical principles and values, and acceptance of the responsibilities and privilege that accompany public service. Moreover, it is recognized that the Police Code of Ethics applies both individually and collectively, and as such applies equally to the organizations and agencies that make up the policing profession in British Columbia.
Fundamental Principles
Police Officers in the Province of British Columbia, along with their respective organizations and agencies, embrace the following Fundamental Principles, which underpin the Guiding Values, Primary Responsibilities and Decision-Making framework.
democracy & the rule of law
justice & equality
protection of life & property
safeguarding the public trust
that the police are the public and the public are the police
the principles of the Constitution of Canada
the rights enshrined in the Charter of Rights & Freedoms
Guiding Values
Police Officers in the Province of British Columbia, along with their respective organizations and agencies, look to the following Guiding Values, which should direct all our decisions. Moreover, we recognize that our decisions will be judged according to how well they correspond to these values.
citizenship
courage
fairness
impartiality
integrity
loyalty
public service
respect
Primary Responsibilities
Police Officers in the Province of British Columbia affirm the following Primary Responsibilities, which are defined in terms of three key relationships. First, there is the Public, for whom we serve. Next there are Professional Partners, with whom we work, and ourselves Personally, to whom we must be true. Moreover, we recognize that responsibility occurs personally and collectively, and that accountability must accompany responsibility for it to be effectual.
The Public
Our basic policing duties are to protect lives and property, preserve peace and good order, prevent crime, detect and apprehend offenders and enforce the law, while at the same time protecting the rights and freedoms of all persons as guaranteed in our Charter of Rights and Freedoms. In fulfilling these duties, we must strive for excellence, which includes the exercise of professional discretion and judgment in a manner consistent with our Fundamental Principles and Guiding Values. Recognizing, however, that the ability of the police to perform their duties is dependant upon public approval, support and willing cooperation, we must also provide open, responsive, impartial and accessible service. In other words, to safeguard the public trust, we will be responsible to the public and accountable publicly for what we do. 
The Policing Profession and Partners
Consistent with our duties and responsibilities to the public, we are also responsible to the policing profession. First, we must always respect and to the best of our abilities abide by the standards of the profession, while at the same time seeking to improve them. To accomplish this, we will demonstrate a willingness to engage in open dialogue, which raises important issues and significant opportunities that can advance the profession for the purpose of providing better policing service to the public. This entails an openness to change and recognition of the need for the policing profession to develop informed, collaborative and participative police officers.
In addition to the policing profession, we are responsible to other professions that also serve the public. We must always cooperate with other police and law enforcement professionals, and with all those in the criminal justice system, in order to develop an open, just, and impartial justice system. As well, we must always strive to cooperate with other public service professionals in order to advance the public good. This involves the sharing of information in a relationship-building manner that celebrates the interdependent nature of professionals in promoting the goals of the justice system. This information sharing must balance confidentiality needs and due process with the needs of professionals, who are working for justice and the common good.
Personally
We accept personal responsibility for acting legally and ethically. The Police Officer is a model of discipline under trying circumstances, but to achieve this we must practice humility and a desire to learn from our experiences and mistakes and those of others. As individuals we must have a clear idea of how to separate private advantage from public service and to make decisions that avoid conflicts of interest and the appearance of personal gain. As well, ethical behavior entails duties that we owe to ourselves personally. In addition to reflecting upon what is right and what is wrong in the context of policing, we must as individuals develop a proper balance between our work and our personal life.
Ethical Decision-Making
Acting responsibly towards the Public, the Policing Profession and its Partners, and to ourselves Personally, will reduce the number and severity of ethical difficulties faced in policing, but it will not eliminate them. Ethical difficulties emerge when Police Officers, either as individuals or collectively, act in a way that is not defensible on legal and ethical grounds. To avoid such difficulties, Police Officers, along with their respective organizations and agencies, should ask themselves the following questions, which help to identify ethical issues and to test decisions on ethical grounds.
Is the activity or decision consistent with organizational policy and the law?
Is the activity or decision consistent with the British Columbia Police Code of Ethics?
What are the outcomes or consequences resulting from the activity or decision and whom do they affect?
Do the outcomes or consequences generate more harm than good? Do they create legitimate controversy?
Is the activity or decision likely to raise actual or perceived conflicts of interest where a personal advantage is gained because of one's professional position?
Can the activity or decision be justified legally and ethically? Would the activity or decision withstand public scrutiny on legal and ethical grounds if it resulted in problems that became known generally?
If the answers indicate that there may be a question of professional ethics, then consultation should occur with someone trustworthy and experienced who can provide reasonable direction and advice.
Policing is serious work and there are important issues at stake. It requires not only technical competence but also a willingness to take difficult action in trying times. As well, it requires a recognition that we must act with a concerted commitment to serve and protect using democratic principles in the service of the law while honouring human dignity in the pursuit of justice. And it is this commitment to principled policing that distinguishes us as professionals, both to ourselves and to the public.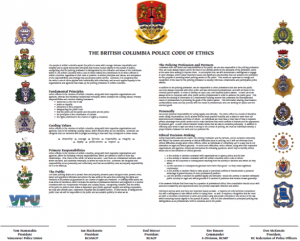 This page provides a record of edits and changes made to this book since its initial publication in the B.C. Open Textbook Collection. Whenever edits or updates are necessary, we make the required changes in the text and provide a record and description of those changes here. If the change is minor, the version number increases by 0.01. However, if the edits involve substantial updates, the version number goes up to the next full number. The files on our website always reflect the most recent version, including the Print on Demand copy.
If you find an error in this book, please fill out the Report an Open Textbook Error form.
Version
Date
Change
Details
1.00
March 14, 2015
Book added to the B.C. Open Textbook Collection.
1.01
June 6, 2019
Updated the book's theme.
The styles of this book have been updated, which may affect the page numbers of the PDF and print copy.
2.00
July 11, 2019
Entire book revised for accessibility.
Accessibility remediation:

Image descriptions added.
Tables reformatted for accessibility.
Link text edited to be descriptive.
Headings added.
Added an Accessibility Statement

Other changes:

Added List of Links by Chapters for Print Users
Added pop-up definitions for key terms in webbook
Moved media attributions to end of each section

2.01
July 23, 2019
Applied a number of changes as part of a project to standardize BCcampus-published books.

Added additional publication information.
Updated copyright information.
Added a Versioning History page.
Renamed the "About the Book" section to "About BCcampus Open Education" and updated the content.

2.02
September 9, 2021
New content added

Added 4.7 Use of Force Philosophy Theory and Law.
References formatted to be APA.
List of Links by Chapters for Print Users
4
Accessibility Statement
Contact us: https://open.bccampus.ca/contact-us/
Download this book in another file format: https://opentextbc.ca/foodsafety/
Report an open textbook error: https://open.bccampus.ca/reporting-an-open-textbook-error/
Web version of Modern Pastry and Plated Dessert Techniques: https://opentextbc.ca/foodsafety/
About BCcampus Open Education
Adoption of an open textbook: https://open.bccampus.ca/use-open-textbooks/tell-us-youre-using-an-open-textbook/
BCcampus: https://bccampus.ca/
BCcampus Open Education: https://open.bccampus.ca/
British Columbia Ministry of Advanced Education, Skills & Training: https://www2.gov.bc.ca/gov/content/governments/organizational-structure/ministries-organizations/ministries/advanced-education-skills-training
Creative Commons licence: https://creativecommons.org/licenses/
Hewlett Foundation: http://www.hewlett.org/
Chapter 3: Ethical Dilemmas and the Process of Effective Resolution
BC Corrections: http://www.pssg.gov.bc.ca/corrections/about-us/core-values.htm
Canadian Border Services Agency (CBSA): http://www.cbsa-asfc.gc.ca/agency-agence/reports-rapports/acc-resp/code-eng.html#a_1_5
Framework that is used by social workers to address ethical dilemmas: https://www.naswma.org/page/100/Essential-Steps-for-Ethical-Problem-Solving.htm
Royal Canadian Mounted Police (RCMP): http://www.rcmp-grc.gc.ca/about-ausujet/mission-eng.htm
The Ethics Code Center: http://www.ethics.org/resource/definitions-values
Vancouver Police Department core values: http://vancouver.ca/police/recruiting/police-officers/recruitment-standards.html
Chapter 4: Key Ethical Issues within Law Enforcement
Obedience Power and Leadership from Principles of Social Psychology: http://opentextbc.ca/socialpsychology/chapter/obedience-power-and-leadership/
Person, Gender, and Cultural Differences in Conformity from Principles of Social Psychology: http://opentextbc.ca/socialpsychology/chapter/person-gender-and-cultural-differences-in-conformity/
The Confederate's Schedule of Protest in the Milgram Experiments: http://opentextbc.ca/socialpsychology/chapter/obedience-power-and-leadership/#table6.1
The Shock Apparatus Used in Milgram's Obedience Study: http://opentextbc.ca/socialpsychology/chapter/obedience-power-and-leadership/#figure6.9
Chapter 5: Accountability and Investigation
Royal Canadian Mounted Police Act: http://laws-lois.justice.gc.ca/eng/acts/R-10
Appendix. The British Columbia Police Code of Ethics
British Columbia Police Code of Ethics [PDF]: https://www.nwpolice.org/wp-content/uploads/BC-Police-Code-of-Ethics-Document.pdf