Building Blocks of Managerial Accounting
9

Identify and Apply Basic Cost Behavior Patterns

Now that we have identified the three key types of businesses, let's identify cost behaviors and apply them to the business environment. In managerial accounting, different companies use the term cost in different ways depending on how they will use the cost information. Different decisions require different costs classified in different ways. For instance, a manager may need cost information to plan for the coming year or to make decisions about expanding or discontinuing a product or service. In practice, the classification of costs changes as the use of the cost data changes. In fact, a single cost, such as rent, may be classified by one company as a fixed cost, by another company as a committed cost, and by even another company as a period cost. Understanding different cost classifications and how certain costs can be used in different ways is critical to managerial accounting.

Institute of Management Accountants and Certified Management Accountant Certification

Managerial accountants provide businesses with clear and direct insight into the monetary effects of any particular operational action under consideration. They are expected to report financial information in a transparent and ethical fashion. The Institute of Management Accountants (IMA) offers the Certified Management Accountant (CMA) certification. IMA members and CMAs agree to uphold a set of ethical principles that includes honesty, fairness, objectivity, and responsibility. Any managerial accountant, even if not an IMA member or certified CMA, should act in accordance with these principles and encourage coworkers to follow ethical principles for reporting financial results and monetary effects of financial decisions related to their organization. The IMA Committee on Ethics encourages organizations and individuals to adopt, promote, and execute business practices consistent with high ethical standards.1
Major Cost Behavior Patterns
Any discussion of costs begins with the understanding that most costs will be classified in one of three ways: fixed costs, variable costs, or mixed costs. The costs that don't fall into one of these three categories are hybrid costs, which are examined only briefly because they are addressed in more advanced accounting courses. Because fixed and variable costs are the foundation of all other cost classifications, understanding whether a cost is a fixed cost or a variable cost is very important.
Effects of Changes in Activity Level on Unit Costs and Total Costs
We have spent considerable time identifying and describing the various ways that businesses categorize costs. However, categorization itself is not enough. It is important not only to understand the categorization of costs but to understand the relationships between changes in activity levels and the changes in costs in total. It is worth repeating that when a cost is considered to be fixed, that cost is only fixed for the relevant range. Once the boundary of the relevant range has been reached or moved beyond, fixed costs will change and then remain fixed for the new relevant range. Remember that, within a relevant range of activity, where the relevant range refers to a specific activity level that is bounded by a minimum and maximum amount, total fixed costs are constant, but costs change on a per-unit basis. Let's examine an example that demonstrates how changes in activity can affect costs.
Cost Accounting Helps Reduce Fraud and Promotes Ethical Behavior
Managerial and related cost accounting systems assist managers in making ethical and sound business decisions. Managerial accountants implement accounting reporting systems to minimize or prevent fraud and promote ethical decision-making. For example, tracking changes in costing activity and ensuring that activity remains in a relevant range, helps ensure that an organization's business activity is properly bounded within a reasonable range of expense. If the minimum or maximum expense range is exceeded, this can indicate that management is acting without authority or is pursuing unauthorized activities. Excessive costs may even be a red flag that possible fraud is occurring. Cost accounting helps ensure that financial costs are within an acceptable range and helps an organization make reliable forward-looking financial decisions.
Comprehensive Example of the Effect on Changes in Activity Level on Costs
Pat is planning a three-day ski trip on his spring break after he works on a Habitat for Humanity project in Dallas. The costs for the trip are as follows:

He is considering his costs for the trip if he goes alone, or if he takes one, two, three, or four friends. However, before he can begin his analysis, he needs to consider the characteristics of the costs. Some of the costs will stay the same no matter how many people go, and some of the costs will fluctuate, based on the number of participants.
Those costs that do not change are the fixed costs. Once you incur a fixed cost, it does not change within a given range. For example, Pat can take up to five people in one car, so the cost of the car is fixed for up to five people. However, if he took more friends, then he would need more cars. The condo rental and the gasoline expenses would also be considered fixed costs, because they are not going to change in the reference range.
The costs that do change as the number of participants change are the variable costs. The food and lift ticket expenses are examples of variable costs, since they fluctuate based upon the number of participants and the number of days of activities.
In analyzing the costs, Pat also needs to consider the total costs and average costs. The analysis will calculate the average fixed costs, the total fixed costs, the average variable costs, and the total variable costs.
In the analysis of total costs versus average costs, both total and average fixed costs will stay the same and total and average variable costs will change. Here are the total fixed costs:

The total fixed costs for the trip will be ?720.00, no matter whether Pat goes alone or takes up to 4 friends. However, the average fixed costs will be the total fixed costs divided by the number of participants. The average fixed cost could range from ?720 (720/1) to ?144 (720/5).
Here are the variable costs:

The average variable cost will be ?70.00 per person per day, no matter how many people go on the trip. However, the total variable costs will range from ?70.00, if Pat goes alone, to ?350.00, if five people go. (Figure) shows the relationships of the various costs, based on the number of participants.

Looking at this analysis, it is clear that, if there is an activity that you think that you cannot afford, it can become less expensive if you are creative in your cost-sharing techniques.
Spring Break Trip Planning
Margo is planning an 8-day spring break trip from Atlanta, Georgia, to Tampa, Florida, leaving on Sunday and returning the following Sunday. She has located a condominium on the beach and has put a deposit down on the unit. The rental company has a maximum occupancy for the condominium of seven adults. There is an amusement park that she plans to visit. She is going to use her parents' car, an SUV that can carry up to six people and their luggage. The SUV can travel an average of 20 miles per gallon, the total distance is approximately 1,250 miles (550 miles each way plus driving around Tampa every day), and the average price of gas is ?3 per gallon. A season pass for an amusement park she wants to visit is ?168 per person. Margo estimates spending ?40 per day per person for food. She estimates the costs for the trip as follows:

Now that she has cost estimates, she is trying to decide how many of her friends she wants to invite. Since the car can only seat six people, Marg made a list of five other girls to invite. Use her data to answer the following questions and fill out the cost table:
What are the total variable costs for the trip?
What are the average variable costs for the trip?
What are the total fixed costs for the trip?
What are the average fixed costs for the trip?
What are the average costs per person for the trip?
What would the trip cost Margo if she were to go alone?

What additional costs would be incurred if a seventh girl was invited on the trip? Would this be a wise decision (from a cost perspective)? Why or why not?
Which cost will not be affected if a seventh girl was invited on the trip?
Solution

Answers will vary. All responses should recognize that there is no room in the car for the seventh girl and her luggage, although the condominium will accommodate the extra person. This means they will have to either find a larger vehicle and incur higher gas expenses or take a second car, which will at least double the fixed gas cost.
Key Concepts and Summary
Costs can be broadly classified as either fixed or variable costs. However, in order for managers to manage effectively, these two cost classifications are often further expanded to include mixed, step, prime, and conversion costs.
For manufacturing firms, it is essential that they differentiate among direct materials, direct labor, and manufacturing overhead in order to identify and manage their total product costs.
For planning purposes, managers must be careful to consider the relevant range because it is only within this relevant range that total fixed costs remain constant.
(Figure)Identify and describe the three types of product costs in a manufacturing firm.
Answers will vary but must include direct materials, direct labor, and manufacturing overhead.
(Figure)Explain the difference between a period cost and a product cost.
(Figure)Explain the concept of relevant range and how it affects total fixed costs.
Answers will vary but should include that fixed costs remain fixed in total across the relevant range, bounded by a minimum and maximum activity level.
(Figure)Explain the differences among fixed costs, variable costs, and mixed costs.
(Figure)Explain the difference between prime costs and conversion costs.
Answers will vary but should include that prime costs are the direct material and direct labor costs, and conversion costs are direct labor and general factory overhead combined.
(Figure)Listed as follows are various costs found in businesses. Classify each cost as a fixed or variable cost, and as a product and/or period cost.
Wages of administrative staff
Shipping costs on merchandise sold
Wages of workers assembling computers
Cost of lease on factory equipment
Insurance on factory
Direct materials used in production of lamps
Supervisor salary, factory
Advertising costs
Property taxes, factory
Health insurance cost for company executives
Rent on factory
(Figure)Wachowski Company reported these cost data for the year 2017.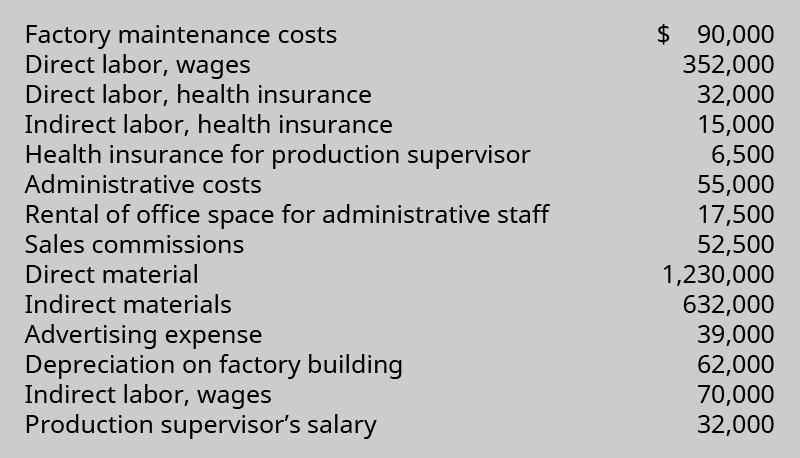 Use the data to complete the following table.
| | |
| --- | --- |
| Total prime costs |   |
| Total manufacturing overhead costs |   |
| Total conversion costs |   |
| Total product costs |   |
| Total period costs |   |
(Figure)Pocket Umbrella, Inc, is considering producing a new type of umbrella. This new pocket-sized umbrella would fit into a coat pocket or purse. Classify the following costs of this new product as direct materials, direct labor, manufacturing overhead, or selling and administrative.3
Cost of advertising the product
Fabric used to make the umbrellas
Maintenance of cutting machines used to cut the umbrella fabric so it will fit the umbrella frame
Wages of workers who assemble the product
President's salary
The salary of the supervisor of the people who assemble the product
Wages of the product tester who stands in a shower to make sure the umbrellas do not leak
Cost of market research survey
Salary of the company's sales managers
Depreciation of administrative office building
(Figure)This list contains costs that various organizations incur; they fall into three categories: direct materials (DM), direct labor (DL), or overhead (OH).4
Classify each of these items as direct materials, direct labor, or overhead.

Glue used to attach labels to bottles containing a patented medicine.
Compressed air used in operating paint sprayers for Student Painters, a company that paints houses and apartments.
Insurance on a factory building and equipment.
A production department supervisor's salary.
Rent on factory machinery.
Iron ore in a steel mill.
Oil, gasoline, and grease for forklift trucks in a manufacturing company's warehouse.
Services of painters in building construction.
Cutting oils used in machining operations.
Cost of paper towels in a factory employees' washroom.
Payroll taxes and fringe benefits related to direct labor.
The plant electricians' salaries.
Crude oil to an oil refinery.
Copy editor's salary in a book publishing company.

Assume your classifications could be challenged in a court case. Indicate to your attorneys which of your answers for part a might be successfully disputed by the opposing attorneys and why. In which answers are you completely confident?
Glossary
average fixed cost (AFC)

total fixed costs divided by the total number of units produced, which results in a per-unit cost
average variable cost (AVC)

total variable costs divided by the total number of units produced, which results in a per-unit cost
conversion costs

total of labor and overhead for a product; the costs that "convert" the direct material into the finished product
cost driver

activity that is the reason for the increase or decrease of another cost; examples include labor hours incurred, labor costs paid, amounts of materials used in production, units produced, or any other activity that has a cause-and-effect relationship with incurred costs
fixed cost

unavoidable operating expense that does not change in total, regardless of the level of activity
indirect labor

labor not directly involved in the active conversion of materials into finished products or the provision of services
indirect materials

materials used in production but not efficiently traceable to a specific unit of production
mixed costs

expenses that have a fixed component and a variable component
period costs

typically related to a particular time period instead of attached to the production of an asset; treated as an expense in the period incurred (examples include many sales and administrative expenses)
prime costs

direct material expenses and direct labor costs
product costs

all expenses required to manufacture the product: direct materials, direct labor, and manufacturing overhead
relevant range

quantitative range of units that can be produced based on the company's current productive assets; for example, if a company has sufficient fixed assets to produce up to 10,000 units of product, the relevant range would be between 0 and 10,000 units
stepped cost

one that changes with the level of activity but will remain constant within a relevant range
total cost

sum of all fixed and all variable costs
total fixed costs

sum of all fixed costs
total variable costs

sum of all variable costs
variable cost

one that varies in direct proportion to the level of activity within the business