Print-on-Demand Guide
A reference for setting up an open textbook print-on-demand service
BCcampus
Victoria, B.C.
Print-on-Demand Guide
Print-on-Demand Guide by BCcampus is licensed under a Creative Commons Attribution 4.0 International License, except where otherwise noted.
© 2020 BCcampus
The CC licence permits you to retain, reuse, copy, redistribute, and revise this book — in whole or in part — for free, providing the author is attributed as follows:
The BCcampus Open Education
Print-on-Demand Guide
by Lauri M. Aesoph is used under a
CC BY 4.0
licence.
If you redistribute all or part of this book, it is recommended the following statement be added to the copyright page so readers can access the original book at no cost:
This guide can be referenced. In APA style, it should appear as follows:
Aesoph, L.M. (2020). Print-on-Demand Guide. Victoria, BC: BCcampus. Retrieved from https://opentextbc.ca/printondemand/
Visit BCcampus Open Education to learn about open education in British Columbia.
Ebook ISBN: 978-1-77420-069-8
Print ISBN: 978-1-77420-068-1
Accessibility Statement
1
BCcampus Open Education believes that education should be available to everyone which means supporting the creation of free, open, and accessible educational resources. We are actively committed to increasing the accessibility and usability of the textbooks and resources we produce.
Accessibility features of the web version of this resource
The web version of the Print-on-Demand Guide has been designed with accessibility in mind and incorporates the following features:
It has been optimized for people who use screen-reader technology

all content can be navigated using a keyboard
links, headings, and tables are formatted to work with screen readers
images have alt tags

Information is not conveyed by colour alone
The option to increase font size (see tab on top right of screen)
Other file formats available
In addition to the web version, this book is available in a number of file formats, including PDF, EPUB (for eReaders), MOBI (for Kindles), and various editable files. Here is a link to where you can download this book in another file format. Look for the "Download this book" drop-down menu to select the file type you want.
This resource links to a number of external websites. If you are accessing this book in a print format, words that are linked will be underlined in the text, and you can find the full web address in the back matter of the book.
Known accessibility issues and areas for improvement
While we strive to ensure that this resource is as accessible and usable as possible, we might not always get it right. Any issues we identify will be listed below. There are currently no known issues.
List of Known Accessibility Issues

| Location of issue | Need for improvement | Timeline | Work around |
| --- | --- | --- | --- |
| | | | |
| | | | |
Accessibility standards
The web version of this resource has been designed to meet Web Content Accessibility Guidelines 2.0, level AA. In addition, it follows all guidelines in Checklist for Accessibility from the Accessibility Toolkit – 2nd Edition. The development of this toolkit involved working with students with various print disabilities who provided their personal perspectives and helped test the content.
Let us know if you are having problems accessing this guide

We are always looking for ways to make our resources more accessible. If you have problems accessing this resource, please contact us to let us know so we can fix the issue.
Please include the following information:
The location of the problem by providing a web address or page description
A description of the problem
The computer, software, browser, and any assistive technology you are using that can help us diagnose and solve your issue

e.g., Windows 10, Google Chrome (Version 65.0.3325.181), NVDA screen reader
You can contact us one of the following ways:
This statement was last updated on June 30, 2020.
This is one of
many support resources
from BCcampus Open Education. It is designed to supplement the central resource: the
Self-Publishing Guide
.
Welcome to the BCcampus Open Education Print-on-Demand Guide. This guide was created to fill the demand for a support resource that covers the printing of open textbooks.
BCcampus Open Education began in 2012 as the B.C. Open Textbook Project with the goal of making post-secondary education in British Columbia more accessible by reducing students' costs through the use of open textbooks and other OER. BCcampus supports the post-secondary institutions of British Columbia as they adapt and evolve their teaching and learning practices to enable powerful learning opportunities for the students of B.C. BCcampus Open Education is funded by the British Columbia Ministry of Advanced Education, Skills & Training, and the Hewlett Foundation.
Open educational resources (OER) are defined as teaching, learning, and research resources that, through permissions granted by the copyright holder, allow others to use, distribute, keep, or make changes to them. We consider this publication — along with our guides, webinar slide decks, and other support materials — as a type of OER that trains faculty, staff, and students how to build, customize, and use open textbooks.
The BCcampus Writing Guidelines for Articles and Web Content and BCcampus Open Education Style Guide, along with the attached style sheet [Word file], were referenced during the copy editing and proofreading phases of this guide.
To ensure that standard barriers are addressed for maximum access by as many readers as possible, this guide meets the criteria laid out in the Checklist for Accessibility — including an Accessibility Statement — and is flagged as "Accessible" in the B.C. Open Textbook Collection.
This guide does not come with an index. Instead, use the search field located in the top-right of each page in the online version to locate a specific topic.
If you find an error in this guide, please report it using the
Report a Textbook Error
form. For other feedback or comments, contact
BCcampus Support
.
I'd like to thank everyone who partook in the BCcampus Print-on-Demand SurveyFor a list of questions asked in the survey, see the BCcampus Print-on-Demand Survey [Word file]. and patiently answered my follow-up questions, as well as, the librarians, bookstore staff, printshop managers and faculty I called on to clarify points related to print-on-demand service and how it relates to open textbooks.
Most open textbooks are available online or in other digital formats. However, there are times when a student or instructor needs or wants a printed version.
The Print-on-Demand Guide provides an overview for post-secondary institutions interested in offering on-demand and pre-order printing services for open textbooks, whether from the B.C. Open Textbook Collection or other repositories. It's also a guide to help colleges and universities expand accessibility for students who require the printed page, and a tool for taking inventory of open educational activity and interest on campus.
This guide is laid out in four parts and covers the following topics:
What. The history behind print on demand, and why open textbooks are ideal (and legal) print candidates for instructors, especially those interested in customizable classroom materials.
Why. A detailed description of situations in which the printing of open textbooks is warranted, such as learning accessibility for students.
Where. Half a dozen reasons why a print-on-demand service on campus benefits students, faculty, and the larger post-secondary community.
How. Suggestions, considerations, and templates that can be used by post-secondary institutions interested in setting up a print-on-demand service. These can be used to take inventory of open educational activity and interest on campus.
Each part contains three or four chapters, each devoted to a specific aspect of the part subject. Each chapter begins with a summary of its content in the "in a nutshell" textbox.
| | |
| --- | --- |
| | In a nutshell. |
Chapters include research, real-life examples, input from 28 B.C. post-secondary individuals who answered two dozen questions asked through a print-on-demand survey, and quotes from bookstores, printshops, and libraries across the province. At the end of each chapter in the final part, there is a green textbook that highlights concerns and considerations, such as "Service Interruption" and "Printshop Limitations."
Finally, in the appendices, readers will find additional PoD resources. These include an open textbook cover toolkit, a shortlist of post-secondary PoD services across Canada and the United States, and other useful information.
Appendix A: Open Textbook Cover Toolkit
1
This toolkit can be used by printshops, providing print-on-demand services, for textbooks missing a cover or in cases when a different cover is needed. Authors and publishers are also welcome to use the toolkit.
All images used to create the templates in this toolkit are either covered by a Creative Commons Attribution International Licence or are in the public domain.
Book cover elements
This book cover toolkit allows for the essential items of a book cover to be added (title, author) as well as other optional items such as photos or other graphic types, a tag line, and logo. There are three book cover styles to choose from — simple, graphic, photo — each with a template file that can be copied as is or customized.
Template Files
There are two types of files:
Visual Guide (PDF)
InDesign Template
Visual Guide
The Visual Guide will help you see the elements of the book cover so you can copy their styles, size and placement. If you do not own or have access to Adobe InDesign, then you may use another program that you are comfortable with.
Please note: Whichever program you use, you will need to export your cover to a JPEG image file to upload into Pressbooks to make the cover. Microsoft Word does not export with a high enough resolution to be usable.
InDesign template
InDesign is a layout program created by Adobe. If you own the program or have access to it, you can download the template and edit it with your book's information. You can also modify the template to personalize your book by changing the fonts and colours used. If you have selected the photo or graphic template then you can modify those elements as well to suit your book. If you are not an InDesign user, but have hired a designer to create your book cover, you may pass the template onto them to modify.
Book cover styles
There are three book cover styles to choose from:
Simple: colour cover and text
Graphic: pattern background and text
Photo: image and/or pattern background and text
Each book cover template has a screen or print version. The print version includes a spine and back cover. This is not required for screen viewing.
Book cover final files
When exporting your finished cover choose:
PDF for print files
JPEG for screen files
Resources
If you decide to use the graphic or photo cover template, you can find a list of openly licensed and public domain graphics (vectors) and images in the Self-Publishing Guide.
Images
When choosing an image for your work, you need to decide if you will be using it for print or for screen. Images for print require a larger resolution than images for screen.
See Textbook Cover in the Self-Publishing Guide for details on choosing an image.
Attribution statement
Attribution may be required if you are:
Adapting an open textbook
Required to give credit for the graphic or image you are using
Include the CC BY licence in your attribution statement
For more information on best practices for attribution statements, see Attributions in the Self-Publishing Guide.
Licensing
Visit Creative Commons to learn about the various licensing types. Creative Commons licences may be attached to content you wish to use or you may want to choose a licence for your own work.
Find the files for download below.
The Visual Guide is a PDF file that gives you an example of how you can design your book cover if you are using a different program than InDesign. There are notes — accessed by hovering over the dialogue icons — in the file that show size and placement of the book cover's elements. The below example uses red arrows to identify the location dialogue icons for one of the textbook cover templates.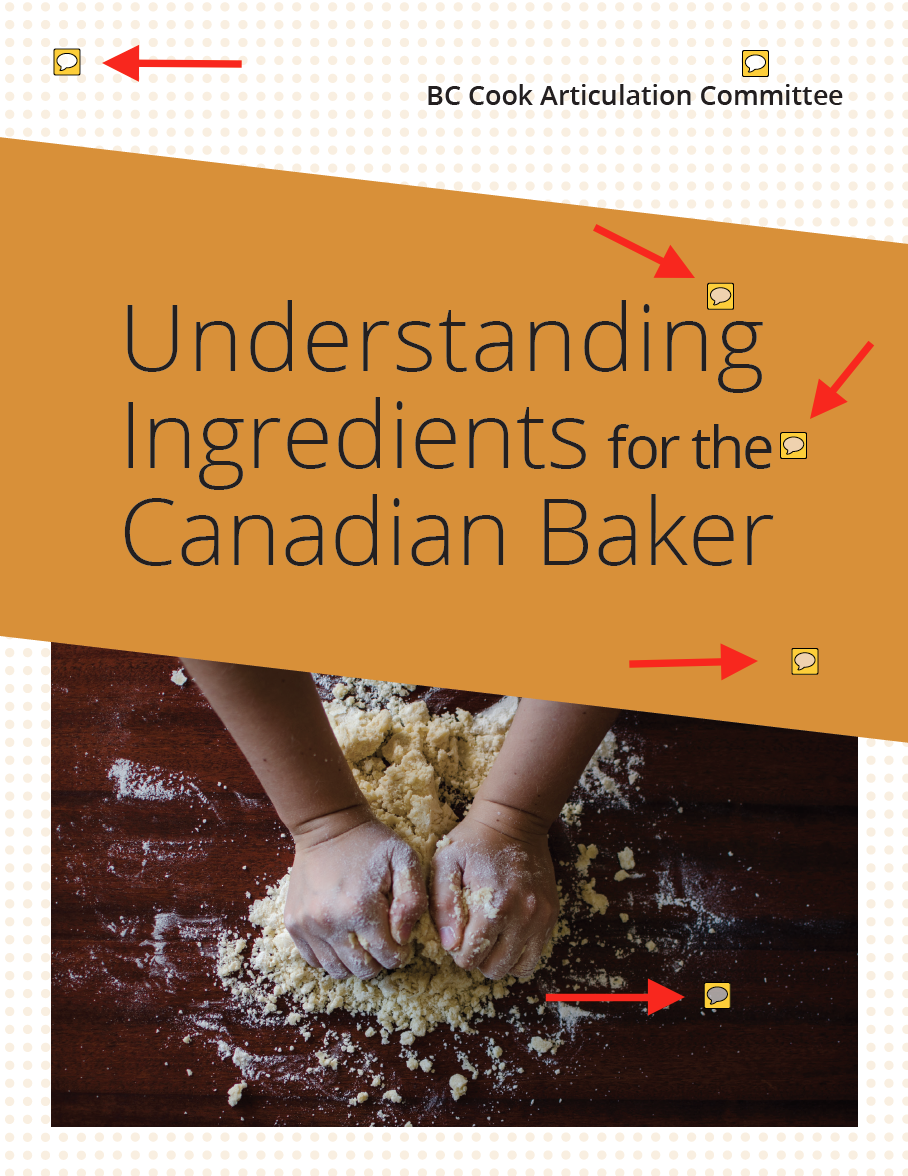 The InDesign Template is an InDesign file that you can use and/or modify to your liking.
There are three options for both the Visual Guide and InDesign file, depending on your needs.
Template attribution statement
The textbook cover templates have been designed by Robyn Humphreys, Digital Designer for BCcampus, and are covered by the CC BY licence under which this guide is released. It is recommended that the attribution statement for the template is placed on the textbook's copyright page as follows:
The template used to create this textbook's cover is by
BCcampus
and used under a
CC BY 4.0 International Licence
.
Appendix B: Post-Secondary PoD Services
2
British Columbia
Camosun College
Kwantlen Polytechnic University
KPU has an on-campus option to purchase affordable print copies of open textbooks. The service is print on demand, which means that a student must prepay for their print copy before picking it up at the bookstore. Instructors are able to set up this service by using two existing procedures: the bookstore's Verba Collect system and the printshop's Course Manual Requisition form. KPU also provides a print on demand setup tutorial video.
North Island College
When an open textbook is adopted by faculty, staff in the purchasing and print department help create a PoD file, which is listed like a textbook option on the course description, visible in the book search and the bookstore. If a student wishes to order a print copy, they go to one of the college's bookstores and order and pay for it. The order is then sent to purchasing or the printshop, and the book is printed for that student and returned to the bookstore for them to pick up. Faculty provide information about open textbooks they've adopted to purchasing staff on their textbook requisitions. Purchasing then works with the appropriate departments on things like copyright and licensing in order to create the PoD file.

For more information, contact retailpurchasing@nic.bc.ca.
University of British Columbia
UBC Bookstore lists "Open Educational Resources" on its UBC Instructors: Course Materials Resources page and provides a video for faculty wanting to adopt an open textbook or other OER. The video describes how faculty can locate OER and then use the bookstore online ordering website to select open textbooks so that students can easily locate required course materials at the bookstore before classes start. Additionally, instructors can request that OER be added to the course syllabus.

For assistance or questions, email ubc.textbooks@ubc.ca.
University of Victoria
For more information, see the
Post-Secondary Directory
.
Canada
Ontario
Saskatchewan
United States
New York
Open SUNY Textbooks: Links to purchase print-on-demand copies of each of Open SUNY's textbooks are provided (ordered through Amazon).
Texas
Appendix C: Additional Resources
3
Associations
Campus Stores Canada: Provider of educational resources, professional development, and professional support to member stores that serve students, faculty, staff, vendors, and the government.
College and University Print Management Association of Canada (CUPMAC): From their website: "Established in 1968, CUPMAC is a community for print managers and industry professionals from post-secondary institutions across Canada to share knowledge, advance their operations and navigate the evolving print industry."
National Association of College Stores (NACS): The professional trade association of the campus store industry, representing nearly 4,000 campuses in the U.S. and Canada and approximately 1,000 companies that supply goods and services to campus stores.
CAMEX: The Campus Market Expo is the annual convention for NACS.
Printing services

The below printing and print-on-demand services are a sample of those used by readers and publishers of open educational resources:This list is not intended to be an endorsement of these services.
Further reading
Acsenda School of Management. "Admissions." Accessed March 25, 2020. https://www.acsenda.com/admissions-for-international-business-programs/.
Afflerbach, Peter, ed. Handbook of Individual Differences in Reading: Reader, Text, and Context. New York: Routledge, 2015.
American Osteopathic Association. "Chronic Dizziness Can Result from, or Trigger, Psychiatric Disorders: Research Notes Psychiatric Disorders Present in 15 Percent of Patients with Chronic Dizziness." ScienceDaily. April 30, 2018. www.sciencedaily.com/releases/2018/04/180430102506.htm.
Baron, Naomi S. "Reading in a Digital Age." Phi Delta Kappan 99, no. 2 (2017): 15–20. https://doi.org/10.1177/0031721717734184.
BCcampus Open Education. "Print-on-Demand Survey." Unpublished survey, 2020. Microsoft Form. https://opentextbc.ca/printondemand/wp-content/uploads/sites/160/2020/06/BCcampus-OpenEd-PoD-Guide-Survey.docx.
Cataldo, Maria Giulia and Jane Oakhill. "Why Are Poor Comprehenders Inefficient Searchers? An Investigation into the Effects of Text Representation and Spatial Memory on the Ability to Locate Information in Text." Journal of Educational Psychology 92, no. 4 (2000): 791–799. https://doi.org/10.1037/0022-0663.92.4.791.
Chamberlain, Edmund. "Investigating Faster Techniques for Digitization and Print-on-Demand." New Review of Academic Librarianship 18, no. 1 (2012): 64. https://doi.org/10.1080/13614533.2012.660769.
Chang, Sara Xue Ying. "A Case Study of Print on Demand and Short-Run Digital Printing at the University of British Columbia Press." Master's project report, Simon Fraser University, 2017. https://summit.sfu.ca/item/17530.
Council of Ministers of Education, Canada. Fair Dealing Guidelines. Poster published on the CMEC website, July 2019. https://cmec.ca/docs/copyright/CMEC_POSTER_FDG_EN.pdf.
Creative Commons. "Additional Resources." Creative Commons Certificate for Educators and Librarians. Accessed March 11, 2020. https://certificates.creativecommons.org/cccertedu/chapter/additional-resources-4/.
Creative Commons. "Attribution-NonCommercial 4.0 International — CC BY-NC 4.0." Accessed March 11, 2020. https://creativecommons.org/licenses/by-nc/4.0/.
Gagné, Robert M. and Robert Glaser. "Foundations in Learning Research." In Instructional Technology: Foundations, edited by Robert M. Gagné, 49–83. Mahwah, NJ: Lawrence Erlbaum Associates, 1987.
Langara College Library. "Contact Us." Open Education Research Guide. Last modified June 18, 2020. https://langara.libguides.com/open-education/contact-us.
Langdon, Amanda N. and Katherine E. Parker. "Bridging the Gap: Rural Librarians' Journey to Understanding Students' Role in OER Outreach." International Journal of Open Educational Resources 2, no. 1 (Fall 2019/Winter 2020): 99–118. https://www.ijoer.org/bridging-the-gap-rural-librarians-journey-to-understanding-students-role-in-oer-outreach-doi10-18278-ijoer-2-1-7/.
Lenhard, Wolfgang, Ulrich Schroeders, and Alexandra Lenhard. "Equivalence of Screen Versus Print Reading Comprehension Depends on Task Complexity and Proficiency." Discourse Processes 54, no. 5–6 (2017): 427–45. https://doi.org/10.1080/0163853X.2017.1319653.
Luke, Steven G., John M. Henderson, and Fernanda Ferreira. "Children's Eye-Movements During Reading Reflect the Quality of Lexical Representations: An Individual Differences Approach." Journal of Experimental Psychology 41, no. 6 (November 2015): 1675–83. https://doi.org/10.1037/xlm0000133.
Lyons, Jessica. "10 Reasons Why You Should Not Sell Back Your Textbook." Education Insider News Blog. Study.com. Accessed April 3, 2020. https://study.com/articles/Selling_Back_Textbooks_Is_Not_a_Yes_or_No_Decision.html.
National Association of College Stores. "Report Shows Faculty Still Prefer Print over Digital and Open Educational Resources." August 31, 2017. https://www.nacs.org/advocacynewsmedia/pressreleases/tabid/1579/ArticleID/644/Report-Shows-Faculty-Still-Prefer-Print-over-Digital-and-Open-Educational-Resources.aspx.
Pardede, Parlindungan. "Print vs Digital Reading Comprehension in EFL." Journal of English Teaching 5, no. 2 (2019). https://doi.org/10.33541/jet.v5i2.1059.
Peters, Diane. "Recent U.S. Legal Decision Reinforces Strength of CC Licenses." Creative Commons. April 2, 2018. https://creativecommons.org/2018/04/02/recent-u-s-legal-decision-reinforces-strength-cc-licenses/.
Province of British Columbia. "Connected Communities: Success Factors." Accessed April 24, 2020. https://www2.gov.bc.ca/gov/content/governments/connectivity-in-bc/connected-communities.
Province of British Columbia. "Connectivity in B.C." Accessed April 24, 2020. https://www2.gov.bc.ca/gov/content/governments/connectivity-in-bc.
Simplicio, Joseph. "The University Culture." Education 133, no. 2 (Winter 2012): 336–9. https://www.questia.com/library/journal/1G1-313160605/the-university-culture.
Tamburri, Rosanna. "University Bookstores Change with the Times." University Affairs. April 8, 2015. https://www.universityaffairs.ca/news/news-article/university-bookstores-change-with-the-times/.
Two Sides. "Is This the End of Print Textbooks?" July 21, 2019. https://twosidesna.org/US/is-this-the-end-of-print-textbooks/.
UBC Press. "About UBC Press." About Us. Accessed April 8, 2020. http://www.ubcpress.ca/about-us.
University of British Columbia. "Faculty FAQ: Classroom, 2.1 What Are the Copyright Rules that Apply to My Teaching?," Copyright at UBC. Accessed April 23, 2020. https://copyright.ubc.ca/instructor-faq/#2.1_What_are_the_copyright_rules_that_apply_to_my_teaching?.
University of Victoria. "Coursepacks." UVic Bookstore. Accessed April 23, 2020. https://www.uvicbookstore.ca/text/coursepacks.
Wikipedia. "Coursepacks." Last modified August 13, 2017. https://en.wikipedia.org/wiki/Coursepacks.
Wikipedia. "Fair Dealing in Canadian Copyright Law." Last modified May 11, 2020. https://en.wikipedia.org/wiki/Fair_dealing_in_Canadian_copyright_law.
Wikipedia. "Offset Printing." Last modified April 17, 2020. https://en.wikipedia.org/wiki/Offset_printing.
Wikipedia. "Print on Demand." Last modified April 26, 2020. https://en.wikipedia.org/wiki/Print_on_demand.
Wiley, David. "On OER and College Bookstores." Iterating toward Openness (blog). February 11, 2014. https://opencontent.org/blog/archives/3168.
This page provides a record of changes made to this guide. Each set of edits is acknowledged with a 0.01 increase in the version number. If substantial updates are made, the version number increases to the next full number.
The exported files for this toolkit reflect the most recent version. Fill out the Report an Open Textbook Error form to report an error found in this guide.
| | | | |
| --- | --- | --- | --- |
| Version | Date | Change | Chapter or Part |
| 1.00 | November 17, 2016 | Posted as open creation | |
| 1.01 | February 16, 2018 | Added Open Textbook Cover Toolkit | Appendix A |
| 1.02 | June 27, 2019 | Changed from Open Textbook theme to Clarke theme. | |
| 2.00 | June 30, 2020 | Guide completed | |