Chapter 6: Women in the Economy
Chapter Summary
This chapter discusses the gains and gaps in women's engagement in the global economy. Around the world, women perform two-thirds of the work for 10 percent of the income and only 1 percent of the assets. Women also constitute 70 percent of the world's poor. Women's earning still lags behind that of men's; they earn on average 30 percent of men's wages in the Middle East-North Africa (MENA) region and between 60 and 70 percent in East Asia. A priority among women's rights organizations is creating environments where women can interact with one another, share concerns, and address public resistance. There are hopeful signs, as the World Economic Forum revealed that two-thirds of 115 countries posted gains in overall gender gap scores.
The chapter includes two detailed examples of women in the business world who have taken up leadership roles in paving the way for others. Lubna Olayan, chief executive of the Olayan Financing Company, established a female-specific recruitment program to increase the number of women in the Saudi workforce. In a similar vein, the Fortune/U.S. State Department Global Women's Mentoring Partnership organizes networking events among select rising women professionals to meet with influential women in business, academia, and government.
Key Terms
Arab Thought Foundation
Global Gender Gap Report
InterAction
International Business Council
International Centre for Advancement of Women in Business
International Centre for Research on Women (ICRW)
International Labour Organization
Lubna Olayan
Olayan Financing Company
Olayan National Women's Action for Recruitment and Development (ONWARD)
United Nations Fourth World Conference on Women in Beijing
U.S. State Department of Educational and Cultural Affairs (ECA)
U.S. State Department Global Women's Mentoring Partnership
Women's Committee for Legal Change
World Economic Forum
12-Point Platform for Action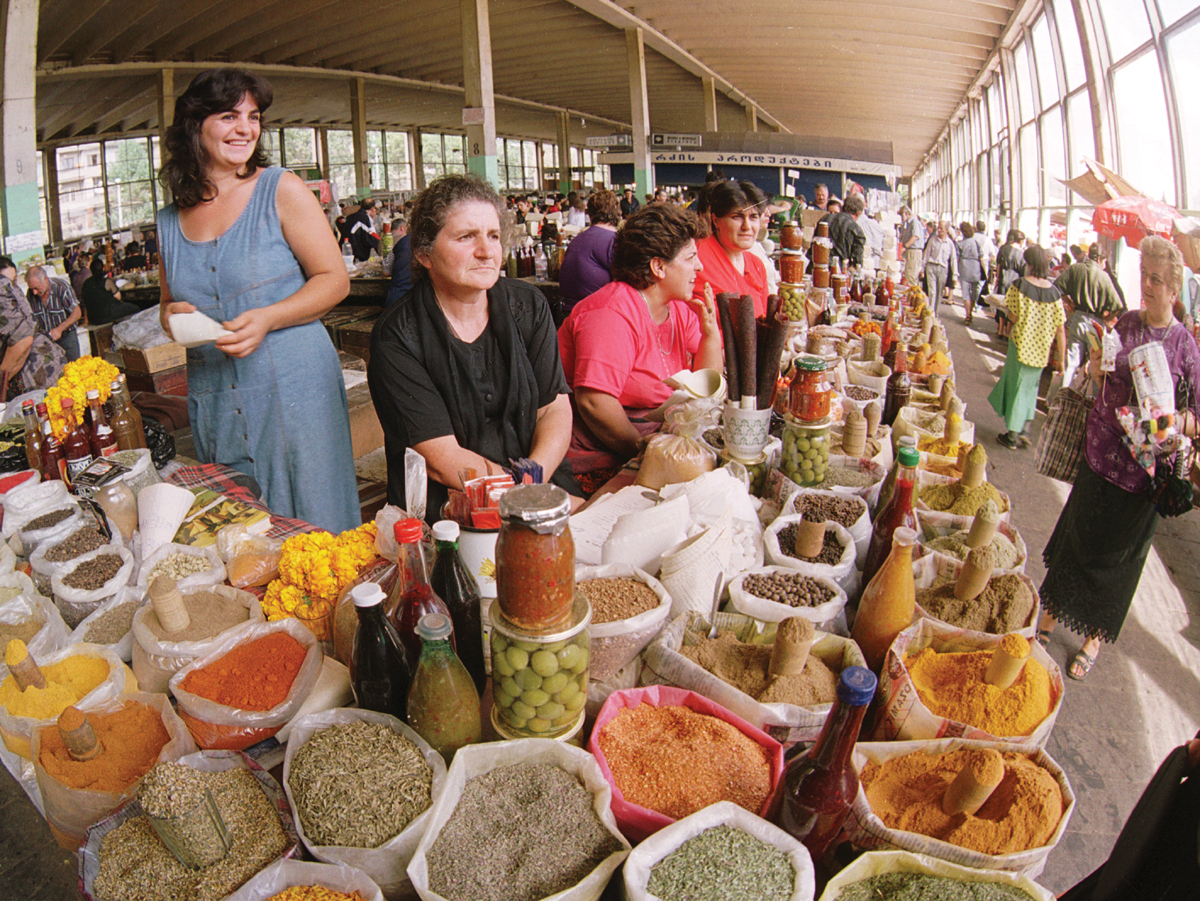 Overview
By Susanne E. Jalbert
In 1995, activists from 189 countries pondered gender equity at the United Nations Fourth World Conference on Women in Beijing and the parallel nongovernmental organization conference in Huairou. They developed a plan to ensure a more equitable future for women with passion, foresight and intensive focus. Today we scrutinize how far we have progressed toward gender parity since the 12-point Platform for Action was introduced in Beijing. And we ask what can be done now to more efficiently promote women's economic potential and equalize their opportunities with those of men. There has been progress, but not enough.
More equitable economic engagement for women remains elusive. Women perform two-thirds of the world's work, especially in agriculture, for 10 percent of the income (InterAction, 2009); own only 1 percent of the assets (www.onlinewomeninpolitics.org); and constitute 70 percent of the world's poor (International Labor Organization). "Whether women are working in industrialized nations or developing countries, in rural or urban settings, most women still carry the triple burden of raising children, performing household chores and earning an income for their family," was the finding of the 2010 Soroptimist International white paper "Women at Work."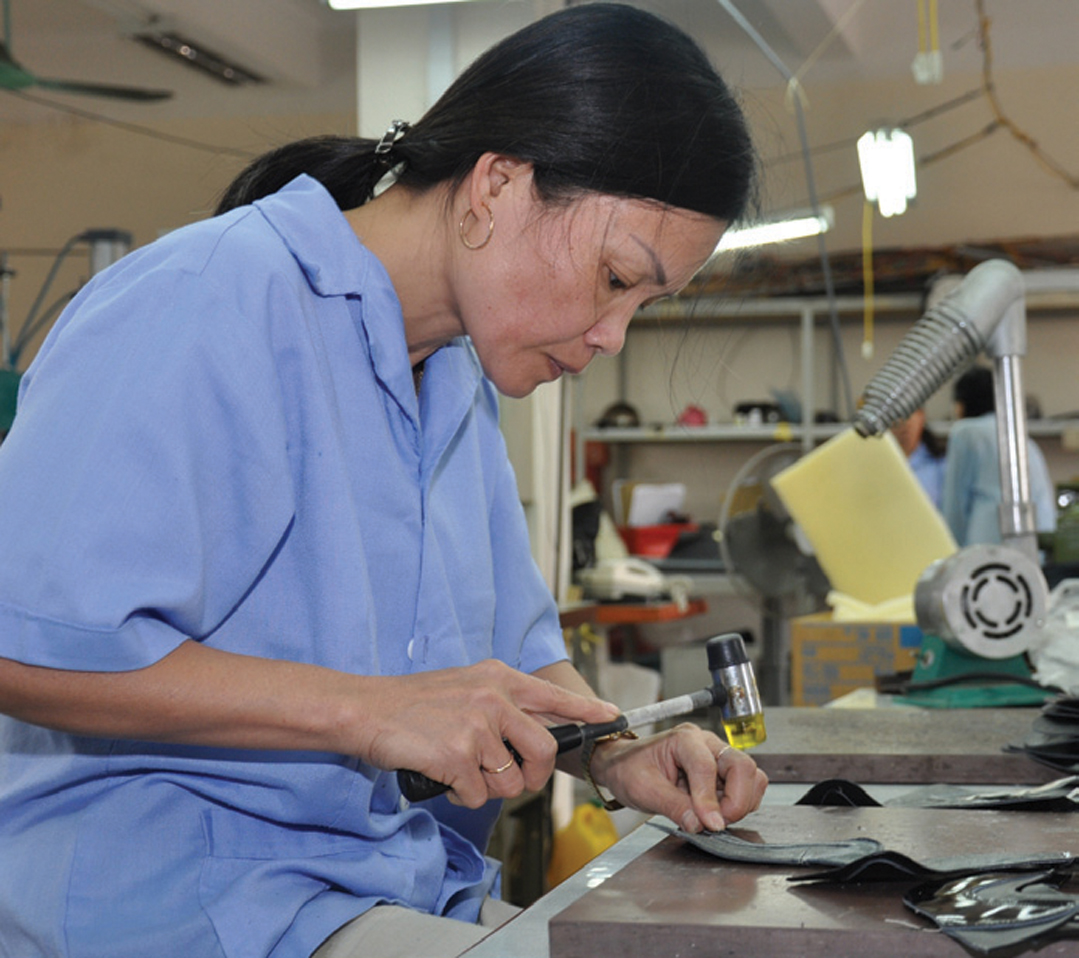 Women's Earnings Still Lag Behind Men's
Women's earnings linger below men's worldwide. In Middle Eastern and North African countries, women's wages are around 30 percent of men's; 40 percent in Latin America and South Asia; 50 percent in sub-Saharan Africa; and 60-70 percent in East Asia and developed countries. In 2009, 134 countries were evaluated on five economic performance indicators which show that the Middle East has the widest gender gap in economic opportunity (The Global Gender Gap Report 2009).
Evidence from developed countries substantiates the possibility for fair economic expectations. According to Building Gender Balanced Business, in the United States, women make 80 percent of consumer goods purchasing decisions; in Canada, women start 70 percent of new small businesses; in the UK, women will own 60 percent of all personal wealth by 2025; worldwide today there are more female millionaires between the age of 18 and 44 than male. But current data gathered by the United Nations from developing, transitioning and conflict-torn economies indicate that women are still marginalized. They are either absent or poorly represented in economic decisions and policymaking.
Formulation of appropriate gender-neutral policy acts as a framework to support balanced, effective and good governance. It functions as a catalyst for healthy economic growth and cogent interaction of societies' three sectors: public, private and business. Most women have no equitable access to assets, credit, capital or property rights (International Center for Research on Women). Therefore, effective gender-neutral policies are needed.
In Chisinau, Moldova, founder and director of the International Center for Advancement of Women in Business Tatiana Batushkina has many policy concerns. They include creating an environment where women can interact with one another, know their full rights in society, share ecological concerns, solve economic obstacles and eliminate public resistance to women in business. In Jeddah, Saudi Arabia, founder and director of the Women's Committee for Legal Change Bayan Mahmoud Zahran's Number 1 policy concern is to answer the question, "How can one enhance economic literacy and legal awareness to reach an apex of justice?" As a business owner in Ukraine, Elena Baryshnikova focuses on loosening the reign of restrictive commercial regulations. She is founder and director of Lex-Service Audit in Sevastopol, Ukraine, and Business Education Alliance (www.bea.com.ua) in Kyiv, Ukraine.
Progress in Closing Gender Gap
There are hopeful signs. Out of the 115 countries covered in the 2009 World Economic Forum's report, since 2006 more than two-thirds have posted gains in overall gender gap index scores, indicating that the world, in general, has made progress toward lessening inequities (The Global Gender Gap Report 2009).
Female participation in the private sector in large and small, formal and informal enterprises is a crucial economic driver for societies — anywhere in the world. "What should economic self-sufficiency look like?" pondered Nino Elizbarashvili, president of the Georgian Association of Women in Business in Tbilisi, Georgia, during an interview. Economic security can beneficially touch every facet of a woman's life and can manifest in a myriad of ways, including positive impact on the health, education and vitality of families, freedom to consume and produce and the ability to more fully contribute to civic and political transformation.
In Kurdistan Suzan Aref, director of the Women's Empowerment Organization (www.womenempowerment-iraq.com/index.htm), wondered, "Could we, as women, break more barriers? How can we better promote security, women's rights as human rights, gender equity, political participation and economic engagement?" One specific step is to bridge the gender gap with women's economic empowerment and education by promoting inclusion of women in economic activities in elementary school. Other solutions are these: laws must be reformed, land allocation practices changed, access to justice enhanced and market entry obstructions eradicated. The economic benefits of scaling back barriers to women's engagement in the workforce are substantial; as observed in the Global Gender Gap Report, between 2006 and 2009, of 115 countries surveyed, 98 (85 percent) improved performance. When women acquire access to and control over economic resources, they increase productivity and their incomes. Their ability to feed, clothe and educate their families thereby increases.
Women's economic questions are wide-ranging, and the list of policy hurdles to be resolved is long. If we truly desire to live in equitable societies, we must act in this moment. At this moment, policy is top priority. Whether policy is decided publicly or in some secluded government chamber, the point is that policy is essential to determining the direction of our world. Women's voices must be heard to transform and improve current economic conditions. To promote progress, public, private and business sectors worldwide must unite in actionable policy agendas to ensure an equitable future.
Susanne E. Jalbert is a leading economic activist and the architect of the Iraqi Small Business Development Centers program. She champions women's business association capacity building worldwide. She publishes and speaks frequently on the role and impact of business associations, women entrepreneurs, anti-trafficking campaigns and entrepreneurial expansion programs.
PROFILE:

Lubna Olayan –

Saudi Businesswoman Strengthens Communities

By Scott Bortot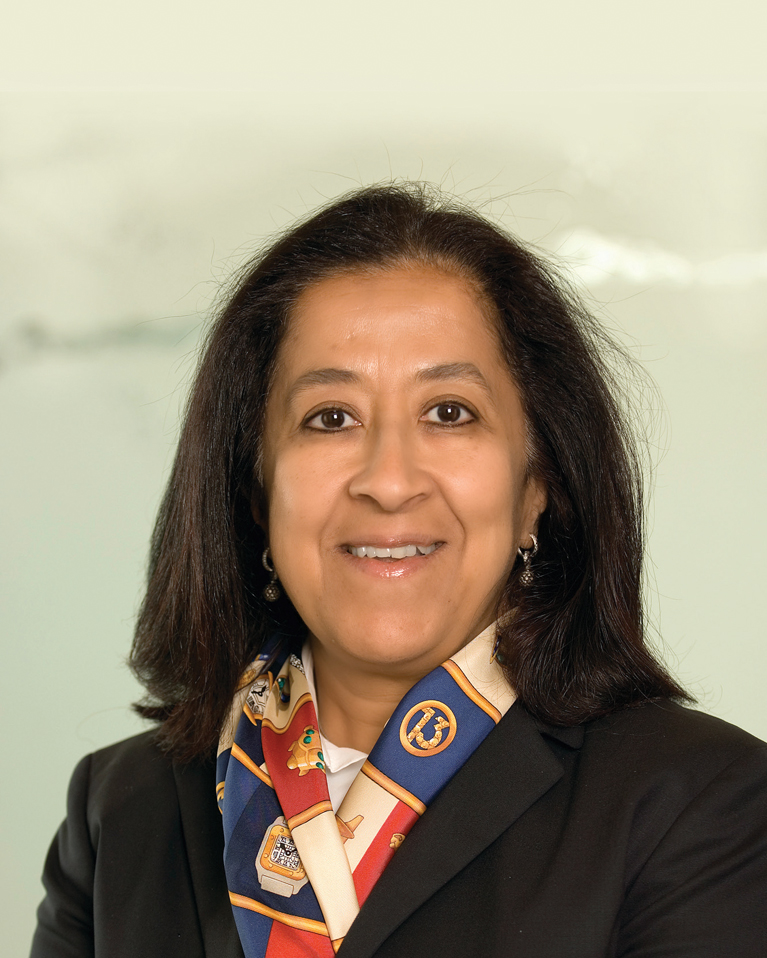 Lubna Olayan is known in Saudi Arabia and around the world for her business acumen. The chief executive of the Olayan Financing Company, Olayan oversees the workings of more than three dozen companies with operations both inside and outside the kingdom. But Olayan, selected by Time magazine in 2005 as one of its top 100 most influential people, has a side to her that goes beyond business. When she is not running companies, she empowers communities by working with and supporting nongovernmental organizations.
"Grass-roots organizations can touch on social issues, taboo issues, in ways that are impossible for businesses to do," Olayan said. "That's their role and they don't have the same stakes as businesses have. They also have time and energy to focus on key issues which businesses can only address marginally."
Since 2002, Olayan has been a member of the board of trustees of the Arab Thought Foundation, which honors "[Arab] pioneers, supporting the innovators and sponsoring the talented from among the Arab nations." But her community work doesn't stop there. In 2006, she joined the board of directors for Alfanar, an organization that supports grass-roots organizations in the Arab world.
Lubna Olayan was born in Saudi Arabia in 1955. Her father, Suliman Olayan, was a powerful business leader who founded the Olayan Group in 1947. Early in her career at the Olayan Group, she worked closely with her father. Even though they had a warm relationship, at work it was all business. Olayan and her father made a deal that at the office they were no longer father and daughter but boss and employee.
Education a Key to Success
Olayan, who holds a bachelor's degree in agriculture from Cornell University and a master's degree in business administration from Indiana University, understands the value of education. In turn, educational institutions have honored her. Cornell named the 1977 graduate as its 2010 "Entrepreneur of the Year." David Skorton, president of Cornell University, said Olayan has "aspired to leadership roles in the business world, and she has received enormous recognition for her business skills."
Delivering a speech at Cornell to accept the honor, Olayan recalled the role played by the university in forming her character. "It is important to encourage our people to come up with ideas, and to allow people to make mistakes," she said, adding that she learned this lesson at Cornell. "I very much enjoyed the diversity of the student body."
Olayan is active in developing Saudi education. As an advisory member of the board of Effat University, an educational institution for women in Saudi Arabia, she especially understands the meaning of education to women in her country. "Education is the single most important driver in improving society, in Saudi Arabia but also anywhere in the world," Olayan said.
Bringing More Women to the Workplace
A member of the board of directors of INSEAD, an international, multicampus graduate business school, Olayan has a lot to say about the advancement of Saudi women in business. For starters, men and women working together is a recipe for success. "You need two hands to clap," Olayan said. "It is a natural progression and a natural fit of the building of a society."
At a certain level, the segregation of some business practices empowered Saudi women. "Initially, yes, female-only services opened the door to women for greater participation in the economic life of the country," Olayan said. "Going forward though, one can hope that segregation will not continue."
To raise the number of female professionals, who currently make up only six percent of the Saudi workforce, she established the Olayan National Women's Action for Recruitment and Development (ONWARD) in 2004. The program accepts recruits and trains them in skills that can be used in a range of professions. While most of the recruits are fresh university graduates, the goal is to prepare them for executive leadership positions in the future.
The end of workplace segregation may not be too far off, judging from recent moves by the Saudi government. Olayan said a government decree greatly improved the situation for Saudi women seeking access to employment opportunities. The move opened up most of the job market to women beyond the traditional sectors of health care and education. "One of the major keys to a woman's business success in Saudi Arabia is ensuring that she gets the equal opportunity to contribute and participate in the country's economic development," Olayan said.
When women began working in the offices of Olayan's companies, she remembers a change took place. "I think it did make it a little different. We were all men until women came over and for one, in my opinion, it made a lot of the younger Saudis be alert that there is competition," Olayan said. "There is an alternative if you don't come in on time."
Despite the government decree, workplace challenges still remain for Saudi women. "The implementation has been quite slow as there are still large organizations that have not opened their doors to Saudi women yet," Olayan said.
Keep the Goal in Sight
Olayan, a member of the International Business Council of the World Economic Forum, said Saudi men and women interested in opening a business in Saudi Arabia — or anywhere else — should first do their homework. "You have to have a goal and you measure your progression. You better have all the ingredients required and know all of the ingredients to achieve your plan," she said. "You should measure it regularly in case you get sidetracked. Bring yourself back … and get focused."
Keeping on her career course, from the time she joined Morgan Guaranty in New York in 1983 until today, is a hallmark of Olayan's success. "When you are passionate about something, you have to make it a success and be proud of the success that you have achieved with it," she said.
Through it all, what makes Olayan most happy is much closer to her heart. "The bottom line, although I'm proud of many things, I am most proud of my three daughters above anything."
Scott Bortot is a staff writer for the International Information Programs bureau of the State Department.
PROJECT:

Women's Work: Paying It Forward

By Joanna L. Krotz

A one-to-one mentoring program set up by Fortune's Most Powerful Women Summit and the U.S. State Department connects America's top businesswomen with young women leaders around the world to strengthen careers and communities.

It's easy to get things done with women," says Ilham Zhiri, sipping a latte and nibbling a muffin early one morning at a bustling Starbucks café in New York City. "Women connect right away and they seem to have this instinct to help each other. You feel that everywhere you go," she says, waving a hand to embrace the world. "In the States, you feel it. Back home, you feel it. You even feel it on a diplomatic level."

Zhiri knows a thing or two about how women accomplish things. For the past 15 years, she's been running a family printing and publishing company in her hometown of Rabat, Morocco, while devoting time to support younger women in business across the Middle East. "In the beginning, as a freshly graduated MBA, it was very hard for me," says Zhiri, explaining why she reaches out to other women. "At home, because of the cultural context, a woman has to put in double effort and energy to prove herself — to other women as well as to men. But once you do, that's it. Recognition is there."

That clear-eyed passion for spearheading social and economic change and the desire to expand her own skills motivated Zhiri to apply to the unique program that returned her to the United States. Years before, she had studied at American University in Washington. Now, Zhiri was in New York for the finale of the Fortune/U.S. State Department Global Women's Mentoring Partnership. Each year, this public/private program selects 30 to 35 up-and-coming women professionals from around the world, pairing them with 50 senior American women from business, academia and government.
Public-Private Partnership Networks Empower New Leaders
The month-long program creatively leverages the resources and expertise of an unusual three-part alliance: an elite roster of American women from companies such as Avon, Wal-Mart, American Express and ExxonMobil who participate in Fortune magazine's annual Most Powerful Women Summit, chaired by Editor-at-Large Pattie Sellers; the international nongovernmental organization Vital Voices, whose mission is to empower emerging women leaders worldwide; and the U.S. State Department Bureau of Educational and Cultural Affairs (ECA).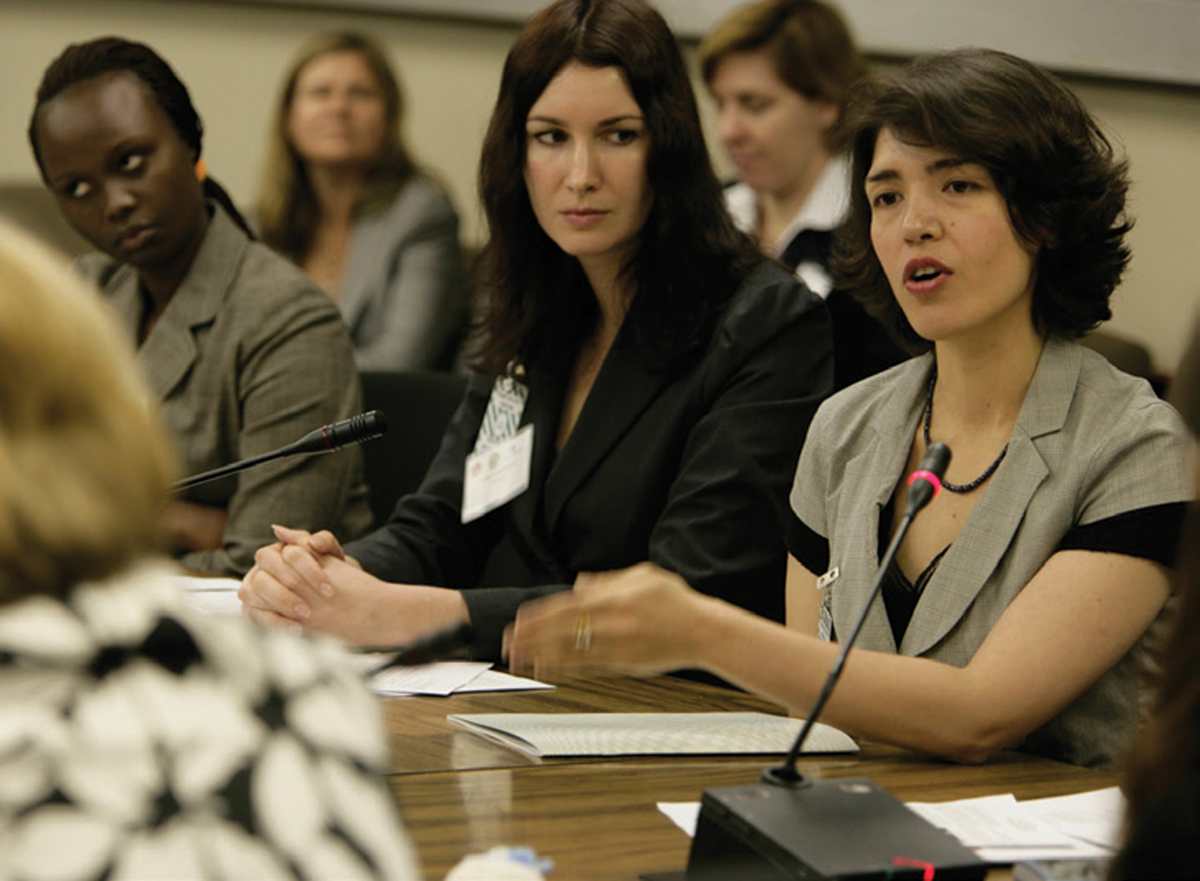 The idea was born in 2006 during a meeting between Sellers and then-Assistant Secretary of State for Educational and Cultural Affairs Dina Powell in Washington. The Fortune/U.S. State Department Global Women's Mentoring Partnership was soon launched. It debuted as a three-phase program for 17 women. They received orientation in Washington, individual mentorship around the United States and evaluation in New York. It was an immediate success. Today the program boasts nearly 150 graduates from about 50 countries. Powell, now head of corporate engagement at Goldman Sachs and director of its sister initiative, 10,000 Women, remains a key sponsor.
"The Mentoring Partnership offers women a transformative model of leadership," explains Alyse Nelson, president and CEO of Vital Voices, which is awarded ECA grants — about $190,000 in 2010 — to manage on-the-ground logistics. Typically, the women are first-generation professionals who lack role models at home. So the firsthand coaching is an enormous boost, emotionally and practically. Just as importantly, says Nelson, "participants know that top women in Fortune 500 companies don't need to take time and effort for mentoring, but they do. The younger women see the ripple effect of doing well and also doing good. They understand the investment being made in them and their responsibility to give back."
Now in its fifth year, the program is well established. "We cable our embassies and regional bureaus, which identify and nominate local women for the program," says ECA managing director of cultural programs Chris Miner, who oversees thousands of State Department exchange programs. "Obviously, they must have a good command of English," says Miner. "But the women must also be emerging leaders who participate to take their skills, career or business to the next level. These women are destined for success." Pattie Sellers invites high-level American businesswomen to volunteer. Their companies cover one participant's travel and expenses, about $8,000 each. Working with a Fortune team, Sellers then customizes each match.
"We learn from each other," says Susan Whiting, a four-time mentor and vice chair of the Nielsen Company, the global marketing and media information firm. "For me, it's especially valuable to see the U.S. through their eyes." Paired with Ilham Zhiri this year, Whiting has noticed a pattern among the mentees. "Younger women on their way to success often feel they have to put some parts of themselves aside, and I don't think that's necessarily a good thing in the long term," she says. "To succeed, you need to be true to yourself."
Destined for Success
Reviewing her experience at Nielsen, Zhiri says she's returning to Morocco with two objectives. "First, I've learned … that I can leverage business opportunities in the North Africa region." The second goal, managing a clear work/life balance, surprised her. "There's a wonderful phrase I learned here — about 'repotting' yourself," says Zhiri. "You need to grow your personal life in order to grow your business. I learned that I don't have to be so tough on myself."
The final, fast-paced week in New York was a high-octane mix of media training sessions, entrepreneurship workshops, panel discussions and networking events, hosted by industry leaders.
"I applied to the program because I wanted to see how I measure up compared to leaders in the U.S.," says Hussan-Bano Burki, a senior manager for USAID in Islamabad.
She works to facilitate trade and develop online marketing tools. "In Pakistan, I'm already known as a good leader and my skills are pretty much there."
Teamed with Ernst & Young's Beth A. Brooke, Burki said, "Here, I saw mentors who went beyond professional duties to build networks and pay it forward." The revelation, for Burki, was seeing how Brooke used her contacts to approach unfamiliar sources and facilitate policy. "Within the first few days at E&Y, I recognized that I'd been missing the idea of using networks as assets and how I need to be less bashful about asking for help. Beth connected to so many institutions and people relevant to things I've done. The practical power of that was a great lesson." All in all, Burki adds, "I learned what's important to rise up professionally."
Joanna L. Krotz is a multimedia journalist and speaker whose work has appeared in the New York Times, Worth, Money, and Town & Country and on MSN and Entrepreneurship.org. She is the author of The Guide to Intelligent Giving and founder of the Women's Giving Institute, an organization that educates donors about strategic philanthropy.
Multiple Choice Questions
Questions
Barriers to equitable economic engagement include…

Women perform two-thirds of the world's work for 10 percent of the income
Women constitute 40 percent of the world's poor
Young men constitute 70 percent of the world's poor
Women constitute a minority of the world's precarious workforce
None of the above

Women's wages are 30 percent of men's wages in…

Sub-Saharan Africa
East Asia
Middle East/North Africa (MENA)
Latin America
North America

In the United States, women make up ________ percent of consumer goods purchasing decisions.

70
60
90
80
None of the above

According to the chapter, key areas of concern for women's economic empowerment include…

Equitable access to assets, credit, capital and property rights
Addressing urban/rural divides
Drone strikes in Pakistan
The prison-industrial complex
None of the above

The Olayan Group's support of grassroots organization is an example of which organizational practice?

Private-public partnerships
Corporate Social Responsibility (CSR)
Alternative Service Delivery (ASD)
All of the above
None of the above

According to the chapter, what does Lubna Olayan identify as the most important driver for improving society in Saudi Arabia?

Agricultur
Petroleum
Wealth
Education
None of the above

The Fortune/U.S. State Department Global Woman's Mentoring Partnership is a demonstration of

Corporate Social Responsibility (CSR)
Public-private partnerships
Alternative Service Delivery (ASD)
All of the above
None of the above

The Global Women's Mentoring Partnership was initiated in which year?

2000
1995
2008
2006
None of the above

Representatives at the Global Women's Mentoring Partnership come from which private sector companies?

Avon
Walmart
American Express
ExxonMobil
All of the above
Answers
The correct answer is A. Women perform two thirds of the world's work for 10 percent of the income. Women constitute 70 percent of the world's poor, so answers B and C are incorrect.
The correct answer is Middle East/North Africa (MENA) (answer C). Women's wages are 50 percent of men's in Sub-Saharan Africa (answer A), 40 percent in Latin America and South Asia (answer D), and 60 – 70 percent in East Asia and North America (answers B and E).
The correct answer is 80 percent (answer D).
The correct answer is equitable access to assets, credit, capital and property rights (answer A) The text states that in both urban and rural areas, women are carrying the triple burden of raising children, doing household chores, and earning family incomes, so answer B is not correct. The chapter does not discuss drone strikes (answer C) or the prison industrial complex (answer D).
The correct answer is Corporate Social Responsibility (CSR) (answer B).
The correct answer is education (answer D).
The correct answer is public-private partnerships (answer B).
The correct answer is 2006 (answer D).
The correct answer is all of the above (answer E).
Discussion Questions
What are the specific steps to bridging the economic gender gap? How might these steps conflict with local cultures?
What has been the impact of privatization and globalization on women in developing countries?
Aside from advocating for a more equal gender balance in the workplace, what are other approaches that governments and employers can take to decrease the gender bias to support female workers?
Draw on the chapter's discussion of women's entrepreneurship in the Middle East to compare the types of challenges women in the workplace face in Morocco and those they face in the United States. How different are the barriers to women's full participation in business within each context? Explain.
The chapter explains that the Middle East hosts the world's widest gender gap, with women making 40% of men's wages. Draw from the further resources section to suggest some reasons for this divide.
How are Arab and Middle Eastern women commonly represented in Western news and media? How does this vary in the MENA media?
Essay Questions
What challenges are specific to women who work in the informal sector or within the home? Why is formal work considered productive but informal work considered unproductive?
What is the value of corporate social responsibility (CSR)? Do multi-national corporations' CSR policies make a difference? Are there women-specific issues that private companies are unlikely to address?
What economic barriers are specific to immigrant women? Consider factors such as credential regimes, restrictive work visas, and temporary and precarious employment. Further, what are some short-term policy changes that can be made to increase the economic empowerment of migrant women?
Additional Resources
Awo, M. A., & Anaman, K. A. "Political Economy Analysis of the Production and Marketing of Shea Nut Products by Women in the Northern Region of Ghana." Research in World Economy 6(4), 1 – 17: (2015).
Research suggesting that farmer's satisfaction for prices is linked to their membership in collective framer-based organizations.
http://www.sciedu.ca/journal/index.php/rwe/article/view/8388
Erin, K. & Leppert, A. "Selfhood, Citizenship… and all things Kardashian: Neoliberal and Postfeminist Ideals in Reality Television." Media and Communication Studies Summer Fellows, Paper 2: (2015).
Discusses the influence of reality television in mainstreaming and reinforcing cultures of individualism, market logic and competition.
http://digitalcommons.ursinus.edu/cgi/viewcontent.cgi?article=1001&context=media_com_sum
Deodda. M., Di Liberto, A., Foddi, M. & Sulis, G. "Employment Subsidies, Informal Economy and Women's Transition into Work in a Depressed Area: Evidence from a Matching Approach." IZA Journal of Labor Policy 4(7): (2015).
Italian study conducted on the positive effects of employment subsidies and labour outcomes for low-income and older women.
https://izajolp.springeropen.com/articles/10.1186/s40173-015-0034-9
Harquail, CV. "'Add Women and Stir' Won't Keep Women in Tech." Authentic Organizations: Aligning Identity, Action and Purpose. (2016).
Critiques the 'add women and stir' approach, and advocates for businesses to adopt participatory, explicitly pro-women and anti-gender bias approaches, rather than simply increasing the gender-balance of the workforce.
http://authenticorganizations.com/harquail/2012/05/16/add-women-and-stir-wont-keep-women-in-tech/#sthash.0gRHCNvw.PgUcyb61.dpbs
Madzwamuse, M. "Economic Justice as a Site for Women's Empowerment." Open Society Initiative for Southern Africa. (2015).
Challenges optimism on the impact of economic growth for women in Africa, arguing that neoliberal development models have failed to address structural inequality.
http://www.osisa.org/buwa/economic-justice/regional/economic-justice-site-women%E2%80%99s-empowerment
Momani, B. "Arab Dawn: Arab Youth and the Demographic Dividend They Will Bring." Centre for International Governance Innovation (CIGI). (2016).
Video that challenges negative assumptions in the Middle East and surrounding region, focusing on the positive economic and political changes that will come from youth.
https://www.youtube.com/watch?v=2BC0IcbJOCM
Momani, B. "Saudi Suffragists: Women's Rights Come to the Most Unlikely Place." Globe and Mail. (2016).
Discusses the recent women's rights movement in Saudi Arabia, as a bottom-up movement in a kingdom that remains conservative.
http://www.theglobeandmail.com/opinion/saudi-suffragists-womens-rights-come-to-most-unlikely-place/article27800257/
Neumayer, E. & De Soysa, I. "Globalization, Women's Economic Rights and Forced Labour." The World Economy 30(10), 1510 – 1535: (2007).
Article suggesting that increased trade cam help promote and realize two core International Labour Organization (ILO) standards.
http://onlinelibrary.wiley.com/doi/10.1111/j.1467-9701.2007.01060.x/abstract
Schwartz, A. "Orientalism and the Representation of Middle Eastern Women." Sociological Images. (2011).
Questions the dominant representations of Middle Eastern as infantilized or silenced by their religion and culture.
https://thesocietypages.org/socimages/2011/08/09/orientalism-and-the-representation-of-middle-eastern-women/
Muylaert, A., director. "The Second Mother."
Portuguese film directed by Anna Muylaert on domestic work that dissects unspoken but entrenched class barriers that are present in the home.
http://thesecondmother.oscilloscope.net/
UN Women Asia Pacific. "Domestic Work and Migration in Asia."
Fact sheet on the challenges and legal protections for women and men in domestic work.
http://asiapacific.unwomen.org/~/media/7AF46B53B4144BCC9085D8C0FFD45221.pdf

Women Who Tech.
Recognizing that 93% of investor money goes to startups founded by men, this platform aims to connect women in tech and increase the amount of women in Sciences Technology Engineering and Math (STEM) and startups.

Kreitmeyr-Kosa, N. 2016. "Neoliberal Networks and Authoritarian Renewal: A Diverse Case Study of Egypt, Jordan & Morocco." Dissertation.
https://publikationen.uni-tuebingen.de/xmlui/bitstream/handle/10900/71888/PhD_Kreitmeyr_82016.pdf?sequence=1&isAllowed=y