This section focuses on when and how you should refer students to support services and what to do in an emergency. It also looks at what helps people recover. You may want to provide participants with
Handout 1: Quick Reference: Responding to Students in Crisis
at the end of this section so they have a quick reference guide on how to respond and refer.
These slides are available for use with this section of the presentation. For information about downloading presentation slides, see Introduction.
Referring to Resources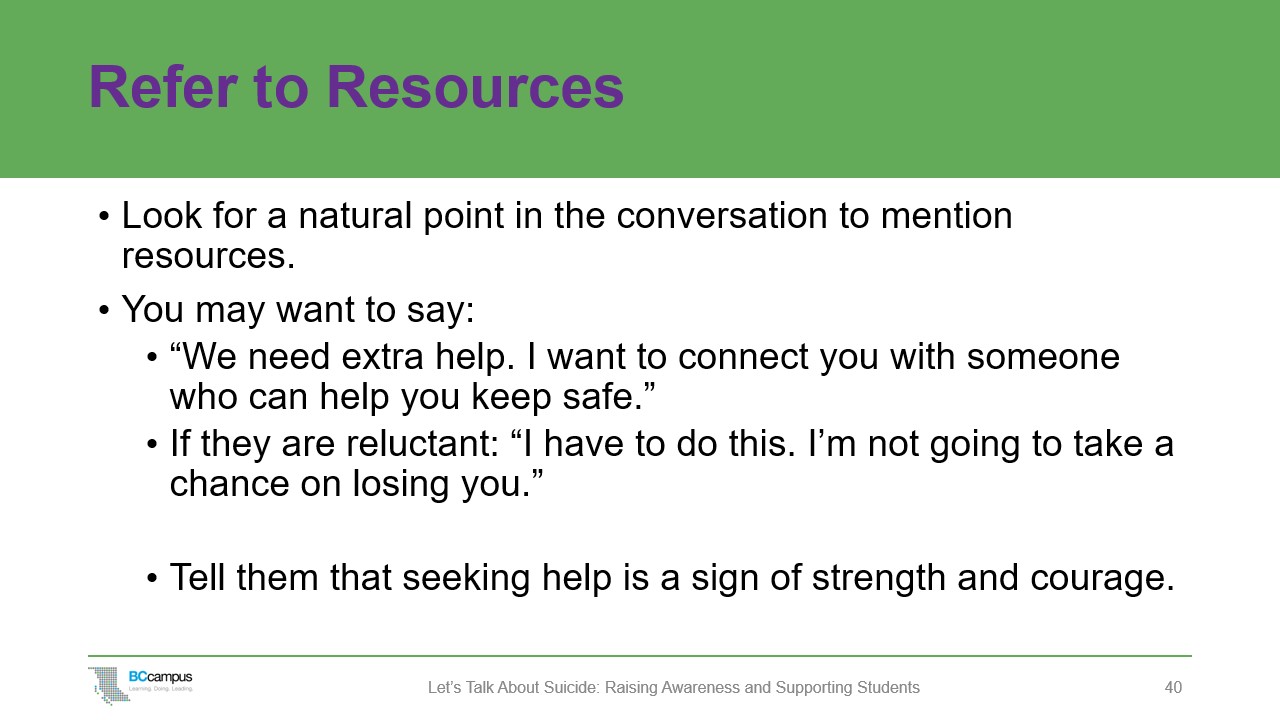 When talking to a student in distress, you will want to look for a natural point in the conversation to mention resources.
To introduce the idea of a referral, you could say:
"We need extra help. I want to connect you with someone who can help you keep safe."
If they are reluctant, you could say, "I have to do this. I'm not going to take a chance on losing you."
Point out that seeking help is a sign of strength and courage.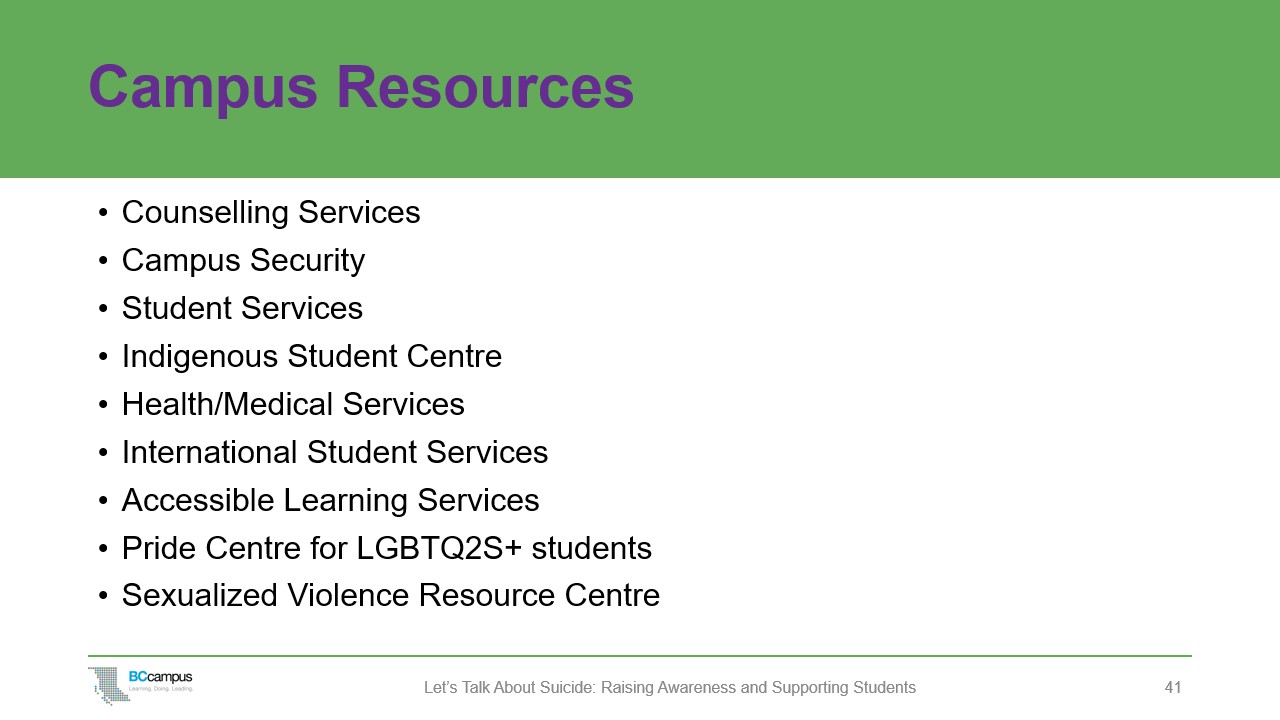 If it is not an emergency situation, you can refer the student to supports on campus. There may be a list with services and contact information for these services at your institution. If not, Handout 1 is a fillable PDF that has space to add in contact information for key supports. Below are some of the services available at most campuses:
Counselling services help students manage personal, academic, and life concerns. Professional counsellors provide individual and group counselling sessions for students.
Campus security helps coordinate responses to student emergencies and crises. If you call 911, call security first, as security can help first responders locate you.
Student services offers many supports for students.
Indigenous student centre offers support, mentorship programs, and a gathering place. Many campuses have an Elder who can talk to students.
Health or medical services offer health and mental health care for students.
International student services help students with personal or academic issues, study and work permits, and visa applications.
Accessible learning services provide services and coordinate academic accommodations for students.
Pride centre provides support to LGBTQ2S+ students.
Sexualized violence resource centre offers support for victims of sexualized violence.
If the student is not on campus, you can connect with these services and ask that they connect with the student by telephone or video.
Support for Marginalized Groups
When a person has a sense of belonging and connectedness with family, friends, culture, and community, they are less likely to take their own life. Unfortunately, not all students have this sense of belonging, and some students, such as Indigenous students, international students, students with disabilities, and LGBTQ2S+ students, are at a higher risk of isolation and may not have the support they need.
For Indigenous students, you could reach out to the Indigenous student centre before talking to a student; a staff member or Elder can make themselves available to talk to a student immediately after you talk to the student or they may want to attend the meeting.
For international students, international student services on your campus can be a great resource.
For students with disabilities, you could connect them with student services or the accessible learning centre.
For LGBTQ2S+ students, you could refer the student to student services, the pride centre, or an LGBTQ2S+ organization in your community so someone is available to talk to the student and help them feel less alone.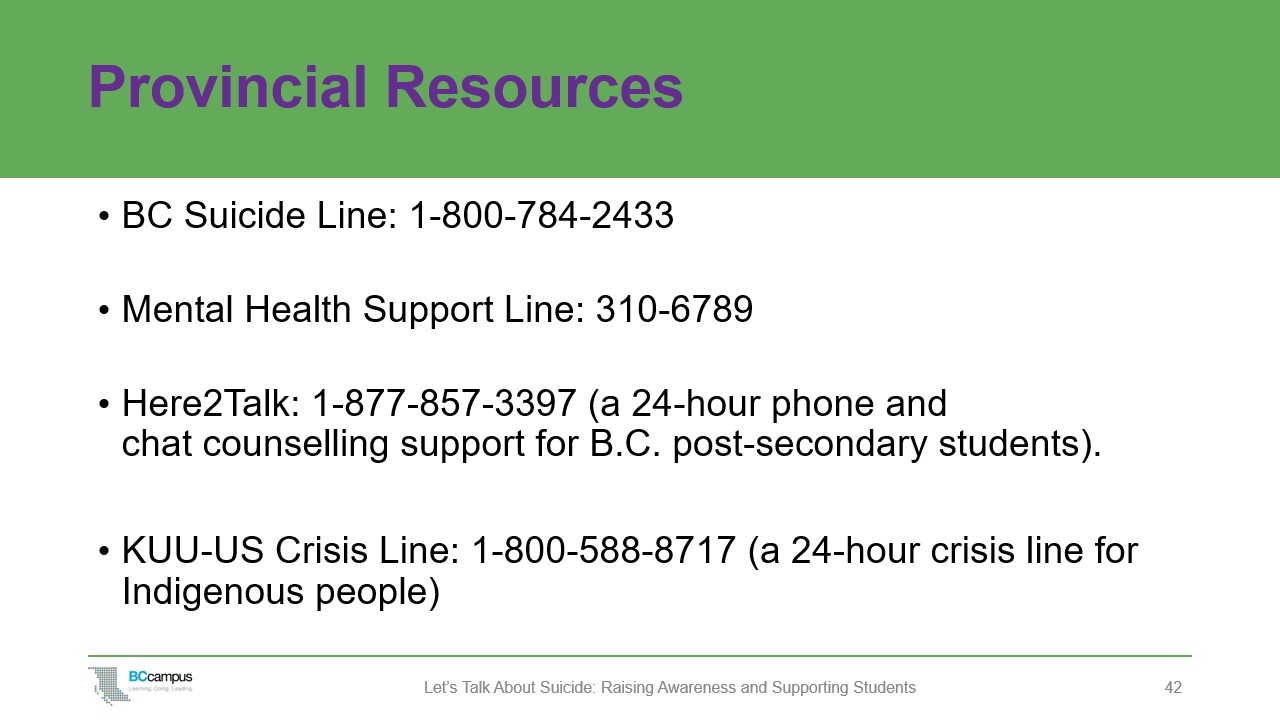 Provincial Mental Health and Crisis Lines
There are a number of provincial crisis lines that offer support. Here are some key ones:
BC Suicide Line: 1-800-784-2433
Mental Health Support Line: 310-6789
Here2Talk: 1-877-857-3397 (a 24-hour phone and chat counselling support for B.C. post-secondary students).
KUU-US Crisis Line: 1-800-588-8717 (a 24-hour crisis line for Indigenous people)
If you haven't already passed out Handout 1: Quick Reference: Responding to Students in Crisis, share handout out now so participants have a sheet with referral information.
If You're Concerned for a Student's Immediate Safety
If it's an emergency situation, such as the student has taken pills, is experiencing psychosis, or is a danger to themselves or others, call 911 and then contact campus security (if the student is on campus). If the student is not on campus, call 911 and tell the operator the student's current location as soon as possible.
If it's not an emergency, but you are concerned, it can be helpful to offer to contact support services on the student's behalf while they are with you. You may also offer to walk with the student to counselling services.
When You Are Unsure What to Do
When you are unsure what to do, consult with your colleagues, chairs, deans, or others whom you trust. Counsellors can meet with staff and faculty who are concerned about a student and are unsure how to handle the situation. You can also call a crisis line if you have serious concerns about a student. You are encouraged to consult when:
You are concerned about a student's safety, academic performance, or well-being but are unsure how or whether to intervene.
You are uncertain how to respond to a student's approach for help.
You continue to be concerned about a student who has declined help.
If a Student Won't See a Counsellor or Seek Help
Sometimes a student may not want to see a counsellor or refuses help.
Your first step in these cases will be to consider safety: Is anyone at risk of immediate harm, whether it's the student or someone else? If so, share your concerns with a counsellor or someone who can help ensure safety. If a student expresses thoughts about suicide, you don't have to carry that knowledge alone or assess the risk yourself – consult, refer, and if the risk is imminent, then contact emergency services.
If there is no risk of harm to anyone, keep in mind that ultimately it is the individual's right to choose whether to seek help. Individuals are resilient and often come to their own solutions or find their own supports when they are ready.
Ensure you are supported! Talk to friends, family, other instructors, an Elder, or a counsellor to share your concerns and decide how to proceed.
Privacy
Please be aware that if you refer a student to counselling services and are hoping to follow up to find out about the student, it is up to the student to give consent to release information.
Unless a student gives permission, faculty and staff won't be notified of what has happened.
Responding on Social Media
This session focuses primarily on face-to-face communication, but many departments have social media accounts, and it's possible a student may reach out to faculty or staff through social media or post a comment on a department's social media. If a student says anything on social media that makes you think they may be suicidal, take the threat seriously. Treat people online the same way you would treat them in person.
Keep the channels of communication open; find out more information about the individual such as name and contact details (location and phone number). Find out from the individual if they have a suicide plan and try to get the details of the plan.
Encourage the person to contact the distress centre, family and friends, or others who can provide immediate and personal help.
Direct the person at risk to a local suicide distress centre or telephone help line.
If the person is in imminent danger, contact 911 and give whatever information you have.
Key Points to Remember When Talking to Someone About Suicide
Speak with the student directly and in a comfortable, safe setting. Maintain clear professional boundaries.
Be specific about the behaviour you have observed, and don't be afraid to express concern. Use objective, non-judgmental language.
Stay calm and listen carefully. Acknowledge how the student is feeling and let them know you want to help. Take their concerns seriously.
Make a referral ­– let them know about supports on and off campus and that seeking help is a sign of strength and courage.
If something still doesn't feel right consult with your supervisor/chair/dean, student centre, campus security, or campus resources.
What Helps People Recover?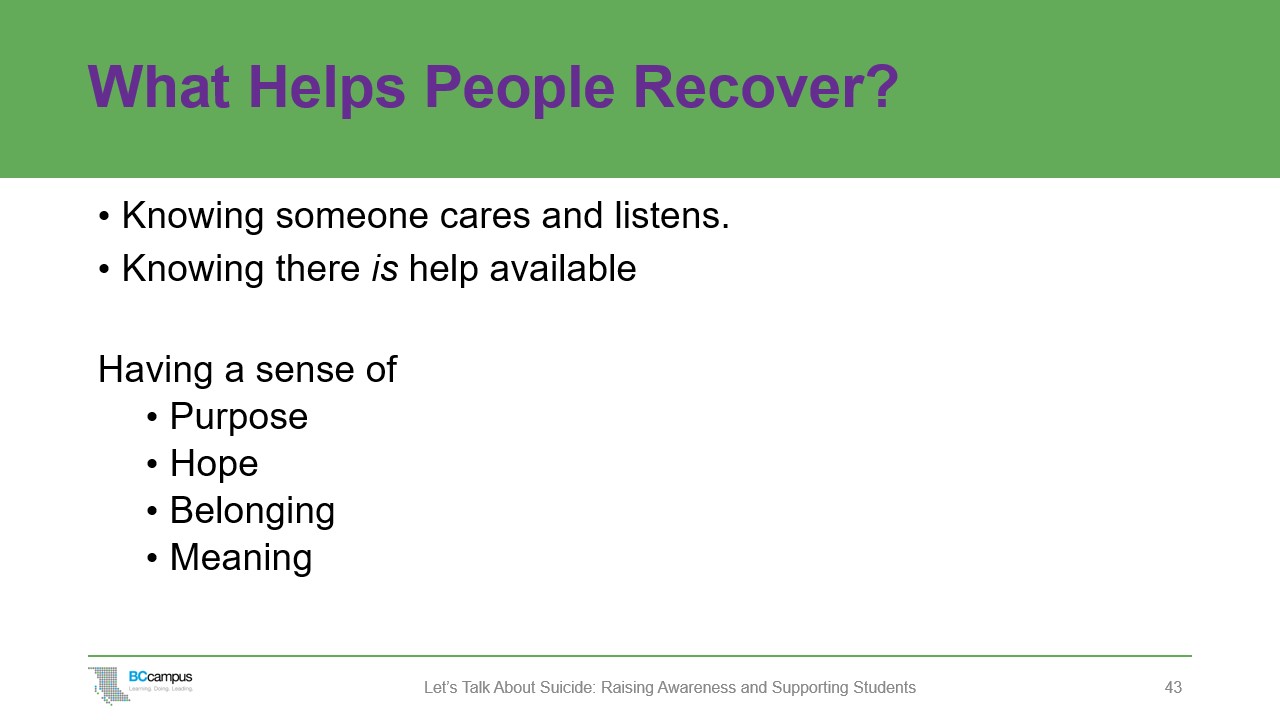 Remember: the most important thing you can do is listen and help connect the person to resources. Knowing that someone cares and that there is help available is what helps people recover.
Having a sense of purpose, hope, belonging, and meaning are essential to recovery.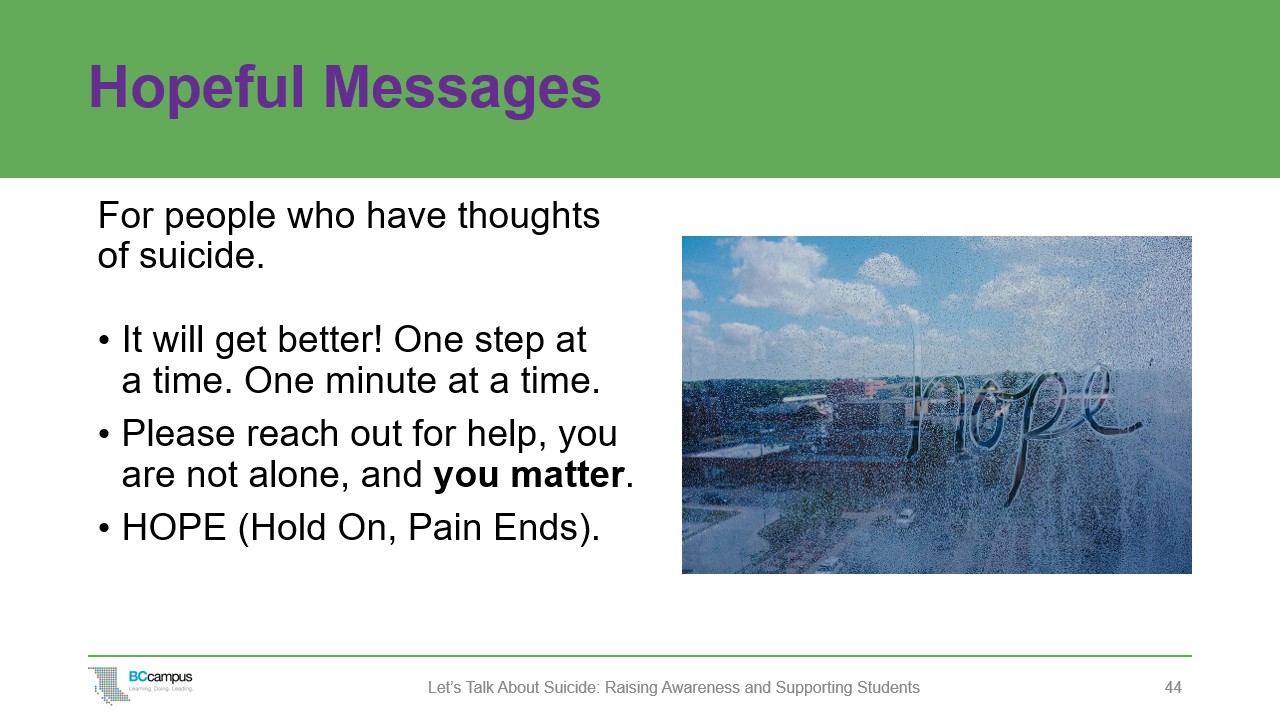 People who are considering suicide have lost hope, and they need to be reminded that there is hope. Some hopeful messages for people who have thoughts of suicide:
It will get better! One step at a time. One minute at a time.
Please reach out for help; you are not alone and you matter.
HOPE (Hold On, Pain Ends).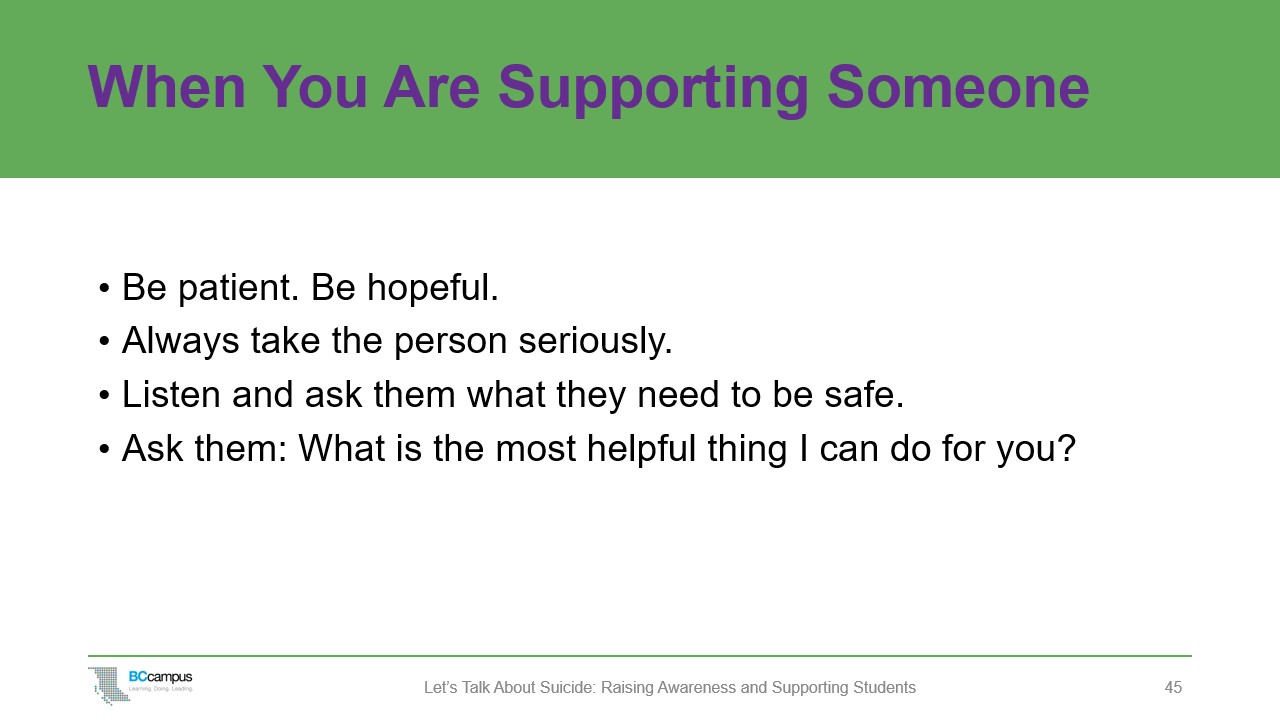 When you are supporting someone, remember:
Be patient. Be hopeful.
Always take the person seriously.
Listen and ask them what they need to be safe.
Ask them: What is the most helpful thing I can do for you?
Text Attributions
This chapter was adapted from Let's Talk: A Workshop on Suicide Intervention by Dawn Schell, University of Victoria.
New text: "Support for Marginalized Groups" by Barbara Johnston.  CC BY 4.0 license.
Media Attributions