Chapter 8: Being Critical
8.1 What Makes a Critique a Critique?
Define what it means to critique
Explain the differences between a critique and other essay forms
This section will introduce you to another essay form instructors often ask their students to produce: the critique.
A critique is a written work critically analyzing or evaluating another piece of writing; also known as a review or critical response.
What Is a Critique?
When you see the word critique, the first thing you may think of is to criticize. In actuality, critiques do not need to look only at the negative aspects of a source; they can also focus on the positive components or even have a mix of the positive and negative elements. They are critical response papers analyzing and evaluating an original source, such as the academic journal article you are being asked to use for this assignment.
Self-Practice Exercise 8.1
H5P:Reading Critical Response
Read the following short critique, and then come up with a list of elements you believe make this a critique as opposed to an expository paper.
Vetter and Perlstein's work on terrorism and its future is an excellent basis for evaluating views and attitudes to terrorism before the tragic events of 9/11. Written in 1991, the book provides an objective (but more theoretical) view on what terrorism is, how it can be categorized, and to what ideology it can be linked. Perspectives on Terrorism is a multifaceted review of numerous factors that impact and influence the global development of terrorism; those studying sociology or criminal justice might find ample information regarding the ideological roots and typology of terrorism as a phenomenon and as a specific type of violent ideology that has gradually turned into a dominant force of political change.
Vetter and Perlstein (1991) begin their work with the words "it has almost become pro forma for writers on terrorism to begin by pointing out how hard it is to define the term terrorism." However, the authors do not waste their time trying to define what terrorism is; rather, they are trying to look at terrorism through the prism of its separate elements, and objectively evaluate the concept of public acceptability of terrorism as a notion. Trying to answer the two critical questions "why surrogate the war?" and "who sponsors terrorism?" Vetter and Perlstein (1991) evaluate terrorism as a unjustifiable method of violence for the sake of unachievable goals, tying the notion of terrorism to the notion of morality.
To define terrorism in its present form it is not enough to determine the roots and the consequences of particular terrorist act; nor is it enough to evaluate the roots and the social implications of particular behavioural characteristics beyond morality. On the contrary, it is essential to tie terrorism to particular political conditions, in which these terrorist acts take place. In other words, whether the specific political act is terrorist or non-terrorist depends on the thorough examination of the social factors beyond morality and law. In this context, even without an opportunity to find the most relevant definition of terrorism, the authors thoroughly analyze the most important factors and sociological perspectives of terrorism, including the notion of threat, violence, publicity, and fear.
Typology of terrorism is the integral component of our current understanding of what terrorism is, what form it may take, and how we can prepare ourselves to facing the challenges of terrorist threats. Vetter and Perlstein (1991) state that "finding similarities and differences among objects and events is the first step toward determining their composition, functions, and causes." Trying to evaluate the usefulness of various theoretical perspectives in terrorism, the authors offer a detailed review of psychological, sociological, and political elements that form several different typologies of terrorism. For example, Vetter and Perlstein (1991) refer to the psychiatrist Frederick Hacker, who classifies terrorists into crazies, criminals, and crusaders. Later throughout the book, Vetter and Perlstein provide a detailed analysis of both the criminal and the crazy types of terrorists, paying special attention to who crusaders are and what role they play in the development and expansion of contemporary terrorist ideology. Vetter and Perlstein recognize that it is almost impossible to encounter an ideal type of terrorist, but the basic knowledge of terrorist typology may shed the light onto the motivation and psychological mechanisms that push criminals (and particularly crusaders) to committing the acts of political violence.
Perspectives on Terrorism pays special attention to the politics of terrorism, and the role, which ideology plays in the development of terrorist attitudes in society. "Violence or terrorism can be used both by those who seek to change or destroy the existing government or social order and those who seek to maintain the status quo" (Vetter & Perlstein, 1991). In other words, the authors suggest that political ideology is integrally linked to the notion of terrorism. With ideology being the central element of political change, it necessarily impacts the quality of the political authority within the state; as a result, the image of terrorism is gradually transformed into a critical triangle with political authority, power, and violence at its ends. In their book, Vetter and Perlstein (1991) use this triangle as the basis for analyzing the political assumptions, which are usually made in terms of terrorism, as well as the extent to which political authority may make violence (and as a result, terrorism) legally permissible. The long sociological theme of terrorism that is stretched from the very beginning to the very end of the book makes it particularly useful to those who seek the roots of terrorism in the distorted political ideology and blame the state as the source and the reason of terrorist violence.
Reference
Vetter, H.J. & Perlstein, G.R. (1991). Perspectives on terrorism (Contemporary issues in crime and justice). Pacific Grove, CA, USA: Brooks/Cole Publishing Company.
Taken from: http://www.custom-essays.org/examples/Perspectives_on_Terrorism_Essay_Vetter__Perlstein.html
List three to five elements you think make this a critique.
How a Critique Is Different
A critique is different from an expository essay which is, as you have learned, a discussion revolving around a topic with multiple sources to support the discussion points. As you can see in Self–Practice Exercise 8.1, depending on the type of critique you are writing, your reference page could include one source only. However, as you may discuss topical ideas within the original source, you may also want to include secondary sources to which you can compare and contrast the original source's ideas, but you need to always connect your discussion points back to the original source. Figure 8.1: Critiquing versus Other Essay Forms shows visual representations of what a critique structure could look in comparison to another essay, such as one that is expository or persuasive in purpose.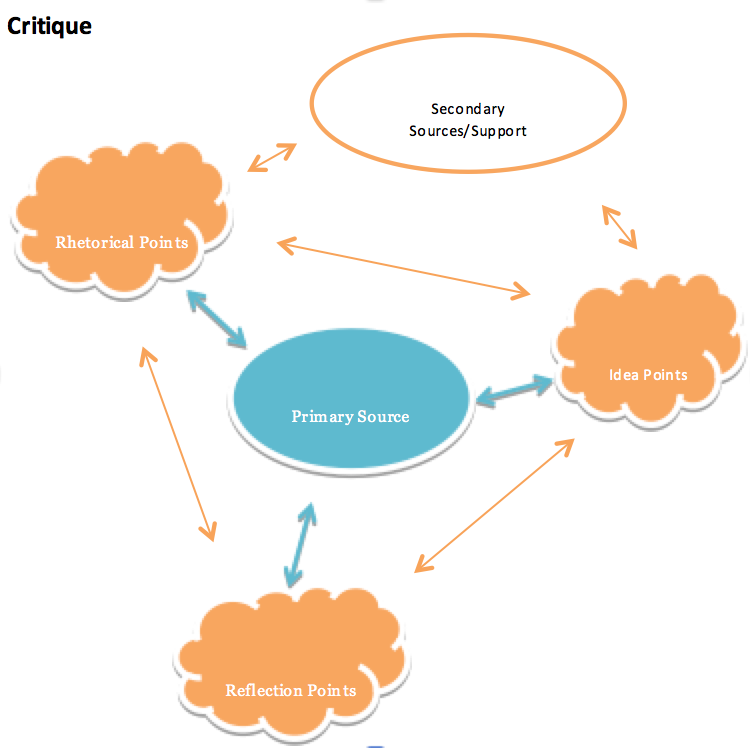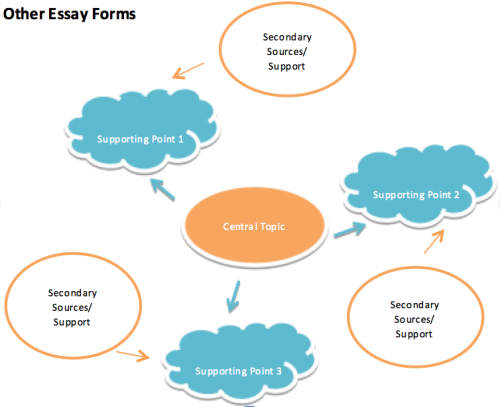 If you look at the mind map for the critique, you can see how all of the discussion points stem from and relate back to the original article and how all of the discussion points can be interconnected. Also, the bubble labelled Secondary Sources/Support shows you can integrate secondary sources to compare and contrast when discussing either rhetorical or idea points. In the second diagram, you can see that the supporting ideas relate to the central topic, but they are extensions of the topic each with their own supporting forms of evidence. There is less emphasis placed on synthesis of ideas, although this is something you can still do when composing this type of essay.
The Purpose of Critiquing
In a post-secondary environment, your instructors will expect you to demonstrate critical thinking skills that go beyond simply taking another person's ideas and spitting out facts. They will want you to show your ability to assess and analyze any type of information you use; they will also want to see that you have used sources to develop ideas of your own. Critiquing, or critical analysis, demonstrates you are able to connect ideas, arrive at your own conclusions, and develop new directions for discussion. You are also showing you have strong background knowledge on the topic in order to provide feedback on another person's discussion on the issue.
Critical analysis appears in many forms in the academic world. It is present when you select appropriate sources for your support; you practise it when you choose what information from those sources to include as your evidence; you demonstrate it when you start breaking down your topic to develop discussion points. Very importantly, you also use critical analysis or thinking when you synthesize, or blend, your ideas with those of experts. This means you go beyond a statement of facts and take a stance on a topic. In this case of a critique, you not only state your view on an idea or issue but also on one core source of information on that topic: you insert your ideas into the text's conversation.
Elements of a Critique
Often people go online for to read reviews of services or products. They sometimes make personal choices based on those reviews, such as what movie to go to or which restaurant to eat at. When you ask for a recommendation, the person you are asking will usually give you a brief summary of the experience then break his or her opinion down into smaller aspects—good and bad. For example, imagine you want to visit a new restaurant, and you ask your friend to recommend a place. Here is a sample response:
There is an amazing Japanese restaurant called Mega Sushi at the corner of Main and 12th. The food, atmosphere, and service are great. The food is always excellent, and they have a lot of original creations or spins on traditional Japanese food, but it still tastes authentic. The ingredients are always incredibly fresh, and you never have to worry about ordering the sashimi. The decor is also very authentic and classic, and the entire place is incredibly clean.
The service is generally very good—they even bring you a free sample roll while you wait for your food—but it can be a little slow during the dinner rush because it is such a popular place. Also, the prices are a little high because an average roll costs $15, but for the amazing food you get, it is totally worth it! I love this place!
When you break this example into sections, you can see the first and second sentences give the reviewer's general opinion of the restaurant; they also summarize the main components the reviewer will cover. The review is then broken into smaller categories or points. Notice that not all the points covered are positive: while the food and atmosphere are good, the service has both positive and negative aspects but is overall good. Also, the prices are high, but the writer states that people who eat there get good value for their money. Providing a generalized description first, the reviewer introduced the topic to the audience; she then analyzed individual aspects or components of the experience with examples to help convince the audience of her perspective. Not everyone may have the same positive experience, of course. What if it was someone's first time at this particular restaurant, and she arrived during the dinner rush feeling very hungry and had to wait a long time for a table? Not knowing how good the food is and that it is worth the wait, she may just leave, so her general impression of the restaurant would probably not be favourable. Whether the experience would be positive or negative would depend on an individual's personal experience and situation. The same is true for any critique. No two people will have exactly the same response to a source because of who they are, the time, and their prior experiences. When critiquing, you are responding to anything that sparks a response in you when you are reading a source. When reading your article, pay close attention to any time you have to reread a sentence or paragraph. Make note of this; at the time you may not know why you have an issue with that section. Just realize that there was a point where you had to stop and make a notation of some sort on the paper. Once you have finished reading, you can go back and think about what the issue actually was. Maybe the vocabulary was difficult; maybe the author's grammar was awkward and confusing; maybe the ideas did not make sense how they were organized; maybe you completely disagreed with the idea the author presented. Also, maybe something you read really sparked your interest, and you have the same opinion as the author, or perhaps the vocabulary was academic but not overly challenging where you would need to use a dictionary (the guiding questions for each critique form provided below will help you with this). All of these responses are valid and are things you can write about in your critique. Any critique, no matter if it is of a book, an article, or a movie, needs to contain the following elements:
A thesis: usually a general view of a source

Example: In Smith's (2009) article, he effectively argues his case for the reinstatement of capital punishment in Canada.

A summary: highlighting the main points presented

This would be the same as if you were writing a summary of any source you read.

Critiquing points: elements the reader (you) have a reaction to when reading the source

You will decide on these points based on your reactions and personal preferences using the guiding questions for each of the forms below as suggestions.