Section 4: Sammon (Salmon)
Lolo Illahee (Bring Home)
In this journey, the return home with the bounty of the harvest is important. The community gathers to help with the processing of the harvest, and here we draw on the voices of experience to help us understand what is involved in the harvest process, which requires everyone to work together.
The voices of experience share the importance of institutional strategic planning and developing project plans as a way to communicate the institution's priorities. Sherri Bell noted:
As a leader of the institution, I am responsible for making sure that we are moving forward. I've been part of many things where there's lots of talk, but it's always better to be moving forward with a plan, seeing things happen. So that strategic piece is something that is the head part but the act of doing is super important as well.
The collective doing is an essential aspect of working together to promote institutional change.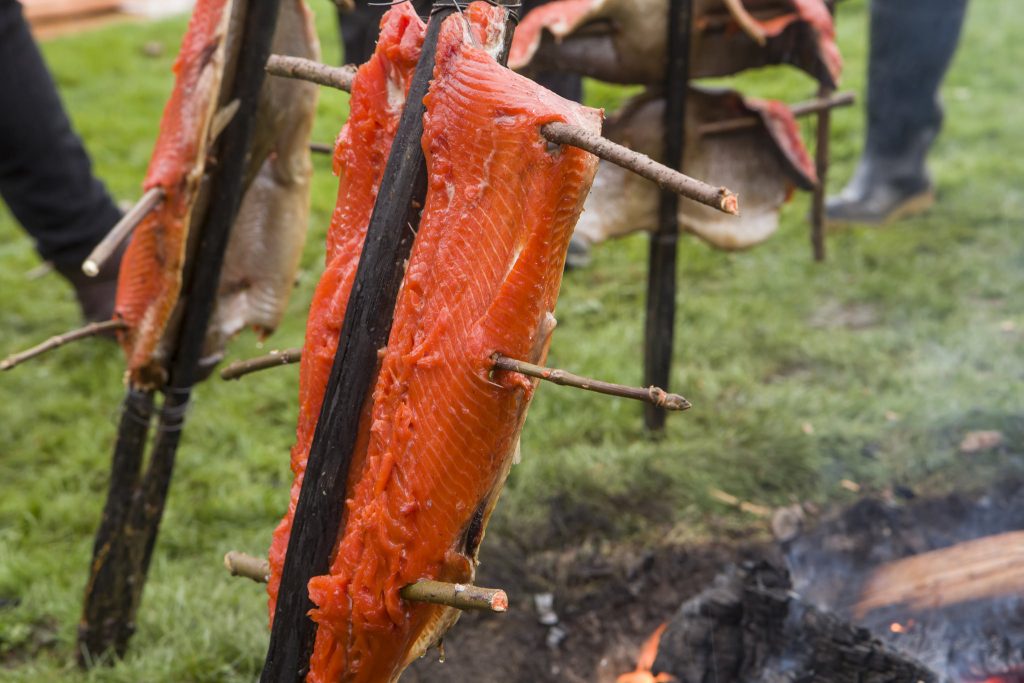 Ian Humphries spoke to the focus needed when working with a project plan for Indigenization:
The plan is far more than just checkmarks. It's very important to have some sense of progression, and know that the work is getting done. We've had discussions at the college about the little train that goes up the hill but doesn't quite manage to get over the top. But my interest in project charters and project plans is that it really helps me in terms of making sure the stuff gets done, of getting the train over the hill. We get so busy, so many things going on, so it's good we have a roadmap to keep us on course.
Developing an institutional work plan is a critical aspect of any new initiative. When doing so, it is important to be mindful of the relationships and consultation with Indigenous Peoples and communities.
Angus Graeme noted that Selkirk College has signed memoranda of understanding with the Okanagan (Syilx) Nation, the Ktunaxa Nation, the Colville Confederated Tribes (Lakes/Sinixt), and Métis Nation British Columbia. The memoranda outline the principles and commitments Selkirk has made to its partner communities to serve Indigenous students. Selkirk has also signed institutional memoranda with the Nicola Valley Institute of Technology and the En'owkin Centre, and is a very proud signatory to Colleges and Institutes Canada's (CICan) national Indigenous Education Protocol.
Working in consultation and in partnership with Indigenous Peoples and communities supports collaboration, which in turn supports student success. Leadership is an essential component of Indigenization. Janice Simcoe recalled working with Liz Ashton, former president of Camosun College, who acknowledged that Indigenization was something that had to happen. "She didn't try to run it," Janice said. "She didn't try to be the expert on it. She just said, yes, this is one of the things that we're going to do as a college." Liz Ashton and others helped pave the way, and her leadership reduced resistance.
Some of the best advice given by the post-secondary leaders that we interviewed was to learn to take risks, be vulnerable, and be curious. Sherri noted that she could take risks and make mistakes because the Indigenous faculty and staff provided her with a safe space and an opportunity to make the mistakes and take risks. John Boraas explained how taking risks, being vulnerable, and being curious have followed him into his personal life, and how he has challenged family and friends on their assumptions about Indigenous Peoples.
Dos and don'ts of Indigenization
A quick snapshot offered by the voices of experience:
Do:
Build genuine relationship with Indigenous Peoples and communities
Be patient with yourself and others
Be willing to help others learn
Take risks
Be vulnerable
Be curious
Give Indigenization time
Be prepared to challenge learners on what they have learned about Indigenous Peoples
Be open
Acknowledge efforts of allies
Don't:
Make assumptions
Be adversarial
Attack learners
Be afraid to make mistakes
Alienate learners
Be afraid to ask questions