Ikta: What is Indigenization?
Indigenization is a journey filled with yaa-yuk-miss (Atleo, 2004). This is a Nuu-chah-nulth term that expresses both the love and pain involved in transformative experiences. Indigenization is a process that requires an appreciation of the sacred and that must include ceremony. One must prepare emotionally, mentally, spiritually, and physically for the journey of Indigenization.
The Indigenization process strives to share Indigenous ways of knowing, being, and doing in ways that will educate and engage all members of the college or university community and foster the effective inclusion of Indigenous learners and educators.
In Reconciliation within the Academy: Why Is Indigenization So Difficult? by Michael Bopp, Lee Brown, and Jonathan Robb (2017, p. 2), Indigenization is defined as "the process of creating a supportive and comfortable space inside our institutions within which Indigenous people can succeed." Certainly this is not the only definition; however, it is offered as a workable articulation of Indigenization.
Bopp, Brown, and Robb (2017) write that success in Indigenization is not just about students completing their course work, but also about "reframing knowledge production and transmission within the academy from an Indigenous perspective."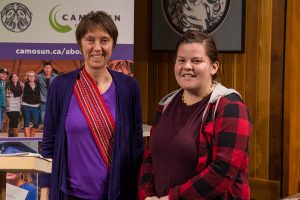 Indigenization acknowledges the invisibility of Indigenous Peoples within post-secondary institutions and the absence of Indigenous knowledge within institutional frameworks. To address these gaps, Indigenized institutions will seek Indigenous voices in educational decision making and maintain partnerships with local Indigenous communities, organizations, and institutions while being responsive to these communities' aspirations of self-determination.
Indigenization means using "culturally responsive curriculum and pedagogy." Indigenized curriculum should help ensure that non-Indigenous people develop skills and knowledge to enable them to work with and live alongside their Indigenous neighbours knowledgably and respectfully.
And finally, Indigenization depends on the reciprocal nature of mentorship, where Indigenous scholars and leaders lend their support to allies by sharing their knowledge and experience to ensure the retention and success of Indigenous learners.