Chapter 12. Aboriginal Tourism
Keith Henry and Terry Hood
Overview
In previous chapters, you've learned that Aboriginal tourism is an increasingly central part of BC's tourism economy. In Canada, tourism operations that are majority owned and operated by First Nations, Métis, and Inuit people comprise this segment of the industry. This chapter explores the global context for Aboriginal tourism development, the history of the sector in BC, and important facts about Aboriginal tourism in BC today.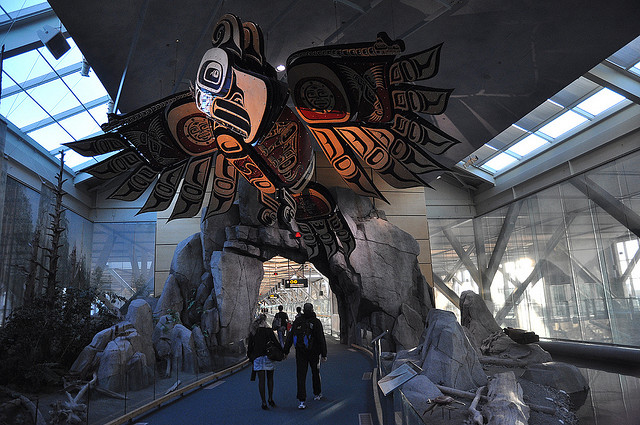 Today's travellers are attracted to many global destinations because of the opportunity to interact with, and learn from, other cultures. Visitors to Australia can meet an Aboriginal guide who will help them feel a spiritual connection through a memorable outback experience. In New Zealand (Aotearoa in the Maori language), tourists are often welcomed into a ceremonial community marae, a communal or sacred centre that serves a religious and social purpose in Polynesian societies (New Zealand Maori Tourism Society, 2012).
In the mountainous region of northern Vietnam, traditionally dressed ethnic minority villagers are now opening their homes to international trekkers, thus generating new income for the community. In the United States, visitors to the ancient desert wonders of Monument Valley can enhance their experience in a Navaho-run hotel, enjoying indigenous cuisine while learning about the cultures of the Native American groups that have lived there for centuries.
Globally, indigenous peoples are those groups protected under international or national legislation as having specific rights based on their historical ties to a particular territory and their cultural or historical distinctiveness from other populations (Coates, 2004). Indigenous people in Canada are often called First peoples or Aboriginal peoples and have diverse languages, ceremonies, traditions, and histories. The Canadian Constitution Act recognizes three groups of Aboriginal people: First Nations, Inuit, and Métis.
Before learning more about Canadian First peoples and their social and cultural connections to tourism, let's acknowledge the often negative impacts of recent history on indigenous peoples around the globe. Current attempts to influence positive change in this area will then be highlighted.
Tourism and Indigenous Human Rights
The history of tourism has seen considerable exploitation of indigenous peoples. Land has been expropriated, economic activity suppressed by outside interests, and cultural expressions (such as arts and crafts) have been appropriated by outside groups. Appropriation refers to the act of taking something for one's own use, typically without the owner's permission.
In recognition of these wider concerns, in 2007, the United Nations created the Declaration on the Rights of Indigenous People. This marked a significant achievement in obtaining international recognition of key rights, including, but not limited to, self-determination, land use, and natural resources rights. It set forth the minimum standards for the survival, dignity, and well-being of the indigenous peoples of the world (United Nations, 2007).
Themes related to indigenous tourism were raised at this time, but it was not until 2012 that the Pacific Asia Travel Association organized a gathering of global indigenous tourism professionals to establish guiding principles for the development of indigenous tourism. These principles are now known as the Larrakia Declaration on the Development of Indigenous Tourism, named after the Larrakia Nation, the Australian Aboriginal host community for the meeting (PATA & WINTA, 2014).
The Larrakia Declaration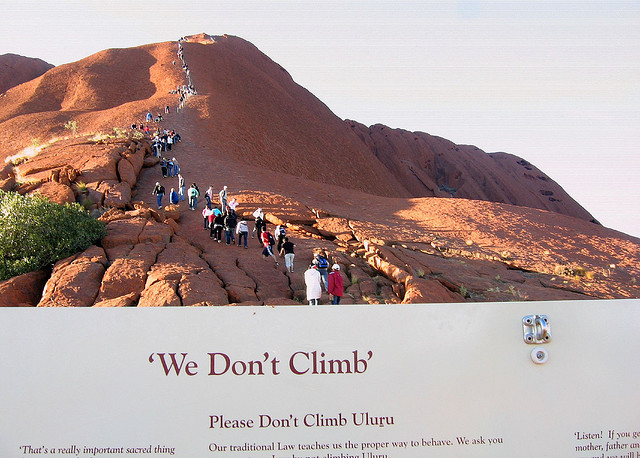 According to the Larrakia Declaration, these are the key principles that should guide all culturally respectful indigenous tourism business development (World Indigenous Tourism Alliance, 2012, pp. 1-2):
"It is hereby resolved to adopt the following principles; that …
Respect for customary law and lore, land and water, traditional knowledge, traditional cultural expressions, cultural heritage that will underpin all tourism decisions.
Indigenous culture, the land and waters on which it is based, will be protected and promoted through well managed tourism practices and appropriate interpretation.
Indigenous peoples will determine the extent, nature and organisational arrangements for their participation in tourism and that governments and multilateral agencies will support the empowerment of Indigenous people.
That governments have a duty to consult and accommodate Indigenous peoples before undertaking decisions on public policy and programs designed to foster the development of Indigenous tourism.
The tourism industry will respect Indigenous intellectual property rights, cultures and traditional practices, the need for sustainable and equitable business partnerships and the proper care of the environment and communities that support them.
That equitable partnerships between the tourism industry and Indigenous people will include the sharing of cultural awareness and skills development which support the well-being of communities and enable enhancement of individual livelihoods."
Using these guiding principles, it becomes clear that Aboriginal tourism development can be considered successful only if the rights of indigenous people are upheld.
Before turning our attention to Canadian and BC Aboriginal tourism examples, let's briefly consider the context in which these activities in tourism are occurring, and review more important definitions. We can do this by taking a closer look at Canada's First peoples.
First Peoples in Canada
First Peoples: A Guide for Newcomers (Wilson & Henderson, 2014) is an excellent resource for tourism professionals who want to know more about the complex socio-political issues surrounding Aboriginal people in Canadian history and society today. This section contains highlights from this guide.
In 2011, approximately 1.4 million people in Canada identified themselves as Aboriginal — roughly 4.3% of the total population.
First Nations people are Aboriginal peoples who do not identify as Inuit or Métis. They have lived across present-day Canada for thousands of years and have numerous languages, cultures, and spiritual beliefs. For centuries, they managed their lands and resources with their own governments, laws, and traditions, but with the formation of the country of Canada, their way of life was changed forever. The government forced a system of band governance on First Nations so that they could no longer use their system of government. There are now 203 bands in BC, and 614 across the country (Wilson & Henderson, 2014).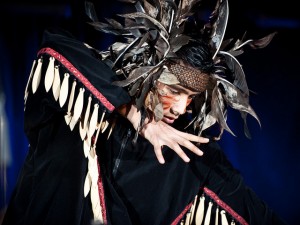 Colonial settlement has left a legacy of land displacement, economic deprivation, and negative health consequences that Canada's First Nations are still striving to overcome (Wilson & Henderson, 2014). However, First Nations people are working hard to reclaim their traditions, and in many places there is an increasing pride in a revitalized culture.
Indian (or Native Indian) is still an important legal term in Canada, but many Aboriginal people associate it with government regulation and colonialism and its use has gone out of favour, unlike in the United States where American Indian is still common (Wilson & Henderson, 2014).
Inuit have lived in the Arctic region of Canada for countless years. Many Inuit still rely on the resources of the land, ice, and sea to maintain traditional connections to the land. The old ways of life were seriously compromised, however, when Inuit began to participate with European settlers in the fur trade. The Government of Canada accelerated this change by requiring many Inuit communities to move away from their traditional hunting and gathering ways of life on the land and into permanent, centralized settlements (Wilson & Henderson, 2014).
Today, in spite of social and economic hardships created by this change, many Inuit communities focus on protecting their traditional way of life and language. Recently the inukshuk, an Inuit symbol used as a welcoming signpost for hunters, was used as a key emblem for the 2010 Olympic and Paralympic Games.
Note that non-Inuit people used to call Inuit people Eskimo, but this is now considered insulting and should be avoided (Wilson & Henderson, 2014).
Métis comes from the words to mix. In the 1600s and 1700s, many French and Scottish men migrated to Canada for the fur trade. Some of them had children with First Nations women and formed new communities, and their people became the first to be called Métis. Today, the infinity symbol on the Métis flag symbolizes the joining of two cultures that will live forever.
The distinct Métis culture is known for its fine beadwork, fiddling, and jigging. Canadian and international tourists can learn from and enjoy participating in a large number of Métis festivals in most provinces across the country.
There is an increasing appreciation that intercultural exchanges can help strengthen cultures at risk, if managed thoughtfully. For example, the growing niche of Arctic cruise tourism has brought both opportunities and challenges to the isolated small communities of Canada's rugged Arctic coast. In recognition, the World Wildlife Fund produced a Code of Conduct for Arctic tourists. In part it reads:
Respect Local Cultures:

Learn about the culture and customs of the areas you will visit before you go.
Respect the rights of Arctic residents. You are most likely to be accepted and welcomed if you travel with an open mind, learn about local culture and traditions, and respect local customs and etiquette.
If you are not travelling with a tour, let the community you will visit know that you are coming.
Supplies are sometimes scarce in the Arctic, so be prepared to bring your own.
Ask permission before you photograph people or enter their property or living spaces."

(WWF International Arctic Programme, n.d., p. 2)
Tourism can promote community and economic development while preserving indigenous culture. With that in mind, let's have a look at the evolution of Aboriginal tourism in Canada, and at some strategies to advance this segment of the industry.
Aboriginal Tourism in Canada
Evolution of Aboriginal Tourism in Canada
While there has always been some demand among visitors to Canada to learn more about Aboriginal heritage, driven by the strong interest of Europeans in particular, until recently there has been no concerted effort to focus on defining and strengthening Aboriginal cultural tourism. However, over the last 20 years or so, steps have been taken to support authentic Aboriginal cultural products and experiences and to counter decades of appropriation of Aboriginal symbols and arts and crafts by non-Aboriginal Canadians.
Aboriginal exhibits and displays were developed for tourism attractions and museums by well-meaning non-Aboriginals who did not consult with local communities. Souvenir shops were often filled with inexpensive overseas-made replicas of authentic Aboriginal arts and crafts, and some still are. To this day, we see the Canadian Prairie Aboriginal headdress being used as a way of (mis)representing First Nations across Canada.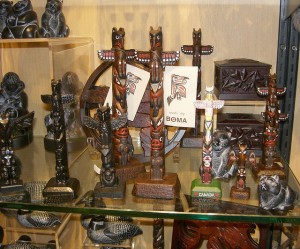 As the number of Aboriginal tourism businesses started to increase in the 1980s and 1990s, the federal government initiated discussions on Aboriginal tourism. The outcome was the formation of national organizations that provided a coordinated industry voice for operators: Aboriginal Tourism Team Canada (ATTC), Aboriginal Tourism Canada, and Aboriginal Tourism Marketing Circle (ATMC), and others. These groups started the trend of defining Aboriginal cultural tourism standards and promoting the establishment of regional, provincial, and territorial organizations to develop and market more successful businesses. Today, these functions are performed by the Aboriginal Tourism Association of Canada (ATAC).
Aboriginal Tourism in Canada Today
Despite challenges such as appropriation, thanks to these organizations, tourism is becoming a major economic and cultural driver for Aboriginal communities across Canada. It is estimated that in 2014 "Aboriginal tourism provided over 37,000 jobs in Canada and generated almost $3 billion in gross output into the Canadian economy … up substantially since 2002 where jobs were estimated at 13,000 and gross output was estimated at $2.3 billion" (O'Neil et al., 2014, p. i-xii).
To define this segment of the industry, the Aboriginal Tourism Association of Canada (2013, p. 4) uses these terms:
Aboriginal tourism: describes all tourism businesses that are majority-owned and operated by First Nations, Métis and Inuit. They must also demonstrate a connection and responsibility to the local Aboriginal community and traditional territory where the operation resides.

Aboriginal cultural tourism: meets the Aboriginal tourism criteria and in addition, a significant portion of the experience incorporates Aboriginal culture in a manner that is appropriate, respectful and true to the Aboriginal culture being portrayed. The authenticity is ensured through the active involvement of Aboriginal people in the development and delivery of the experience.

Aboriginal cultural experiences: offer the visitor a cultural experience in a manner that is appropriate, respectful and true to the Aboriginal culture being portrayed.
Strengthening Aboriginal Tourism in Canada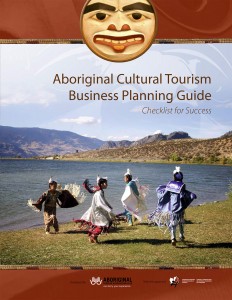 Tourism is of significant interest to growing numbers of Aboriginal communities in Canada. If developed in a thoughtful and sensitive manner, it can have potential positive economic, cultural, and social impacts. Many communities have undertaken tourism development activities to support cultural revival, intercultural awareness, and economic growth. This growth brings jobs and career opportunities for Aboriginal people at all skill levels.
In the Aboriginal Cultural Tourism Business Planning Guide, the following are suggested as the foundational building blocks necessary to run a successful and authentic Aboriginal tourism business:
Understand the industry, learn about cultural tourists, and develop products carefully
Ensure experiences are culturally authentic
Involve the community's "culture keepers" and Elders
Practice environmental sustainability
Prepare an Aboriginal cultural tourism business plan
Meet visitor expectations through staff training and excellent hospitality, provided from a cultural perspective
Ensure an effective web and social media presence
Build personal support networks
The guide also highlights the importance of place to the Aboriginal tourism experience. It suggests that guests leave an authentic tourism experience with a memorable collection of feelings, memories, and images that all contribute to a unique sense of place and help guests understand the culture being shared (Kanahele, 1991). In order to highlight this sense of place, operators are encouraged to reflect on and impart aspects of their culture with the following elements of their business (Aboriginal Tourism BC & CTHRC, 2013):
Decor such as signage, displays, art, photography
Company name
Branding elements such as logo and website design
Employee uniforms or dress code
Food and beverage
Traditional stories shared with guests
Key words and expressions from the Aboriginal host language shared in guest interactions
These touch points create a richer, and more authentic, experience for the visitor.
As an Elder once stated, Aboriginal tourism businesses showcase "culture, heritage and traditions," and "because these belong to the entire community, the community should have some input" (Aboriginal Tourism BC & CTHRC, 2013, p. 19). For this reason, the guide suggests operators consider the extent to which:
Community members understand the project or business as it is being proposed
Keepers of the culture are engaged in the development of the idea
The business or experience reflects community values
By following these guidelines, Aboriginal tourism businesses can honour the principles outlined in the Larrakia Declaration and other similar documents.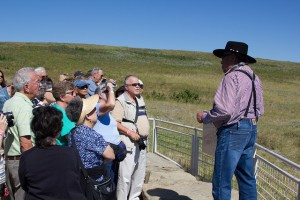 Examples of Canadian Aboriginal Tourism Development
Over the past decades, hundreds of Aboriginal-focused tourism experiences have developed in Canada. Examples include:
The Head-Smashed-In Buffalo Jump interpretive centre in Alberta
Northern lights viewing with indigenous hosts at Aurora Village in Yellowknife, Northwest Territories
Essipit whale watching with the Innu in Quebec
Driving the Great Spirit Circle Trail of Aboriginal experiences on Manitoulin Island in Ontario
For an in-depth exploration of a Canadian Aboriginal tourism destination, see the case study at the end of this chapter on the Trails of 1885 project. This and other initiatives have been successful across the country, including some in British Columbia, which has begun to emerge as a premier destination for Aboriginal experiences.
Aboriginal Tourism in BC
The Aboriginal Tourism Association of BC (AtBC) was founded in 1996, spurred by a research project that detailed the changing motivations of visitors to BC. It identified that specific target markets were particularly motivated to visit BC to experience local or regional Aboriginal culture. Using this information, AtBC created a work plan, established funding partnerships with governments, developed a membership model, and initiated a range of strategies and tactics outlined in two five-year plans.
Since its inception, AtBC has grown to represent over 150 diverse stakeholder businesses, including campgrounds, art galleries and gift shops, hotels, eco-lodges and resorts, Aboriginal restaurants and catering services, cultural heritage sites and interpretive centres, kayak and canoe tours, adventure tourism operations, and guided hikes through heritage sites (Aboriginal Tourism BC, 2012). It has also proven adept at online promotion and social media. As well, it has become world renowned for its strategic approach to Aboriginal tourism development, which we examine in the next section.
A Strategic Approach to Growth
In 2012, AtBC released its five-year strategic plan, which identified targets for Aboriginal cultural tourism industry success. Its goals by 2017 included (Aboriginal Tourism BC, 2012):
Increased provincial revenue of $68 million (10% growth per year)
Employment at 4,000 full-time equivalent positions (10% growth per year)
100 market-ready Aboriginal cultural tourism businesses (10% growth per year in all six BC tourism regions)
To achieve these targets, the plan identified key strategies, reviewed and adjusted annually, such as (Aboriginal Tourism BC, 2013):
Push for market readiness
Build and strengthen partnerships
Focus on online marketing
Focus on key and emerging markets
Focus on authenticity and quality assurance
Take a regional approach
Following good overall tourism planning principles, AtBC ensured its plan aligned with Destination BC's five-year tourism strategy, Gaining the Edge, as well as Canada's federal tourism strategy. As part of this alignment, recent efforts have placed renewed emphasis on the need for market readiness.
Push for Market Readiness
As we've learned elsewhere in this textbook, today's travellers are more complex than in the past and have higher expectations. Potential guests are web-savvy and have the world at their fingertips. For this reason, it's important that Aboriginal operators ensure they are sufficiently ready to run as a tourism business.
There are three categories of readiness, each with a set of criteria that must be met (Aboriginal Tourism Association of Canada, 2013):
A visitor-ready operation is often a start-up or small operation that might qualify for a listing in a tourism directory but not be considered ready for cost-shared promotions with other businesses due to lack of amenities or predictability.
A market-ready business must meet visitor-ready criteria plus demonstrate a number of other strengths around customer service, marketing materials, published pricing and payments policies, short response times and reservations systems, and so on.
Export-ready criteria include the previous categories, plus sophisticated travel distribution trade channels to attract out-of-town visitors. They provide highly reliable services to all guests, particularly those travelling with groups.
By educating cultural tourism businesses about these standards, and then creating incentives for marketing opportunities, AtBC helps to raise the bar for BC Aboriginal cultural tourism experiences. Its goal is to push as many operators toward market readiness (the second category) as possible so that they may eventually become export ready alongside other BC tourism experiences.
Authenticity and Quality Assurance

Another one of the five-year strategic initiatives is the program to encourage visitors to purchase authentic arts and crafts, not unauthorized knock-offs. The Authentic Indigenous Artisan Program protects Aboriginal artists by identifying three tiers of artwork for active promotion (Authentic Indigenous, 2015):
Tier 1: The highest level of authenticity. If an artist, or an artist via an indigenous company, designs, produces, and distributes an indigenous art product, it will be permitted to display a Tier 1 Authentic Indigenous stamp or tag. This tag ensures that indigenous artists and craftspeople have been remunerated for their work, while at the same time the integrity of their designs is being protected.
Tier 2: Allows indigenous arts entrepreneurs to compete in a market where there has traditionally been no indigenous involvement. If an indigenous art product is designed by an indigenous person and distributed by an indigenous person or business, but made outside the indigenous community, it can display a Tier 2 Authentic Indigenous stamp or tag.
Tier 3: Allows artists to license their creations for production and sale outside of the indigenous community.
FirstHost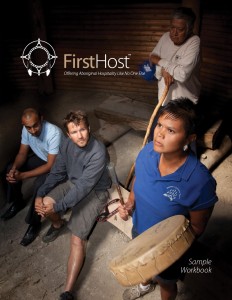 Another key component of the Aboriginal tourism experience is the host. In BC, the FirstHost program supports the development of Aboriginal hosts who are well trained, know what guests are looking for, and who can help provide an authentic cultural experience. This is a one-day tourism workshop offered through the Native Education College and delivered throughout the province and Canada.
FirstHost was inspired by Hawaiian tourism pioneer, Dr. George Kanahele (1913-2000), who saw the impact tourism was having on indigenous culture and set out to educate the industry that "the relationship between place, host and guest must be one of equality" (Native Education College, 2014, p. 28). Participants learn about hospitality service delivery and the special importance of the host, guest, and place relationship. The program is recognized by Aboriginal Tourism BC, WorldHost, and is funded by the Coastal Corridor Consortium of educators from multiple postsecondary institutions and cultural organizations (Native Education College, 2014). This well-received workshop, delivered by Aboriginal trainers, is another reason Aboriginal tourism continues to grow stronger in the province.
Examples of BC Aboriginal Tourism Development
Aboriginal tourism in BC ranges from arts and cultural attractions to authentic food and beverage experiences to wildlife tours that highlight the spiritual significance of BC's natural places to Aboriginal people.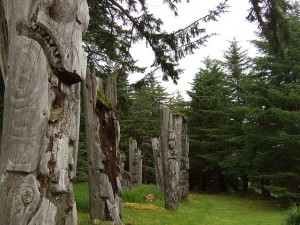 Examples of BC Aboriginal tourism enterprises include:
The Bill Reid Gallery of Northwest Coast Art in the heart of downtown Vancouver, home of the permanent collection of Bill Reid as well as contemporary exhibitions
St. Eugene Golf Resort Casino, a First Nation-owned 4.5-star hotel with a golf course and casino, outside of Cranbrook in the Kootenay Rockies
Cariboo Chilcotin Jetboat Adventures, offering exciting and scenic tours of the Fraser River
Quw'utsun' Cultural and Conference Centre, owned by the Cowichan band in Duncan
Salmon n' Bannock Bistro, offering authentic Aboriginal food in urban Vancouver
The village of Ninstints (Nans Dins), a UNESCO world heritage site located on a small island off the west coast of Haida Gwaii
While AtBC members are too numerous to detail here, one BC community is often in the spotlight for its significant tourism activity, thanks to its physical and cultural assets and positive leadership. Let's take a closer look at this example.
Nk'Mip
The Osoyoos (Nk'Mip) Indian Band (OIB) is part of the Okanagan First Nation located in the Interior of BC. The band is home to about 400 on-reserve members. A main goal of the OIB is to move from dependency to a sustainable economy like that which existed before contact (Centre for First Nations Governance, 2013).
Okanagan First Nations once travelled widely to fish, gather, and hunt. Each year, the first harvests of roots, berries, fish, and game were celebrated during ceremonies honouring the food chiefs who provided for the people. During the winter, people returned to permanent winter villages. The names of many of the settlements in the Okanagan Valley — Osoyoos, Keremeos, Penticton and Kelowna — come from Aboriginal words for these settled areas and attest to the long history of the Syilx people on this land.
Just 40 years ago, the OIB was bankrupt and living off government social assistance. In 1988, it sought to turn the tide on this history and created the Osoyoos Indian Band Development Corporation (OIBDC). Through good leadership and initiative, the band has been able to develop agriculture, eco-tourism, and commercial, industrial, and residential developments on its 32,200 acre reserve lands. It does have the good fortune to be located in one of Canada's premier agricultural and tourism regions; however, it has also taken a determined and well-crafted effort to become an example of indigenous economic success. The band employs hundreds of people and has annual revenues of around $26 million (LinkBC, 2012).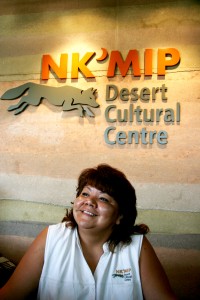 The OIBDC now manages a number of tourism operations, and visitors to this sunny desert region can stay in the 226-room Spirit Ridge Vineyard Resort & Spa, visit the Nk'Mip Desert Cultural Centre, camp in the Nk'Mip Campground & RV Resort (a 326-site operation open year round), and enjoy visiting Nk'Mip Cellars (the first Aboriginal-owned winery in North America). Site preparation is also underway for a $120 million Canyon Desert Resort, a joint venture with Bellstar Hotels and Resorts located adjacent to the 18-hole Nk'Mip Canyon Desert Golf Course. Future vineyard and resort developments are on the drawing board (LinkBC, 2012).
The area attracts about 400,000 visitors per year, and at peak tourist season there is essentially full employment among the more than 470 members of the Osoyoos reserve. In addition to the core businesses, many secondary businesses have formed. For example, the award-winning Nk'Mip Desert Cultural Centre promotes conservation efforts for desert wildlife and has also helped to create several spinoff businesses, including a landscaping business, a greenhouse for indigenous plants, a website development business, and a community arts and crafts market (LinkBC, 2012).
Conclusion
Examples like Nk'Mip demonstrate that BC is on track to become one of the world's leading destinations for Aboriginal tourism experiences. Across Canada, First Nations and their partners are using Aboriginal-developed standards to help preserve and strengthen cultures while building economic benefits for their communities. This is directly in line with the global trend toward linking tourism with the need to uphold indigenous rights. When developed in partnership with indigenous communities, Aboriginal tourism can continue to attract visitors, provide quality guest experiences, and honour Aboriginal heritage.
Up to this point, we've gained an understanding of multiple sectors of the industry as well as special considerations for professionals in BC. Chapter 13 explores careers and work experience in tourism and hospitality.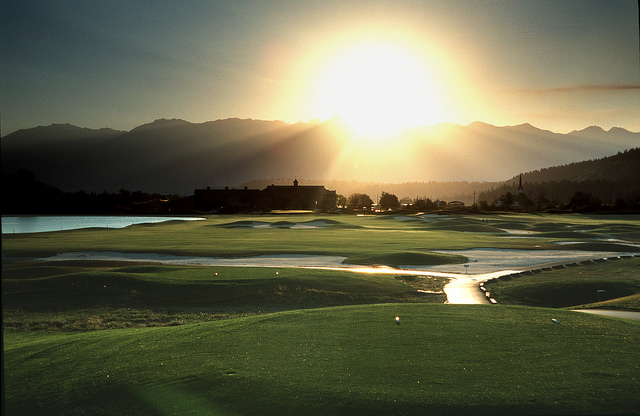 References
Aboriginal Tourism Association BC & Canadian Tourism Human Resource Council (CTHRC). (2013). Aboriginal cultural tourism business planning guide. [PDF] Retrieved from http://linkbc.ca/siteFiles/85/files/ACTBPG.pdf
Aboriginal Tourism Association of Canada (as Aboriginal Tourism Marketing Circle). (2013). Aboriginal cultural tourism guide. [PDF] Retrieved from http://aboriginaltourismmarketingcircle.ca/wp-content/uploads/2014/01/AboriginalCulturalExperiencesGuide_2013-s.pdf
Aboriginal Tourism BC. (2012). The next phase (2012-2017): A five-year strategy for Aboriginal cultural tourism in BC. [PDF] Retrieved from www.aboriginalbc.com/assets/corporate/The%20Next%20Phase%20-%20BCs%20Aboriginal%20Cultural%20Tourism%20Strategy%20-%20AtBC.pdf
Aboriginal Tourism BC. (2013). The next phase (2012-2017): A five-year strategy for Aboriginal cultural tourism in BC: Year one report. [PDF] Retrieved from www.aboriginalbc.com/assets/AtBC-5-Year-Plan-2012-2017-The-Next-Phase-Year-1-Keith-Henry.pdf
Authentic Indigenous. (2015). Authenticity tags. Retrieved from http://authenticindigenous.com/authenticity-tags/
Centre for First Nations Governance. (2013). Best practices: Osoyoos Indian Band. Retrieved from http://fngovernance.org/toolkit/best_practice/osoyoos_indian_band
Coates, Ken S. (2004). A global history of indigenous peoples: Struggle and survival. New York, NY: Palgrave MacMillan. p12 ISBN 0-333-92150-X.
Kanahele, G. (1991). Critical reflections on cultural values and hotel management in Hawai'i. Project Tourism Keeper of the Culture. Honolulu, HI: The WAIAHA Foundation.
LinkBC, Federal Provincial Territorial Minsters of Culture and Heritage. (2012). Cultural & heritage tourism: A handbook for community champions. [PDF] Retrieved from  http://linkbc.ca/siteFiles/85/files/CHT_WEB.pdf
Native Education College. (2014). First Host: Offering hospitality skills like nobody else.[PDF] Sample Workbook. Retrieved from www.necvancouver.org/sites/default/files/firsthost_2014_sample.pdf
New Zealand Maori Tourism Society. (2012). Maori tourism. Retrieved from www.maoritourism.net
O'Neil, B., Payer, B., Williams, P., Morten, K., Kunin, R., & Gan, L. (2014). National Aboriginal tourism research project 2014. Vancouver, BC: Aboriginal Tourism Marketing Circle.
Pacific Asia Travel Association (PATA) and World Indigenous Tourism Alliance (WINTA). (2014). Indigenous Tourism and human rights in Asia and Pacific Region: Review, analysis & guidelines. Bangkok, Thailand: PATA.
Trails of 1885. (2015). Home page. Retrieved from www.trailsof1885.com.
United Nations. (2007). UN declaration on the rights of indigenous people. [PDF] www.un.org/esa/socdev/unpfii/documents/DRIPS_en.pdf
Wilson, K. & Henderson, J. (2014, March 3). First Peoples: A guide for newcomers. [PDF] Vancouver: City of Vancouver. Retrieved from http://vancouver.ca/files/cov/First-Peoples-A-Guide-for-Newcomers.pdf
World Indigenous Tourism Alliance. (2012). Larrakia declaration on indigenous tourism. [PDF] www.winta.org/wp-content/uploads/2012/08/The-Larrakia-Declaration.pdf
WWF International Arctic Programme. (n.d.). Code of conduct for Arctic tourists. [PDF] Retrieved from www.panda.org/downloads/arctic/codeofconductforarctictourists(eng).pdf
Attributions
Figure 12.1 Haida Bird by Doug is used under a CC-BY-NC-ND 2.0 license.
Figure 12.2 We Don't Climb by Steel Wool is used under a CC-BY-NC-ND 2.0 license.
Figure 12.3 First Nations performers during the opening ceremony by Province of BC is used under a CC BY-NC-SA 2.0 license.
Figure 12.4 Animal and 'native' cultural products by Toban B is used under a CC-BY-NC 2.0 license.
Figure 12.5 Cover of the Aboriginal Cultural Tourism Business Planning Guide by LinkBC is used under a CC-BY-NC-ND 2.0 license.
Figure 12.6 head smashed in buffalo jump by Roland Tanglao is used under a CC-BY 2.0 license.
Figure 12.7 Authentic Indigenous Logo by LinkBC is used under a CC-BY-NC-ND 2.0 license.
Figure 12.8 FirstHost Cover by LinkBC is used under a CC-BY-NC 2.0 license.
Figure 12.9 killer whale in the foreground by Neil Banas is used under a CC-BY-NC 2.0 license.
Figure 12.10 Osooyos by LinkBC is used under a CC-BY-NC 2.0 license.
Figure 12.11 Cranbrook by Province of British Columbia is used under a CC-BY-NC-ND 2.0 license.