Book Title:

Active Bystander Intervention: Training and Facilitation Guide

Subtitle: Training for Preventing and Responding to Sexual Violence in B.C. Post-Secondary Institutions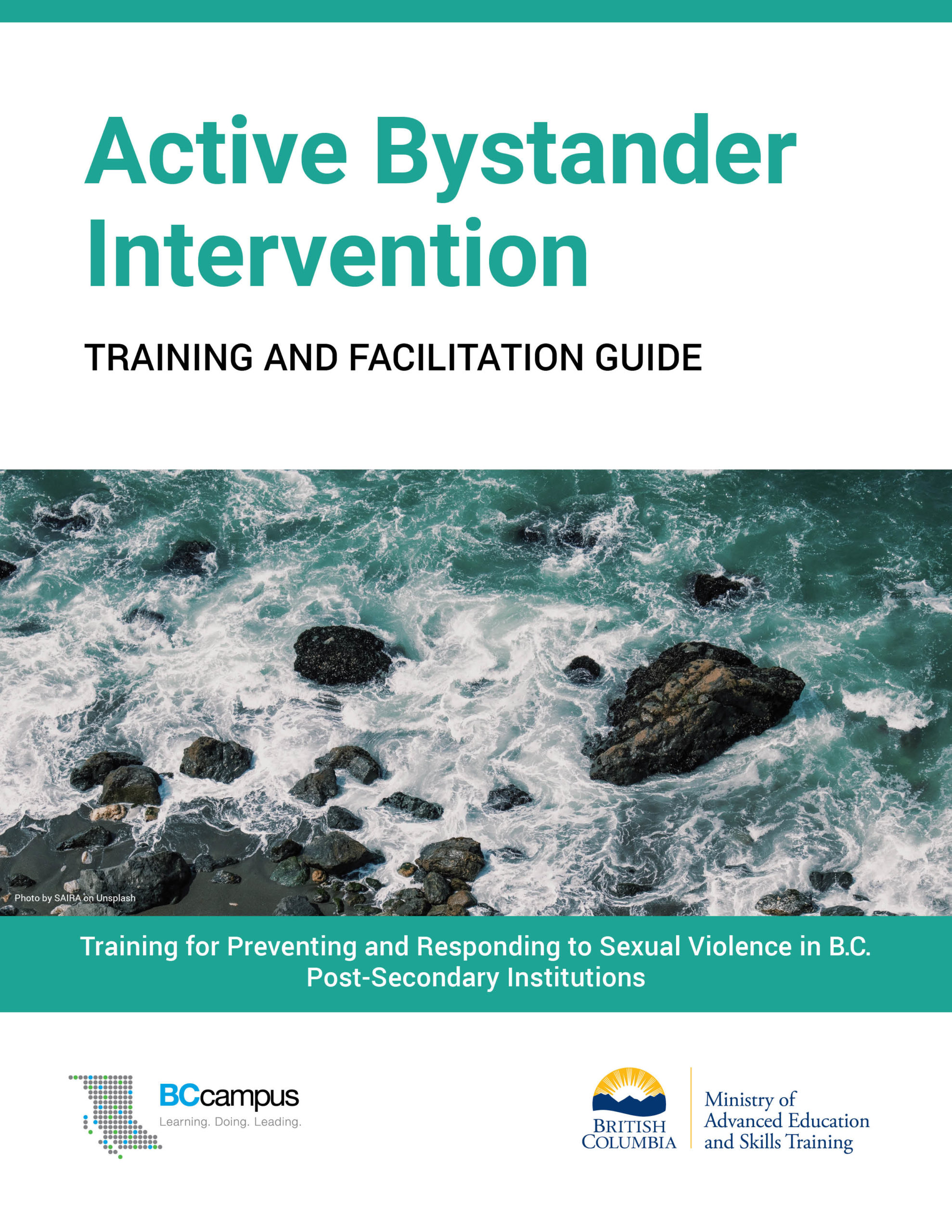 Book Description: A workshop and facilitation guide to support B.C. post-secondary institutions to prevent and respond to sexual violence and misconduct. Active Bystander Intervention is a 90-minute workshop for all members of the campus community: students, faculty, administrators, and staff. This training helps learners acquire the knowledge and skills needed to recognize and intervene in an incident of sexual violence as well as discuss strategies for creating a safer campus community. Uses the 4D's (Direct, Distract, Delegate, Delay) Active Bystander Intervention Model. (The slide deck that accompanies this resource can be downloaded from the Introduction.)
License:
Creative Commons Attribution
Book Information
Book Description
A workshop and facilitation guide to support B.C. post-secondary institutions to prevent and respond to sexual violence and misconduct. Active Bystander Intervention is a 90-minute workshop for all members of the campus community: students, faculty, administrators, and staff.
This training helps learners acquire the knowledge and skills needed to recognize and intervene in an incident of sexual violence as well as discuss strategies for creating a safer campus community. Uses the 4D's (Direct, Distract, Delegate, Delay) Active Bystander Intervention Model. (The slide deck that accompanies this resource can be downloaded from the Introduction.)
License
Active Bystander Intervention: Training and Facilitation Guide by Sexual Violence Training Development Team is licensed under a Creative Commons Attribution 4.0 International License, except where otherwise noted.
Subject
Violence and abuse in society