George Bernard Shaw (1856–1950)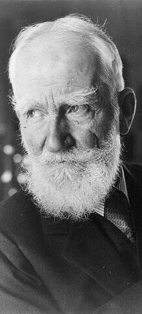 G. Bernard Shaw (he hated the "George" and never used it, either personally or professionally) was born in 1856 in Dublin, Ireland, in a lower-middle-class family of Scottish-Protestant ancestry. His father was a failed corn merchant, with a drinking problem and a squint (which Oscar Wilde's father, a leading Dublin surgeon, tried unsuccessfully to correct); his mother was a professional singer, the sole disciple of Vandeleur Lee, a voice teacher claiming to have a unique and original approach to singing.
When Shaw was just short of his 16th birthday, his mother left her husband and son and moved with Vandeleur Lee to London, where the two set up a household, along with Shaw's older sister, Lucy (who later became a successful music hall singer). Shaw remained in Dublin with his father, completing his schooling (which he hated passionately), and working as a clerk for an estate office (which he hated just as much as school).
It may not be accidental, then, that Shaw's plays, including Misalliance, are filled with problematic parent-child relationships: with children who are brought up in isolation from their parents; with foundlings, orphans, and adopted heirs; and with parents who wrongly presume that they are entitled to their children's obedience and affection.
In 1876, Shaw left Dublin and his father and moved to London, moving in with his mother's menage. There he lived off his mother and sister while pursuing a career in journalism and writing. The first medium he tried as a creative writer was prose, completing five novels (the first one appropriately titled Immaturity) before any of them were published. He read voraciously, in public libraries and in the British Museum reading room. He also became involved in progressive politics. Standing on a soapbox at Speaker's Corner in Hyde Park and at socialist rallies, he learned to overcome his stagefright and his stammer. And, to hold the attention of the crowd, he developed an energetic and aggressive speaking style that is evident in all of his writing.
With Beatrice and Sidney Webb, Shaw founded the Fabian Society, a socialist political organization dedicated to transforming Britain into a socialist state, not by revolution but by systematic progressive legislation, bolstered by persuasion and mass education. The Fabian Society would later be instrumental in founding the London School of Economics and the Labour Party. Shaw lectured for the Fabian Society and wrote pamphlets on the progressive arts, including The Perfect Wagnerite, an interpretation of Richard Wagner's Ring cycle, and The Quintessence of Ibsenism, based on a series of lectures about the progressive Norwegian playwright, Henrik Ibsen. Meanwhile, as a journalist, Shaw worked as an art critic, then as a music critic (writing under the pseudonym "Corno di Bassetto"), and finally, from 1895 to 1898, as theatre critic for Saturday Review, where his reviews appeared over the infamous initials "GBS."
In 1891, at the invitation of J. T. Grein, a merchant, theatre critic, and director of a progressive private new-play society, the Independent Theatre, Shaw wrote his first play, Widower's Houses. Over the next 12 years, he wrote close to a dozen plays, though he generally failed to persuade the managers of the London theatres to produce them. A few were produced abroad; one (Arms and the Man) was produced under the auspices of an experimental management; one (Mrs Warren's Profession) was censored by the Lord Chamberlain's Examiner of Plays (the civil servant who, from 1737 until 1967, was empowered with the prior censorship of all spoken drama in England); and several were presented in single performances by private societies.
In 1898, after a serious illness, Shaw resigned as theatre critic and moved out of his mother's house (where he was still living) to marry Charlotte Payne-Townsend, an Irish woman of independent means. Their marriage (quite possibly unconsummated) lasted until Charlotte's death in 1943.
In 1904, Harley Granville Barker, an actor, director, and playwright 20 years younger than Shaw who had appeared in a private theatre society's production of Shaw's Candida, took over the management of the Court Theatre on Sloane Square in Chelsea (outside of the "theatreland" of the fashionable West End) and set it up as an experimental theatre specializing in new and progressive drama. Over the next three seasons, Barker produced 10 plays by Shaw (with Barker officially listed as director, but with Shaw actually directing his own plays), and Shaw began writing new plays with Barker's management specifically in mind. Over the next 10 years, all but one of Shaw's plays (Pygmalion in 1914) was produced either by Barker or by Barker's friends and colleagues in the other experimental theater managements around England. With the royalty income from his plays, Shaw, who had become financially independent on marrying, became quite wealthy. Throughout the decade, he remained active in the Fabian Society, in city government (he served as vestryman for the London borough of St. Pancras), and on committees dedicated to ending dramatic censorship and to establishing a subsidized national theatre.
The outbreak of war in 1914 changed Shaw's life. For Shaw, the war represented the bankruptcy of the capitalist system, the last desperate gasps of the 19th-century empires, and a tragic waste of young lives, all under the guise of patriotism. He expressed his opinions in a series of newspaper articles under the title Common Sense about the War. These articles proved to be a disaster for Shaw's public stature: he was treated as an outcast in his adopted country, and there was even talk of his being tried for treason. His dramatic output ground to a halt, and he succeeded in writing only one major play during the war years, Heartbreak House, into which he projected his bitterness and despair about British politics and society.
After the war, Shaw found his dramatic voice again and rebuilt his reputation, first with a series of five plays about "creative evolution," Back to Methuselah, and then, in 1923, with Saint Joan. In 1925, he was awarded the Nobel Prize for Literature. (Not needing the money, he donated the cash award toward an English translation of the works of  the Swedish playwright August Strindberg, who had never been recognized with a Nobel prize by the Swedish Academy). Shaw's plays were regularly produced and revived in London. As well, several theatre companies in the United States began producing his plays, old and new, on a regular basis (most notably the Theatre Guild in New York, and the Hedgerow Theatre, in Rose Valley, Pennsylvania, which became internationally known for its advocacy of the plays of Shaw and of the Irish playwright Sean O'Casey). In the late 1920s, a Shaw festival was established in Malvern, England.
Shaw lived the rest of his life as an international celebrity, travelling the world, continually involved in local and international politics. He visited the Soviet Union at the invitation of Stalin, and he visited the United States briefly at the invitation of William Randolph Hearst, stepping on shore only twice, for a lecture at the Metropolitan Opera House in New York, and for lunch at Hearst's castle in San Simeon in California. He continued to write thousands of letters and over a dozen more plays.
In 1950, Shaw fell off a ladder while trimming a tree on his property at Ayot St. Lawrence in Hertfordshire, outside of London, and he died a few days later of complications from the injury at age 94. He had been at work on yet another play (Why She Would Not). In his will, he left a large part of his estate to a project to revamp the English alphabet. (Only one volume was published with the new "Shaw Alphabet": a parallel text edition of Shaw's Androcles and the Lion). After that project failed, the estate was divided among the other beneficiaries in his will: the National Gallery of Ireland, the British Museum, and the Royal Academy of Dramatic Art. Royalties from Shaw's plays, and from the musical My Fair Lady, based on Shaw's Pygmalion, have helped to balance the budgets of these institutions ever since.
Reprinted with permission. Mazer, Cary. Bernard Shaw: A Brief Biography. University of Pennsylvania. Web. 23 May 2014. http://www.english.upenn.edu/~cmazer/mis1.html