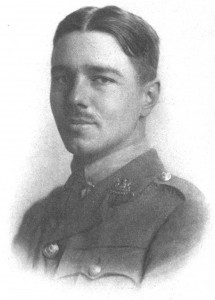 Owen was born on March 18, 1893, in Oswestry, Shropshire, England, the son of Tom and Susan Owen. After the death of his grandfather in 1897, the family moved to Birkenhead (Merseyside).
His education began at the Birkenhead Institute and then continued at the Technical School in Shrewsbury when the family was forced to move there in 1906 when his father was appointed assistant superintendent for the western region of the railways. Owen displayed a keen interest in the arts at an early age, and began experimenting in poetry when he was 17. After failing to attain entrance to the University of London, he spent a year as a lay assistant to the Reverend Herbert Wigan at Dunsden before leaving for Bordeaux, France, to teach at the Berlitz School of English.
During the latter part of 1914 and early 1915, Owen became increasingly aware of the magnitude of World War I and he returned to England in September 1915 to enlist in the Artists' Rifles a month later. He received his commission to the Manchester Regiment (5th Battalion) in June 1916 and spent the rest of the year training in England.
In many ways, 1917 proved to be the pivotal year in his life and, as it turned out, the penultimate year of his life. In January, he was posted to France and saw his first action in which he and his men were forced to hold a flooded dugout in no man's land for 50 hours while under heavy bombardment. In March, he was injured with a concussion but returned to the front line in April. In May, he was caught in a shell explosion, and when his battalion was eventually relieved, he was diagnosed as having shell shock (or "neurasthenia"). He was evacuated to England and on June 26 he arrived at Craiglockhart War Hospital near Edinburgh.
Had Owen not arrived at the hospital at that time one wonders what might have happened to his literary career, for it was there that he met Siegfried Sassoon who was also a patient. Sassoon already had a reputation as a poet, and after an awkward introduction he agreed to look over Owen's poems. As well as encouraging Owen to continue writing, Sassoon introduced him to such literary figures as Robert Graves (a friend of Sassoon's), which, in turn, after Owen's release from hospital, allowed him to mix with luminaries such as Arnold Bennett and H. G. Wells.
The period in Craiglockhart and the early part of 1918 was in many ways his most creative, and he wrote many of the poems during that time for which he is remembered today. In June 1918, he rejoined his regiment at Scarborough and then in August he returned to France. He was awarded the Military Cross for bravery at Amiens, but was killed on November 4 while attempting to lead his men across the Sambre Canal at Ors. The news of his death reached his parents on November 11, 1918, the day of the armistice.
Dr. Stuart Lee