4

Preference and Ownership
| | |
| --- | --- |
| | Many students and instructors prefer printed textbooks over online versions. |
Some people prefer to get their information from the printed page, not computer screens. Anecdotally, reasons for this range from personal preference to memories of being read to as a child. Some feel it's easier to make notes when reading a physical book. Others are uncomfortable reading online or using technology. Still others like the flexibility of having a textbook that's available both online and in hard copy. Hearsay aside, research supports the fact that not everyone's first choice is digital.
Some professors prefer print
According to a print-on-demand survey, instructors expressed an array of preferences when it came to their teaching materials, be they print, digital, or a combination of both.[1] These personal tastes are reflected in other research, too.
A survey of faculty conducted by the National Association of College Stores during the 2016–17 academic year found that half the instructors surveyed preferred a print textbook over a digital one. One-fifth said they liked to have both print and online components available, while 7 per cent favoured an exclusively digital format for teaching.[2]
Some students prefer print
Even in this technological age, there are students who want to learn from an old-fashioned printed textbook. Some college bookstores in British Columbia report there are students who still lean toward printed textbooks for courses. Jodie Pickering, kinesiology instructor at the College of the Rockies in Cranbrook, B.C., reports that many of her students "like to have a paper copy to highlight and make notes in. Plus they like to be able to bring their textbook into the lab."

Research conducted at Adams State University, a small Hispanic-serving institution in rural Colorado, explored what format students prefer for their textbooks: print or digital. The resounding choice was print, at almost 80 per cent.[3]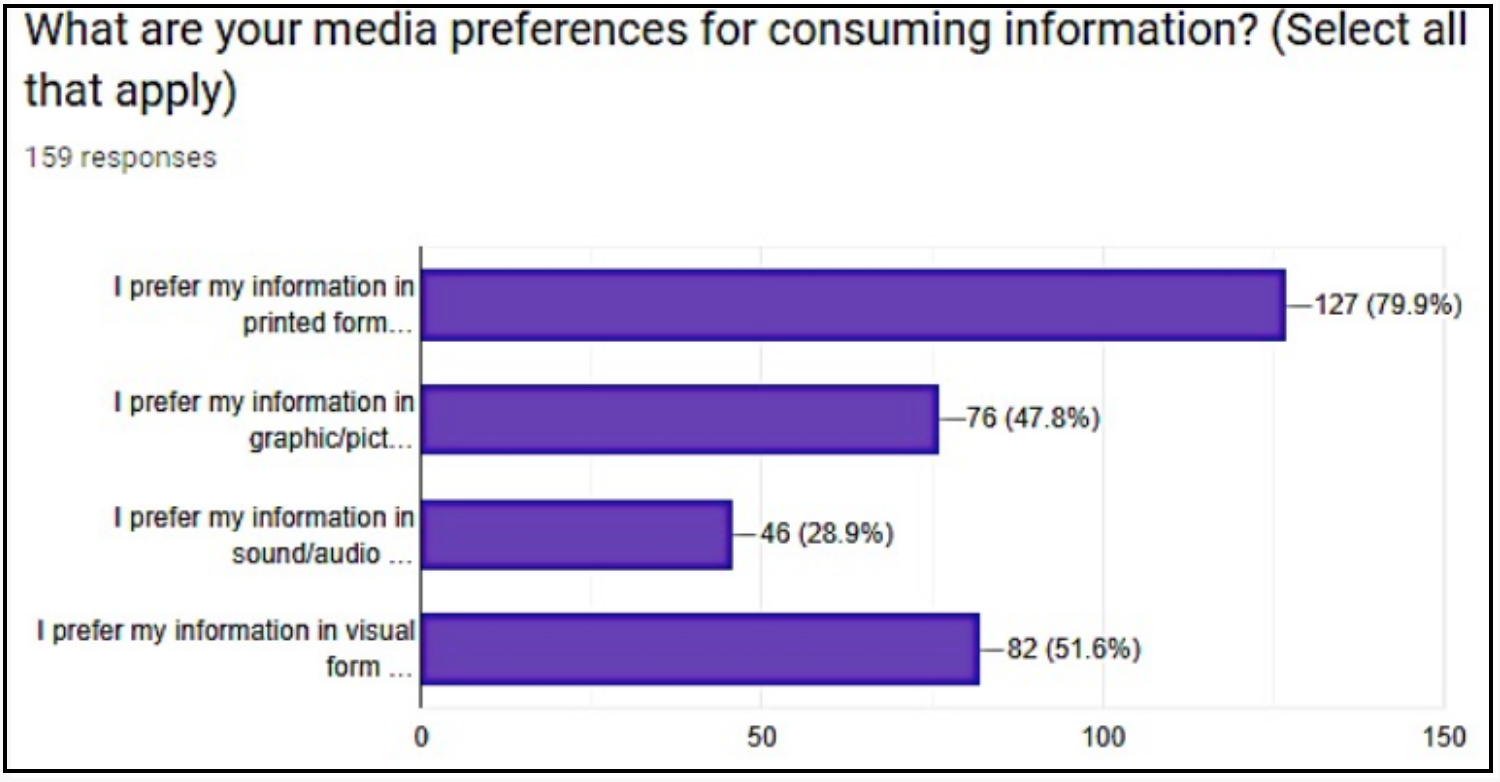 When probed about their favourite type for reading assignments, the majority of student respondents (49.1 per cent) again selected the printed page over a screen. Another 7.5 per cent said they need printed copies.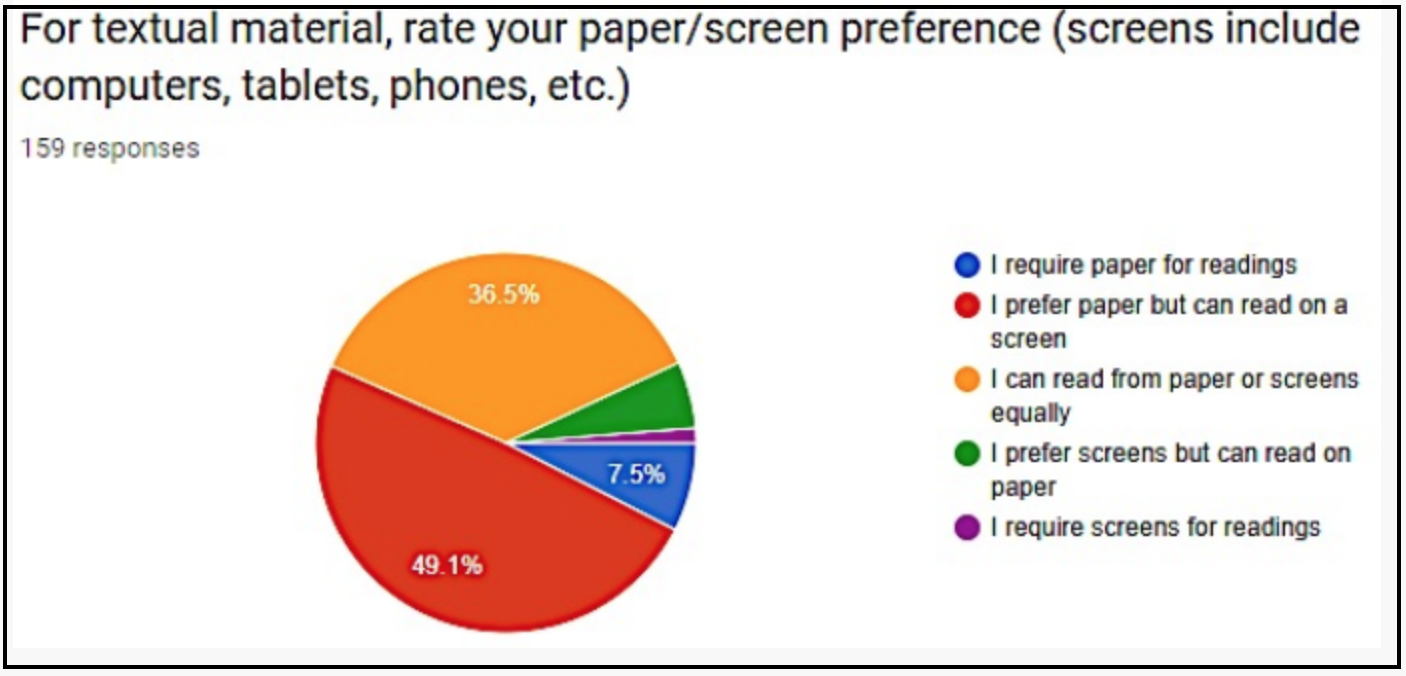 Dr. Naomi Baron, a Professor of Linguistics for the Department of World Languages and Cultures at American University in Washington, D.C., asked over 300 university students in the U.S., Japan, Germany, and Slovakia which media they preferred for "serious" reading.[4] Over 90 per cent of students said they concentrate best when using a hard-copy book. The problem with reading online, says Dr. Baron, are the diversions scattered across the Internet.[5] Printed books, on the other hand, have few to no distractions.
Personal library
In addition to a preference for reading on paper, some students like the idea of keeping their textbook after a course is finished. More than half of the surveyed Adams State University students said holding onto their printed textbook was important or very important for either personal interest or professional reference.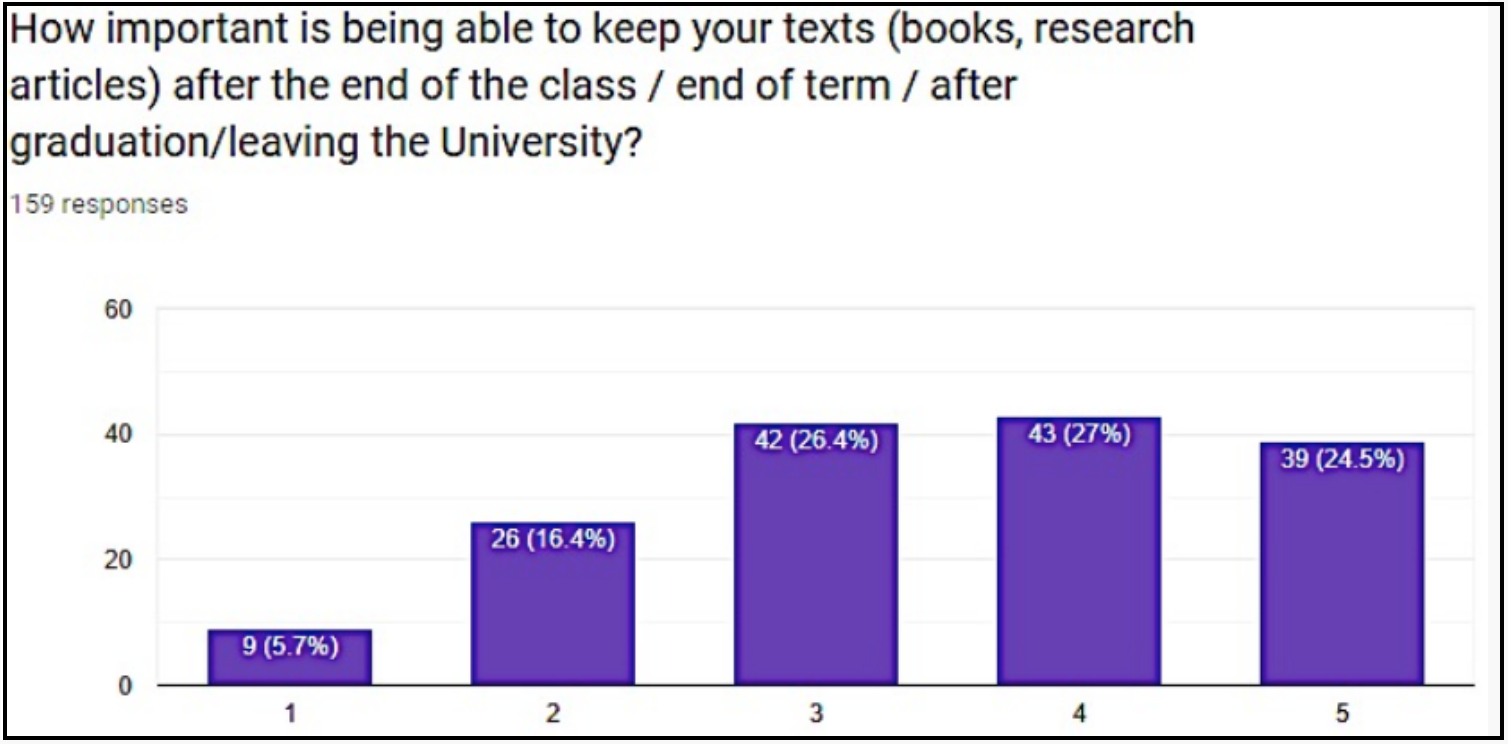 There are other reasons to hold onto an old textbook. In her blog post "10 Reasons Why You Should Not Sell Back Your Textbook," Jessica Lyons adds that a book that has been annotated and marked up during the learning process serves as a valuable personal reference.[6]
Long descriptions
Figure 1 long description: Horizontal bar graph displaying answers to the question, "What are your media preferences for consuming information? (Select all that apply)." The data, based on 159 responses, is as follows:
127 respondents (79.9 per cent) selected "I prefer my information in printed form."
82 respondents (51.6 per cent) selected "I prefer my information in visual form."
76 respondents (47.8 per cent) selected "I prefer my information in graphic/picture form."
46 respondents (28.9 per cent) selected "I prefer my information in sound/audio form."
Figure 2 long description: Pie chart displaying responses to the prompt "For textual material, rate your paper/screen preference (screens include computers, tablets, phones, etc.)." The data, based on 159 responses, is as follows:
49.1 per cent of respondents said, "I prefer paper but can read on a screen."
36.5 per cent of respondents said, "I can read from paper or screens equally."
7.5 per cent of respondents said, "I require paper for readings."
5.7 per cent of respondents said, "I prefer screens but can read on paper."
1.2 per cent of respondents said, "I require screens for readings."
Figure 3 long description: Vertical bar graph displaying responses to the question "How important is being able to keep your texts (books, research articles) after the end of the class / end of term / after graduation / leaving the University?" The data, based on 159 responses, is as follows:
43 respondents (27 per cent) felt it was important
42 respondents (26.4 per cent) had no feeling of importance (neutral)
39 respondents (24.5 per cent) felt it was very important
26 respondents (16.4 per cent) felt it was not very important
9 respondents (5.7 per cent) felt it was unimportant
---