Learning Task 7: Job-Search Strategies
Click play on the following audio player to listen along as you read this section.
Very few people are lucky enough to find their "dream career job" right away. Typically, there are a series of decisions to make, experiences and qualifications to gain, and opportunities to consider in the world of work before landing that "one perfect job."
When you are looking for a job, the importance of the first impression you make can never be overstated—whether it is in writing, over the phone, or in person. To land the job you desire, you need to make a good and lasting impression.
In this section, you will learn about job-search strategies from self-marketing through to the interview stage.
Uncovering Job Leads
The very first step toward securing a job is to find out who is hiring. Job leads come from two basic sources:
The visible job market. The visible job market refers to jobs that are advertised in public places, such as newspapers, Internet job banks, and signs posted in stores.
The hidden job market. The hidden job market refers to jobs that are not advertised publicly, but through word of mouth, networking, or direct contact with employers.
The Visible Job Market
Accessing job leads through the visible job market is generally straightforward. You may find jobs posted in local newspapers, online, company websites, or other sources such as career fairs or signs posted in storefronts. Occasionally employers will post openings at training institutions or ask to make a class presentation to potential employees.
If you are searching for work through the visible job market, keep in mind that effective reading skills are important to assessing job ads. Because advertising is expensive, most employers limit the size of their ads in order to reduce costs. To keep the ads short and to the point, employers often use jargon and abbreviations, which can make ads difficult to understand. Being able to understand job search vocabulary used in an ad will help narrow your options and find a fit that is right for you.
For example, you might come across a job ad that uses the abbreviation "a/p." If you know that "a/p" means "accounts payable," you might decide not to apply for the job because you don't have any bookkeeping skills. You will save yourself a lot of time and effort by applying only for those positions for which you meet the minimum qualifications.
Sometimes employers provide a link in a job ad to their own website where the position may be described in more detail. Be sure to check this out, especially if you aren't sure about any aspect of the job ad.
It is also important to be able to glean additional information from the ad's that are posted. To understand the poster's use of language in ad's will allow you to flag workplaces that may not be particularly open to hiring you based on their own biases or may be inexperienced in diverse hiring practices. Ads posted looking for "Journeymen" are appealing only to a male audience by using gendered language, whereas ads that use gender neutral language such as "Journeyperson" show an inclusivity to all applicants. If a female identified Journeyperson wanted to apply for the ad looking for "Journeymen," they might choose to only put their first initial on their resume, so as not to face discriminatory hiring practices prior to obtaining an interview. The language used in employment ads can provide us with hints towards our approach to applying for jobs.
Scanning job ads
Learning how to scan ads for appropriate job leads can also help to reduce the amount of time you spend reading employment sections in newspapers or searching online databases.
"Scanning" refers to the ability to read information very quickly by looking for keywords. By not reading every single word, you can review an ad efficiently.
When looking at job ads, scan for the following information:
Job category
Know what job categories to look in. You are more likely to find an entry-level trades position under categories such as "construction and skilled trades," "general labour," or "other."
Job titles
Know the different titles commonly used for the type of job you are looking for. In the restaurant industry, employers may use the titles such as prep cook, line cook, or kitchen help. In construction, you may look for the terms labourer, apprentice, or apprentice levels 1, 2, 3, or 4.
Location
Know the sections of town or regions that you're willing to travel to.
Parameters
Know your minimum job search parameters, including whether you want full-time, part-time, or casual employment. Be clear about your availability. Can you work evenings, weekends, and shift work?
Salary
Have a sense of your salary expectations, since wages are often advertised.
Special skills
Know what special skills you bring to the job and scan for them. For example, you may have industrial lift truck operator certification or first aid certification. Some online databases will even allow you to search by keywords.
Accessing the Hidden Job Market
Accessing the visible market may seem straightforward and the logical way to conduct a job search. But the more effective way to secure a job is through accessing the hidden job market— that is, finding a job that has not been posted publicly—because the majority of job leads are never posted. Instead, an employer and job seeker may make contact through personal connections or networks.
You can access the hidden job market through cold calling (a phone call or visit to an employer to inquire about possible job openings, even though none is advertised), asking friends, networking, making volunteer connections, or being at the right place at the right time.
While accessing the hidden job market may require you to be more resourceful, organized, and assertive, it can also provide you with a greater chance of finding employment and a better knowledge of your employer and working conditions. The extra legwork can also put you in tune with what is happening in an industry and provide new leads. You also need to be prepared for some dead-end leads as well as negative responses, but the experience you gain will improve your communication skills. You must always be prepared—you never know when a casual conversation can turn into a formal interview.
Making contact
A great way to access the hidden job market is to directly contact employers or people currently working in your field of interest. One challenge new job seekers experience is finding out exactly what a certain job entails. A job might appear great on paper, but you may not be entirely sure about the day-to-day reality.
One strategy to uncover the reality of a job is to conduct an information interview: that is, you contact a potential employer and arrange to have a brief conversation about a job. This is sort of like background research. It is a way to learn more about a company and position before you actually submit a résumé. This process allows you to know exactly what the job is before you apply. Sometimes, an information interview can turn into a job interview.
In making contact with a potential employer, your communication skills are very important. You want to make a positive first impression. To do so, an effective strategy is to practice before you approach an employer for a meeting.
Here are some guidelines:
Be clear about your intention for the call and the request for the information meeting.
Keep your meeting professional and on time (ask for only 10 to 15 minutes of someone's time).
Keep your meeting focused on the purpose for your meeting.
Present yourself in a manner fitting for an actual job interview. In preparing for the information interview:

Prepare questions by writing them down in advance.
Demonstrate that you have conducted some research on the company. Be sure to take a notepad and pen to record information when you go to your information interview. (It doesn't hurt to take more than one pen, just in case one of them doesn't work!)

Once you return home, transfer your information into a table or database where you can keep track of the information.
Table 1 shows one possible format:
Table 7.1: Contact tracking example
Name
Organization
Date
Contact Info.
Notes
Don Miller, Apprentice Coordinator
DW Oil & Gas
June 2, 2021
(xxx) 455-1234

miller@dwog.com

Spoke to receptionist. Left message for DM.

Should call back by Friday. If no response, email next week. (Normally gets back to people within a week.)

Dave Jameson, Owner
Dave's Electric
June 5, 2021
(xxx) 652-2213

daveselectric@shaw.ca

Spoke to Dave's wife, Charlene, who does the books.

They don't currently have a 1st year apprentice. May be interested. Dave is out of the office until June

Suggested to call after June 18 to see if he is interested in meeting up.
Even if you have made contact with a potential employer who has told you there's no work, it's important to keep the name and contact information for that person on file. Maybe you really liked what the person had to say, and you think you might like to call back in three months to see whether any job openings have come up. Sometimes, maintaining regular contact with a potential employer over time can lead to a job because that person remembers your name from having spoken with you recently and on more than one occasion.
The elevator pitch
Who are you? What type of work you are looking for? What skills do you possess that are relevant to your work target? All these questions require thought when you are job searching. You will encounter situations where you are speaking with someone who could be a potential employer but is unfamiliar with your background. Communicating who you are and the skills you possess requires more detail than a single sentence. You need a tightly structured response.
The "elevator pitch" is one way to get started: imagine getting into an elevator in a large office building. In the elevator, you recognize a manager from a company that you want to work for. You are both going up 35 floors—you have some time to introduce yourself and perhaps get a foot in the door with this company. You now have 90 seconds before the elevator reaches your floor to briefly introduce yourself and skills, essentially impressing upon this manager that you would be a great employee for the company.
The 90-second elevator pitch is something you should practice and perfect. It is the basic introduction of who you are and what you are looking for. It will form the basis of your introductory message when networking, your opening statement in telephone contacts with employers, and the foundation of your "Tell me about yourself" answer in an interview.
Most contacts are not looking for your life history. They are looking for a short summary of your skills. Develop a level of comfort in your personal presentation by rehearsing and practicing the delivery of your elevator pitch. You should be able to explain who you are and what you are looking for with confidence.
Step A: Job description
Research an organization and job you are interested in. This may include looking at the company's website and publications, recent news stories, and any recent job postings.
Step B: Elevator pitch
Structure your elevator pitch (90 seconds) by:
introducing yourself
stating your interest in working for the organization you've chosen
identifying two to three skills that you possess that would make the organization interested in interviewing you
Step C: Evaluating your pitch
The best way to gain confidence is to have others listen to your pitch and provide their feedback, or record your pitch and play it back. Feedback should be based on the following questions:
Did you identify the organization and position that interests you at the onset of your pitch?
Was the content well organized?
Was your communication purposeful?
Were your tone and vocabulary professional?
Was your pronunciation clear and articulate?
Was your delivery confident?
Dressing the Part for the Interview
Whenever we meet someone for the first time, we make and form a first impression. First impressions are made within the first three seconds of an initial meeting. It doesn't take long to make one, and yet it can be next to impossible to reverse it. How we dress plays a large role in the first impression that we make. For example, a heavy-equipment operator would be inappropriately dressed if they showed up for an interview wearing a suit or a dress, whereas a person applying for a corporate position would not. In both situations, the person wants to present themself in an appropriate manner. If you'll be working on a construction site or manufacturing setting, dress ready to work (e.g., clean jeans and an appropriate shirt or T-shirt and steel-toed boots). If you are interviewing for a service company similarly come dressed in a clean button up shirt or plain polo or tee shirt and clean khakis or jeans. Avoid wearing clothing that has offensive language or images on it, is dirty or torn, or is too formal for the type of work you are applying for. An employer wants to be able to picture you on the job when they are interviewing you, whether it be in their uniform in the case of a service company or in work clothing on a construction site. If they cannot picture you doing the work, it will be harder for you to get the job.
Résumés and Cover Letters
Your résumé and cover letter are the two documents that you will use to interest potential employers and let them know why you are the candidate they should shortlist or hire for a job. At times you may be creating these documents from scratch. At other times, you may be provided with online templates or questions that need to be completed and submitted electronically to the employer.
This section reviews how to write a résumé and cover letter. Once you know how to complete these documents from scratch, it is easy to fill out electronic forms and provide the necessary information.
Résumés
A résumé is a "living" document. Sometimes professionals use the term CV instead of résumé. CV stands for curriculum vitae, meaning "course of life" in Latin.
Because your résumé summarizes your education, employment history, skills, and accomplishments, it will change every time you acquire new knowledge, a new skill, or a new job. In fact, you will likely need to update your résumé after completing this course to highlight your new skills and accomplishments. The résumé tells a potential employer what you can do and have done, who you are, and what you know. It also states what kind of work you're looking for, so you'll have to change your résumé depending on the type of job you're applying for.
The purpose of the résumé is to help you get an interview. The average amount of time an employer takes to scan a résumé is 30 seconds, so how can you make your résumé stand out from the rest? The answer is to create interest. Describe your accomplishments actively and invite the employer to contact you. And be sure to provide enough information for the employer to evaluate your qualifications.
Here are a few résumé guidelines:
Keep it short, no more than one or two pages.
Organize it with coherent information presented in an attractive and tidy way.
Focus it to show the employer how your skills and accomplishments can benefit the organization.
Have proof to support every statement about yourself with a specific, recent example.
There are three main types of resumes: the chronological résumé, the skills-based résumé, and the combination résumé.
Chronological résumé
A chronological résumé lists education, skills, and experience in reverse chronological order (the most recent experience first) with the focus on relevant experience. Chronological résumés are effective when you have a solid work history, and you are applying for a similar type of work as the work history.
Skills-based résumé
A skills-based résumé lists skills and talents in order of importance. This form is more suited to those with limited experience and is therefore particularly popular with students. Skills- based résumés are effective when you have developed skills through school, hobbies, or volunteering, but do not have direct work experience. Skills-based résumés are also effective when changing careers.
Combination résumé
A combination résumé is the most common format and combines prominent skills and relevant experience with the most recent history presented first. The combination format helps you to focus your résumé while providing a detailed work history.
Hints for writing your résumé
Creating a good résumé starts with gathering all the information an employer will want to know about you. Whether you're creating a brand-new résumé or polishing up an old one, you first need to collect the relevant information.
Once you have gathered all the information for your résumé, the writing begins. Here are a few things to keep in mind:
A résumé has to be word processed (typed) and easy to read.
Do not include your race, birth date (consider also leaving off the date you graduated high school as this can be used in reverse to find your birthdate), or social insurance number.
Include your city and province but do not include your home address (this can create a personal safety issue in some situations).
Important information, such as your contact information, should be easy to find.
Avoid lengthy paragraphs. Use bullets to highlight information.
Ensure you have 3 references at the ready (with complete contact information and where they are from) and they know that you'll be applying for jobs and they are your reference.
Don't discount any skills that could be considered transferable, especially if you are changing careers. For instance, if you have worked in the food service industry as a server, you will have communication skills, customer service skills, time management skills and organizational skills that transfer easily to a job in the trades.
Make it perfect! Have someone proofread it for spelling and grammatical errors.
Do not handwrite corrections on the final copy.
Use action words or verbs (e.g., coached, designed, built, organized) to describe your skills and experience. Refer to the list of action words below when you create your résumé and cover letter.
Although there is no set résumé style that you must follow, it is wise to use a format that is generally accepted and is easy for another person to read. Read through the following three sample résumés. All the samples are acceptable formats. Which one do you prefer?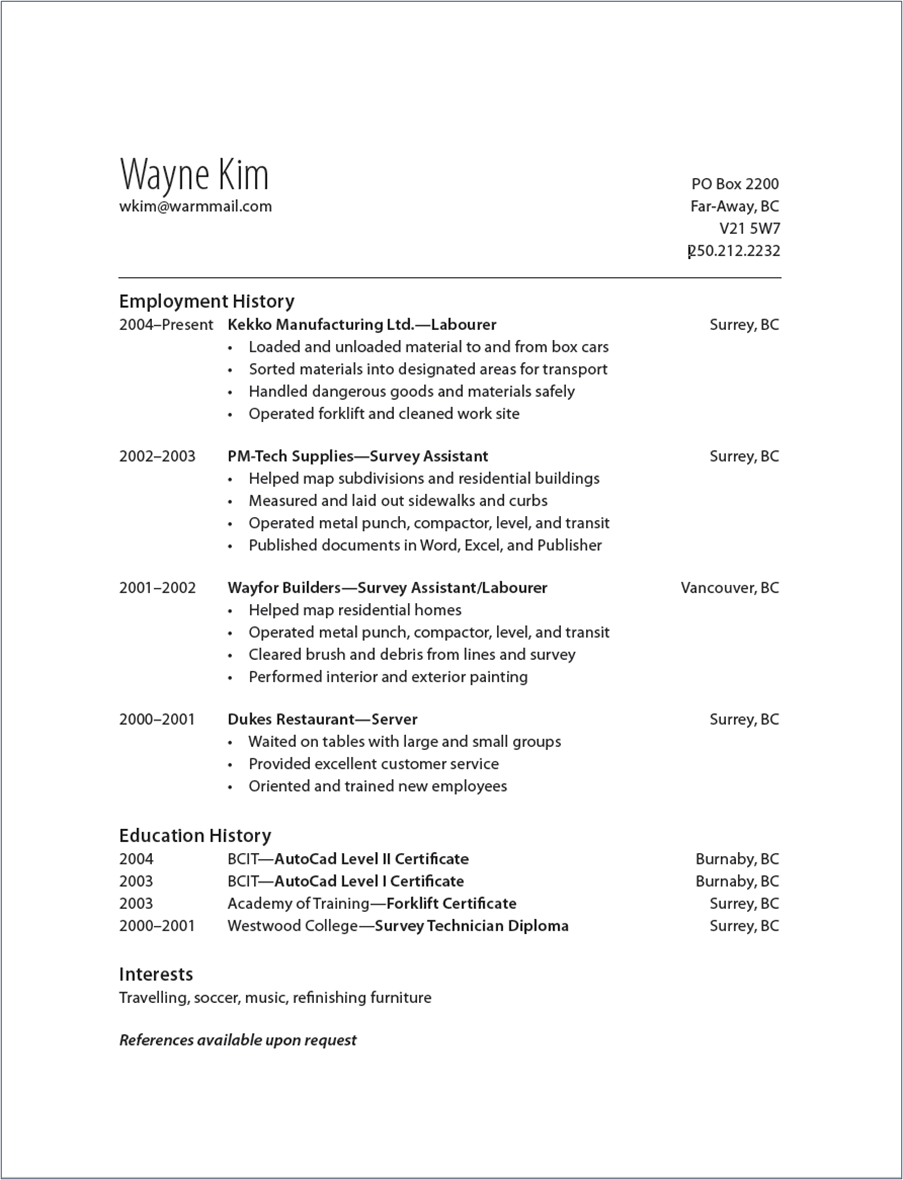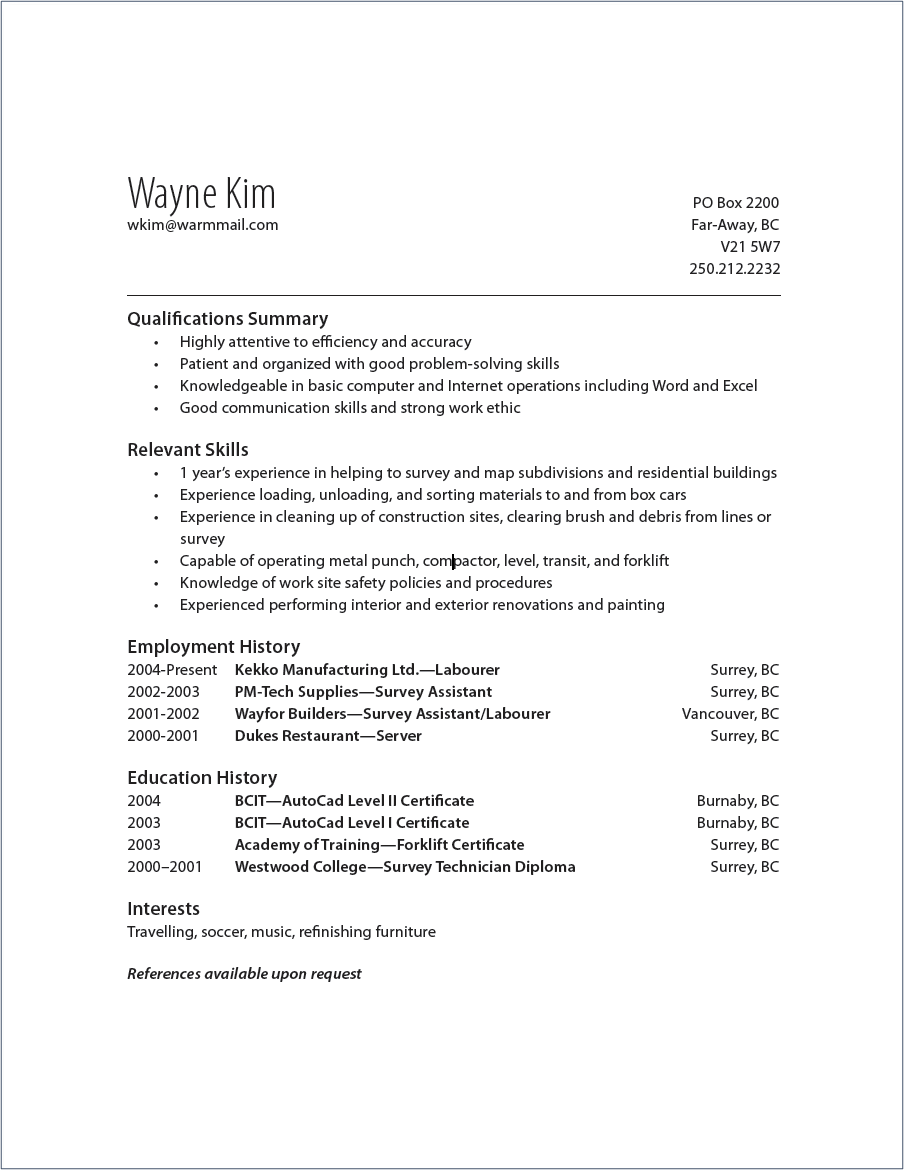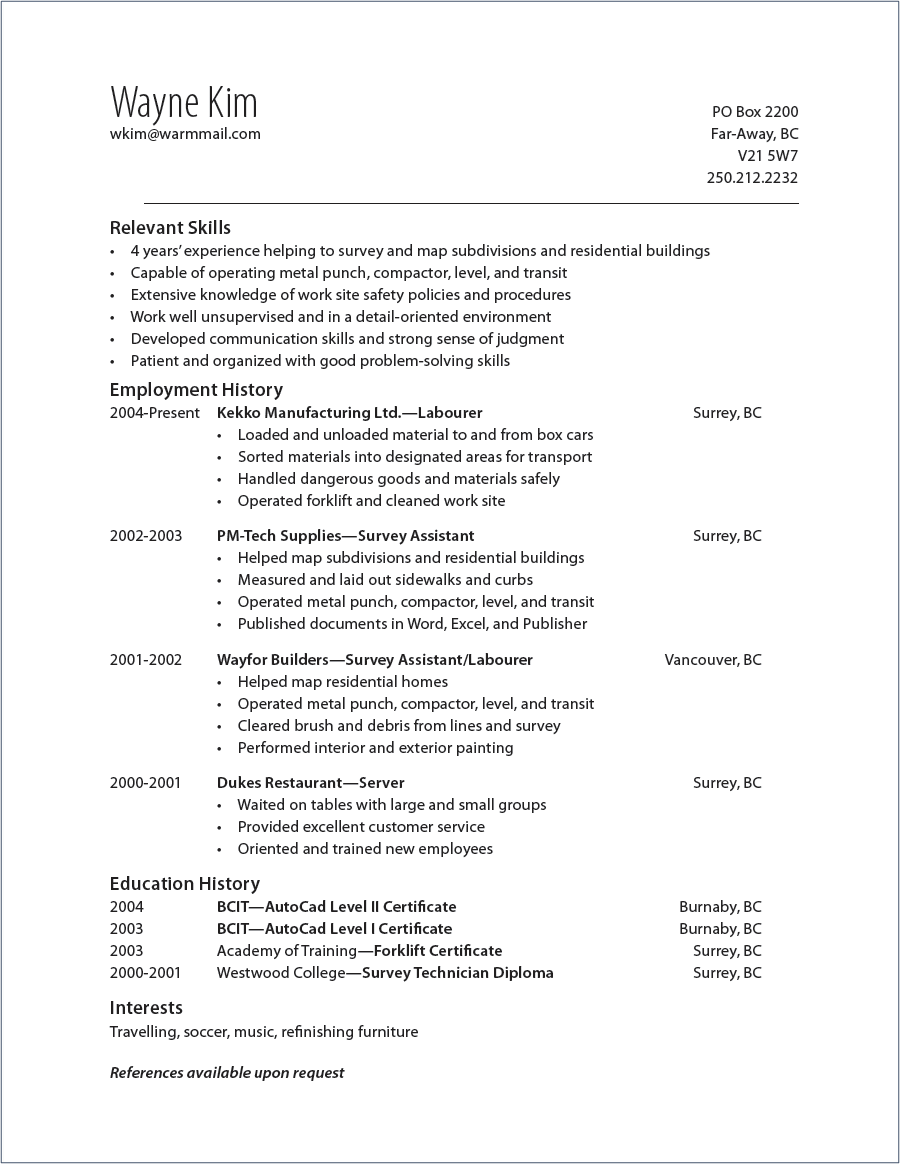 Using action verbs in your resume
The following are action verbs that can help you when preparing your resume:
Creative
acted
composed
conceptualized
created
cooked
displayed
drafted
directed
designed
developed
established
fashioned
founded
illustrated
instituted
integrated
introduced
invented
mapped
modelled
originated
painted
performed
planned
photographed
printed
Research
clarified
collected
critiqued
diagnosed
evaluated
examined
extracted
identified
inspected
interpreted
Interviewed
Investigated
Organized
Reviewed
Summarized
Helping
assessed
assisted
cared for
clarified
coached
counselled
decided
demonstrated
diagnosed
educated
expedited
facilitated
familiarized
guided
lead
managed
motivated
referred
rehabilitated
represented
supervised
Financial
administered
allocated
analyzed
appraised
audited
balanced
budgeted
calculated
computed
developed
forecasted
managed
marketed
planned
projected
Management
administered
analyzed
assigned
attained
chaired
consolidated
contracted
coordinated
consulted
delegated
developed
directed
evaluated
executed
improved
increased
organized
oversaw
planned
prioritized
produced
recommended
reviewed
scheduled
strengthened
supervised
Detail
approved
arranged
analyzed
assessed
catalogued
checked
classified
collected
complied
copied
defined
dispatched
executed
evaluated
examined
filed
generated
implemented
inspected
learned
monitored
operated
organized
prepared
processed
purchased
proofread
processed
purchased
recorded
retrieved
screened
specified
systematized
tabulated
updated
validated
Communicate
addressed
arbitrated
arranged
authored
corresponded
developed
directed
drafted
edited
enlisted
formulated
influenced
interpreted
lectured
Teaching
adapted
advised
clarified
coached
communicated
coordinated
developed
educated
enabled
encouraged
evaluated
explained
facilitated
guided
informed
initiated
instructed
persuaded
set goals
stimulated
Technical
Assembled
Adjusted
Built
calculated
computed
Drove
designed
devised
engineered
Fixed
fabricated
installed
Lifted
maintained
operated
overhauled
programmed
remodeled
repaired
scheduled
solved
serviced
Tested
trained
upgraded
Cover letters
You've written a brand new résumé or you've polished up an old one. Now what? You need a cover letter to introduce and communicate even more about yourself to a potential employer.
An exceptional cover letter is the key to getting your résumé read. The cover letter is a tightly written advertisement about you: the person who is applying for that particular job. It includes a description of:
the position for which you're applying
your skills, achievements, and experience that relate to the position
your contact information
A cover letter accompanies your résumé when you apply for a job. Where a résumé may be considered generic enough to be easily adapted to several jobs, a cover letter is very specific and tailored for each job for which you apply. Therefore, it needs to be modified for each employer. The cover letter introduces you to a prospective employer and should make them interested enough to invite you for an interview. It is important to always send a cover letter even if you have spoken with the employer in person or by phone.
The cover letter includes:
the standard format of a greeting
an introductory paragraph
a supporting paragraph
a closing or summary paragraph
a signature closing
It gives you the opportunity to highlight the skills in your résumé that are especially relevant to the job.
In the cover letter, be sure to do all of the following:
Grab the employer's attention. You're trying to make yourself stand out against other applicants.
Address your letter specifically to the person in charge, and include their title (e.g., Site Manager, Director of Human Resources). Researching that information, instead of addressing your letter "To Whom It May Concern," shows initiative. Make sure you have the correct spelling of the person's name and are using the correct title and pronouns to address them. If you don't know what their pronouns are, it's best just to stick to their first and last name when addressing the letter.
Base your correspondence to employers on what you can do for them, not on what you want them to do for you.
Don't be presumptive, when formatting your letter don't make statements like "when I get this job," or "I expect to hear from you soon." Instead, be gracious using statements like "I look forward to the opportunity to discuss my qualifications further."
Use "I" statements, rather than "you" statements. There is a big difference between "I believe that I am a qualified candidate for this position" and "you will see I am the best person for the job"
Interest the employer enough to read your résumé by specifically pointing out why you are perfect for the job.
Provide information about how, where, and when you can be contacted.
Tailor your letter to match the duties and qualifications of the job. Show that you know the employer's priorities and concerns, this can be achieved by reflecting back what they were looking for in their ad.
Write a different letter for each application. Although all your letters can have the same format and some similar information, each letter must match each job for which you apply.
Present something unique about yourself.
Stay brief and focused. Keep the cover letter to one page.
Keep the cover letter free of spelling and grammatical errors.
Send an original copy of the cover letter, not a photocopy.
The following examples show a model for writing a cover letter and an example.
Cover letter model
Your name
Your present address
City, province, postal code
Date of writing
Name of the person responsible for hiring
Title of the person
Name of organization and address
City, province, postal code
Dear (Name person responsible for hiring):
Re: Subject (a subject line is optional; normally you would list the name/reference #)
Opening Paragraph
Introduce why you are writing. Name the position to which you are applying. Make sure you say how you heard of the opening (newspaper, job ad online, colleague) and why you are interested in the position and the organization.
Second Paragraph
Refer the reader to your enclosed résumé providing additional information concerning your background and interests. Demonstrate to the employer how your interests, education, and experience fit the job requirements. Describe one or two important qualifications you believe are of greatest interest to the employer, keeping in mind your audience: the employer. If you have related experience or specialized training, point it out. Don't make the common mistake of saying, "I'd like a position so I can gain experience in my field"; show the employer what you will be able to do for the organization.
Last Paragraph
Close by thanking the reader for reviewing your résumé and by making a specific request for an interview. Remember to indicate that you will either phone for a personal appointment or that you can be reached at the stated telephone number (include it here for easy reference). Make sure your closing is clear and suggests a specific action.
Sincerely,
(your handwritten signature)
Type your name here
Encl.
Cover letter example
Type your textbox content here.
September 16, 2015
Edna Wagnall
HR Manager
Srateher Electric
1234 Pile Drive
Victoria, BC V8G 5H5
Re: Electrical Apprentice – Position SE-0135
Dear Ms. Wagnall:
Please accept my résumé to the position of Level 1 Electrical Apprentice as advertised with campusjobs.ca on Tuesday November 15, 2015. The combination of my experience and training makes me an ideal candidate for this position.
I recently completed the Electrical Foundation program at Camosun College. I've worked summers and weekends for the past three years for Harbour and Sons Electric, working in the store, managing customer billing, and assisting on job sites with the electricians and their apprentices. I enjoy working as part of a team and taking on new challenges and look forward to furthering my career as an Electrical Apprentice.
I believe that I would be an asset to your company and hope to have the opportunity to discuss this with you further in an interview. I can be contacted by phone at (250) 210-2121 to arrange a meeting. Thank you for your time in considering my application, and I look forward in speaking with you soon.
Sincerely,
Alex MacDonald
Encl.
Review cover letter
Once you've drafted your cover letter, it is important to review it to make sure that you've addressed all points in the job posting and have created a clear and concise letter, free of spelling and grammatical errors. The following checklist can assist you with this task.
Check content (Have you done what you set out to do?)

Does your cover letter address all of the key points/job requirements listed in the job posting?
Is your résumé up to date? For example, are the employers or job functions you've listed in your cover letter in your résumé?
Are there any unnecessary details in your letter or résumé that should be deleted? For example, as you gain more experience in your trade, some of your previous work experience may no longer be relevant and can be deleted from your résumé. As a general rule, a résumé can include 10 to 15 years of prior relevant experience.

Check language (Is it easy to follow?)

Are there any unnecessary words that need to be deleted?
Are there transitions from one idea to the next?
Are your sentences properly constructed?
Are the words you selected accurate and specific? Don't hesitate to look up a word in the dictionary if you are not sure if it is being used correctly.

Check format

Do your documents (cover letter and résumé) follow the suggested format (or another recognized format)?
If you use a subject line in your cover letter, does the title reflect the job posting? (Note: Some job descriptions require that you include the job posting number and job title in a subject line.)
Do you have a new paragraph every time you change to a new idea?
Did you include your name and the date?
Did you use only one side of the page? In general, résumés and cover letters should not be double sided.
Are your fonts and font sizes consistent throughout your documents?

Check grammar, punctuation, and spelling

Grammar:

Do all subjects and verbs agree?
Are the verb tenses consistent and correct?

Punctuation:

Are apostrophes used with all possessive nouns?
Does each sentence begin with a capital and finish with end punctuation?
Are proper names capitalized?
Are quotation marks used correctly where appropriate?

Spelling:

Did you use spell check to catch obvious spelling errors?
Did you read through the document manually to ensure that the spell check changes are correct? (Never rely on the automated spell check only to proofread your documents.)
Did you manually look up difficult or confusing words in the dictionary?
The Job Interview
A well-written cover letter and résumé may get your foot in the door, but it's the interview that will secure you the job. The interview allows you to verbally communicate who you are and what you can do. In addition to the skills you listed in your résumé, your verbal skills, thinking skills, and social interaction skills are on stage in the interview.
The interview is an exchange of information between an employer and a potential employee. A job interview allows an employer to get to know you as a person and to:
determine if your personality will fit into the company
ask what you can do for the company
get a sense of your attitude about work and their business
see what you know about their business
verify the facts on your résumé and cover letter
A job interview allows you to:
find out more about the position for which you have applied
ask questions about the job and the company
decide if you really want to work for this company
convince the employer that you are the best person for this job
The interview process usually involves a short meeting (15 to 30 minutes) during which the employer will ask a variety of questions. These can range from very general—such as an overview of your work history—to the very specific, such as explaining a skill or knowledge set listed in your résumé. Being able to communicate well by answering questions effectively is an essential part of securing a job.
You might also be asked questions about what you would do in a certain situation, or to elaborate on a past experience. These kinds of questions and queries are called behavioural interview strategies. They help the interviewer evaluate your ability to solve problems and handle mistakes. They usually begin with phrases such as:
Tell me about a time when… (you provided exceptional customer service)
Describe a time when… (you had a difficult customer)
Give me an example of your skill (mathematical, organizational, etc.)
Other typical interview questions are:
Tell me about yourself.
What can you do for our company?
What are your strengths and weaknesses?
Tell me about your leadership experiences.
How would your classmates describe you?
How would your teachers describe you?
Why did you apply for this job?
Practicing for the interview
It is important that you feel confident when answering interview questions. Too often people think they can memorize answers, and then under the pressure of the interview, they forget and lose focus. Rather than memorizing answers, it is a good idea to formulate a strategy to answer questions. One way to approach an answer is outlined below. Take note of the three parts to the answer.
Sample Question: What are your strongest skills?
Part 1: Factual answer – I feel that my strongest skills are my ability to work with my hands, follow specifications, and meet deadlines.
Part 2: Detailed example (proof) – In school we had to create many projects, from custom pieces to duct fittings, and I was always top of the class in shop marks. I also have a letter of reference from JB Metals, where I completed a six-month work placement, attesting to the quality of my work and my ability to follow specifications and meet deadlines.
Part 3: Link to potential employer (value) – I believe that these skills would be beneficial to your company because the custom work done here demands high quality, precision, and meeting established deadlines.
Typical questions
The following are some typical questions that get asked in interviews. Read through each question and take some time to think about what your most appropriate response would be. It is helpful to practice with the three-part approach so that you will be able to address most questions in your interview without hesitation and have a strategy to address any new questions that you haven't prepared for.
Hint: Try answering these questions with a specific job opening in mind. Include relevant information you have researched about the company in some of your answers.
Tell me something about yourself.
The interviewer is trying to find out what kind of person you are, not merely about your job skills. Mention your personal strengths, interests, and abilities.
Why do you want to work here?
The interviewer wants to make sure that you'll be satisfied with the job and likely to stay. This question also demonstrates if you have researched the company. Share what you learned about the job, the company, and the industry through you own research. Talk about how your professional skills will benefit the company.
Why did you leave your last job?
The interviewer is trying to determine whether you had previous work problems. Don't say anything negative about your previous company or supervisor. Simply give an appropriate reason, such as you relocated away from job; company went out of business; temporary job; no possibility of advancement; or wanted a job better suited to your skills.
Hint: In the interview, keep answers straightforward and concise. Try to keep answers to less than two minutes long.
What are your long-range career goals/objectives?
The interviewer wants to know if your plans and the company's goals are compatible. Talk about new experiences or responsibilities you'd like to add in the future that build on the current job you are applying for.
What do you consider to be your greatest strengths and weaknesses?
If you have researched the organization, you should have an idea of what skills or qualities the company values. Use examples to illustrate your positive qualities and how they apply to work. In discussing weaknesses, talk about things that you recognize and have taken steps to improve.
What wage are you expecting?
Instead of stating a certain amount, ask the interviewer to discuss the company and the approximate pay range for the position. It is important to know what the current wage is for the position; you can find salary surveys at the library or on the Internet or check the classified ads to see what comparable jobs in your area are paying. This information can help you negotiate your wage once the employer makes you an offer.
Do you prefer to work alone or with others?
The interviewer wants to get a sense of your ability to get along well with others. Discuss the advantages of working in a group and be prepared to give concrete examples of your experience of teamwork.
Hint: Avoid one-word answers, such as "yes" or "no." Provide an example whenever possible.
Under what circumstances do you work best?
The interviewer may be indicating that the job can be stressful. Talk about several examples where you met deadlines and show how capable you were of rising to the occasion.
What are your hobbies?
The interviewer may be looking for evidence of job skills outside of your work experience or may simply be curious about your life outside of work. Employees who have creative or athletic outlets for their stress are often healthier, happier, and more productive.
What contributions do you see yourself making to this job/company?
Offer examples of actions you took and the positive results you obtained. Show how this ability transfers from your previous position to the new job/company.
Here is a list of additional interview questions you may encounter and may want to prepare answers for:
What do you see as being your most significant accomplishment?
What are your expectations regarding career progress and promotion?
Which of your jobs was the least interesting/most interesting and why?
When you are supervising others, how do you motivate them?
What motivates you to put forth your best effort?
What would you look for in an employee and/or colleagues?
How do you adapt to new situations?
How do you determine or evaluate success?
Describe your contribution to a group effort that you may have participated in.
Have you ever had to work with someone who did not share the same work style or ethic as you? How did you manage that?
Inappropriate interview questions
Some interview questions may not be relevant, can be considered discriminatory and you will have to decide whether to answer them. These can include:
How much do you weigh?
How tall are you?
How old are you?
What religion do you practice?
Have you ever received psychiatric care?
What is your sexuality?
Have you ever been convicted of a criminal offence for which you have not been pardoned?
Do you smoke or drink?
Are you married?
Are you single?
Do you have any children?
Under the law, you do not have to answer these questions, and you may want to ask how the question is relevant to the position. This can show an employer's biases and can spur you as an interviewee to make decisions on whether the employers values align with your own. If you do not want to answer a question because it makes you uncomfortable and you feel it doesn't concern the job, you can answer by saying, "Sorry, I'm not comfortable answering that question." Being asked inappropriate questions by an employer may influence whether you choose to take the job if offered to you following the interview.
Questions you can ask
To be perceived as an active participant in the interview process and to show your interest in the company, you can also ask questions. In fact, it is very important that you take the time during the interview to ask questions yourself. You don't want to take a job that will not suit you (i.e., hours of work or benefits that may be unacceptable). You also want to be clear about what is expected of you so you can be prepared. Accepting a job and quitting shortly after can harm your professional reputation, especially if you live in a small community.
Some questions you can ask include:
What qualities are you looking for in an employee?
What are your expectations of new employees?
Can you tell me about your training programs?
How is an employee evaluated and promoted?
What are the opportunities for personal growth?
What are the challenging aspects of this job?
What employers are looking for
Now that you have had an opportunity to think about questions and put yourself into an interview frame of mind, consider what else an employer is looking for. Consider the following points:
Make a good first impression. The decision to hire is often made in the first 30 seconds. Practice coming into a room, offering your hand confidently, smiling, and introducing yourself. Use your left hand for carrying, leaving your right hand free for the handshake.
Be prepared. Know something about the company. Bring an extra copy of your résumé, as well as a pen and a notepad to have something to hold in case you are nervous or want to make notes.
Stay calm. Create a good first impression by appearing confident and being mindful of your body movement (hands, fingers, feet).
Watch your body language:

Offer a firm handshake.
Stand up straight and look confident.
Sit only when instructed to do so or if the interviewer sits first.
Cross legs at ankles, not the knees.
Look at the interviewer.
Smile.
Remember to breathe.

Watch your appearance:

Have clean, styled hair.
Make sure you're wearing clean shoes.
Make sure that you have clean fingernails.
Don't wear strong perfume or cologne.
Don't wear distracting jewellery.
Carry your extra papers in a bag that's not ripped or tattered or a portfolio.
Interview summary
The interview is an opportunity for you to get to know your potential employer in person and for your potential employer to get to know you! Interviews let you ask detailed questions about the job for which you are applying, which will let you and your interview panel know if you're the right person for the position. Effective communication is an essential skill during the job interview.
Make sure you know something about the organization for which you are applying. When you first greet the employer, introduce yourself cordially, and try not to be nervous. Pay attention to your body language and make sure that your appearance is professional.
In many cases during an interview, you will be asked to explain how you would respond to very particular situations where some kind of a conflict may be involved (behavioural interview strategies). One way to prepare for interviews is to anticipate the kinds of questions that you will be asked and to rehearse responses. You can formulate answers based on the facts about who you are, provide examples that support your opinion, and provide a rationale for how your response relates to the job for which you are applying.
After you've had the interview and are waiting for a phone call, is there anything else you can do? Yes! Thanking the person who interviewed you is one way to set yourself apart from other candidates. Write a positive, enthusiastic letter thanking your interviewer and restating your interest in the position.
Thank-You Emails/Letters
Writing a thank-you email or letter is a step that many interviewees overlook but which can play an important role in helping you to secure the job. This small but thoughtful gesture can set you apart from other applicants, particularly when competition is high.
A thank-you letter or email:
shows that you understand and practice good business etiquette
keeps your name fresh in the employer's mind
reinforces your interest in the position
gives you a chance to reinforce some of the positive things you said in the interview
allows you the chance to mention something that you might have forgotten to say in the interview
lets you talk about the workplace you have seen and how you feel you would fit
Which format?
Think of the thank-you letter as the concluding paragraph in a composition. Your cover letter is your introductory paragraph that states your purpose in applying for a job. The résumé and interview are your body paragraphs that expand the points outlined in your cover letter. The thank-you letter is your closing, restating your interest in the position and confirming why you are the best applicant for the job.
A thank-you letter can be written in the form of a business letter, a handwritten note, or an email. The business letter is the most formal. Handwritten notes are more personal, but they can be perceived as less polished and professional and therefore are not usually recommended. Email is appropriate when that has been your means of communication with the person you want to thank, or if your contact has expressed a preference for email. The important point to consider is the nature of the organization to which you are applying.
Of the three options, a business letter or email are likely the best. The letter or email allows you to further showcase your writing, editing, and communication skills, and provides the space needed to include details about your skills for the job.
Business thank-you letters
Generally, your thank-you letter should include the following information:
First paragraph: Thank the interviewer for taking the time to meet with you (mention the date). Remind them of the position for which you interviewed.
Second paragraph: Restate your interest in the position and the company. Mention something you learned from the interview or comment on something of importance that you discussed. Again, emphasize your strengths, experiences, skills, and accomplishments, and slant them toward the points that the interviewer considered the most important for the position.
Third paragraph: Once again, thank the interviewer for their time and consideration. If appropriate, close with a suggestion for further action (if a second interview is a possibility), or mention that you will follow up with a phone call in a few days. Include your phone number as well and offer the interviewer the chance to contact you.
The following is an example of a business thank-you letter.
Robert Smithson
5748 Evergreen Terrace
Vancouver, BC V8R 2H5
Ph: (604) 482-0945
Email: rsmithson@gmail.com
November 24, 2005
Mr. Bob Wignall
Owner
AutoPro
4573 Lincoln Street
Burnaby, BC V71 R3T
Dear Mr. Wignall:
Allow me to take this opportunity to thank you for meeting with me last Thursday. I would like to further restate my interest in joining your company as an auto body technician apprentice. As we discussed in our interview, I am currently in my third year of studies as an auto body apprentice at BCIT with two years' experience as an auto body assistant, and I am fully capable of performing the technician's work we discussed. I eagerly await more challenges that you may feel are a good fit to my current skill set.
I feel this apprentice position would be a perfect fit for my current skill set and I look forward to working with your team of technicians to further fine tune my skills in auto body.
If you require further information please do not hesitate to contact me at (604) 482-0945. Thank you for your time, Mr. Wignall. I look forward to hearing from you soon.
Sincerely,
Robert Smithson
Thank-you emails
If you choose to email your thank-you note, it is important to have a business-like writing style. Here are some conventions to follow:
Make sure your email address is professional. If it is an address you use for MSN or corresponding with your friends (studley456@msn.com, for example), you may need to set up a new email account for business correspondence (a_brown@msn.com).
Use a meaningful subject line (e.g., Re: Interview for Carpentry Position).
Double space between paragraphs.
Use at least a size 10 font.
Do not use texting-type abbreviations such as "k" or "u."
Pay attention to grammar, spelling, and punctuation (use the same rules as for business letter correspondence).
Don't use all capitals. Writing in capitals is the email equivalent of SHOUTING and people don't like it. By the same token, don't use all lowercase letters.
Don't include anything that has potential to be offensive or misunderstood.
The following is a sample thank-you email.
Subject: Position of Labourer/Tool Room Assistant
Dear Ms. Jones:
Thank you for interviewing me for the position of labourer/tool room assistant at Malouf Contracting. This job is an excellent fit for my skills and interests. Your company's social responsibility and philosophy of building green reinforced my desire to work with your organization.
In addition to my trade qualifications, I have a strong background in customer service. I am enthusiastic, enjoy working in teams, and am always ready to take on new challenges. After meeting with you, I understand how this role fits into Malouf's organization and the importance of being able to perform a variety of different functions at any given time. I believe that I'm the right candidate to fulfill this role.
I appreciate the time you took to interview me. I am very interested in working with your organization and look forward to hearing from you regarding this position. Please don't hesitate to contact me if you have any further questions.
Sincerely,
Jessica Smith
(250) 555-6789
jjsmith@omg.ca
City

Now complete the Learning Task Self-Test.
Self-Test
The importance of first impressions cannot be understated.

True
False

What are the two main sources of job leads?

Friends and family
Head-hunters and company websites
Visible job market and hidden job market
Advertisements online and in newspapers

Reading skills and understanding special vocabulary related to the industry/job are important to understanding the visible job market.

True
False

Knowing how to scan job ads has no effect on the amount of time you spend searching for a job online or in newspapers.

True
False

Through which means can the hidden job market be accessed?

Associations and networking
Cold calling, friends, and family connections
All of the above
None of the above

An information interview should be conducted for every job you are interested in.

True
False

How much time and effort does accessing the hidden job market require, compared with the visible job market?

Less time and effort
More time and effort
The same amount of time and effort
It's hard to tell.

What do you do if a potential employer refuses to meet with you?

Send all your questions to the company via their general email address.
Go to the company personally and introduce yourself to the main receptionist and see if they can answer your questions or find someone who is willing to do so.
Go through the company directory and contact other individuals until you find someone to meet with you.
Be polite, accept "no" as their answer, and thank them for their time. Use their website and other sources of information to find out more about the company.

The "elevator pitch" is a strategy to let a potential employer know about you and why you'd like to work at their company in a very short period of time.

True
False

What are the three main types of résumés?

Summary, detailed, and extensive
Extended, chronological, and skills-based
Summary, chronological, and combination
Chronological, skills-based, and combination

You should always use action verbs in your résumé.

True
False

In general, a cover letter should always be written for every job application.

True
False

What kind of information should be in your covering letter?

The exact same information as in your résumé
Information about your expectations of the job
Information about your personality and interests
The issues addressed in the job posting in order to encourage the reader to look further at your application

The quality of my cover letter and résumé has no impact on my hiring process.

True
False

All individuals with the necessary qualifications will be interviewed.

True
False

Practicing for the interview and acquiring feedback on your performance is a good way to ensure that you are prepared and that you reduce stress the day of the real interview.

True
False

There is a set of questions that most employers will typically ask.

True
False

Which of the following are employers not looking for in an interview?

Good first impression
Overconfidence in your abilities
Optimistic and knowledgeable about their company
Showing up dressed appropriately and ready to work on the job

Questions about your personal attributes (e.g., weight, height, age, religion, sexuality) are not relevant and can be skipped over politely.

True
False

The behavioural interview strategy includes asking how you would respond in a particular situation where there is some kind of conflict.

True
False

Thank-you emails or letters are optional following an interview.

True
False

When writing a cover letter, you should use "I" rather than "you" statements.

True
False

When addressing a cover letter, you should base the title and pronouns you use on whether the addressee has a feminine or masculine name.

True
False

It is best to keep things simple during an interview and use "yes" or "no" answers whenever possible.

True
False

Adding "References available on request" to the end of a resume or cover letter is sufficient until you receive an interview.

True
False
See the Answer Key in the back matter of the textbook for self-test answers.
Media Attributions