39

Print-on-Demand Copies
Make arrangements for print-on-demand copies of your textbook to be available either through your college or university bookstore, student services, Amazon or other print-on-demand or self-publishing service. Print-on-demand services are helpful for students or instructors who prefer to work with a physical, bound version of your textbook.
BCcampus Open Education provides this service — in conjunction with Simon Fraser University's Document Solutions department — for all open textbooks in our collection, indicated with a "Buy a print copy" button on the book's record page.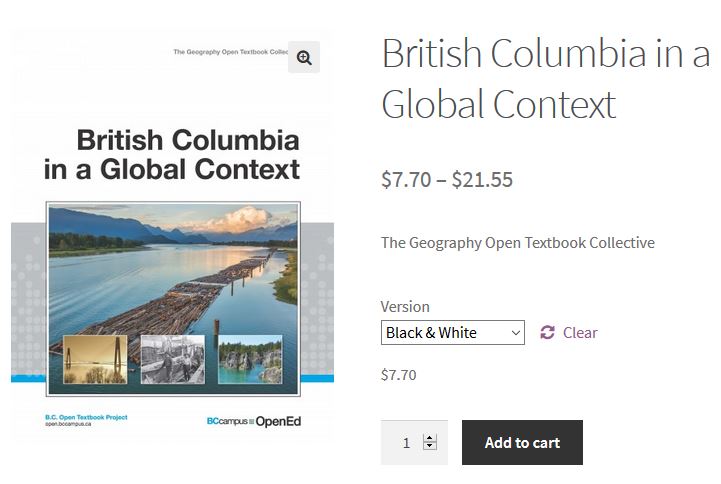 It is expected that printed copies of an open textbook will cost money. However, prices are typically set for cost recovery only.
The price for an open textbook varies depends on:
Number of pages
Black and white vs. colour
Softcover or hardcover
Shipping and handling costs
If you set up a print-on-demand option for your textbook, it is best for readers to use a service in your country. If you elect to provide a service outside your country, make this clear to your readers as they will have to contend with a different currency, and duties and fees related to customs and processing. BCcampus learned this lesson when its open-textbook readers complained about American-only options to purchase textbooks. Our solution was to provide a Canadian-based supplier for all our books and, when a U.S. print-on-demand option is also available, to clearly label it.
Page added: Feb 20/18 | Last update: Oct 19/21