41

Track Adoptions

One of the side benefits of self-publishing an open textbook is an automatic membership in the open education community for which it is written. As the author of an open textbook, you are in a unique position that not only allows you to pinpoint members of this community — by tracking instructors who use or adopt your book in the classroom — but also establishes you as an OER contributor.

Capturing and recording open textbook adoptions in British Columbia is a key task for BCcampus Open Education. We ask faculty using open textbooks to fill out our Adoption of an Open Textbook form [New Tab] by providing us with their name and institution, the course for which the textbook is used, the number of students enrolled in each section of the course, the cost of the displaced textbook, the terms in which the adoption occurs, and whether the adoption will be ongoing. We also ask adopters if we may share their information with other interested faculty.

Surprisingly, this work has proven to be more than just about numbers. It has also led BCcampus to our province's flourishing open education community. Tracking adoptions has helped our team to connect with and support faculty and staff interested in open education. Paying attention to who is using open textbooks has revealed open education trends in B.C.'s colleges, institutes, and universities, and has given us the ability to connect the dots — and make introductions — between likeminded colleagues.

For your textbook, decide how you will track its adoptions and what statistics you'll collect. Add the details to your communications plan. (See Communications.) Here is a template that can be used to record these numbers:

Remind colleagues who are using your textbook — or potential adopters — that they are free to customize it to fit the requirements of their curriculum, students, and teaching style. (See the BCcampus Open Education Adaptation Guide [New Tab].) You can ask adopters for comments about what they like about the book and if they have suggestions for changes or additions that might improve the book, items you can take note of your next edition. These individuals might even agree to writing a review or assisting with an update. (See Maintain the Book and Textbook Reviews.)
Put your stats to work
Like reviews, posting adoption statistics will encourage other instructors to look at your textbook. The amount of information you share and post by your textbook will depend on the permissions granted by current adopters who have contacted you. You might choose to present anonymized numbers that show the total number of instructors, institutions, savings, and students affected.
At BCcampus, we display adoption statistics in two views. On our website's home page, a banner containing aggregated numbers on student savings, total adoptions, and number of participating institutions in British Columbia are posted.

When the "More Stats…" link [New Tab] (circled in red in the above image) is clicked, then details about these numbers are revealed on another web page, along with definitions for the various terms used to describe adoption statistics (see below).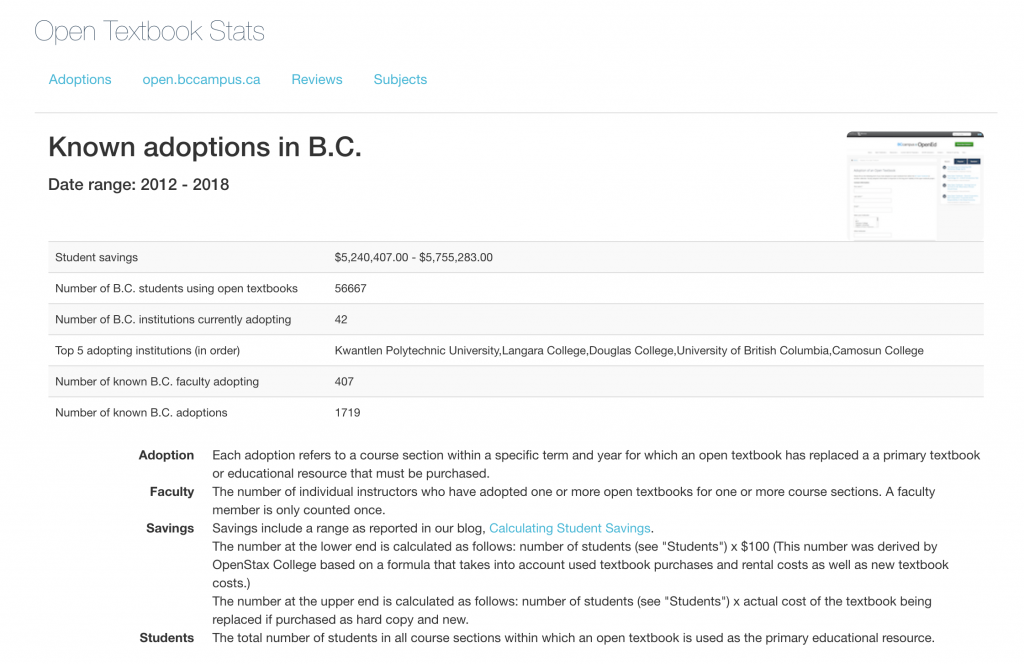 Lastly, consider how to analyze your adoption statistics. For instance, you might examine them for trends by geography, course level and type, and term or semester. Use these numbers to guide the ongoing promotion of your book and to educate current and future users.
Long Descriptions
Image long description: The BCcampus Open Education website stats page
Student savings
$5,240,407.00 to $5,755,283.00
Number of B.C. students using open textbooks
56,667
Number of B.C. institutions currently adopting
42
Top 5 adopting institutions (in order)

Kwantlen Polytechnic University
Langara College
Douglas College
University of British Columbia
Camosun College

Number of known B.C. faculty adopting
407
Adoption: Each adoption refers to a course section within a specific term and year for which an open textbook has replaced a primary textbook or educational resource that must be purchased.
Faculty: The number of individual instructors who have adopted one or more open textbooks for one or more course sections. A faculty member is only counted once.
Savings: Savings include a range. The number at the lower end is calculated as follows: number of students (see "Students") times $100 (This number was derived by OpenStax College based on a formula that takes into account used textbook purchases and rental costs as well as new textbook costs.) The number at the upper end is calculated as follows: number of students (see "Students") times the actual cost of the textbook being replaced if purchased as hard copy and new.
Students: The total number of students in a course section within which an open textbook is used as the primary educational resource.
Page added: Feb 20/18 | Last update: Oct 13/21
Attributions
BCcampus Open Education website (screenshots) are used under a CC BY 4.0 International Licence.