7. Helping Other Students
There is a lot participants can do to help other students who are struggling with stress and mental health. This section looks at how to respond empathetically and steps take to support others.
These slides are available for use with this section of the presentation. For information about downloading the slide deck, see the Introduction.
ACTIVITY: Reflection on What We Need When We're Distressed
Think of a time when you were mildly or moderately upset or distressed yourself. Reflect on what you needed or hoped for at that time. What did you need or want from others? Please take a couple minutes to write some of your thoughts.
Give participants a few minutes to do this.
Then ask them to share one of the things they needed or wanted from others when they were upset or distressed. Remind them not to share the details of the event itself. (If you are presenting online, ask participants to put their answers in the chat box, and then read the responses from chat.)
Finally, ask participants to share one thing that wasn't or would not have been helpful. (If you are presenting online, ask participants to put their answers in the chat box.)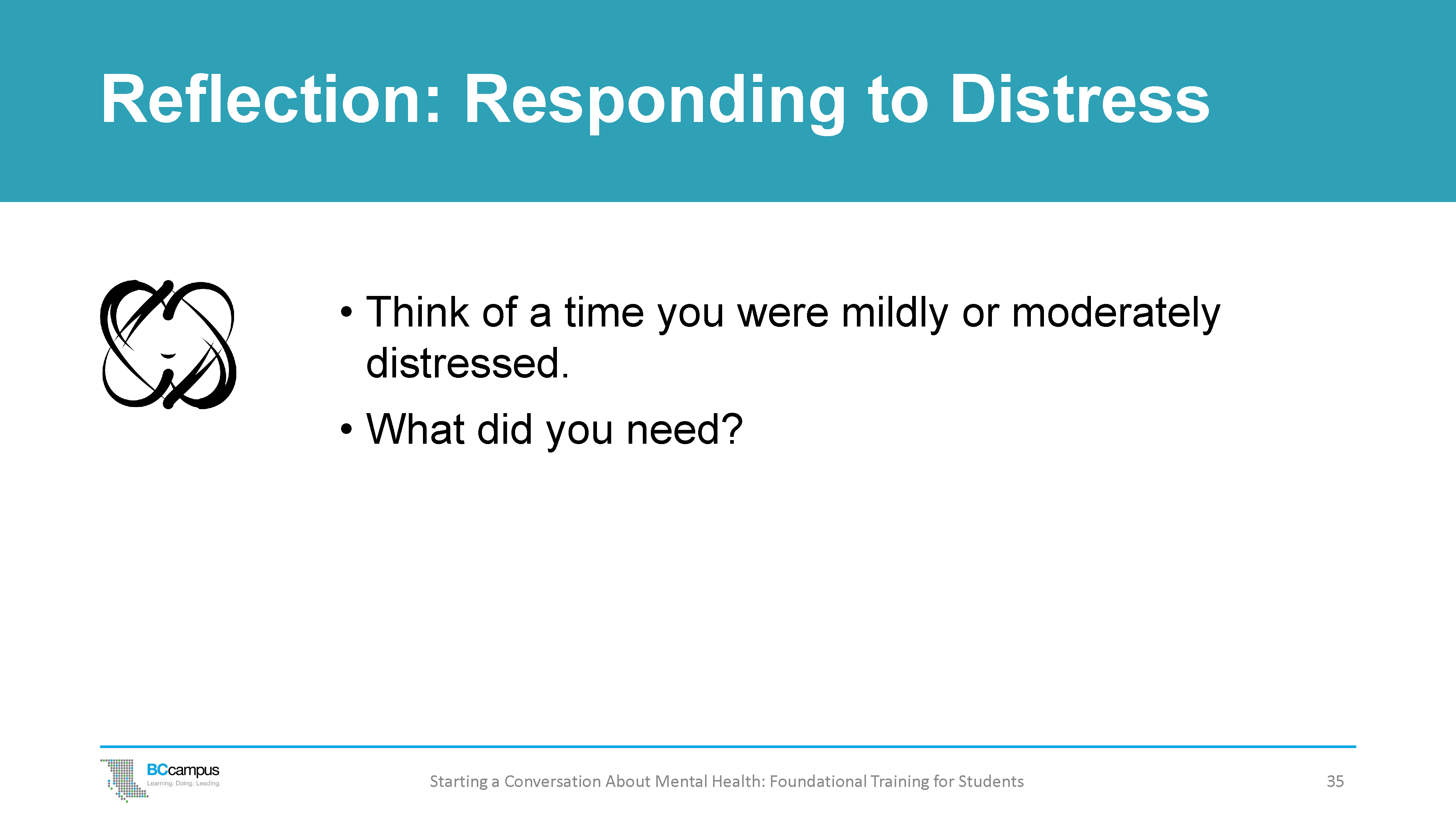 You have all had experiences with various responses when you were distressed. From your own life experience, you have developed an understanding of what is helpful that you can draw on when you are responding to other students. The responses you have identified as helpful are examples of an empathic response.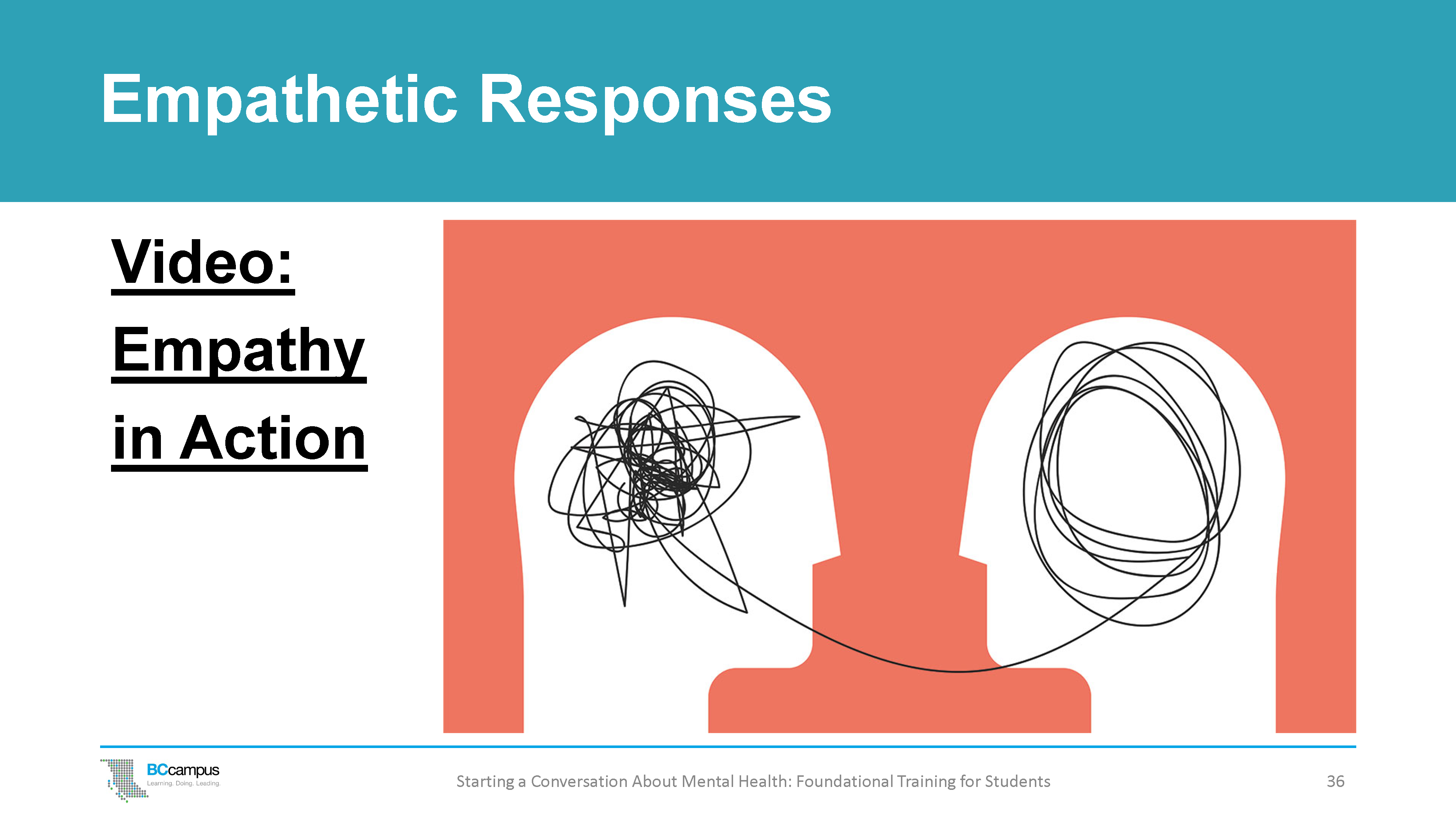 Video: Brené Brown on Empathy (2:53 min.)
This short video from well-known sociologist Brené Brown demonstrates how to respond in a helpful, compassionate way – empathy in action. (Show the Brené Brown video or share the link in chat): Brené Brown on Empathy.
ACTIVITY: Video Reflection
What stood out for you about the video?
Is there anything you would like to add to the conversation we had about what would (or wouldn't) be part of a supportive response?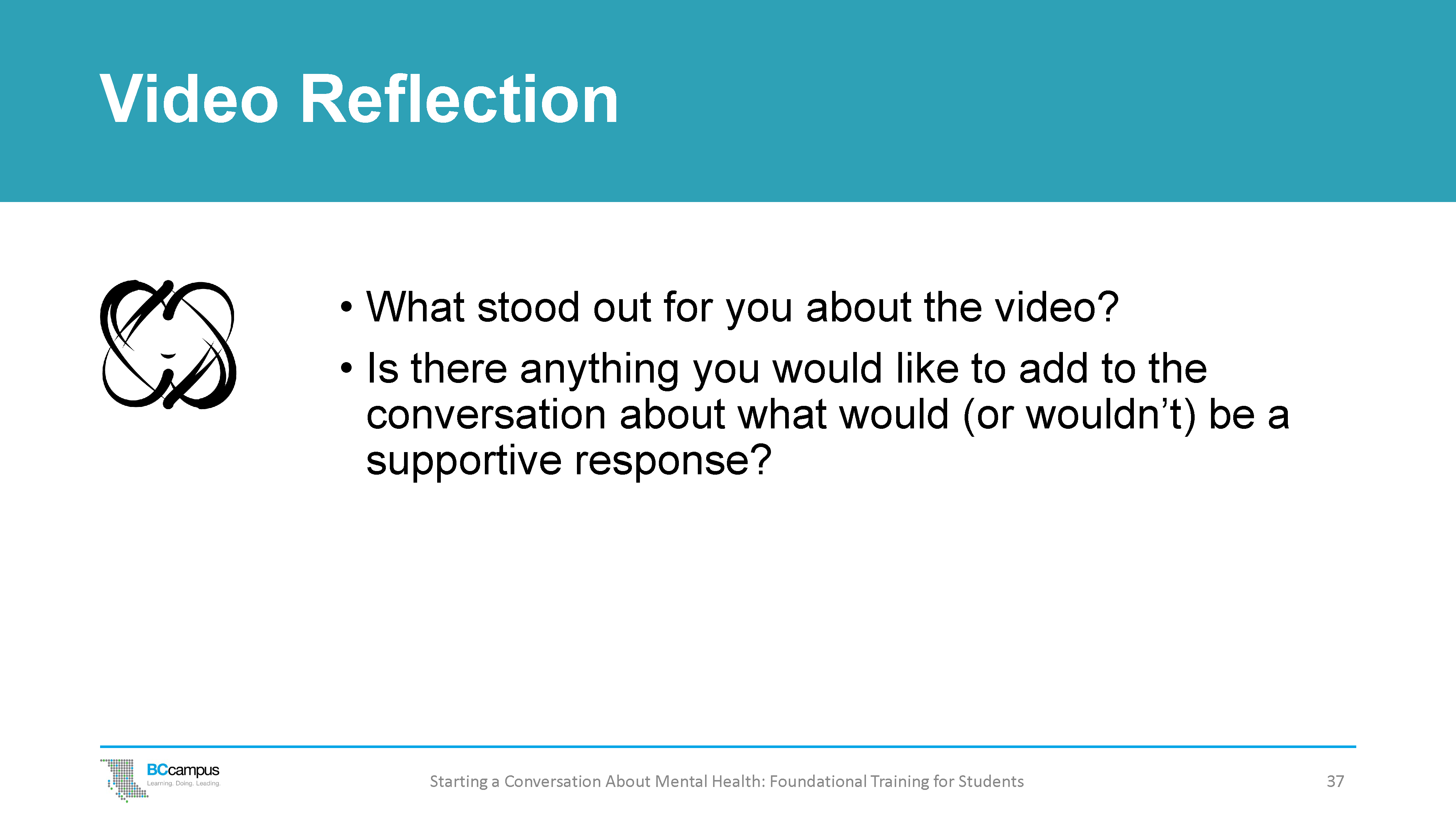 There is no script that you need to follow, nor one way that will always work. The most important thing is to be yourself and to be authentic – and this can include being honest when you're not sure what to say.
The role of an empathetic listener is not to "fix" the student or tell them how to respond. Instead, it is to listen and try to help them find appropriate support. In many cases, it's not the things we have to say that make the difference, it's the things that we allow the other person to say and get off their chest that will make room for more life-affirming options to come forth. Just being there, giving support, and offering a listening ear can help create a turning point for a student who is struggling.
When responding to students in distress, maintain an appropriate balance between your desire to help and provide solutions and respect for the student's autonomy and their own capacity.
Steps to Take When Helping Others
It is important to recognize when others are experiencing stress. Here are the steps to take when helping another student.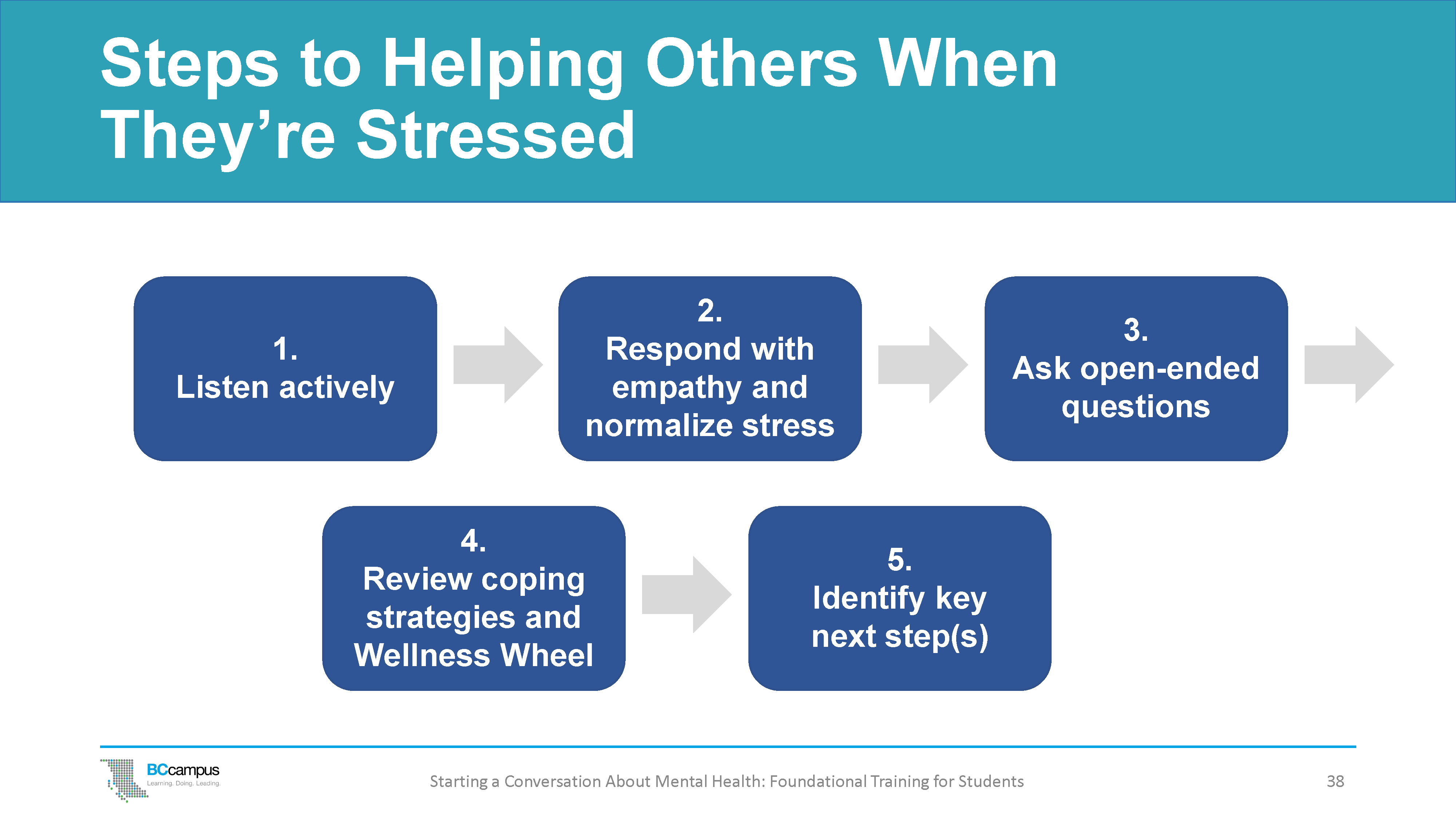 Refer participants to Handout 1: Wellness Wheel and pass out Handout 2: Coping Strategies. 
Handout 1: Wellness Wheel and Handout 2: Coping Strategies, as well as active listening and responding with empathy, can be used together in peer-helping situations when the student you're helping is experiencing the stress response.
Here are some steps you can follow in your interactions with your peers.
Listen actively.
Respond with empathy and understanding, and normalize stress as part of the university experience.
Ask an open-ended question to help your peer process and understand their situation. (This is to help the student better understand their own situation, and not necessarily for you to better understand).
These first three steps may be all that are required. Sometimes connecting with someone else, feeling heard and understood, and having an opportunity to verbalize their struggles is enough to help a person move ahead. But sometimes a person might need some help in identifying the next steps, which is where the Coping Strategies resource comes in.
Review the Wellness Wheel and Coping Strategies handouts to explore options.
Identify key next step(s).
Ask the student what they would like to try (from the Wellness Wheel and Coping Strategies handouts, or based on what's worked before).
Sometimes another student's problems are more than you are able to help them with. It is important to remember that you are not expected to solve another student's problems, and you are never expected to be a counsellor. There are many services and resources on campus and in the community that you can suggest they connect with.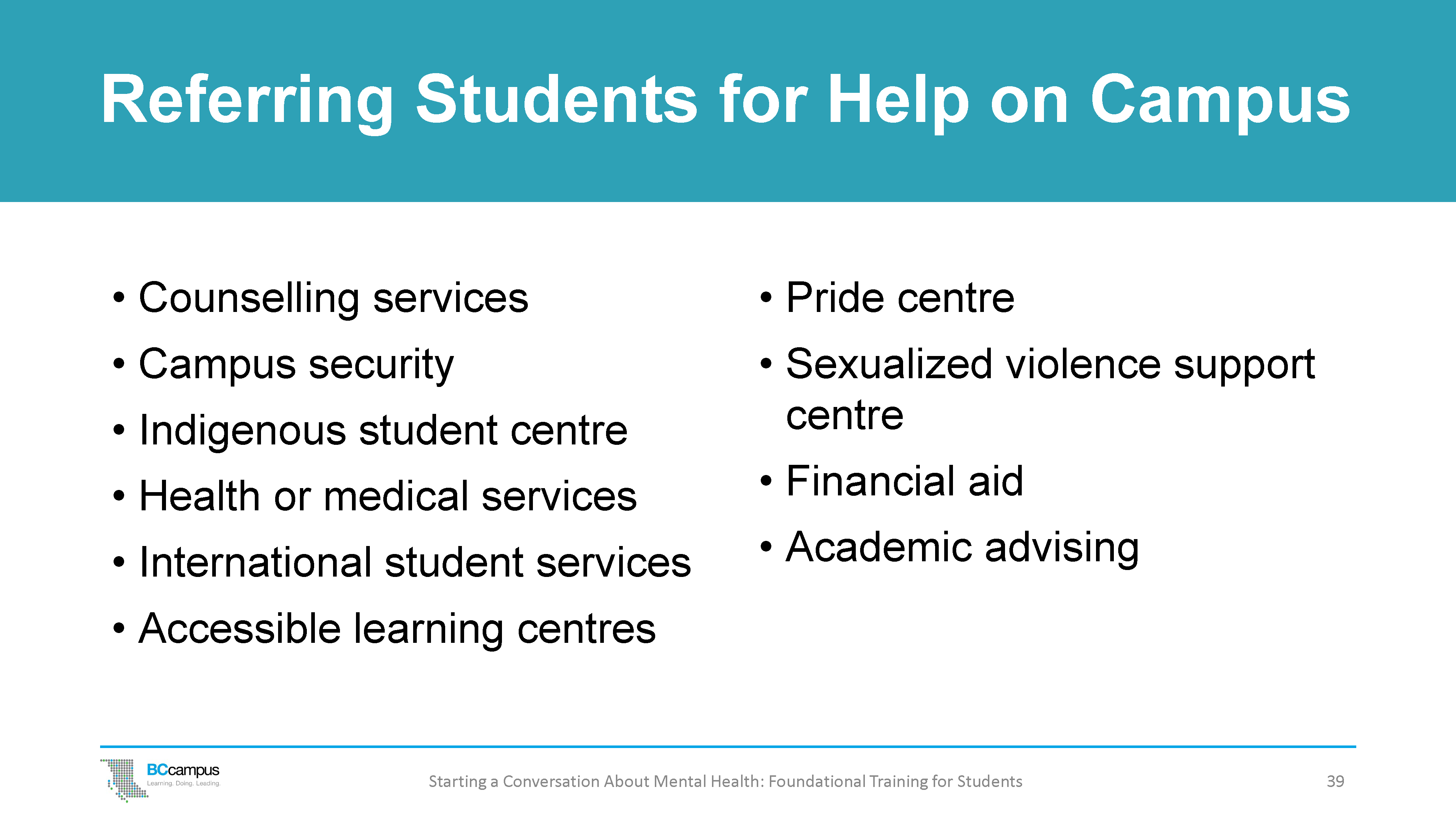 Services and Resources at Your Institution
You may want to share Handout 3: Supporting Other Students: Mental Health Resources now.
Post-secondary institutions have a range of services and supports designed for students' well-being. It is helpful to be aware of what is available on your campus, so that if you're talking to a student who you think would benefit from extra support, such as a counsellor, you can encourage them to talk to someone.
What are some resources that you can think of at your institution? (You could ask participants to brainstorm resources on their campus that they're familiar with. If you are presenting online, you could ask them to add their ideas into the chat.)
If you have a list with names and contact information for these services at your campus, share this information with participants.
Here are some of the services that are available at most campuses:
Counselling services help students manage personal, academic, and life concerns. Professional counsellors provide individual and group counselling sessions for students.
Campus security helps coordinate responses to student emergencies and crises. If you have to call 911, also call campus security, as security can help the first responders locate where to go when they arrive at the campus.
Indigenous student centres offer programs, mentorship, and a gathering place. An Elder may be available to talk to students.
Health or medical services offer health and mental health care for students.
International student services help students with personal or academic issues, study and work permits, and visa applications.
Accessible learning centres provide services, coordinate academic accommodations for students, and act as a resource to work with the university community.
Pride centres provides support to LGBTQ2S+ students.
Sexualized violence resource centres offer support for victims of sexualized violence.
Financial aid helps students needing financial support for their education.
Support for Marginalized Groups
When a person has a sense of belonging and connectedness with family, friends, culture, and community, they are more likely to have good mental health. Unfortunately, not all students have this sense of belonging, and some students, such as Indigenous students, international students, students with disabilities, and students who are LGBTQ2S+, are at a higher risk of isolation and may not have the support they need.
For Indigenous students, you could reach out to the Indigenous student centre before talking to a student; a staff member or Elder can make themselves available to talk to a student immediately after you talk to the student, or they may want to attend the meeting.
For international students, international student services on your campus can be a great resource.
For students with disabilities, you could connect them with student services or the accessible learning centre.
For students who are LGBTQ2S+, you could refer them to student services, the pride centre, or an LGBTQ2S+ organization in your community so someone is available to talk to them and help them feel less alone.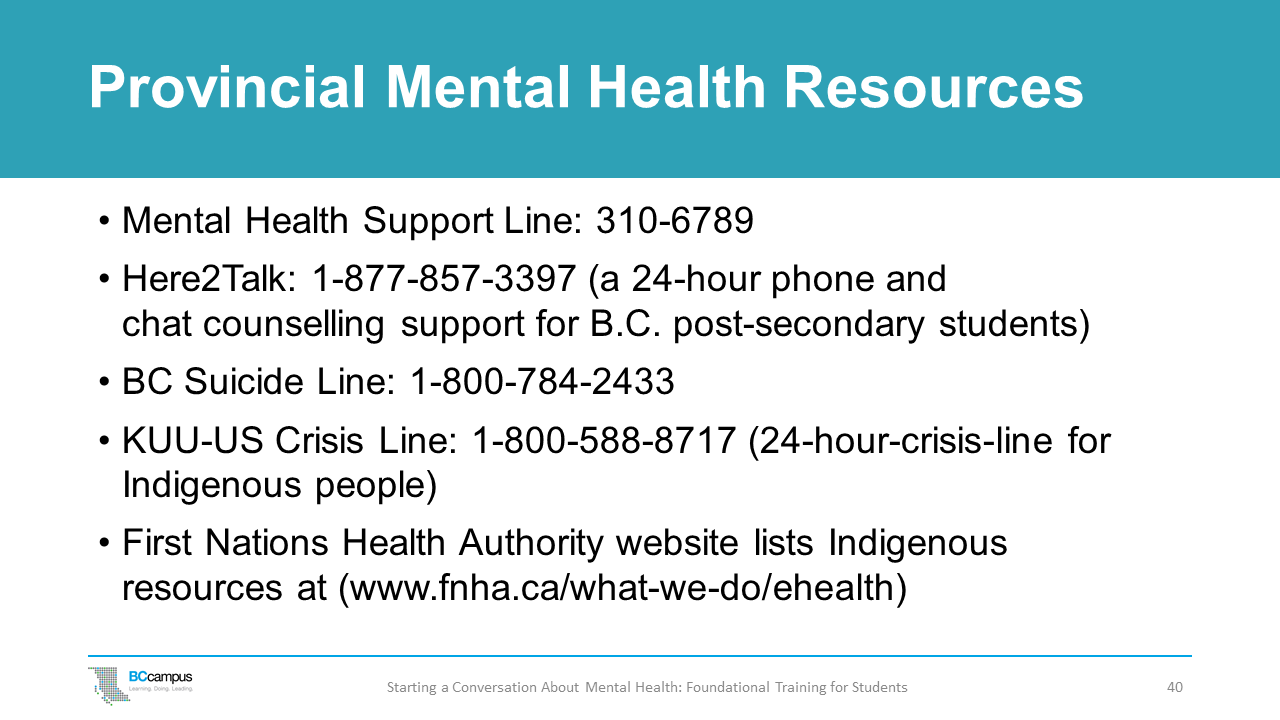 Provincial Crisis and Support Lines
Some larger campuses have a crisis line for students. If your institution does not have this service, there are also provincial crisis and suicide lines that have 24/7 support. These crisis lines also provide support to anyone who is helping a student in distress and needs to talk to someone and debrief.
Provincial supports include:
Mental Health Support Line: 310-6789 (no need for area code)
Here2Talk:1-877-857-3397 – a 24-hour phone and chat counselling support service for B.C. post-secondary students that offers free, confidential counselling and community referral services via app, phone, and web
BC Suicide Line: 1-800-784-2433 (1-800-SUICIDE) – a crisis line for anyone considering suicide or concerned about someone who may be
KUU-US Crisis Response Services: 1-800-588-8717 (1-800-KUU-US17) – provides culturally safe support, 24/7, for Indigenous people in B.C.
The First Nations Health Authority website lists Indigenous resources.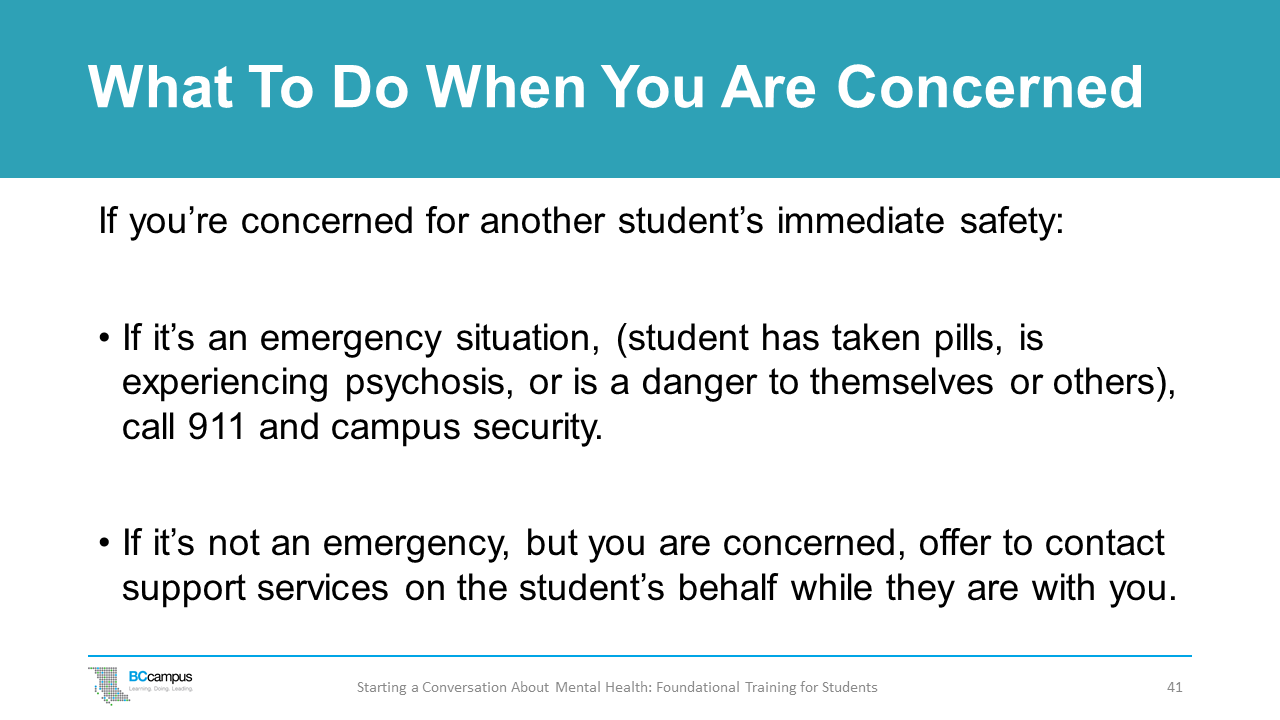 If you're concerned for another student's immediate safety:
If it's an emergency situation, such as a student who has taken pills, is experiencing psychosis, or is a danger to themselves or others, call 911 and campus security.
If it's not an emergency, but you are concerned, it can be helpful to offer to contact support services on the student's behalf while they are with you. You may also offer to walk with the student to counselling services.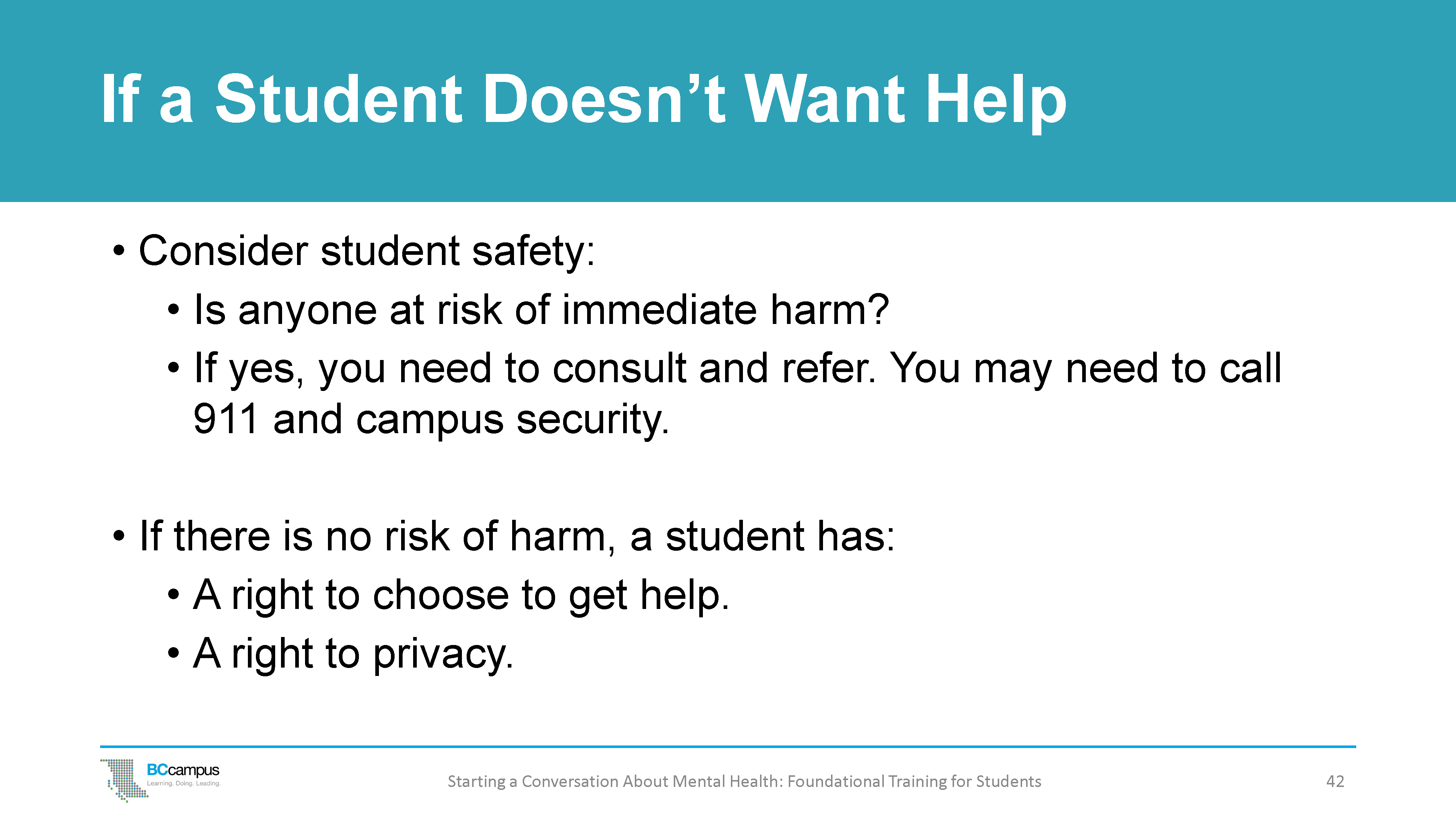 If the Student Won't See a Counsellor or Seek Help
Sometimes a student doesn't want any help.
Your first step in these cases will be to consider safety: is anyone at risk of immediate harm, whether it's the student or someone else? If so, share your concerns with a counsellor or someone who can help ensure safety. You should never assess the risk yourself – consult, refer, and if the risk is imminent, contact emergency services.
If there is no risk of harm to anyone, keep in mind that ultimately it is the student's right to choose whether to seek help. Individuals are resilient and often come to their own solutions or find their own supports when they are ready.
Ensure that you are supported! Talk to friends, family, other instructors, an Elder, or a counsellor to share your concerns and decide how to proceed.
Privacy
Please be aware that if you help another student access counselling services and are hoping to find out about the student, it is up to the student to give consent to release information. Unless a student gives permission, you won't be notified of what has happened.
Text Attributions
This chapter is adapted from Capacity to Connect: Supporting Students from Distress to Suicide © Vancouver Island University (CC BY 4.0 License) except for "Steps to Take When Helping Another Student," which is adapted from Mental Health Literacy for Student Leaders, by University of British Columbia Student Mental Health and Wellbeing staff, University of British Columbia (CC BY 4.0 License).
Media Attributions