INSTITUTIONS: Statistics and Support
Each institution develops its own process for tracking open textbook adoptions. Much depends on the culture of the college or university, and at what stage the institution is in terms of open education awareness and practice.
For some institutions, particularly at the start, tracking adoptions might be as simple as learning about open textbook usage during conversations with instructors.
Others conduct routine surveys each term. The advantages of this method include keeping the conversation about open education alive at your institution, learning how OER and open textbook usage is changing (new or the same resources; which instructors are participating, dropping out or joining; which disciplines and course levels are involved, and which are not and why), and how an institution can do better or help its faculty, staff, and students in this area. (For information on how B.C. institutions can take this step, see Ongoing Adoption Program.)
Setting up a streamlined adoption procedure with steps and dates, gives faculty with an established system so they can report their open textbook adoptions on time. That data can then be provided to people and departments (OER team, bookstore, course scheduler, adoption tracker, accessibility department) that need it for integration of and information about open textbooks in use. [1]
Below is a list of other methods used to track open textbook adoptions.
Provide workshops, lunchtime (brown bag) sessions, or other educational events about open education, open textbooks, and open educational resources (OER). During these sessions ask faculty if they are currently using or considering adopting an open textbook in their course.  Sometimes, institutions report, that instructors are using OER and are not aware of it. Several institutions have scheduled these events including a workshop at Emily Carr Institute of Art + Design, or session on OER at a daylong event at Vancouver Community College.
Publish contact information for instructors to report adoptions.
Post an open textbook adoption form. Examples include:
Enlist the bookstore's help. If it is routine for faculty to inform the bookstore which textbook has been assigned to a course, ask if open textbooks can be included (even though they are free). Below is an example of how Langara College includes open textbooks in its bookstore catalogue, in this case, OpenStax Astronomy for section 001 of ASTR 1102 course.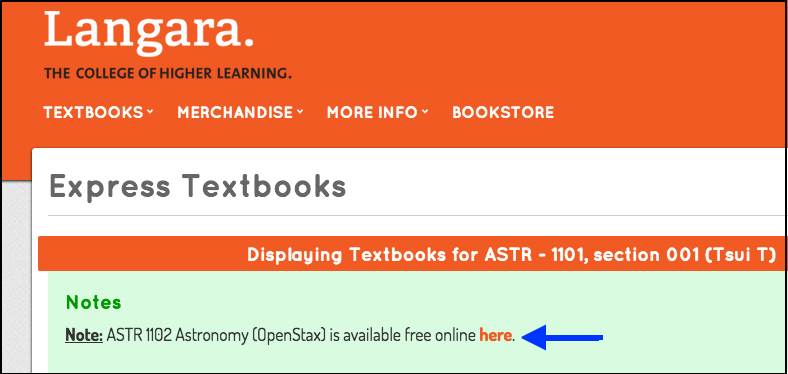 Some bookstores also provide hard copies of open textbooks for sale. (The price is typically much lower than standard textbooks.)
Talk to the library about including a sample printed open textbooks, as reference materials, to its stacks for students and instructors to view as well as links to online versions.  At Douglas College, several open textbooks are listed in its catalogue such as OpenStax' College Physics.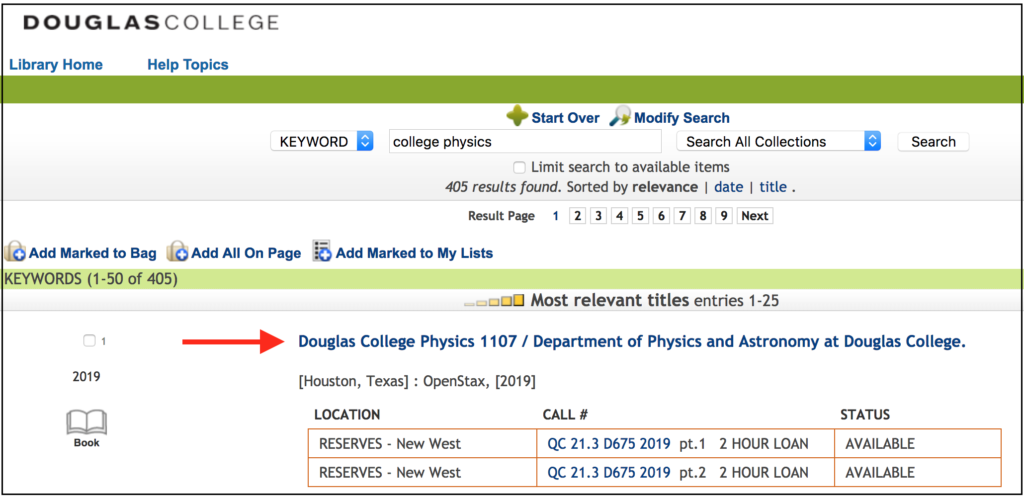 When an instructor adopts an open textbook, inform the library and ask that it be added.
Mark course sections that use an open textbook or other OER in the course schedule or catalogue. Then, use this resource to record student savings based on actual student enrollment. Below is an example of how some SFU includes the open textbook OpenStax College Physics for the D100 section of PHYS 100 offered in the Fall 2019 term.
Also reference the OER & Low-Cost Labeling Implementation Guide from Washington State Board for Community and Technical Colleges.
Consider OER during course design and redesign with the help of your institution's instructional designers. If an open textbook or other open educational resource is assigned to a course during its creation or revision, then adoption is a given.
Provide OER grants to encourage faculty to create, adapt, or otherwise consider or use open textbooks or OER. Follow up on completed projects to learn which have been adopted in the classroom. Thompson Rivers University is one institution that has taken this step.
Celebrate faculty who have contributed to or are using OER. BCIT has taken this step its Open Education Roadshows. Allow them to share with their colleagues why and how they took this step.
Open textbooks are expanding at a growing rate, and finding them–in collections, on publishing websites, posted on a variety of platforms by the authors–and tracking their usage by faculty can be difficult. Or it can be viewed as a puzzle…and fun. As instructors reveal what and where they are accessing OER, take note and find out if these systems and libraries will share statistics about adopting faculty from your institution. Alternately, review published adoptions as a starting point.
For example:
Open Syllabus Project: Open access/licence resources

For information about a specific location and institution, select a book and refer to accompanying map.
---
Thanks to Amy Hofer, Open Oregon, for this idea. ↵