Generating Customer Demand and Nurturing Leads & Prospects
By the end of this chapter, you should be able to:
Explain why email marketing is important to digital marketing
List the seven steps of an email marketing campaign
Create effective content for email marketing
Explain the different types of email and how they are used
Describe ways to prevent emails from being marked as spam
Evaluate and improve email marketing performance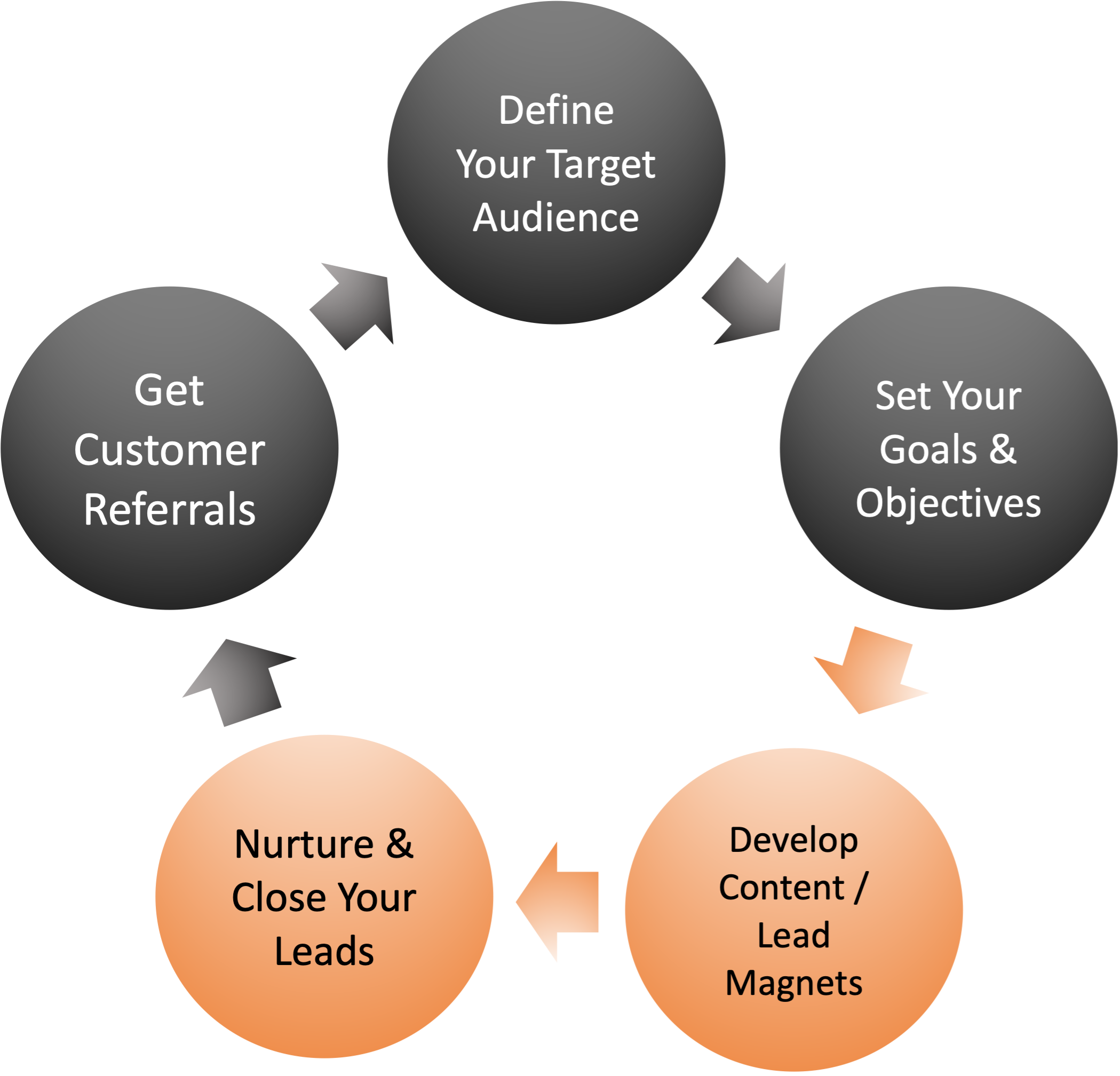 Referring to our lead generation framework, email marketing plays a critical role in developing, nurturing, and closing leads. According to the Content Marketing Institute's 2020 Benchmarks, Budgets, and Trends Study, email marketing is the most effect content type in securing and nurturing leads and the second most effective in converting leads.[1]
Let's take a further look into a few key statistics related to email marketing that highlight why email marketing is often considered the content marketing workhorse in a marketer's toolkit.
Why Email Marketing?
In 2021, 4.03 billion people around the world use email and that number is expected to reach 4.48 billion by 2024. That's half of the world's population; no other digital platform comes close to the potential reach of email.[2] The latest Facebook statistics report over 2.2 billion monthly active users and even adding Instagram's 1 billion+ users to that number does not compare to the reach of email.
And, in a recent Canadian Marketing Association survey, 81% of Canadians responded that they are comfortable receiving brand and company communications via email. In comparison, social media was in second place with 58%.[3] What is also interesting is that overall, audiences' receptiveness to receiving brand messages regardless of channel is decreasing. This highlights the importance of providing valuable and insightful brand communications and in the appropriate channels so that your target audiences read your content. Many people are now separating their personal and professional social networks and as a result, marketers need to make sure their content is appropriate for each channel and what their target audiences expect. Clearly, email is an acceptable digital marketing channel for brand messaging.
Another key benchmark to review is email's return on investment. Return on investment (ROI) measures how much revenue every dollar invested in a marketing campaign generates. In terms of ROI, email marketing delivers one of the highest returns on investment when done properly. This is largely because email marketing can be easier and cheaper to create and distribute and usually the target audience is already a somewhat qualified audience, i.e., subscribers have already expressed an interest in your brand, products, and services. In 2019, the average email ROI was $42 for every dollar spent on email marketing, according to both DMAand Litmus.[4][5]  In comparison, Google states that for every $1 spent on Google Ads (PPC), businesses earn an average revenue of $2. This is not to infer that PPC ads are not as valuable as emails; their main purpose is to attract new audiences and build brand awareness. However, marketers should note that email can be 20× more effective when it comes to ROI.
And, finally, based on the latest email benchmarking research from GetResponse, the following email statistics are what Canadian marketers are seeing, on average:
Open rate (OR): 21%
Open rate = number of opened emails / number of emails delivered × 100
Keep in mind that all emails on your email list may not be successfully delivered. As a result, you may also want to monitor the delivery rate.
Delivery (or bounce) rate

= number of emails delivered / number of emails sent × 100

Click-through rate (CTR): 6%
Email click-through rate (CTR) tells you the number of people who clicked on any of the links inside of your email.
CTR = number of clicks / number of emails delivered × 100
Click-to-open rate (CTOR): 28%
The click-to-open rate (CTOR) compares the number of people that opened your message with those who clicked on any of the links. This is an important metric to better understand how relevant and engaging your email content and calls-to-action were.
Click-to-open rate = click-through rate / open rate × 100
Unsubscribe rate: 0.1%
This is the percentage of email subscribers who, on average, unsubscribe.
Spam: 0.01%
This represents the percentage of subscribers who mark emails as spam.
H5P: Email Marketing Campaign Calculations
Now, let's practice calculating some email marketing rates …
The following metrics are related to a recent email campaign:
Total subscribers: 10,000
Emails delivered: 8,500
Opened emails: 3,060
Links clicked: 400
Conversions: 102
Given the above results, please calculate the following:
Delivery / Bounce Rate:

Hint: Remember to present this as a percentage

Open Rate:
Click-through Rate:

Hint: Only one decimal place needed

Click-to-open Rate:

No decimal places required
Even though we haven't provided the specific formulas, try to calculate the following rates based on your understanding of the other formulas:
Conversion Rate:

Hint: It's similar to CTR (only one decimal point required for the answer)

Conversion-to-open Rate:

Hint: It's similar to CTOR (only one decimal point required for the answer)
Please note that there can be significant differences in averages based on the industry, target audience, and most importantly, the type of email campaign sent. (We will review the various types of email later in this chapter.) For example, let's look at the average email statistics related to "internet marketing", which are as follows:
Open rate (OR): 15%
This is slightly lower than the overall Canadian email open rate of 21%.
Click-through rate (CTR): 1.66%
This is significantly lower than the 6% cited above.
Click-to-open rate: 11%
This rate is more than 50% lower than the 28% cited across all industries. It appears the content in internet marketing campaigns may not be as compelling as in other industries. Do you have any ideas as to why these click rates might be so much lower?
Unsubscribe rate: 0.12%
This percentage is 20% higher than the overall average, which means in internet marketing, subscribers are 20% more likely to unsubscribe. Although the overall percentage is still quite low.
Spam: 0.01%
This spam rate is the same as the average.
For more industry benchmarks and details, do check out the full GetResponse study.
Launching a Successful Email Campaign
Now that we have presented many reasons why marketers should consider and spend time on email marketing, let's dive into the seven steps to launch a successful email marketing campaign:
Define Your Target Audience and Goals & Objectives
As mentioned with all content marketing strategies, the first step is always to define your target audience (remember your customer personas!) and set your specific email marketing goals and objectives.
Select an Email Service Provider (ESP)
Next, you want to choose your email service provider. An email service provider, or ESP, is a company that offers email marketing services. These providers differ from an email client (like Gmail or Outlook) because they allow marketers to send out emails in bulk, i.e., large quantities, and also offer advanced features that help marketers manage, target, automate, and measure their email marketing activities better. Mailchimp is one of the most popular email marketing service providers primarily because they offer a free email marketing service plan. However, depending on your needs, you may want to use a different service. Here is a fairly comprehensive list of popular email marketing services, including pricing and features.
Build Your Target Email List(s)
After deciding on an ESP, you can use email sign-up forms to capture your target audiences' email address and add them to your email list. Due to the following anti-spam and data protection legislation, it is strongly recommended that marketers build their email lists from scratch rather than purchase lists because the penalties and repercussions can be quite severe:

Anti-Spam Legislation & Data Protection Laws

Given the global nature of digital marketing, the following electronic communication laws are important to note and have significantly impacted and influenced how email lists are obtained and who marketers can send emails to.

General Data Protection Regulation (GDPR – EU)[6] Passed in 2016 and enforced starting in 2018, GDPR applies to both individuals and businesses. It is similar to CASL (more below), but extends opt-in rules to collection, sharing, and processing of personal information. GDPR requires renewed consent every time an organization wants to use personal information in a different way (with a few exceptions). Violation of this policy can result in up to €20 million in fines or 4% of annual global turnover (whichever is higher).
One recent example is Amazon's €746 million GDPR fine, announcedin the company's July 2021 earnings report.[7] The full reasons behind the fine have not yet been confirmed, but the cause has to do with cookie consent. Unfortunately, this is not the first time Amazon has been punished for the way it collects and shares personal data via cookies. In late 2020, France fined Amazon €35 million it allegedly failed to get cookie consent on its website. While it is tempting to force users to "agree" to cookies—or make opting out of cookies difficult—to collect as much personal data as possible, European regulators are seriously enforcing the EU's cookie requirements. If Amazon had obtained "freely given", informed, and unambiguous opt-in consent before setting cookies on its users' devices, the company probably could have avoided this huge GDPR fine.
Canadian Anti-Spam Legislation (CASL – Canada)[8]
Passed in 2019 and enforced starting in 2014, CASL applies to both individuals and businesses. It requires marketers to have subscribers opt-in with verbal or written consent before receiving any commercial electronic messages (CEM), which includes email, SMS, audio and video, sent within Canada. This also applies to any messages routed through Canadian servers and prohibits intrusive software like spyware and malware. There are two types of consent under CASL – express and implied. Express consent does not expire; however, the recipient has the right to withdraw their consent at any time. And, the onus is on the person sending the message to prove they have obtained consent to send the message. Violations of this policy can result in up to $1 million in fines for individuals and $10 million per business. Here is a list of the latest CASL violations and the fines associated with them.
Controlling the Assault of Non-Solicited Pornography and Marketing Act (CAN-SPAM – US)[9]
Passed in the US in 2003 and enforced starting in 2004, CAN-SPAM applies to any commercial electronic mail messages (emails) and requires marketers to offer all subscribers an opt-out option on all communications. And, if an organization is found violating this policy, it can be fined up to $41,484 (adjusted for inflation) for each separate email in violation.

 List Management
Many marketers think that having an email list with as many email addresses as possible is the goal. In fact, it is much more important to keep your email lists up-to-date and "clean". Having an email list with lots of subscribers who do not open or interact with it can impact your delivery rates and ultimately, may lead to your messages to be viewed as spam.
To ensure that your subscribers want to receive your email messages, offer double opt-in, e.g., confirm consent by sending a follow-up email with a confirmation link to the subscriber's email address. You also want to provide clear unsubscribe directions in every communication. And, if you do have subscribers who are not engaging with your content, move them to a separate email list, i.e., segment them out, and target them using a re-engagement campaign (more about this later in the next section). If appropriate, you may also want to segment your email list based on interests, location, purchase behaviours, etc. Email list segmentation is valuable because it ensures your marketing messages are meeting the specific needs of that segmented audience.
Decide on the Type of Email
Now that you have built your email list(s) and know the interests and needs of each list, you should decide on the type of email you want to send. Most emails fall into two primary categories:

Triggered Emails
Triggered (or transactional or behavioural) emails are emails sent automatically based on pre-defined events or conditions met by an individual through certain behaviours, actions, or other signals. The most common triggered emails are welcome emails. These emails are sent immediately after someone signs up and welcomes them with tips, links, information about their login information, etc.
Triggered emails tend to have significantly higher open rates because they are tied to a recent activity and the recipient is usually interested in the information provided. For example, open rates for triggered emails are around 40% vs 20% for newsletters

.

[10]

To execute these best, you will need to setup an automated email campaign, sometimes called a drip campaign, so that your ESP knows when to send the appropriate email. When setting up a triggered email campaign consider:

Which Triggered Emails to Include
An automated drip campaign typically includes 3 – 5 separate emails. Depending on the nature of the campaign or organization, some email types may be less appropriate.
Timing for Each Email
A welcome email should come very quickly, but timing of the remaining emails could be 1, 2, 5, or 10 days apart and earlier triggered emails may come in quicker succession than later emails.
Content Dependencies
A new subscriber who opens and clicks on every new email should be treated differently than a new subscriber who fails to open the onboarding emails. Similarly, an "exit survey" would only go to those who did not upgrade or respond to prior emails. These are examples of a dependency that would need to be built into the email automation.
Content within Each Email
In Step 5, we will go into more detail about how to design and craft your email content.
Below are several examples of common triggered emails:

Welcome emails
Account creation emails
Password reset emails
Abandoned cart emails
Order confirmation emails
Thank you emails
Complementary product (cross- or up-selling) emails
Order status emails
Reorder emails
Purchase receipt emails
Account balance updates
Review request emails, i.e., asking new customers to leave a review

Informational Emails
Informational emails represent the second category of emails. These emails inform, educate, or entertain and here is a list of content usually included in informational emails:

Industry articles
Product testimonials
Customer success stories or spotlights (case studies)
Educational articles
Links to useful sections of your website
Questions and answers
Special offers or coupons
Expert opinions
Tips and advice
Product reviews and announcements of new products
Upcoming events calendars
Contest announcements
Featured quotes
Surveys, polls, and feedback
For some visual examples of both triggered and information emails, please do check out this article, 13 Types of Emails You Need to Be Sending Your Email List.

Create and Your Design Content
Once you have decided on the type of email you will be sending, it is time to focus on creating and designing your email content. When you are composing your email, you should note that there are some practices that may result in your emails being marked as spam. The following common "spam triggers" are ones you will want to avoid:

All Caps
Offers and promotions in all caps are often spam. So, do not "scream" at your subscribers, and find other ways to show your excitement and enthusiasm.
"Spammy" Content
Spammy content is content that is misleading, sensational, and of no use to the reader. Make sure your email messages provide value and match the interests of the reader.
High Image-to-Content Ratio
A way spammers try to avoid email clients scanning their messages is to put text into an image. As a result, if an email has lots of images without many words describing those images or sentences providing context, there is a possibility that your email could be marked as spam. If you do use imagery extensively, be sure to use the HTML alt text tags to explain what is in the image and share some context as to why it is being included.
Poor HTML coding
This could come up if you are manually coding and/or sending out your emails. For example, best practices include sending out both HTML / plain text versions and giving the subscriber the option to view the email in a web browser. If you use an ESP, these practices are built into those services and are why it is beneficial to use an ESP.
Exclamation Marks
Once again, spam messages often include excessive exclamation marks. Please note that you can include these; just use them sparingly.
Embedded Forms
While it is attractive to collect information from your subscribers directly within an email, it is also a tactic spammers use to get readers to share personal and secure data. If you have a form, include a link to it so that subscribers know where it is being collected and that it is associated with your organization.
Videos
While studies show that videos in emails do increase interactivity and engagement, spammers also use videos to circumvent monitoring.[11] So, like images, use videos carefully, and make sure you provide context.
Attachments
Sometimes attachments cannot be avoided. Unfortunately, spammers also use attachments to deliver malware or viruses. If possible, try to avoid including attachments and simple provide a link where subscribers can download or access the file. Now that we've discuss several spam triggers, let's shift our focus to making sure the other elements of your emails are strong and appropriate.
Subject Lines
 There used to be a strong recommendation to keep subject lines short (less than 60 characters) because they might get cut off in the recipient's email client.[12] However, recent studieshave shown that longer, more descriptive subject lines can perform equally well, if not better. What is important is to have your subject line be straight forward, descriptive, and compelling. Marketers may also want to limit punctuation, e.g., less than 3 punctuation marks per subject line, use emojis carefully, and avoid hard selling. Although, as with any recommendation, test to make sure. In our A/B testing chapter, we discuss testing best practices in more detail. That said, the following is a list of the most popular types of subject lines:

Interests or Benefits Specific to the Recipient
Curiosity
Offer
Urgency / Scarcity
Personal
News
Social Proof
Story

Sender and Recipient Fields
Use a familiar sender name, e.g., Alex Miller, as opposed a generic organizational name. Open rates tend to increase with email personalization, i.e., when both the "To" and "From" fields are personalized. So, whenever possible try to capture the name of the subscriber to better personalize your messages.
Preview / Preheader Test
Most email templates have an area at the top of the email that gets shown in the email client prior to opening the message (see red box below).
Take advantage of this content and present specific subscriber benefits included in the email. More descriptive preview / preheader text also increases open rates.
Imagery
Once again, use Alt tags to describe all your email images and videos.
Body Content
Keep emails short and focused. The goal with most emails is to nurture and convert your subscribers. Shorter and more frequent exchanges are a better strategy than longer and less frequent ones. If possible, break up your content into shorter pieces; this will give you more opportunity to engage with your audience and keep their attention. Along these lines, also limit your calls-to-action (remember the attention ratio?) Fewer calls-to-action keep your emails focused and allow you to better assess your audiences' interests based on their engagement with each email.
While entertainment can work well for B2C campaigns, B2B content should focus on value-based, informational, and profit-based topics, which also work for B2C audiences. That said, always test to find out what specifically resonates with your target audiences.
There are several services that can help identify "spam triggers". Here are a few that provide feedback to optimize your emails for improved deliverability:

Mail-Tester[13]
Every time someone visits Mail-Tester.com, they'll see a treehouse with a auto-generated email address listed on it that changes every time you visit the site. Simply send your email to the address listed, then click "Check Your Score." Mail-Tester will give you a free email deliverability score based on the email that was sent to the unique email address. Free users can access the report for seven days. Paid subscribers get unlimited email tests and reports that last for 30 days.

Landing Pages
After developing the content for your email messages, make sure the wording, sentiment, imagery, and calls-to-action are consistent with any landing pages related to those emails. You want the messaging to be the same and to deliver on what you discussed in the email.

Schedule & Automate
Even though there are numerous articles that will suggest the best time(s) to send emails, the best time to send your emails will largely depend on your target audience. Think about when your audience is most likely to check their inboxes and when will they have time to read your content. For example, if your target audience is university students, you might want to send your emails in the late evening after they have finished their classes. Sending an email in the middle of the day may not be seen if they are busy working or attending classes.
Optimal timing is something you can easily test. It is recommended that you send out emails at different times and on different days to see which combinations result in the highest subscriber engagement and conversions. Only through your own primary research will you truly understand the best times to send out emails to your target audiences.
For triggered emails, scheduling will usually be tied to specific events, actions, or behaviours. In these cases, you will want to use an automated email system that allows you to determine and program a specific sequence and timing of emails, i.e., when each email will be sent and based on which triggers. In this article, Best Email Automation Tools,  the authors review several ESPs that work particularly well for advanced, automated / triggered email campaigns.[14] Their shortlist includes:
Test, Measure, and Iterate
To optimize your email activities, it is critical to test, review your results, and adapt. Even though email marketing can have a high ROI, it is still necessary to review your results to understand what is working and what is not. Test your sending times, subject lines, calls-to-action, and content. While there are many email marketing recommendations, much depends on your target audience, specific email content, and industry. In the next chapter, we will dive into A/B testing and email marketing is one area where you can apply A/B testing techniques quite effectively.
Incorporate your email marketing strategy into your overarching content marketing strategy, content calendar, and lead nurturing strategies
Email marketing has the highest potential reach and ROI of all digital marketing channels
To analyze your email marketing activities, calculate, review, and compare the following rates relative to industry benchmarks and results from your previous email campaigns / activities:

Delivery (or bounce) rate
Open rate
Click-through rate
Click-to-open rate
Conversion rate
Conversion-to-open rate
Unsubscribe rate
Spam
There are seven key steps to launching a successful email campaign:

Define your target audience and goals & objectives
Select an email service provider (ESP)
Build a target email list
Determine the type of email – triggered or informational email
Create and design the email content
Schedule and automate the sending of emails
Test, measure, and iterate to optimize your email marketing results and ROI
Use your customer personas' interests, motivations, goals, challenges, pain points, etc. to drive your original and curated email content topics. (Remember the important role of curated content?)
Email Marketing – Additional Resources
Below are several articles and an industry certification that provide more details and tips about email marketing:
Media Attributions
---