Generating Customer Demand and Nurturing Leads & Prospects
13

Social Media Marketing
By the end of this chapter, you should be able to:
Describe why social media is important
Develop a social media strategy and plan
Explain the 6-Step Social Media Marketing Framework
Differentiate between the various types of social media networks
Why Use Social Media?
Many people think social media is digital marketing. While social media marketing can take up a lot of marketers' attention, it only represents one component of a digital marketing strategy. Before diving into specific strategies and tactics of social media, let's review why social media is important to digital marketing. There are many advantages to using social media for professional purposes and to promote your organization, products, and services. Here are several areas where social media shines:
Connecting with New Audiences
Billions of people worldwide use social networks on a daily basis. Therefore, it is important for organizations to be present where these online conversations and discussions are happening. For example, ~60% of Instagram users said they find new products on the platform, making it worthwhile to be there.
Building Relationships
Now, more than ever, it's critical for organizations to have a unique voice and engage with customers on a human level. Social media provides an easy way to do this, allowing marketers to create a brand personality as well as a voice that communicates brand values and engages the community.
Increasing Website Traffic
If your community likes your social media content, they may seek out more information about your products and services on your website, which will result in more website traffic and potentially more sales.
Distributing Targeted Messaging
It's very easy to distribute ads on social platforms. Moreover, marketers can narrowly target their ads and messaging to match the specific needs and interests of their target audiences. Studies have shown that customers react better when advertisements are customized to their specific needs and this strategy can result in increased interactions and interest.
Conducting Market Research
Social media isn't just great for interacting with your community, marketers can also use it to stay on top of what their competitors are doing. By listening to the social media conversations, marketers can glean what is working well (or not) for their competitors. They can then build these insights into their social media marketing strategies and tactics.
Sharing Expertise
Social media sites provide many opportunities for organizations to both hear about and differentiate themselves from their competitors. Organizations can do this by showcasing themselves as industry leaders via engaging, insightful, and relevant content, e.g., by sharing creative visual content on Instagram, composing thoughtful blog posts on LinkedIn, or revealing a fresh viewpoint in Twitter.
Managing Reputation
Reputation is everything, and social media sites provide a direct way to interact with customers and to resolve problems swiftly. For example, marketers can develop unique hashtags that can highlight concerns or interests and ensure that these issues are seen and addressed quickly by the right people. Social media sites can also be leveraged to share positive reviews, testimonials, and customer feedback.
Evaluating Analytics and Insights
Most social media platforms have their own analytics tools, which allow you to keep track of what your community is interested in, who is engaged, and what activities and content are best performing. This data can help determine which content to promote and how to appropriately modify any advertising or marketing activities.
Now that we understand why social media is a key component of a digital marketing strategy, let's look at how marketers can successfully implement a social media plan.
A 6-Step Social Media Marketing Framework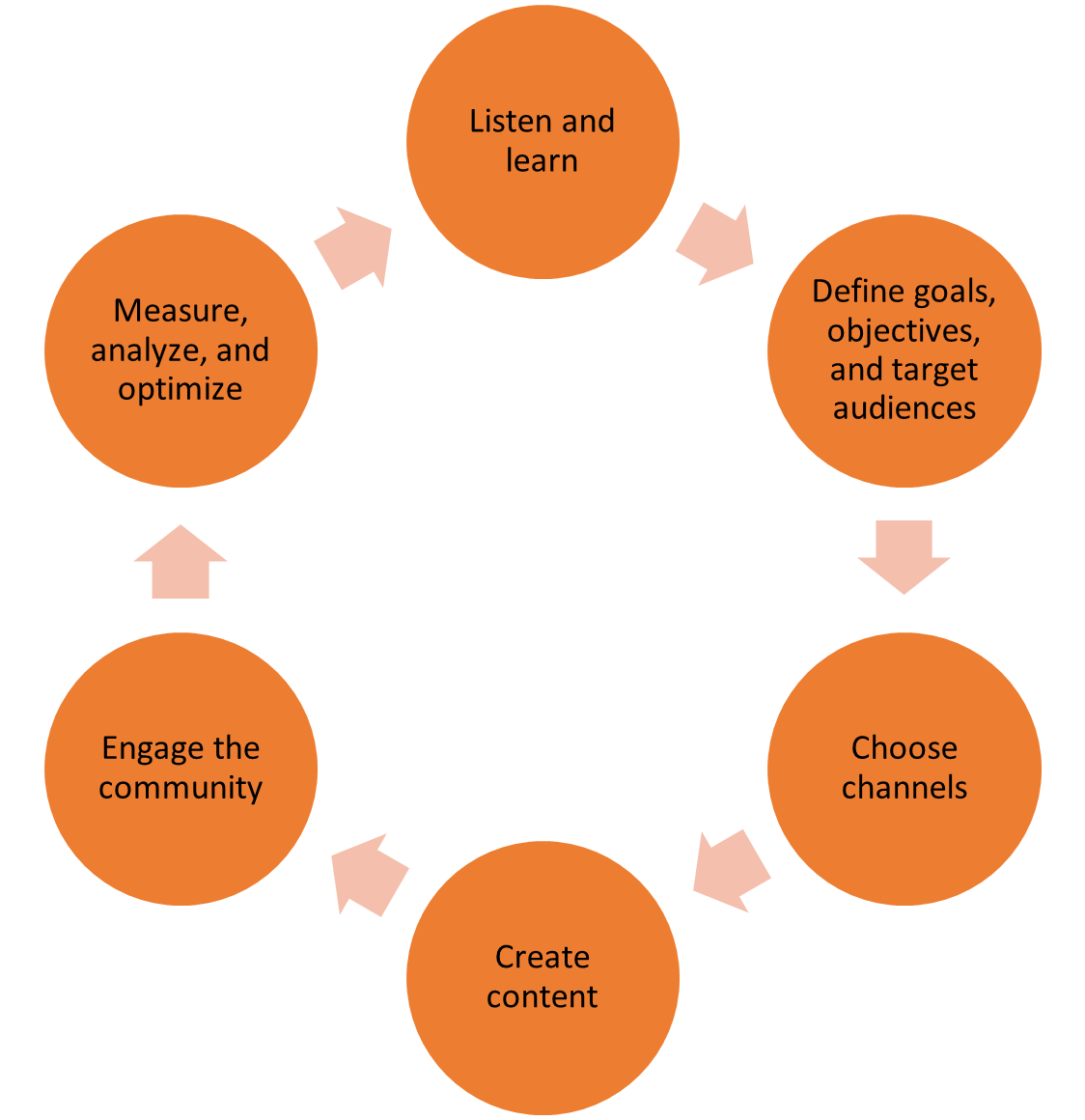 This 6-Step Social Media Marketing Framework aims to ensure your social media strategy and activities are optimized to convert prospective customers into satisfied, paying customers and brand advocates. As you learn more about digital marketing, you will be presented with a variety of different frameworks. Being able to understand what is similar and what is different will be important. Ultimately, you may come up with your own framework, which will likely be a combination of several frameworks. However, using a framework gives you the best chance of implementing the right strategy for your circumstances. This framework will also provide alignment between your chosen strategy and your activities. Let's take a closer look at each of the following steps:
Step 1: Listen and Learn
Social media allows marketers to listen to what their target audiences are saying and doing. Without any prompting, marketers can now listen to what their customers are saying about their needs, wants, and desires. We no longer have to guess!
Listening is the first place for marketers to start when developing a social media strategy. Listening is key to understanding your target audience's perceptions related to:
Your brand, products, and services
Since social media conversations are happening in real-time and directly from your community, you no longer need to guess about why people are behaving a certain way; they will tell you.
Your competitors' brands, products, or services
If you find out what your competitors are good or bad at, you can position your organization to meet some of those customer needs better. Or, perhaps, you can identify new products and services you can offer.
General topics and trends
If you can find out what's popular, you may be able to take advantage of emerging opportunities and generate new revenue streams.
Listening and learning from your target audiences is the first important step when implementing a social media strategy.
Step 2: Define Goals, Objectives, and Target Audiences
With a well-defined scope, which includes specific goals, objectives, and target audiences, it is possible to achieve positive outcomes, since you know what you are aiming for. If you know what you want, you can put the steps in place to get there. Successful marketers and organizations know what they want to achieve, and a clear focus on goals and objectives is what ultimately guides all their actions.
Identifying goals, objectives, and target audiences is a critical step in getting buy-in from key decision makers, assigning resources (human, financial, and technological), and planning social media campaigns and ongoing activities. Everyone in an organization should work and plan towards achieving these goals and objectives so it is important to get this step right.
Ideally, digital marketers should plan to complete this step collaboratively because some of the required information might exist in different areas of the organization. This information should include:
Lessons learned from the listening step of the framework: what the community is saying about your products, your competitors, and trends
Customer personas and customer journey maps developed
Competitive intelligence learned in the listening step or through other research / studies
Knowledge about the preferences of the online communities
Lessons learned from previous social media campaigns/ongoing activities
Organizational goals and objectives
If organizations don't properly align their goals, objectives, and strategies, they will waste money, time, resources, and effort.
For a startup, this could be quite costly and ultimately, result in going out of business. For an established business, this may result in losing ground to the competition, missing an important market opportunity, losing key people who do not feel supported, falling stock prices, or even going out of business. It can also lead to companies becoming reactive and developing an organizational culture of crisis management where you are constantly fighting fires instead of planning and being proactive.
Quick Goal Alignment Quiz
If Marketing Director, Sam, has been told by senior management that the organizational goals for this year are to increase sales of product X, which of the following goals are relevant for the social media marketing team? (Select all that apply.)
Increase product awareness of product X on Facebook
Decrease product X customer service costs by using Twitter
Increase traffic to product X website
Increase sales of product X on Twitter
Step 3: Choose Channels
While setting goals and objectives is a critical part of planning, how you achieve them has more to do with your implementation plan. Therefore, in this step we will focus on achieving those goals and objectives by selecting the appropriate digital marketing channels and platforms.
Since there are so many social media options, marketers often struggle in selecting the appropriate social media platform to use. Instead of trying to pick specific social media sites, organizations should focus on the type of social media marketing that will work best for their target audiences and build a presence on 2 – 3 platforms that support those activities and cater to those audiences.
Types of Social Media
The following are the most prominent types of social media networks / platforms. In each of the sections below, you can read the category description, the pros and cons, and examples of sites that fall into that category:
(click on an arrow to expand)
Social Networks
By far the most popular, social networks connect people to each other and to organizations. Organizations can use these networks to promote products, services, and content. They can advertise to diverse audiences and work with influencers to reach target audiences. In addition, marketers can listen in on public conversations about their organization, competitors, and industry, and use those insights to improve customer experiences and increase brand awareness.
Pros:
Large, diverse audiences, i.e., most people are active on one of these platforms
Lots of activity
Integrated into many marketing automation tools and services
Cons:
Difficult to be seen / heard due to the volume of content and activity
Algorithms often promote individual posts over business posts, which means organizations may need to pay for exposure
Examples of social networking platforms*:
*Please note that some sites may be listed in multiple categories.
Photo Sharing Networks
Visual storytelling has become a staple on social media. As a result, image sharing networks are quite popular and should be part of most social media strategies. These social media sites allow individuals to share images and visual content. They provide a platform to spark conversations, inspire ideas, and promote products, contests, and experiences that get people talking about brands.
Pros:
Large audiences
Lots of activity
Well suited for products or experiences that can be presented in a visual form
Good channels to promote brand values and build brand awareness
Cons:
Visual content may not be appropriate for all organizational offerings
Requires visual storytelling expertise
Some features may only be available on mobile devices
Examples of image-sharing networks:
Video Sharing Networks
Video-sharing networks can be split into two main categories: short-form and long-form video.
Short-form Video
Short-form video typically includes videos that are less than two minutes long. The most popular platforms are TikTok & Instagram Reels.
Pros:
Great for building brand awareness, sharing quick tips, and repurposing other content into shorter or more interactive versions – like long-form video or a series of images
Cons:
Limited time to communicate messages
Requires strong storytelling expertise, as well as video production and editing skills
Examples of short-form video networks:
Long-form Video
Long-form video refers to videos longer than two minutes. YouTube and Vimeo are the leading platforms. YouTube has better SEO, but Vimeo has a stronger community and no pre-roll ads.
Pros:
Great for organizations looking to teach in-depth courses, share long journeys, or walk through a process.
More time to build a narrative
Video analytics to assess what is resonating
Cons:
Audience may not watch long-form content to the end
Content creation usually is more costly
Content can become stale and outdated
SEO is more complicated
Examples of long-form video networks:
Livestreaming Networks
Following short-form video, one of the fastest growing types of social media networks is livestreaming. Livestreaming delivers live video content that typically interacts with a live audience / viewer. Livestreaming is available on almost all popular social media platforms.
Pros:
Immediacy of audience interactions, feedback, engagement, etc.
Ability to share experiences / events in real-time
Cons:
Requires a consistent and high-quality internet connection, as well as live video streaming production capabilities, e.g., cameras, lighting, microphones, etc.
Examples of livestreaming networks:
Interactive Media Networks
Interactive Media Networks allow their users to connect, create and share content. Quite often, they offer a variety of unique interactive and highly experimental features such as AR/VR filters, musical overlays, and interactive games. These networks tend to be most popular among Gen-Z and Millennials.
Pros:
Platforms are very creative and experimental.
The audiences skew younger and are a good market for brands targeting Gen-Z and Millennials
Stories can be used to provide a behind-the-scenes look at your brand or the process of bringing a new product / service to market
Cons:
Potentially expensive and time-consuming content creation
Some features may only be available on mobile devices
Promotion within these networks can be challenging, which requires promoting via your website or other social platforms
Examples of interactive media networks:
Community Forums
Community forums encourage people to answer questions posed by the community and to share knowledge, news, and ideas. These websites discourage direct advertising and generally, do not have brand pages. Answering questions correctly and honestly in these forums can increase a member's credibility and that credibility or trust could lead to increased website visits and sales.
Pros:
Great resource for conducting market research and generating leads for your products or brand. This can help build more focused marketing campaigns.
Ability to give community members early access to offers, try out freebies, and gather feedback.
Thought leadership and expertise can be rewarded through upvoting of content
Cons:
Must adhere to the rules of engagement within the community
Distrustful of organizations
Potential for groupthink, i.e., everyone in the community thinks the same way and new ideas / perspectives are not considered or accepted
To build meaningful relationships, community management can be time-consuming
Examples of community forums:
Blogging & Publishing Networks
These networks provide a place to publish written, long-form content and can be an important component of your content marketing strategy. Consider writing about how to use your products in creative ways, or post news about your industry to drive more traffic to your website or online accounts.
Pros:
By publishing on a shared network (as opposed to on your organization's website only), marketers can attract readers from the entire pool of people who visit that network looking for interesting content.
Can create backlinks as part of your link building strategy
Cons:
Requires writing skills and producing long-form, written content on a regular basis.
Must adhere to the network's publishing guidelines, which might limit the range of writing topics
Examples of blogging and publishing networks:
Podcast / Social Audio Networks
Podcast Networks
More and more organizations are taking advantage of the opportunity to market their products and services using audio. Audio podcasts and social audio networks allow listeners to gain knowledge, share ideas, and/or join discussions in an audio format.
For many listeners, these audio experiences are easier to consume. People can listen wherever they are, including while commuting, offline (if downloaded), or simply as background noise during daily activities. Podcasting is less restrictive than watching a video or even scrolling through a feed.
Pros:
High-quality audio podcasts are more affordable to produce than high-quality videos
Asynchronous and multi-tasking listening possibilities
Cons:
When multi-tasking, listeners may not fully hear what is being discussed
Requires a robust content marketing strategy and content calendar to maintain
Examples of podcasting networks:
Social Audio Networks
Social audio is yet another social media network type that offers live discussions with the audience rather than pre-recorded audio conversations. Like livestreaming, these networks are great for connecting with an audience in real-time and getting immediate feedback.
Pros:
Marketers can host their own rooms which allows them to share knowledge and establish themselves as thought / industry leaders
Many of the same benefits as livestreaming with lower production costs
Cons:
Listeners may be distracted
Listeners need to listen in real-time or they might miss the discussion (if not recorded)
Examples of social audio networks:
Messaging Apps
Messaging apps have evolved to be more than just a simple way to share text messages. With features for calling, creating groups, broadcasting messages to multiple users, exchanging money, and the option of creating chatbots, messaging apps can help your organization in many ways. For example, many small businesses are using Facebook Messenger chatbots to interact, support, provide suggestions, and share news with their customers.
Pros:
Built into the social networks that individuals already use
Technology infrastructure managed by a third-party
Ability to resolve customer complaints, concerns, or issues in a more private channel
Quick, direct communication channel to respond to questions
Cons:
Dependent on third parties, e.g., when Facebook and WhatsApp went offline, these organizations couldn't connect with their customers
Managing yet another customer communication channel
Examples of messaging apps:
For more ideas on how to use these, check out this article, The Best Messaging Apps for Customer Service.
Bookmarking & Content Curation Networks
Bookmarking and content curation networks are platforms where users discover, save, and share a variety of ideas, articles, posts, and other content for later use. The purpose of these websites is to discover new content based on shared interests and to discuss trends. By creating and curating content that is current and relevant to your industry, marketers can use these networks to direct people to their website and engage with the community by sharing content to bookmark.
Pros:
Great for sparking new ideas, as well as highlighting news, hot topics and trends
Share knowledge and establish your organization as a thought / industry leader and expert
Cons:
Requires consistent content creation, which could be time-consuming
Content curation can also be time-consuming
Examples of bookmarking networks:
Review Networks
Review networks allow people to find, review, and share information about brands and their products and services. These types of networks reveal the customer experience. Good or bad, reviews help identify what is working and what is not and provide an opportunity for organizations to make improvements and/or resolve issues. How an organization responds to a review will often showcase a brand's values and how they handle customer feedback. When reviews are managed well, organizations can build trust and loyalty with their community, which can bring positive social proof to the organization and its claims.
Pros:
Positive reviews can increase traffic and sales because they reflect the (unfiltered) opinions of customers
Ability to turn a negative experience into a positive one quickly
Cons:
Managing reviews can be time-consuming, especially since you want to respond as quickly as possible (for both good and bad reviews)
Reviews are highly subjective and based on the reviewer's expectations
Examples of review networks:
Social Shopping Networks
Social shopping networks create a community of individuals who share similar interests and opinions, and influence each other's purchasing decisions. These networks help buyers spot trends, share great finds, make purchases, and follow their favorite brands. They focus on e-commerce, and the social element makes it engaging and entertaining. These social shopping sites are ideal for building awareness about your brand and selling to a wider audience.
Many social networks now also include social shopping elements. For example, Facebook Marketplace allows people to sell items to their friends, followers, and other buyers nearby, making it much easier to sell used products.
Pros:
Purchase decisions are largely driven by the community, which means organizations should seed conversations with the appropriate benefits
Strong social proof
Word-of-mouth can spread quickly
Cons:
Negative feedback can spread quickly
First impressions carry more weight
Tend to be more niche markets so the market upside may be limited
Examples of social shopping networks:
Interest-Based Networks
In contrast to those social networks that cover a wide range of topics, interest-based networks focus solely on a single area of interest, e.g., books, cycling, pregnancy, or home design. For organizations looking to connect with niche target audiences, these networks can deliver high quality relationships, focused market insights, and critical market trends.
Pros:
Strong niche-based community
Great for brand awareness and word-of-mouth referrals
Highly focused messaging and communications may require less time
Cons:
Niche market, so insights might only apply within that community and not be transferable
Negative feedback can spread quickly, and organizations may not be given a second chance
Examples of interest-based networks:
For more examples, check this list of social network apps for interest-based communities.
Sharing Economy Networks
Like interest-based networks, sharing economy networks also cater to specific niche audiences. These networks are built around the sharing of goods and services, with the goal of improving efficiency, sustainability, and community. Essentially, by choosing to share items such as vehicles, recreation equipment, or tools, there is less strain put on the market to produce goods since purchases are replaced by borrowing and lending across the community. For example, a sharing economy site focused on pets could help a user find someone willing to take care of their dog while on vacation. It would be less costly than a kennel and more comfortable for the pet. If your company sold pet toys or food, you could potentially gain new customers by advertising or offering product or service promotions for users to try.
Pros:
Well-connected and highly targeted, niche communities
Great for brand awareness and word-of-mouth referrals
Focused messaging and communications may require less time
Cons:
Niche market, so insights might only apply within that community and not be transferable
Negative feedback can spread quickly, and organizations may not be given a second chance
Examples of sharing economy networks:
Anonymous Social Networks
Anonymous social networks let you post anonymously. Since these sites allow users to post anonymously, there is no accountability and these networks can easily become sites for cyberbullying, to vent, gossip, or snoop – none of which help a business or brand.
Pros:
Unfiltered feedback / opinions (true or perceived)
Insights, facts, and opinions may be shared that otherwise would remain hidden
Cons:
Can become quite toxic and negative and organizations may not fair well
Examples of anonymous social networks:
Reflection
Now that you have reviewed the different types of social media networks and the pros and cons of each:
Which ones best meet the needs and activities of your customer personas / target audiences?
Which ones best suit your brand?
How can you leverage these channels to achieve your organizational goal and objectives?
Step 4: Create Content
After choosing your channels, the next step in our 6-Step Social Media Marketing Framework is content creation. After selecting the appropriate social media networks, marketers can focus on creating the content that works best for that specific channel and the target audience.  Questions to consider include:
What do you want your community to do?
What does your target audience find most engaging?
This is not about creating content for the sake of it. Think strategically about what you are trying to achieve, which should be clear after the listening stage, and then deliver content based on that. And, remember to follow the content strategy, content calendar, and lead magnet recommendations discussed in the Content Marketing chapter.
Step 5: Engage the Community
Listening is just one side of the equation. Once you have listened to your community, you will need to go out and build positive relationships that last. This is done by engaging your customers with content they find valuable. However, simply pushing out content and hoping that your community will like, comment, and share the content is somewhat unrealistic and unproductive. To get the best out of content and to develop meaningful relationships and trust, it is necessary to engage with your community.
Usually, the key to successful engagement is conversation. Engagement can take on other forms such as sharing, liking and posting and to a certain extent, your community will determine which form is most suitable. However, conversations lie at the heart of social media. It is a central facet: people want to talk to each other. This then leads to the following questions about conversations:
What is a conversation?
Simply defined, it is a dialogue between at least two people, possibly more.
Why are conversations important?
Conversations communicate who we are, what our needs are, and what we feel.
How do conversations impact business?
Conversations in business are not new; commerce has revolved around conversations for millennia. The rules that applied to good conversation back then also apply to today's social media business conversations. In 44 BC, Cicero put forward the following rules for good conversation:
Speak clearly.
Speak easily, but not too much, give others their turn.
Do not interrupt.
Be courteous.
Deal seriously with serious matters, gracefully with lighter ones.
Never criticize people behind their backs.
Stick to subjects of general interest.
Do not talk about yourself.
Never lose your temper.
All these rules still apply to maintaining good conversations in social media. For example, although you or your organization may want to talk about your brand, it is best to avoid direct marketing and sales via social media as part of a conversation or dialogue. If it makes sense to bring it up as part of a conversation, feel free. But, remember, no hard selling!
In addition, to Cicero's rules for conversation, there are three more pertinent social media conversation guidelines to consider:
Get to know who you are talking to. (Remember your customer personas?)
Listening is more important than talking.
If you're going to be talking have something important to say.
Again, the secret to successful conversation and engagement will be to listen to your community and find out what it is they like to talk about and in what manner. Knowing this, you can have more impact when it is time to say something since you already speak their language and are part of the community. As part of your content strategy, write down what tone of conversation is relevant to your community. For example, do you want to be light and informal or are you required to be more serious and formal? Develop your conversational style according to your community.
Engagement Pyramid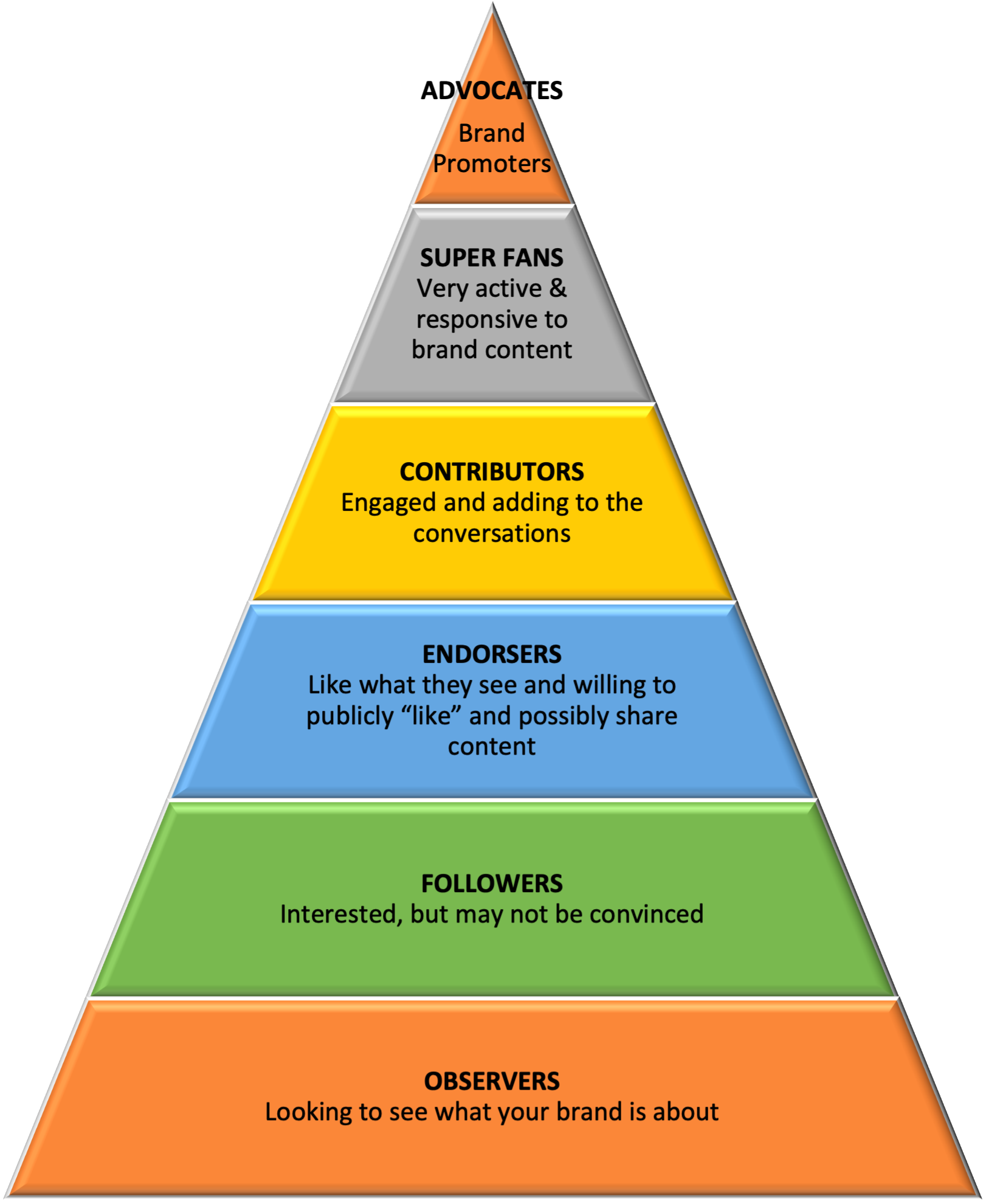 Marketers should also be aware of the engagement pyramid and the passive majority. Not everyone on social media will engage. According to the engagement pyramid, the vast majority of a community will be passive. This means that those individuals doing the talking represent a small percentage of your target audience. The digital marketing team needs to be aware of this as it will affect responses to your content as well as engagement around your posts.
Passive behaviours would represent the majority of people who see, view, and even read, watch, or listen to content but choose not to comment or share it. In fact, in many of the larger social networks, a good engagement level (Facebook uses the term 'people talking about this') is usually anything above 10%. Here engagement refers to liking, sharing, and commenting on posts.
Active behaviours refer to the types of action most digital marketers seek, e.g., liking, commenting, and sharing. This primarily refers to the endorsers, contributors, and super fans in the pyramid. Advocates are the ones who take engagement to another level. They are the ones creating their own posts about your brand and promoting your brand to their own social networks.
The key takeaway here is that 10% may be a rough guide as to the level of engagement to expect for your content. Clearly, this will differ depending on industry and how inherently social your product is. For example, a social media post about acne products might not get too much sharing.
Also make sure that you allow the most engaged members of your target audience to flourish. Offer them rewards and incentives for their hard work. Tell them you appreciate their efforts and give them something back in return. This could even drive user-generated content and/or competitions. Take, for example, a Pinterest competition created by Peugeot cars. In this competition, Peugeot posted pictures of cars to their Pinterest board showing tiny sections of cars. Followers then had to go to Peugeot's Facebook page to find out which car the picture was taken from for a chance to win something.
As well as conversations, another key goal of social media is virality. Most organizations want their content to go viral. Many marketers have studied why a piece of social media content goes viral and there does not seem to be one definitive answer. However, there are some commonalities. Apparently, most viral content pieces tend to be in one or more of the following four categories:
Very helpful / practical
Unique / amazing / spectacular
Funny
Controversial
Viral content can be a combination of any of the above categories but generally at least one is involved. However, from a business perspective, before trying to make engaging content, determine what is appropriate for your target audience. For example, while edgy and causing more buzz and reach, does a controversial video fit with your community's sensibilities/personalities, your content strategy, and your overall brand image and personality?
During the engagement stage, marketers need to be aware of how to build and foster trust in their online relationships. To tap into virality and achieve massive reach, marketers will need to understand which content types are most likely to truly engage their target audiences.
Step 6: Measure, Analyze, and Optimize
Measuring is crucial to social media's impact on an organization. Without measurement, marketers have no yardstick and no means of understanding whether their activities are succeeding or not. Through analytics, surveys, and content analysis, it is now possible to measure the success of your social media activities. Collate and collect all your data so that you can analyze how things went during the current cycle of the framework. In addition to your social media analytics and insights, you will potentially need other information, such as:
online web analytics
a timeline of important events or activities that may have affected the organization in the online, social, and offline worlds
financial data regarding sales
Once you have all the data, assess the success of your social media marketing campaigns and ongoing activities by examining how it all fits together. Review any lessons learned and optimize your strategy for the next iteration of the cycle. Once again, start with a listening phase to find out if there is anything new and/or what's changed for your target audiences. For example, if you found out that one product was less popular in terms of engagement and sharing, you may want to focus your attention on monitoring keywords associated with that product in the next listening phase. Measure, analyze, and optimize your activities so that you can properly evaluate what worked and what didn't. This is crucial for future planning of your social media activities. In the Digital Marketing Analytics chapter, we will dive into specific metrics and analytics more.
The six steps in the social media marketing framework are:
Listen to and learn from the community
Define your goals, objectives, and target audiences
Choose the appropriate social media channels
Create content that your target audiences will find compelling
Engage with the community via meaningful conversations
Measure, analyze, and optimize your results
And, there are many types of social media networks, each with their own pros and cons:
Social Networks
Photo Sharing Networks
Video Sharing Networks
Livestreaming Networks
Interactive Media Networks
Community Forums
Blogging & Publishing Networks
Podcast / Social Audio Networks
Messaging Apps
Bookmarking & Content Curation Networks
Review Networks
Social Shopping Networks
Interest-Based Networks
Sharing Economy Networks
Anonymous Social Networks
Social Media Marketing – Additional Resources
Here are several articles and free industry certifications that provide more social media marketing details:
Media Attributions
Image Descriptions
A pyramid-shape diagram demonstrating the engagement level of social media users with the brand. From top to bottom:
Advocates – brand promoters
Super fans – very active & responsive to brand content
Contributors – engaged and adding to the conversations
Endorsers – like what they see and willing to publicly "like" and possibly share content
Followers – interested, but may not be convinced
Observers – looking to see what your brand is about