Generating Customer Demand and Nurturing Leads & Prospects
10

Search Engine Optimization (SEO)
By the end of this chapter, you should be able to:
Explain what search engine optimization (SEO) is
Describe the differences between on-site and off-site SEO
What is Search Engine Optimization (SEO)?
Search engine optimization is the process of getting your webpages and content to rank higher in non-paid (also known as "organic") search engine results so that you increase the quality and quantity of traffic to your website or content.
Please note that the goal of SEO is not simply to optimize for the search engines, but rather to structure your content so that target audiences can easily find content that provides the answers they seek. Understanding what people are searching for online, the kinds of words or terminology they are using, and the types of content they want to consume are critical in any search engine optimization strategy. When done correctly, SEO allows marketers to better reach and connect with people searching for the products and services their organization offers.
From your customer personas, you should know what your target audience wants and is interested in. SEO simply helps marketers structure their content so that search engines can find, understand, and index it and ultimately, deliver it when a target customer is looking for it.
Why is SEO Important?
In digital marketing, there is a lot of discussion about using paid advertising, social media, and other online platforms to generate traffic and interest. However, the majority of online traffic is driven by search engines. For example, of all Canadian searches, only ~2.8% of people click on paid advertisements. SEO delivers ~20X more traffic opportunities than paid advertising on both mobile and desktop.
Search engines also produce some of the highest qualified leads because when someone is searching, marketers know exactly what that person is looking for. Capturing a lead with a very specific search intention allows marketers to deliver a specific solution based on what that person needs at that very moment. Generally, these search intentions are categorized as follows:
Informational
This is when someone is searching for information.
For example: "What is the best type of laptop for photography?"
Navigational
This is when someone is searching for a specific website.
For example: "Best Buy"
Transactional
This is when someone is searching to buy something.
For example: "good deals on MacBook Pros"
Understanding the above objectives allows marketers to create content that specifically addresses these distinct intentions.
Over time and if set up properly, SEO can also organically grow and increase your traffic without additional investments, especially if your content is the best match for specific search terms. In essence, by spending time to properly structure your content for search engines, your organization could see increased traffic, engagements, and customers over time.
On-Site SEO & Keywords
Within search engine optimization, there are two primary strategies that most marketers will want to explore: on-site and off-site SEO. On-site SEO focuses on optimizing the content and structure of a website so that it ranks well (typically within the first 10 search results, or on the first page of search engine results) for specific search phrases (also known as "keywords") that are relevant to an organization's website or content.
A key element of on-site SEO is ensuring that the keywords or key phrases your target audience searches for are contained in the content and structure of your webpages. Let's walk through an example. Fable Ice Cream, a Saskatoon-based ice cream shop, has heard about SEO and wants to improve how often they show up in organic search results. To do so, they might ask questions such as:[1]
What types of ice cream, desserts, snacks, etc. are people searching for?
Who is searching for these terms?
When are people searching for ice cream, snacks, desserts, etc.?

Are there seasonality trends throughout the year?

How are people searching for ice cream?

What words do they use?
What questions do they ask?
Are more searches performed on mobile devices?

Why are people seeking ice cream?

Are individuals looking for health-conscious ice cream or just looking to satisfy a sweet tooth?

Where are potential customers located — locally, nationally, or internationally?
Asking these questions is a crucial planning step that will guide Fable Ice Cream's keyword research and help them craft better content. Understanding how a target audience searches for a product, service, or information is a crucial first step  and in answering the above questions, marketers can come up with several keyword and key phrase ideas.
Often marketers will now start thinking about creating content using these terms. However, there are other structural and hidden areas of your webpages that should be considered, as well.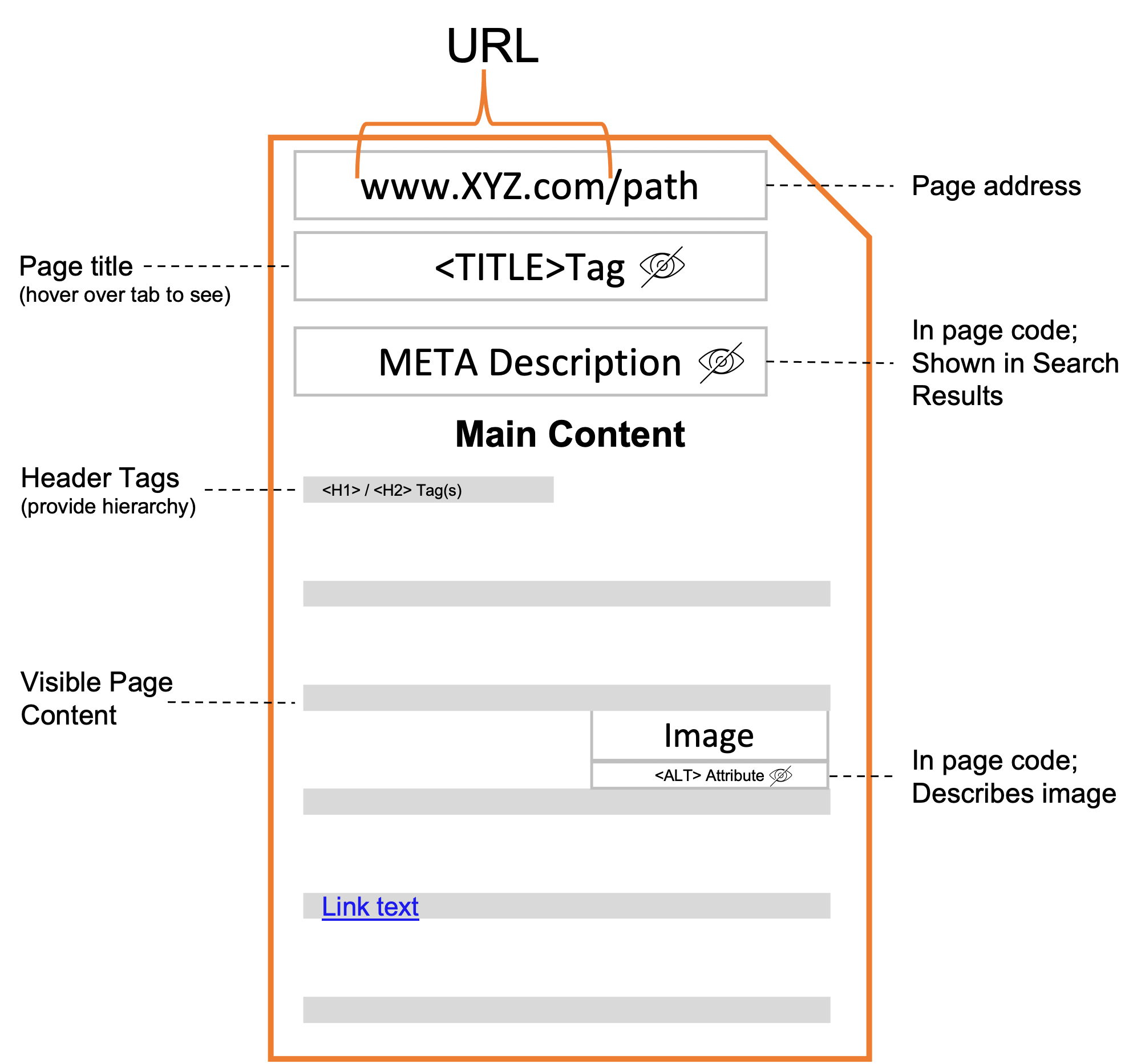 In the above image, you can see the anatomy of a webpage and when you are incorporating your keywords, be sure to include them in the following:
URLs and Paths
While not as creative and brandable, domain names that are descriptive, e.g., wine.com, work well for SEO. And if you have multiple webpages on your website, consider including keywords in your paths, i.e., the text after the slashes (/). For example, wine.com/red-wines.
Title Tag
The title tag is one of the most important page factors because it tells the search engines what the entire page is about. While this tag is hidden when viewing a webpage, it is the web page title (in blue) that search engines show in their results (see image below – "Search Engine Land | Must Read News …). To see the title tag for a webpage, simply hover your mouse over the top of any web browser tab.
Meta Descriptions / Snippets
A meta description is the short summary that appears underneath your website title on the search engine results page and includes information about your webpage (see red box below). Again, this information is not visible when viewing the actual webpage, but rather is information created for search engines to display in their results. Many website builders like WordPress, Wix, Weebly, etc. will have settings where you can enter this description and the title tag for each webpage. However, in some cases, you may need to ask your website developers how this information can be entered.

Main Content / Body Copy
The main content, also called Body Copy, is the visible content you see when you visit a webpage.
Header Tags
Header tags, also known as heading tags, are used to separate headings and subheadings on a webpage. They rank in order of importance, from H1 to H6, with H1s being the most important. Header tags improve the readability and SEO of a webpage by creating a hierarchy similar to a table of contents or outline. For example, in this chapter, "What is SEO", "Why is SEO Important", and "On-site SEO & Keywords" are H2s, which means that all these headings have the same importance.
Image Alt Text
Search engines cannot "see" images. As a result, images should always have Alt text to describe what is in the image. Search engines will then use this Alt text to match searches. Even though Alt text is not visible, it is an important addition for SEO and for any visitors using screen readers to view a webpage.
File Names (including images)
When saving and uploading files, try to incorporate the appropriate keywords into the file name. For example, an image file with the name CN_Tower.jpeg is much better than IMG4095.jpeg.
Link Text
When creating links to internal and external webpages, make sure the text used for the link is descriptive. For example, instead of writing "click here to read an article", write "read this article from Google on Link Text".
Now, that you have considered incorporating keywords into the structural areas of your webpages, you can create visible content that answers the questions your target audiences ask.
If you want to further research and identify related or similar keywords, there are many online tools that can help. First, create a list of potential keywords, phrases, and questions and then, enter those terms into any of the following online services:
Google Search Console – shows a lot of data about the keywords that you already rank for.
Google Keyword Planner – finds other keywords, but only list ranges for search volumes.
Google Trends – visualizes the relative search popularity of a keyword over time.
Keyword Generator – finds up to 150 keyword ideas for any seed keyword.
Keyword Sheeter – pulls thousands of autocomplete suggestions from Google.
Answer the Public – finds questions, prepositions, comparisons, alphabeticals, and related searches.
Keyword Surfer – is a free Chrome extension that shows estimated global and local (for 19 countries including Canada) monthly search volumes for any query typed into Google.
Keyworddit – pulls keyword ideas from Reddit.
Questiondb – finds the questions people are asking about a specific topic (sourced from Reddit).
Bulk Keyword Generator – is a keyword research tool for local SEO. It generates keywords based on industry type.
You can also conduct a Google Search using your keywords, phrases, and questions and look at the results. Pay attention to the "People also ask" box for search suggestions. Now that you have a better sense of what on-site SEO covers, let's take a look at off-site SEO.
Off-Site SEO
Off-site or off-page SEO involves any activities that drive awareness and referral traffic to your website from other sites. For example, if you have a link to your website in your Twitter profile, there is now a link from Twitter back to your website. The reason this is important is because search engines will rank a website based on the reputations of those websites linking to it. So, if you have links from industry associations, media sites, educational institutions, etc. linking to your website, search engines will rank your website much higher than links from smaller or less reputable websites. These external websites become part of your "online digital network / family" and directly influence your website's "reputation". As a result, link building is often considered the main off-site tactic and can include tactics such as:
Guest blogging
Content marketing
Social media marketing
Image / video sharing
Podcasts and articles
Customer Reviews
Directory listings, etc.
Some key considerations and concepts for off-site SEO include:
Outbound Links
Outbound links are links from your website to websites with a different domain name. When you make these connections, keep in mind that the other website will become part of your website network. In other words, your reputation and their reputation are now linked.
Inbound Links / Backlinks
The opposite of outbound links, inbound or backlinks come from other websites with a different domain name and point to your website. To improve your off-site SEO, increase the number of relevant, related websites that link to your website. Keep in mind that recent links rank higher than older links and it is still important to have keywords in any link text, as mentioned above. If, for some reason, you discover a website linking to yours and want to remove that connection, you can make use of Google's Disavow Tool.
Content
Creating content is a significant part of any off-site SEO strategy. However, not all content is equal. For search engine purposes, high quality content is defined as original, recent, accurate, few grammar mistakes, appropriate length, and unique. Websites that produce higher-quality content will rank higher in search engine results. So, a robust content marketing strategy helps an organization's off-site SEO, especially for newer websites that are establishing their credibility and building an audience.
Link diversity
To improve your off-site SEO, create a variety of outbound and inbound links, i.e., to and from a variety of different domains. Link diversity increases your off-site SEO ranking.
Social signals
Be sure to include links to your website in your social media profiles and posts. And encourage your followers, employees, strategic partners, etc. to post and link to your content so that you build your link network.
For more ideas on link building strategies, please read this article, 15x Incredible Link Building Strategies or watch the following YouTube video:
On-site and off-site SEO significantly impact your search engine results:
Think about the terms, words, phrases, and questions that your target audience will use to search for answers and your solutions.
To improve on-site SEO, consider incorporating keywords into many of the structural elements of the webpage, e.g., title tags, meta description, etc., as well the visible content and files.
A key element of off-site SEO is link building. Marketers need to create meaningful connections (links) to a variety of relevant and related websites to increase their off-site SEO ranking.
SEO – Additional Resources
To dive into SEO in more detail, here are some additional online resources:
Media Attributions
---