Generating Customer Demand and Nurturing Leads & Prospects
By the end of this chapter, you should be able to:
Explain how to to develop a mobile marketing strategy
Describe several mobile-specific content options
Identify key factors that are unique in mobile experiences
Determine unique opportunities for targeting mobile users
Mobile Marketing Strategy
Mobile marketing refers to those activities that use and leverage mobile devices, e.g., tablets, phones, or watches, to connect with target audiences and to promote a brand's products or services. Before diving into a variety of mobile marketing tactics and activities, let's first develop a mobile marketing strategy. Your mobile marketing strategy is a subset of your overarching digital marketing strategy. This means your mobile marketing strategies should support and align with both your marketing and digital marketing goals and objectives. That said, since so many people are now accessing the internet using mobile devices, i.e., smartphones and tablets, a mobile marketing strategy may represent the core digital marketing strategy for a particular organization. This strategic decision will largely be driven by the target audiences and their mobile behaviours.
To begin developing your mobile marketing strategy, you will want to ask the following key questions:
Where is our mobile strategy today?
Ask yourself what mobile experiences have we already created, e.g., mobile-friendly website, mobile app, mobile marketing campaigns / outreach, email marketing campaigns, etc.? In essence, you want to take inventory of your mobile activities and then compare them to your competition. This approach is often referred to as situational analysis. Situational analysis is the process of critically evaluating the internal and external conditions that affect your organization.[1] Some common business frameworks used for this activity are SWOT Analysis, PESTLE Analysis, Porter's Five Forces, 5 C Analysis, and VRIO Analysis.
Where do we want our mobile strategy to be in the future?
When answering this question, think about what the ideal mobile customer experience should be. This experience should add significant value to your mobile audiences such that they are willing to give you their time and/or money for that "wow" experience.
How do we get there?
In this final step, explore ways to deliver those mobile experiences that provide a sustainable competitive advantage. And as part of these considerations, identify the various mobile channels you want to use, e.g., a mobile website, mobile app, social media optimized for mobile, text messaging, etc.
Mobile Advertising Content Channels
Like other areas of digital marketing, content is a core element of mobile marketing. To ensure that your content is viewed, you need to make sure your content is optimized for a mobile experience. When reviewing your mobile content, think about the following areas:
Website
If your website is not mobile-friendly, not only will mobile visitors leave quickly, but your SEO will also suffer.
Email
Many marketers use email to promote products, news, and developments with their target audiences. Many readers will open these emails on their mobile devices. So, make sure the email service you are using offers mobile-optimized versions of your email messages.
Mobile App
Organizing, properly presenting, and prioritizing your mobile app content is crucial in fostering maximum engagement and use.
Social Media
According to Statcounter, 78% of smartphone users access social media on their mobile devices once per day.[2] So, mobile users are a dominant audience on social media. Since social media platforms often format and present their content differently, make sure your posts conform to the correct specifications and that they are also consistent with the way content is viewed and shared on mobile devices. This is one reason why platform-specific content is recommended, as opposed to reposting the exact same content across all your channels.
Now, let's look at several specific, mobile-optimized content options:
Responsive Web Design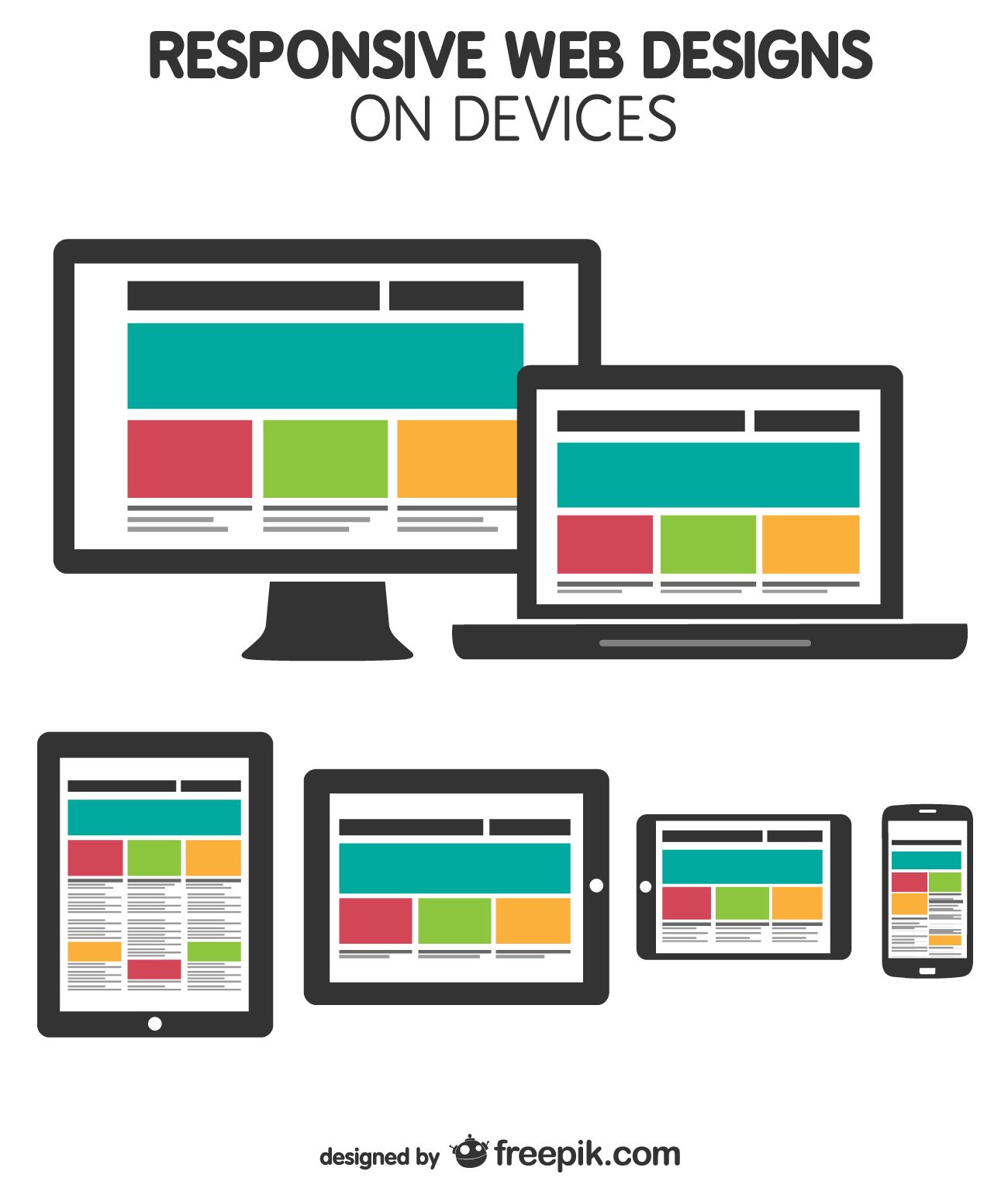 Responsive web design is about creating websites and webpages that deliver an optimal customer experience regardless of screen size.  A responsive website will automatically adjust the content for different screen sizes, e.g., a large desktop monitor, laptop, tablet (vertical or horizontal orientation), and mobile phones. As the screen size increases or decreases, webpage elements will automatically reshuffle, resize, hide, shrink, or enlarge to make them look good on all devices.
Most web building technologies, e.g., WordPress, Wix, Weebly, Squarespace, etc., have responsive web design built right into their platforms. Or in other cases, these transformations are likely to be coded into your webpages by developers in conjunction with the design or marketing teams. As a marketer, if you are building standalone landing pages and/or other webpages, do make sure that they are responsive by testing and viewing your webpages on a variety of screens. For example, this can clarify whether your call-to-action buttons are visible or not before scrolling. To see an example of how one might rearrange a webpage to be responsive, here's a great blog post by Kristina Kledzik of Moz, who walks through the fundamental processes to create responsive webpages.[3]
Or, give it a try with this responsive landing page exercise:
H5P: Responsive Landing Page
Remember our previous example of a Great Landing Page? Well, now it's your turn to take elements from this webpage and create a responsive, mobile version.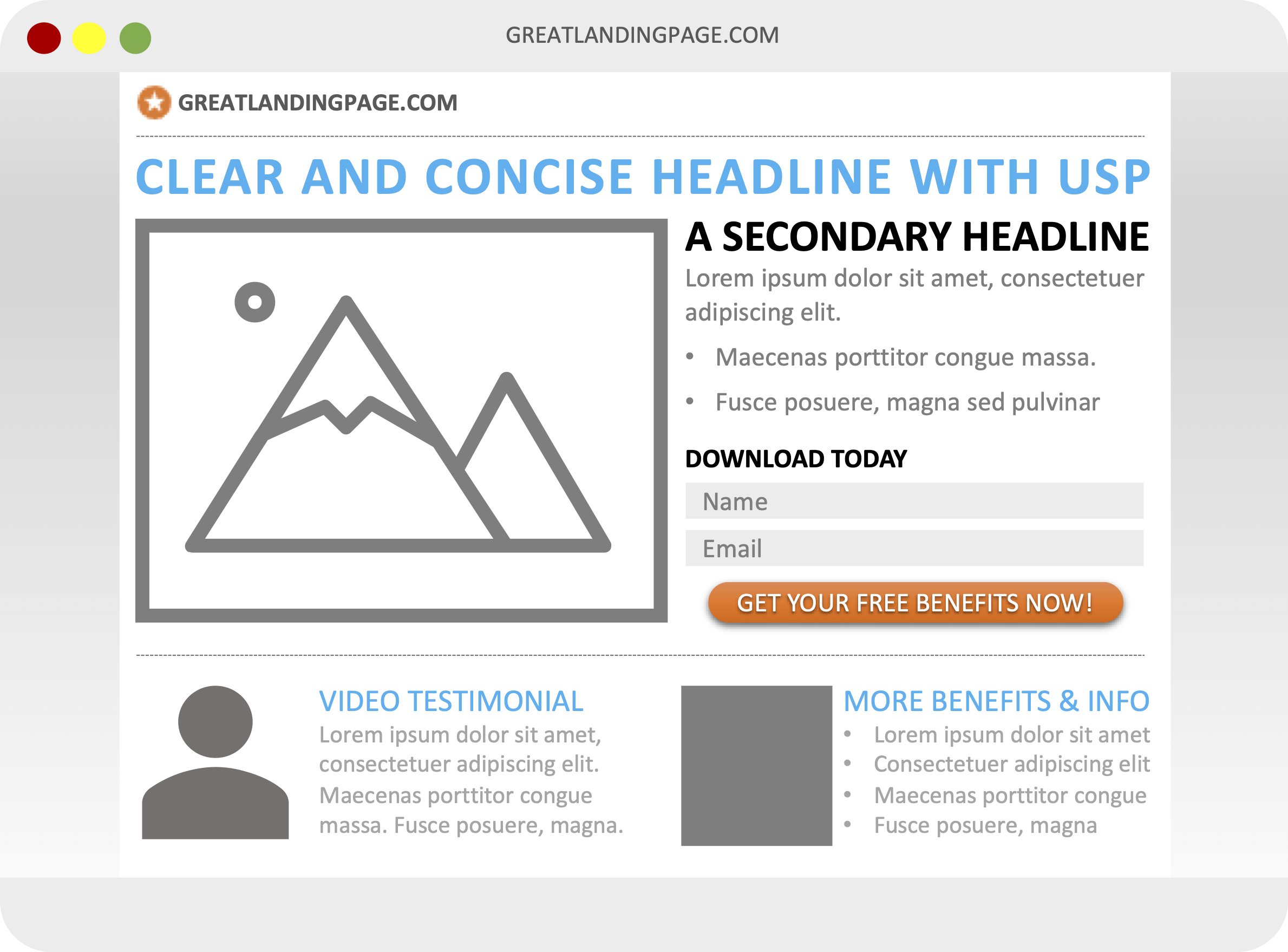 If you want to create a distinct customer experience, e.g., a customer portal, you might consider creating a completely separate mobile website. However, managing two different website experiences will be more expensive and will involve significantly more time, work, and maintenance.
Google's Accelerated Mobile Pages[4] (AMPs)
In early 2016, Google launched an open-source project and released the infrastructure for accelerated mobile pages. Accelerated mobile pages (AMPs) are essentially stripped-down versions of existing webpages that load significantly faster on mobile devices. AMP-enabled pages often remove elements like videos, ads, and animations and keep the most relevant content and images. For mobile users, not only can AMPs reduce the time to load, they can also reduce the amount of bandwidth required to view content, which on mobile devices is an important consideration. All of this sounds like a promising mobile experience.
However, to make AMPs work, marketers must use Google's infrastructure, which has three key components:
AMP HTML
AMP HTML is a subset of regular HTML with a few AMP-specific tags, called AMP HTML components. These custom components, combined with the restrictive HTML, mean that AMP pages must be coded slightly differently than standard webpages. Note: you can have both AMP and non-AMP pages, but their underlying code will differ.
AMP JavaScript (JS)
The AMP JS library handles resources and asynchronous loading. Unfortunately, third-party JavaScript is not allowed, which for some organizations may present an issue. For example, many social media sharing buttons use third-party javascript. So, these buttons would not be available on these pages.
AMP Cache
To allow pages to load even faster, marketers can have their AMP-enabled pages cached (stored) and delivered from Google's content delivery network (CDN). Since Google's AMP CDN has cached versions of your pages, it can deliver those pages much more quickly.
While faster page loading times are compelling, there are several fundamental issues with AMPs
Difficult to Implement
While there is an easy-to-use WordPress plugin to create AMP-enabled pages, if your website is using a different web platform, creating valid AMP-enabled pages can be challenging and may require working with your website developers. This may also impact your ability to update and maintain these pages.
Lack of Analytics
Unfortunately, you cannot use standard analytics tags because the AMP pages live on Google's servers. As a result, you may not get the analytics you need to assess your marketing activities, e.g., engagement, traffic, etc.
Decreased Ad Revenue
While there are AMP-optimized ads, AMP-enabled pages usually reduce the number of ads shown, which can significantly impact your website's ad revenue.
Fewer Leads
Unfortunately, AMP strips out lead magnet forms and downloadable assets, which reduces your ability to gather leads.
Less Social Sharing
Many social sharing buttons use JavaScript. Since AMP does not allow third-party JavaScript, these buttons may not be shown, making it more difficult for viewers to easily share your content.
Given the above issues, AMP-enabled pages are being used less and less. AMP-enabled pages tend to work best for large media sites that have time-sensitive news / content that is primarily being viewed on mobile devices. As mentioned in our SEO chapter, there are many other ways to optimize your webpages and improve your SEO, while maintaining control of your webpages. So, you will need to decide if AMP-enabled pages best support your specific mobile marketing strategy or not.
Facebook Instant Articles[5] (IA)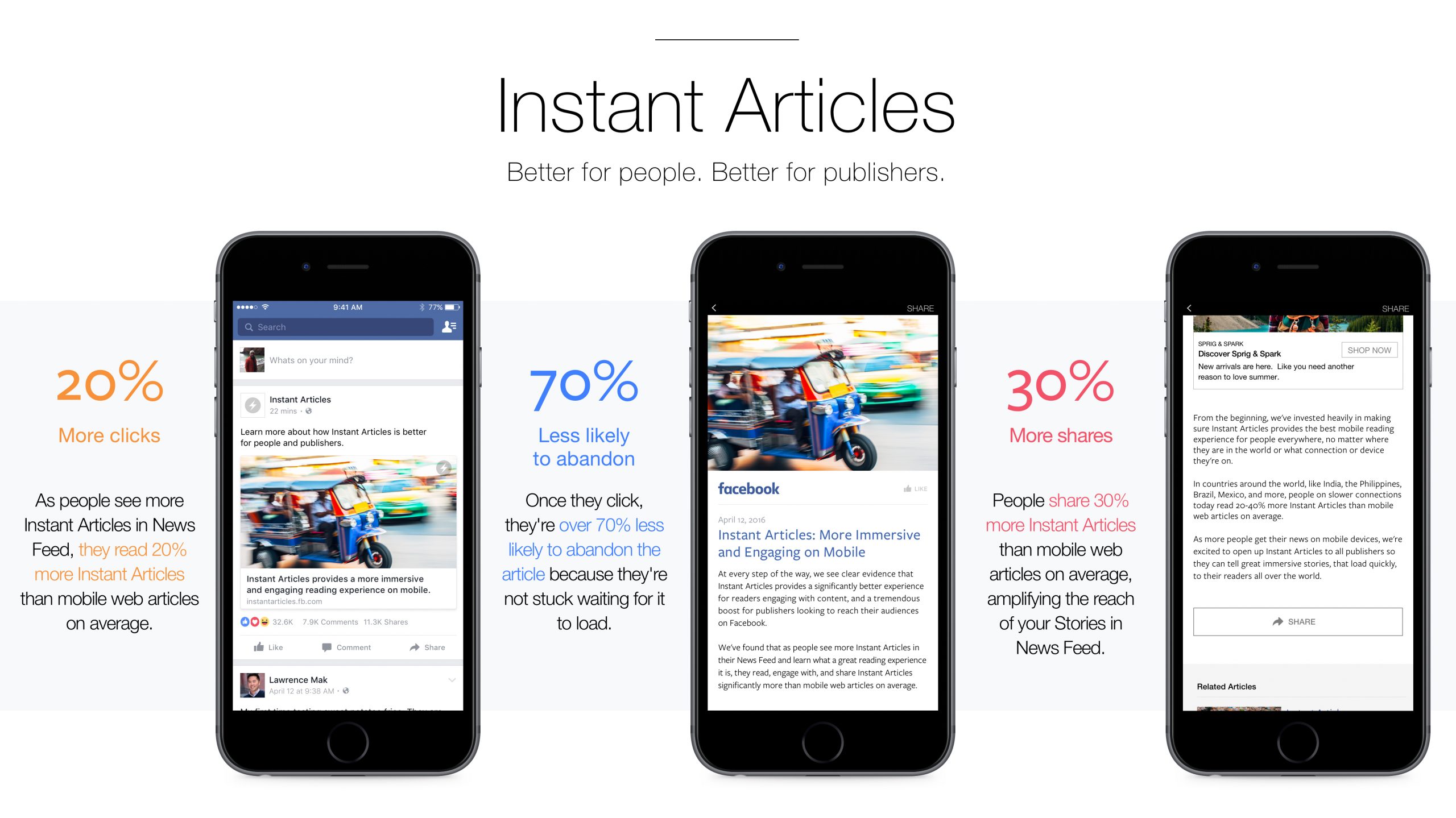 Instant Articles are Facebook's native publishing platform and are similar to Google's AMP. IAs are optimized for fast loading speeds and allow users to stay on the platform to read them.
To address many of the issues mentioned with AMP, Facebook Instant Articles have added several features over the years:
Circulation and Navigation Features
The features allow marketers to insert buttons into their articles that link to other content or make it easy for viewers to share content, e.g., one button click to share via Facebook Messenger.
Subscriptions
Understanding that many marketers wanted to drive subscriptions, Facebook added the ability to insert subscription buttons directly into articles, as well.
Call-to-Action Buttons
Facebook IA offers the ability to include call-to-action buttons directly in articles. The analytics related to these clicks can be monitored via your Facebook Insights analytics.
Page-Like Option
This feature allows viewers to like a Facebook page, i.e., the Facebook page managed by the publisher of the article, directly from within the article.
No Code Instant Articles Builder
Facebook offers an Instant Articles builder that does not require coding. Simply download and install the builder and follow the guide to get started.[6]
Third-Party Analytics Tracking
Instant Articles integratewith many popular analytics tools, like Google Analytics, etc.[7]
While Facebook has done quite a bit to address many of the issues highlighted with AMP-enabled pages, there are still some drawbacks:
Reliance on Facebook
While Facebook does have billions of active users, marketers are depending on Facebook, and their constantly changing algorithms, to reach their target audiences.
Limited Analytics Functionality
While you can integrate third-party analytics tags, the integration method (iframes) does not capture behavioural analytics. Without these insights, you cannot track viewers' behaviours and your understanding of your audience's activities is not complete. Tracking viewer behaviour is a powerful way to define areas for improvement and to adjust your content strategy to achieve organizational goals and objectives.
Brand Identity Issues
Even though your Instant Articles can be housed in your own content management system, all your content is converted to a single Facebook template / design. While there is a logo bar at the top and some colour and font choices, your articles become more "Facebook-like" and will not completely reflect your brand identity or design. From a marketing point of view, there is a risk of losing a visual connection with your target audience who will not experience the "look" and "feel" of your brand.
Ad Restrictions
There are still some limitations when it comes to ads within Instant Articles. For example, ads cannot exceed 15% of the content and no autoplay videos.[8]
Overall, Facebook Instant Articles can be a compelling distribution channel for your content. That said, make sure it is part of your broader mobile marketing strategy.
Mobile Ads
Digital marketing agency, Marketo, also stated that Facebook mobile ads were five times (5×) more effective than their desktop versions. So, mobile advertising can clearly be an effective alternative to desktop advertising.
Given that these ads are displayed on mobile devices, it may present more convenient and direct ways for potential customers to connect with you, e.g., to call you. To do this, simply use the "call extension" option, e.g., in Google Ads, which allows the person to call your organization directly by simply clicking on your call-to-action button or link.
Types of Mobile Ads
Like other digital marketing ads, there are a variety of mobile ad types. Depending on your goals, target audience, and the platform, you will need to select the appropriate type. That said, the following is a list of the most commonly used mobile advertising formats:
Display (Banner) Ads
Display (banner) ads are the oldest version of mobile ads. Display ads are usually embedded directly on a webpage or in an app. In most cases, they use images (or graphics with text) that are designed to grab the audience's attention. Many of the same considerations for website display ads apply to mobile display ads. Even though display ads are cost-efficient and widely used, marketers are quickly exploring other options like interactive ads and video ads (described below).
Video Ads
Video advertising is a powerful way to convert your target audience. Product videos can be particularly helpful during the purchase decision-making process. Videos can effectively deliver a full visual experience, which helps prospective customers better understand the products or services. And since more people are watching videos on their phones, optimizing YouTube ads and pre-roll video ads can potentially reach a very large audience / viewership. When creating mobile video ads, here are some tips for better ROI:

Keep it simple
Use your creativity
Keep it short and focused
Make sure the audio is not too loud
Display a call-to-action

Full-screen or Interstitial Mobile Advertising
Interstitial ads are the full-screen videos or graphics that are usually placed at app transition points. To remove or close them, users can usually click the X button (often in the top right-hand corner). Say, for example, you are playing a video game. You have just managed to clear Level 1 and are ready to go to the next level. But, before moving on, you see an ad or a short video ad pop up. These are interstitial mobile ads.
Interstitial ads get higher click-through rates compared to display ads. However, show these ads only at transition points, so that you do not interrupt the content flow. Ad types may include text, graphics, or rich media. Since these ads fill up the entire or majority of the screen, they are hard to ignore and tend to get noticed.
Native App-based Ads
Native ads are similar to display ads but are created to more closely match the style, design, and tone of the content in which they are embedded. Since the ads match the content and other elements of the app, they blend in much more seamlessly and more importantly, cannot be blocked. As a result, these ads get displayed to targeted audiences without causing significant interruptions in the flow of content. A popular example of native mobile advertising is Facebook ads. Users scroll through their page/news feeds and see ads (sponsored posts) inserted between non-paid / organic posts. To create high quality native mobile ads that highlight your brand, be sure to include the following key elements:

Headline
Detailed description
Brand logo or name
URL

Interactive / Playable Mobile Ads
Interactive ads are a type of gamified video or multimedia ad. These are preferred by savvy marketers who want to create interactive advertising experiences. Games are a natural way to generate customers' interest. Playable mobile ads work especially well when marketing other apps. For example, if your app is about finding directions on a map, a playable mobile ad could provide a short and quick demo that lets users try a simplified version before downloading the app. These short interactive demos deliver a powerful ad experience, that ultimately gets prospective customers to spend more time interacting with the ad, engaging with the brand, and converting.
SMS & MMS
SMS stands for short message service and is often also referred to as a text message. MMS stands for multimedia message service and includes text messages with audio, video, or images. Many brands, such as Starbucks, have been using SMS successfully to advertise their products and promotions and drive real results. Specifically, Starbucks has used an SMS holiday campaign to offer holiday specials, weekly deals, and cheerful holiday messages. Many SMS campaigns have been quite successful, but if possible do consider MMS campaigns. Like other marketing activities, providing more interactive and visual content can help get your audience's attention and be more memorable. Set aside an appropriate budget and explore both of these underutilized options because they may deliver surprising results.
Location-based Ads
Location-based (also called geofencing or geo-targeting) ads refer to mobile marketing messages sent to a target audience based on their location. By tracking the location of the mobile device, marketers can send targeted messages to individuals when they are within a specific geographic area. Many ad platforms like Google Ads and Facebook Ads allow marketers to specify locations or geographic areas where their ads will be shown.
Mobile Apps & Push Notifications
Mobile apps are programs that get downloaded onto your smartphone, smartwatch, or tablet. These apps usually serve a very specific purpose, e.g., email apps, social networking apps, or game apps. App-based marketing has risen quickly due to the increase in smartphone, smartwatch, and tablet daily usage.
Once an app has been downloaded, the app developer can communicate with the user via push notifications. Push notifications are messages or notifications that pop up on these mobile devices without the need to open the app. While these notifications only reach an audience of one, i.e., the smartphone user, they should push valuable information or insights directly to the user. To make sure that your push notifications are beneficial and not annoying, marketers should make sure their notifications follow these three tips:
Relevant and Timely
Because notifications are disruptive, make sure your notifications are triggered by the user's behaviour, location, or preferences.
Personalized
Since you have access to the individual's behaviour's, locations, and preferences, make sure the content of the notification appeals to them personally.
Actionable
The notifications should make it clear what you want the user to do next. Without a specific action or request, it becomes easy for users to dismiss and ultimately, ignore your notifications.
The following types of push notifications generally perform well:
Offer a promotion, e.g., a time-limited discount or something else that creates urgency
Pique the user's curiosity
Help users meet their goals, e.g., a fitness app that tells them it is time to workout
Nudge users when they become inactive
Remind users to do something
Present an exciting update or event
Make users feel like an insider
Show a message preview, e.g., an email message preview
Tell users when people they follow are active
Make personalized suggestions
Include multimedia
For more ideas, check out these 50+ push notification examples and inspirations to drive more engagement.[11]
Now that we have covered what works, let's review a few practices to avoid. Steer clear of these common mistakes:
Generic Blasts
Mobile users get push notifications all day every day. The last thing they need is to be the subject of a generic mass marketing campaign blast that isn't relevant to them. Make sure you segment your audience, so you are not contributing to the daily digital noise.
Wrong Time
Make sure your notifications are localized to the user's time zone and be mindful of the most appropriate time to send them. A user who appreciates a midday work-related notification might be annoyed by the same notification when winding down to go to bed.
Clickbait
While you do want to pique your user's curiosity, be sure to deliver on your notification promise. If not, you will simply annoy your user and they may start ignoring other notifications.
Multimedia without Context
Visual media like images, videos, and animated GIFs can make or break the user experience. When done well, these notifications can delight and engage users. But some mobile devices may struggle to display rich media properly. So, always make sure your message makes sense both with and without the multimedia content.
When you create and send push notifications, think like a user, and respect their time and experience. The more you understand your user, the easier it is to keep them informed, entertained, and engaged.
Mobile In-Game Ads
In-game mobile ads refer to ads placed within mobile games, which appear during gameplay. The ads that perform best and deliver the highest conversions are those integrated directly into the game such that they become an extension of the gaming experience. These seamless ad experiences can improve engagement, retention, and conversion rates.
Many marketers have concerns about the effectiveness of mobile in-game ads. However, in this article, 4 Common Myths about Mobile In-game Advertising[12], author, Kori Wallace, refutes the following four myths:
Advertising interrupts the gaming experience
A 2019 report done by Tapjoy states that gamers understand the role advertising plays in mobile games and even actively engage with ads.[13]
Gaming environments aren't brand safe
When many people think of video games, they think of games that have "risky or adult content". However, in the world of mobile games, most brands have found that the games, especially the free-to-play apps, are fairly brand safe.
Gaming is a niche audience (young males)
Statistics show that gamers, especially those playing on mobile, are increasingly female. Certain types of mobile games, such as puzzles, draw even more women players than men. And they're not necessarily young gamers either. Jun Group research found that 56 percent of mobile gamers are age 35 and over.
It is impossible to measure success
Mobile in-game advertising is quite measurable and in some cases, marketers can even integrate third-party tools to validate the analytics and results.
Action Codes


Action codes include scannable, visual codes like QR codes or bar codes (see images above). In many cases, these codes are presented offline, e.g., transit ads, posters, magazine ads, or product labels, and when scanned by mobile devices, people are sent to a related, online landing page. One very recent use of these codes has been the rise of digital menus in restaurants during the pandemic. Many restaurants simply printed QR codes and left them on their tables. Diners could then scan the codes to pull up the restaurant menu and this avoided the need to print menus or navigate pandemic safety issues with people sharing menus. QR codes have also been used to verify COVID-19 vaccinations. Now that more people have been using QR, there may be even more areas where marketers can use them.
Mobile Email
Reading emails on mobile phones is considered one of the top 5 activities for smartphone users globally. And according to a recent Mobile Ecosystem Forum survey of smartphone users in ten markets worldwide, almost five in 10 respondents preferred receiving business communications via email. So, mobile-friendly emails are essential in communicating and converting your target audiences. That said, marketers do need to provide compelling and valuable emails because if they do not, people will either delete or ignore their messages. In our next chapter, we will explore email marketing in more detail.
Keys to success
As you can see, there are many similarities between website and mobile advertising. However, to deliver a successful mobile marketing experience, consider the size of the screen, the communication opportunities, e.g., calling, the GPS capabilities, and the portability that make mobile experiences personalized, special, and unique. Take advantage of these built-in features to deliver richer and more interactive experiences for your mobile audiences.
Also, consider mobile marketing in conjunction with other marketing channels – online or offline. Success happens when all marketing channels support and promote each other, i.e., when your marketing activities are well integrated. Marketers are increasingly combining their social, local, and mobile activities, also called So-Lo-Mo, into one comprehensive strategy. Since social media is increasingly more mobile-friendly and mobile is targeting local customers and driving local conversions, the three areas work well to build on each other. This results in customer touchpoints across multiple marketing communication channels and strengthens a brand's overall marketing and messaging strategies.
And, finally, don't forget to personalize your mobile interactions and ads. Customers connect and respond best to personalized messages customized for them, whether that be by geographic area, specific location, or behaviours. For example, Best Buy and Subway use geo-location technology to deliver targeted messages to customers who have opted-in to their mobile marketing programs. Many marketers wonder about the willingness of their target audiences to opt into mobile marketing programs. However, a recent study by Google found that almost half of the women surveyed would share their location if offered a $5 store credit. And, that percentage jumped to 83% when offered a $25 store credit. So, with the appropriate incentive, marketers can encourage customers to participate in mobile campaigns and initiatives.
The following video provides a nice summary of many of the topics covered in this chapter:
Watch: What is Mobile Marketing? (2 mins)
Mobile marketing refers to those activities that use and leverage mobile devices, e.g., tablets, phones, or watches, to connect with target audiences and to promote a brand's products or services.
To create your mobile marketing strategy, ask:

Where is our mobile strategy now?
Where do we want our mobile strategy to be in the future?
How do we get there?

There are many ways to present and distribute your mobile-specific marketing and advertising content:

Responsive website
Google AMP-enabled pages
Facebook Instant Articles
Mobile Ads

Display Ads
Video Ads
Interstitial Ads
Native Ads
Interactive / Playable Ads

SMS & MMS Ads
Location-based Ads
Mobile Apps & Push Notifications
Mobile In-Game Ads
Action Codes
Mobile Email

Keys to successful mobile marketing include:

Leveraging the built-in features of mobile devices, e.g., cameras, calling, GPS, and portability
Integrating your mobile marketing strategy across all marketing channels
Personalizing your messages to match your target audience's behaviours, locations, and preferences
Mobile Marketing – Resources
To explore mobile marketing further, here are a few additional resources:
Media Attributions
---