This implementation guide is intended to support post-secondary institutions in adapting and delivering the Safer Campuses for Everyone training. It has two sections:
Section 1: Adapting the Course to Your Institution. This section provides information on how to adapt the content of the course to your institution in Articulate Rise.
Section 2: Technical Guide. This section provides information on how to share the course through a learning management system such as Moodle, Blackboard, Canvas, and D2L.
This guide provides information about editing the Safer Campuses for Everyone training in the Articulate Rise program and importing the content into a learning management system. If institutions are interested in using the content (text, videos, images) to develop their own online or in-person training, these files can be downloaded from the BCcampus website.
This training is © 2021 and is licensed under a Creative Commons license (CC BY 4.0 License) which means that you are free to share (copy, distribute, and transmit) and remix (adapt) this resource providing that you provide attribution to the original content creators. You can provide credit by using the attribution statement below.
Attribution Statement
Safer Campuses for Everyone: Sexual Violence Prevention and Response Training for B.C. Post-Secondary Institutions by the Sexual Violence Training and Development Team is licensed under a Creative Commons Attribution 4.0 International License, except where otherwise noted.
Open Education Resources (OER)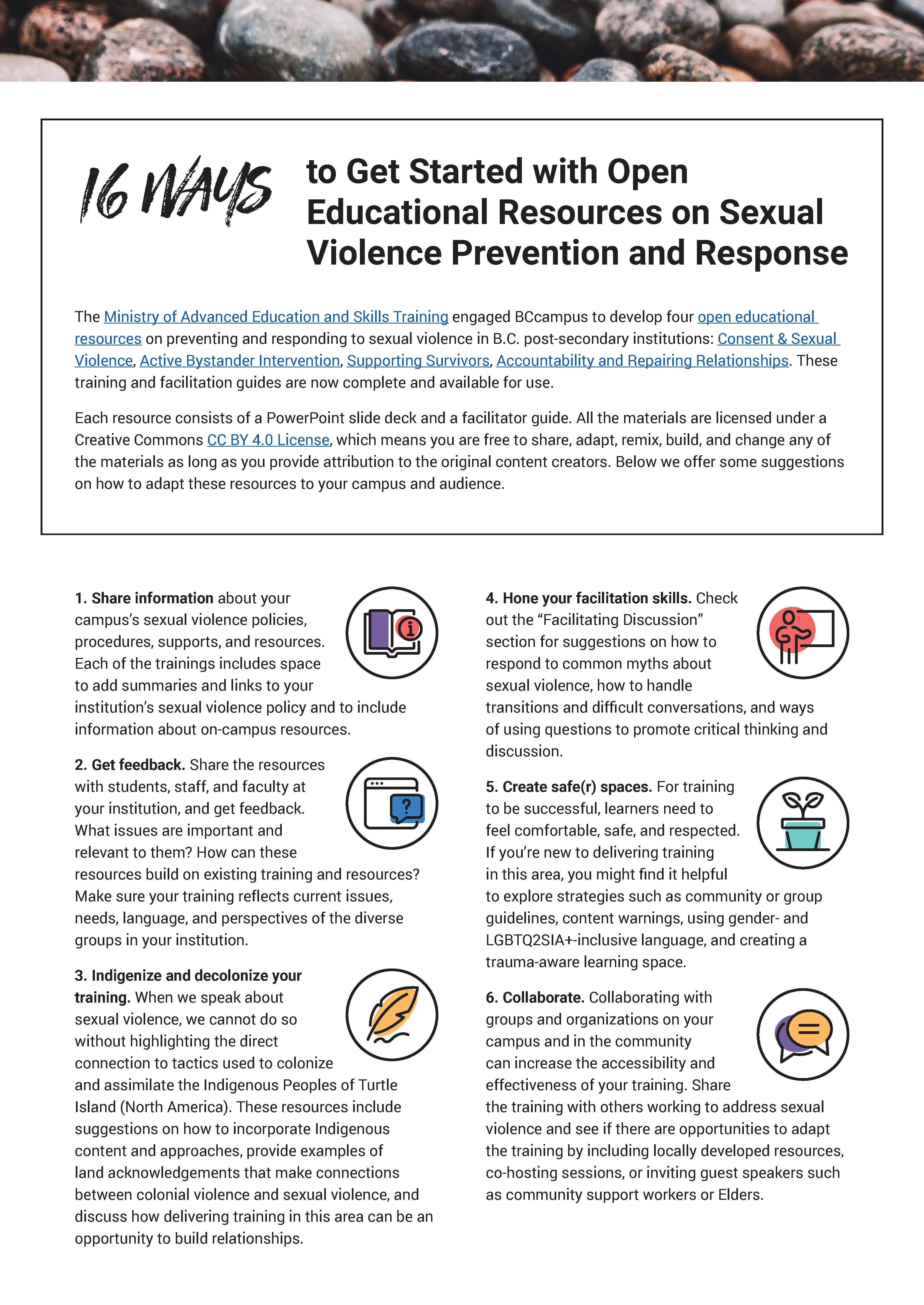 Open education resources are teaching resources that have an open-copyright licence (such as one from Creative Commons) or they are part of the public domain and have no copyright. Depending on the licence used, OER can be freely accessed, used, re-mixed, improved, and shared.
The Safer Campuses for Everyone course has a Creative Commons license which allows post-secondary institutions to adapt the course to different audiences on their campuses as long as attribution is provided. Some of the ways that institutions can adapt this course include:
Sharing up-to-date information about campus sexual violence policies and procedures
Using images from the institution's campuses and local community
Using the institution's logo
Supporting Indigenization by incorporating Indigenous content and approaches
Translating the course into different languages
Building on existing content and developing different versions for different campus audiences (e.g., sports teams, international students, students with disabilities, faculty members involved in investigations)
See the 2-page resource 16 Ways to Get Started with Open Educational Resources on Sexual Violence Prevention and Response for additional suggestions about using open education resources.
Steps for Customizing the Safer Campuses for Everyone Training
Purchase a subscription to Articulate 360 (Articulate 360 includes a subscription to two applications, Articulate Storyline and Articulate Rise).
Request copies of the Safer Campuses for Everyone training by completing the form on the BCcampus website. Remember, there are two versions of the course – one for students and one for faculty, staff, and administrators. (Note: Please use the email address that is associated with your Articulate Rise account as copies are shared directly through Articulate.)
Edit the course content in Articulate Rise.
Once the edits are completed in Rise, export the customized course as a SCORM package. (The SCORM format is recognized by almost all learning management systems).
Upload the customized SCORM package into the learning management
system (e.g., Moodle, Blackboard).