15

Events and Initiatives
Workshops and events can increase awareness and support for open education and open educational resources (OER) within your institution. Faculty and staff gain valuable skills and approaches for developing open resources. At institutions in British Columbia, like Douglas College, BCIT, and UBC, open working groups have developed and delivered a range of events from showcases to open courses to skills-based workshops. In the following section, we will look at some of the approaches taken to these workshops and events and what has been most successful.
What events does your institution or organization already have that support open?
Are there institutes or pre-existing programs where there is an opportunity to host an OER or open workshop or event?
What are aspects of open that you can use to showcase open practices at your institution? Are there people in open education whose work you can share?
Open education workshops
One approach to both supporting and raising awareness for open education is to host workshops focused on some of the knowledge and skills required to adopt, adapt, and create open resources, and implement open pedagogy and open practices. These workshops can focus on licensing, tool use, finding and using OER, or developing OER using an open resource creation tool such as Pressbooks. By focusing on tangible skills, these workshops can offer a valuable entry point for people just getting started in open and fill skill gaps for those more familiar with open practices. These workshops can also create opportunities to collaborate between different units such as the library, teaching and learning centres, and faculty centres. You can find information about developing and running many of these workshops online. In the following section, we have listed some common skills-based workshops and included where you can find open resources to run them with.
Workshop examples
Finding, using, and remixing OER resources
One approach to engaging instructors, staff, faculty, and students around open education and OER is to run a workshop focusing on finding, using, and remixing OER. This type of workshop is useful for people starting to consider adopting OER because it provides participants with an answer to a common challenge in education: how to find resources to use in their presentations and courses. See In Practice: Find, Use, and Remix OER for Your Courses in this chapter for a description of a workshop like this.
Pressbooks workshops
Pressbooks is an open-source software that enables book creators to design and produce an open textbook or resource for the web and export it into multiple file formats like PDF, EPUB, MOBI, and various editable formats. BCcampus hosts its own instance of Pressbooks and all faculty, instructors, and staff working for post-secondary institutions in B.C. can use this service by registering for an account. Workshops about Pressbooks are a way to help provide faculty with a key tool in OER creation. Pressbooks workshops can focus on creating an actual resource, reusing a book published in Pressbook, or the process of adapting a textbook. BCcampus has a number of openly licensed resources that you can use and adapt when offering these workshops:
There are lots of other examples of types of workshops that you can run for instructors, faculty, and staff, including
How to create open resources,
Intro to Creative Commons licensing,
Intro to open pedagogy,
How to develop ancillary resources,
Workshops highlighting open tools such as blogs and wikis, and
Workshops about how to use the LMS to create and share OER.
Workshop resources
Inspire your workshop participants by showing examples of what high-quality OER looks like:
Open courses
In addition to running workshops on skills and approaches required for open practice, another approach is to engage faculty, staff, and students to complete an open course, either together or individually. Consider sponsoring participants to complete these programs as a cohort and organize brown-bag lunches and meetups to share their learning and experiences.
Examples of open online courses
Creative Commons Certificate
Creative Commons offers a Creative Commons Certificate program, which is "an in-depth course about CC licenses, open practices and the ethos of the Commons. The course is composed of readings, quizzes, discussions and practical exercises to develop learners' open skills." You can organize a cohort of faculty to take this program together, complete the train-the-trainer program to offer it within your institution, or incorporate the program within your own offerings.
Open for Learning Challenges (UBC)
The Open for Learning Challenges website includes "challenges" that can be completed by instructors, staff, and students independently or can be used to create interactive activities as part of a workshop. The challenge bank structure is based on the architecture developed by Alan Levine for DS106 and Agora, and it includes challenges about open resources, open teaching, open profiles, and open advocacy.
Sprints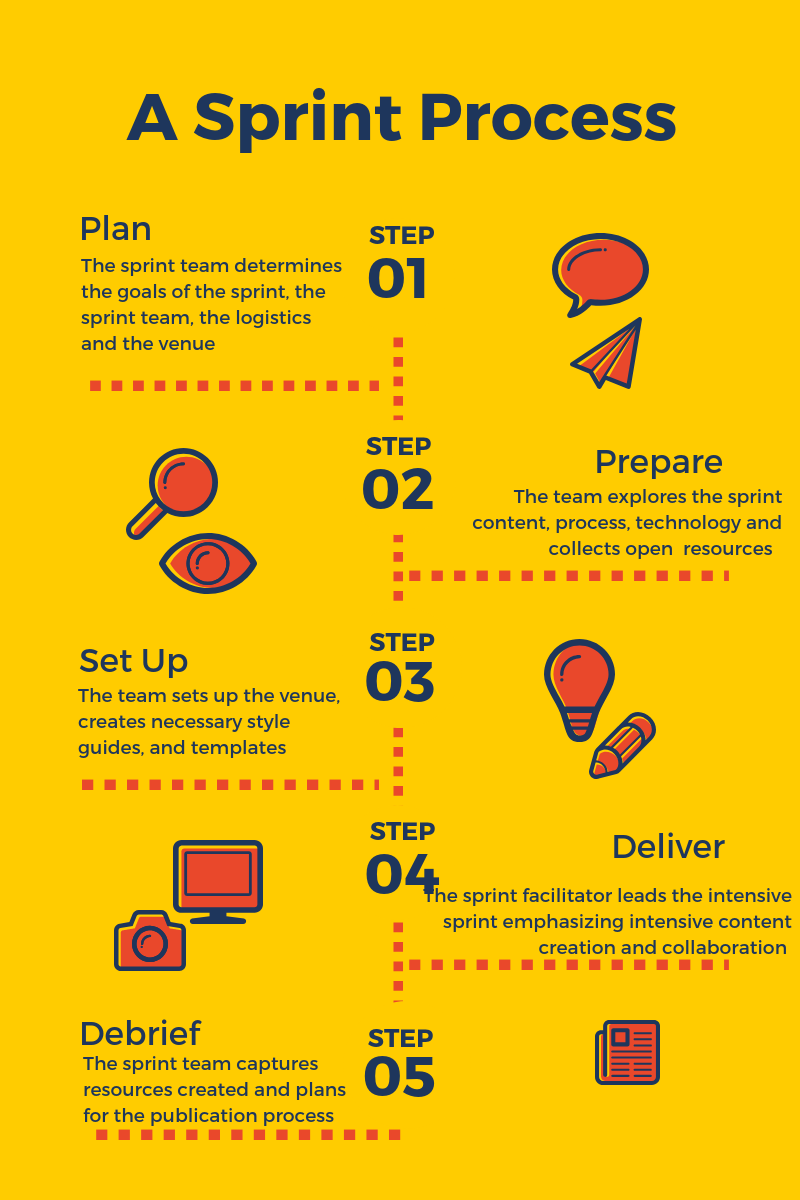 Sprints are probably most associated with software design but are becoming increasingly used as a strategy or approach for developing OER. The sprint approach can be used in a variety of contexts where a group of people (often cross-disciplinary) come together to focus on a specific project. In post-secondary education, sprints are emerging as a way to accomplish a shared goal while working across disciplines and on a short timeline. Hackathons can follow a similar process but often have a competitive element. In open education, sprints can be used as a way to quickly develop open textbooks (e.g., this Geography open textbook sprint) and ancillary resources (e.g., a sprint to develop a psychology test bank).
The sprint methodology includes the following features:
Short timelines and achievable goals,
Time-boxed working sessions (usually two to three days but can vary according to context and needs),
A defined outcome (i.e., textbook, resource),
A planning session to develop the sprint process,
Multiple perspectives and skill sets,
Identified/agreed roles for participants, and
Collaborative rather than competitive development processes.
Appendix 1: A Sprint Toolkit will guide you through all aspects of setting up and running a sprint at your institution.
Sharing and showcasing open education projects is a successful approach used by open working groups and institutions. A number of open working groups host events to share and celebrate open education within their institutions.
Provincial and national events
One strategy used when developing events is to host local events as part of provincial and national events and/or support faculty to attend these events.
Open Access Week
Open Access Week is organized annually by SPARC in late October. It is a global event that brings together the academic and research community to share and learn about approaches to and benefits of open access. Each year, the BCOEL has organized events as part of Open Access Week. Past events have focused on scholarly publishing and tension in open scholarship.
Open Education Week
Open Education Week occurs around the first week of March. B.C. post-secondary institutions are active in hosting open education events. Past events have included one-day conferences, lunchtime presentations, hackathons, and evening socials with a panel.
Cascadia Open Education Summit
Started in 2013, the Cascadia Open Education Summit is a conference hosted in April or May every two years in Vancouver, B.C., that brings together people working in open. This event is for new and experienced OER advocates, as it offers the opportunity to learn and share effective practices in awareness building, implementation, collaboration, strategy, and research in open education.[1]
A great starting place for these workshops is finding and using Creative Commons licensed resources within the classroom. For many instructors, this is an open practice that they are already engaged or interested in. This can be done through locally lead workshops. At the University of British Columbia (UBC), the open working group leads these workshops a couple of times a year in collaboration with the Centre for Teaching, Learning and Technology and the UBC Library. The workshops are developed and led by academic staff, instructors, and librarians to provide a balance of different perspectives and share expertise in different areas. Below is a sample description of these workshops.
Finding, Using, and Remixing Open Resources For Your Courses – Sample workshop description
As you prepare for your courses, chances are you may want to incorporate educational resources such as images, videos, or quiz questions from different sources into your own materials. There are millions of openly licensed resources—from full courses and textbooks to tests banks and images—that are available for others to freely use. These resources can be modified and adapted to be more useful for your own teaching or learning context. Additionally, these open education resources support the greater worldwide education community by sharing teaching work which may not be as visible as other academic engagement activities.
Are you interested in learning how to find, use, and remix open educational resources? Would you like to learn more about how to share resources back to the education community? This session is intended to address common questions concerning openly licensed materials for teaching and learning. Some of these questions include:
What is meant by Creative Commons?
How do you find and evaluate open resources?
What are the key considerations in reusing, reproducing, or modifying these materials?
With the proliferation of open education resources on the web, the practice of finding, evaluating, using, and remixing videos, simulations, test banks, presentations, and other materials is a skill that can help support instructors and students in their teaching and learning. This session will focus on the pragmatic elements of reuse and the basics of working with open education resources. Participants are invited to bring their questions, problems and favourite resources.
Image Descriptions
Figure 3 long description: A  Sprint Process.
Step 1: Plan. The sprint team determines the goals of the sprint, the sprint team, the logistics, and the venue.
Step 2: Prepare. The team explores the sprint content, process, technology, and collections open resources.
Step 3: Set up. The team sets up the venue and creates necessary style guides and templates.
Step 4: Deliver. The sprint facilitator leads the intensive sprint, emphasizing intensive content creation and collaboration.
Step 5: Debrief. The sprint team captures resources created and plans for the publication process.
Attributions
---
Note: This event was known as the Open Textbook Summit from 2013 to 2017, and the first "Cascadia Open Education Summit" took place in 2019. ↵