Motor Starters and Contactors
15

Forward/Reverse Starters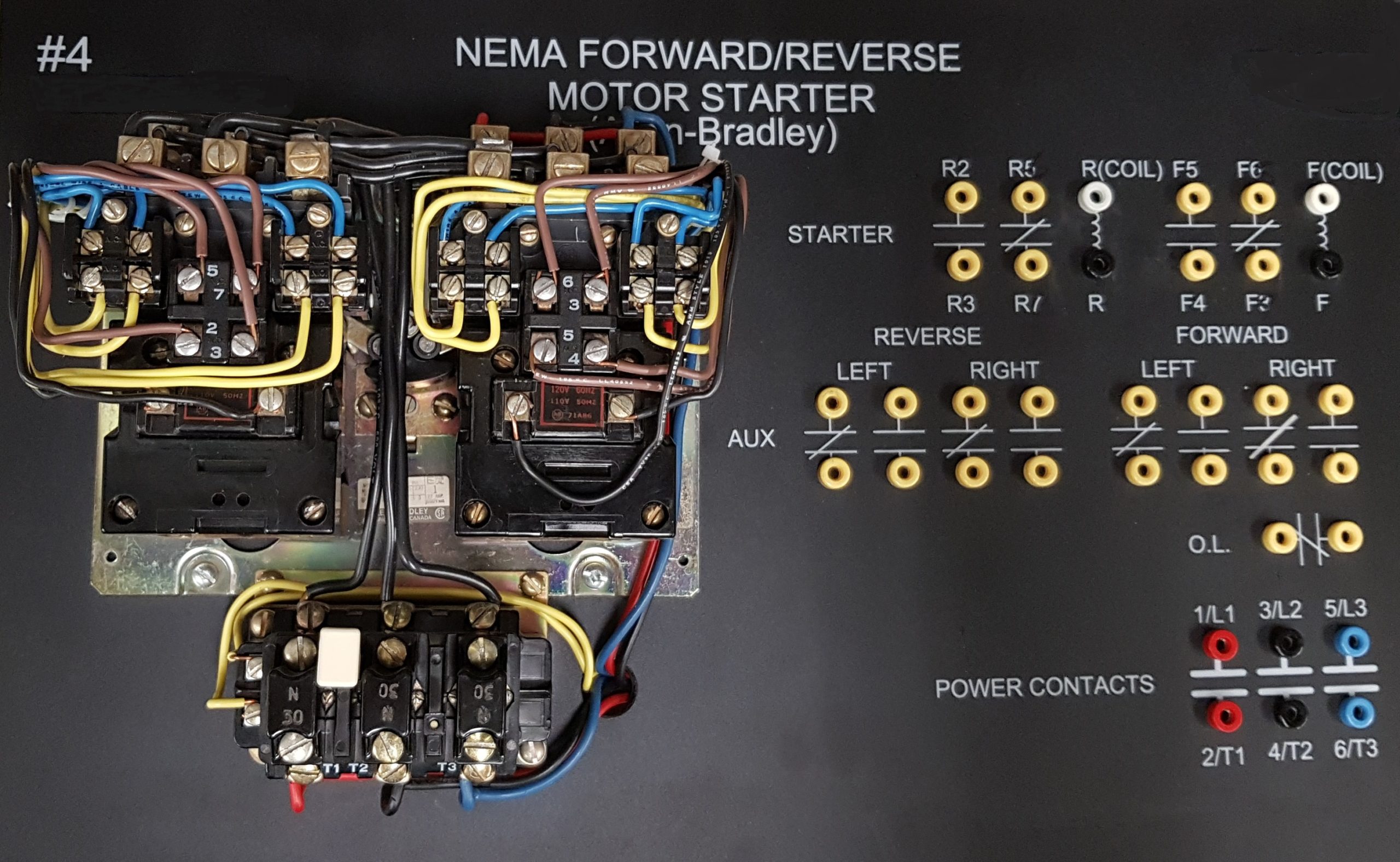 A forward/reverse magnetic is constructed from two regular contactors installed with a that prevents both coils from pulling in simultaneously.

They are connected so that under normal conditions, one coil will connect L1 with T1, L2 with T2, and L3 with T3. When the alternate coil is energized, Lines 1 and 3 are interchanged with Terminals 1 and 3, allowing for a phase shift in the 3-phase circuit, driving the motor and causing it to rotate in the opposite direction.

Both coils power contacts feed through a single set of OLR to provide running protection in both directions.
To prevent unintentional energization of both the forward and reverse coil at the same time, the coils are equipped with , which are then wired in with the opposite direction's coil to act as an . This means that if the coil that drives the motor in the forward direction is energized, a normally closed set of contacts wired in series with the reverse coils will prevent that coil from being energized as long as the forward coil remains energized.
A device that controls the flow of electrical power to a motor. It is designed to safely start and stop a motor, and provide overload protection.
A physical barrier that is pushed into the path of one coil's armature by the movement of the adjacent coil in a forward/reversing motor starter.
A contact that under normal conditions has continuity through it. When the contact changes its state it interrupts the flow of current by opening its contacts. Can be associated with pushbuttons, pilot devices or magnetic contactors.
In electrical terms, refers to a connection where current has only one path to flow.
Loads connected in series will have the the same value of current flowing through them, and share the total voltage between them. Switches and overcurrent equipment is connected in series with equipment to control and protect it.
Normally-closed contacts used in forward/reverse control circuits that prevent both directions coils from being energized at the same time.