48

Voltage Drops in Control Circuits
An example of voltage drops in a will illustrate the use of for troubleshooting.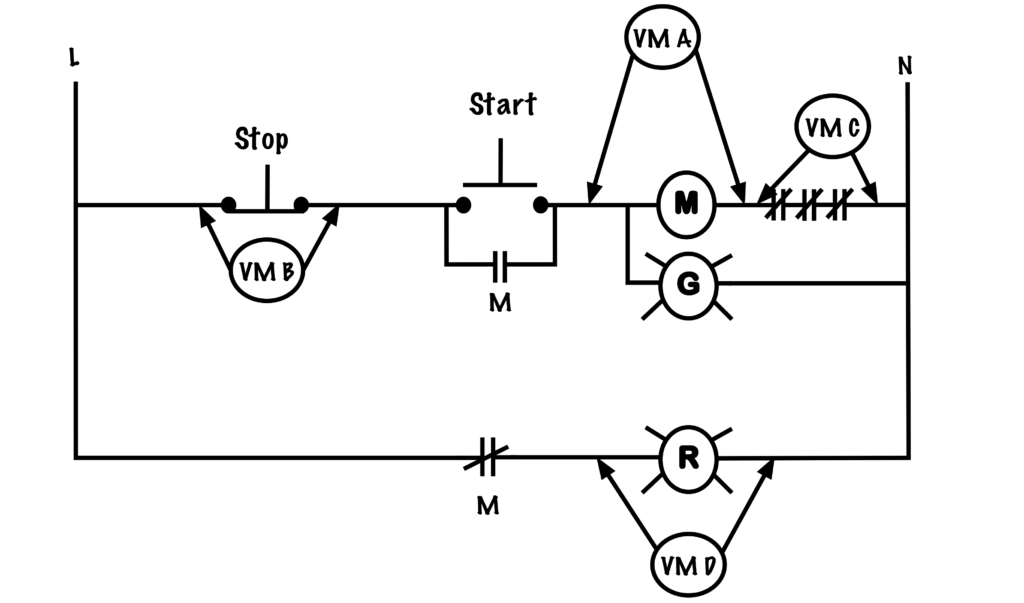 Referring to the diagram above and assuming a line of 120V, if the circuit is operating normally we can determine what all the meters would be reading.
If someone were to press the start button, then only voltmeter A would read line voltage, as it is in with the two loads.
Voltmeter B will measure zero volts across the closed contacts of the stop button.
If an occurs and the open, voltmeter C will read line voltage while the start button is being pressed, and nothing when it is released.
Assuming the motor is not running, only voltmeter D would give a reading of line voltage. If the contactor is not engaged, then the will remain closed and the red will be on.
In contrast to the Power Circuit, the Control Circuit consists of inputs, in the form of switches, pushbuttons or pilot devices, which when activated, can either directly, or through a magnetic motor starter, energize a load. The Control Circuit often operates at a lower voltage than the Power Circuit for safety and ease of installation.
A device testing and measuring the potential difference (voltage) between two points. Leads are connected in parallel with the circuit, and the meters very high internal resistance will draw a small current which can be used to determine the level of voltage.
Can be digital or analogue and measure either AC or DC.
The difference in electric potential between two points, which is defined as the work needed per unit of charge to move a test charge between the two points. It is measured in volts (V).
In electrical terms, refers to a connection where current has more than one path to flow.
Loads connected in parallel will experience the same potential difference (voltage), but may draw different values of current depending upon their individual resistance.
A moderate and gradual rise in the value of current over a relatively long period of time that is caused by excessive amounts of current drawn by a motor due to too much load being put on the motor.
A heater element paired with normally-closed contacts that open once the heater gets too hot. Two types of relays are the bimetallic strip and the melting solder pot.
A contact that under normal conditions has continuity through it. When the contact changes its state it interrupts the flow of current by opening its contacts. Can be associated with pushbuttons, pilot devices or magnetic contactors.
A small lamp connected in the control circuit to indicate the status of a motor or other situation.