25

Preparing a Short- and Long-Term Career Plan
Setting Employment Goals
Previously, we talked about setting goals. The example given in the text was Susan's goal of eventually owning her own restaurant. In this example, she was promised a job on completion of her apprenticeship. On completion of training, many graduates look for employment. Before applying for jobs, you need to decide what kind of a job you want and where you want to work. In other words, you have to focus your search. Ideally, the job you seek should relate to your long-term career and personal goals.
Some people simply want to have a job. They apply for jobs without considering their skills and experience, their interests, and their goals. This process is bound to be frustrating. You may apply for jobs at a much higher level than you are qualified for and be turned down so often that you get discouraged. Or you may apply for jobs for which you are overqualified. You may not be hired because the employer thinks you will not stay at the job long. Or you may be hired and become bored because of the lack of challenge in the work. If you work at a job you do not enjoy, you will likely suffer a lot of stress.
Making an Inventory of Your Skills, Abilities, and Interests
Many people believe that they do not have skills because they have limited job experience. Others think that because they are making a career change, they have few skills of relevance to their new goals. These beliefs are not true. You have acquired skills in a wide variety of ways during your life. Places where you may learn skills and examples of some skills you may have acquired are shown in Table 4.
Table 4. Examples of places in which skills are acquired and examples of skills learned
Place to Acquire Skills
Skills Acquired
Home

Managed a personal budget
Organized time

School

Planned student association or club functions
Operated a computer
Worked as a part of a team during group projects

Church

Public speaking experience
Planned community celebrations or concerts

Clubs and community organizations

Knowledge of wines as a result of membership in wine tasting club
Ability to conduct meetings
Planned and prepared fundraising dinner

Community

Dependability as a result of delivering community newspaper
Got jobs done on time

High school cafeteria

FOODSAFE Level 1
Prepared and garnished salads
Established respectful working relationships with cooks and servers
An inventory of your skills is an initial first step in preparing to find a job. It provides a full list of your skills and abilities. You can then use this list to prepare your resumé.
Transferable Skills
Transferable skills are those skills that you have learned in one setting and that you can apply in a variety of situations. For example, you may have learned to plan a function or event when you were on the social committee for an association, but you can apply that skill in the hospitality industry. Similarly, you may have learned to supervise other employees when you worked at a fast-food restaurant, but you can transfer that learning to other jobs. You may have dealt with customers when you worked at the front desk of a hotel (Figure 19), but the essential skills of customer service are the same in other jobs.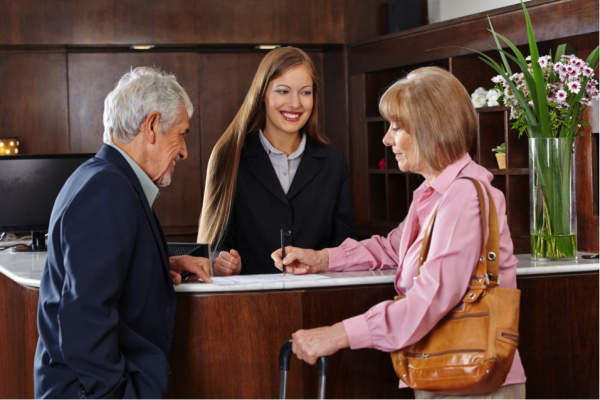 When preparing your inventory, focus on transferable skills unless the skills are directly relevant to your present employment goal.
Identify Your Interests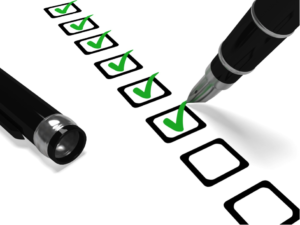 You may have a wide variety of skills, but some of these skills may have been gained in jobs which you do not want to do again. This is why it is important to identify your interests. What kind of job do you want? What kind of skills do you want to use? What kind of work do you find satisfying? The answers to these questions will help you target the kind of job you want. Some people already know exactly what they want from a job. However, most people are not completely clear about their interests.
A good starting point is to make a list of all of the enjoyable accomplishments in your life (Table 4). These are things you did well and felt good about. Try to list at least 25 accomplishments from all parts of your life: school, work, volunteering, hobbies, and your personal life. Develop this list over four or five days. Write down the ideas as they occur to you.
Once you have a list, select the seven most important. Rank the accomplishments with the most important first. Write a paragraph about each accomplishment. Then identify what things are common to each of the stories. For example, you may find that your most important accomplishments all include elements of completing tasks against intense time pressure, preparing elegant and beautifully presented meals, dealing with people, and organizing activities. This suggests that these factors are ones you find important and should look for in your work.
Other exercises you can complete to discover your interests include:
Identifying your work-related values
Listing the things you really like to do
Thinking about each job you have held and identifying what you found satisfying and dissatisfying
Thinking about the qualities of supervisors or managers with whom you had a good relationship
Imagining where you would like to be in your life in five or 10 years
Inventing your ideal job
Imagining the job you would have if you won the lottery, but still wanted to work
For each of the statements below, rank how important it is in terms of your overall career objectives. Use the following scale:
Not important at all
Somewhat important
Reasonably important
Very important in my choice of job
Career Objectives Test

| | |
| --- | --- |
| __ | ability to advance in the job |
| __ | helping others |
| __ | supervising others |
| __ | helping society |
| __ | meeting challenges |
| __ | working for something you believe in |
| __ | public contact |
| __ | pleasant and friendly co-workers |
| __ | competition |
| __ | working alone |
| __ | working with others |
| __ | personal growth and development |
| __ | minimal supervision |
| __ | enjoyable work tasks |
| __ | freedom from pressure |
| __ | high pressure environment |
| __ | being an expert |
| __ | recognition from the community |
| __ | ability to be creative |
| __ | learning on the job |
| __ | location of the workplace |
| __ | tranquility on the job |
| __ | predictable schedule |
| __ | money earned |
| __ | change and variety |
| __ | fast pace |
| __ | having time for personal life |
| __ | power |
| __ | adventure or risk-taking |
| __ | prestige |
| __ | recognition from supervisors and co-workers |
| __ | job security |
| __ | chance to make an impact |
| __ | clear expectations and procedures |
Once you have completed the exercise, circle those items you marked "4" and choose the five most important. Which would you give up if you were forced to compromise? Which would you be most reluctant to give up?
Identify Possible Jobs
There are many options and environments when it comes to finding the right fit for your skills and interests. To find the right situation for you, take the information you have gathered and start to think about the employers and places in your community where you could work. If you are not sure how your interests and skills match with the jobs you have identified, talk to your instructors, friends, or acquaintances who work with a particular employer or visit the restaurant or food service facility as a customer (Figure 21).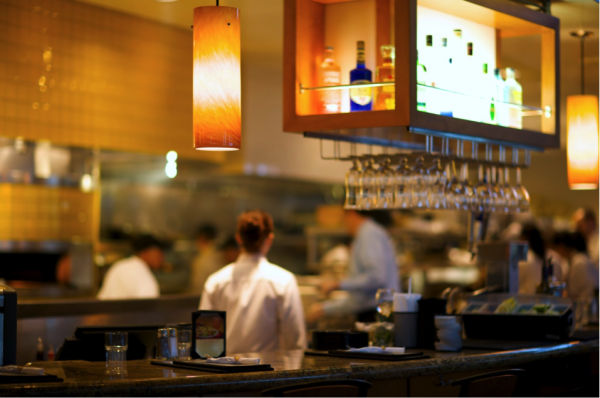 Plan Short- and Long-Term Career Goals
Remember Susan and the steps she took to plan her goals? Taking the goal-setting approach to your career is equally important. Think about the next 10 years and where you would like to be in your career at that time. Think of the skills and experience you will need to gain in order to accomplish those career goals. Writing down your career path and goals will help you accomplish them, and allow you to focus on each step at a time. Table 5 shows a completed table of timelines, career goals, and skills and experience.
Table 5. Planning sheet for short- and long-term career goals
Timeline
Career Goal
Required Skills and Experience
1–2 years
Complete apprenticeship and obtain Red Seal

Complete technical training and hours
Gain experience on all stations

4–5 years
Sous-chef position in leading restaurant

2–3 years' experience in similar environment after Red Seal
Supervisory training

6–7 years
Chef position in leading restaurant

2–3 years' experience as sous chef
Additional management training

10 years
Open own restaurant

2–3 years' experience as Chef
Additional business courses
As you can see, thinking of your end goal helps to plan the steps along the way. If your ultimate career goal is to be the executive chef of a large hotel, than spending a number of years working your way up in small bistros is likely not the best plan. However, if owning your own small restaurant is the goal, gaining experience in similar places will do you more benefit than working in a large hotel.
Of course things will change, and it is important to understand that sometimes if you decide to change direction, you will have to re-evaluate. If you have worked your way up to sous-chef in a small restaurant, and want to switch to the hotel environment, you will likely have to take a step back and take a job as a cook in order to learn how a large hotel operates.
Media Attributions
Customer Service © go2HR. Used with permission
A List © go2HR. Used with permission
Restaurant © go2HR. Used with permission