Chapter 2: FLO Family of Courses
Overview
Facilitating Learning Online (FLO) is a growing collection of one- to five-week online courses that are intended to enhance the skills required to confidently and effectively facilitate learning online. Affectionately referred to as a family of courses, the program is a supportive community of educators taking facilitation of learning online to the next level—practicing, improving, and reaching out to motivate colleagues to do the same.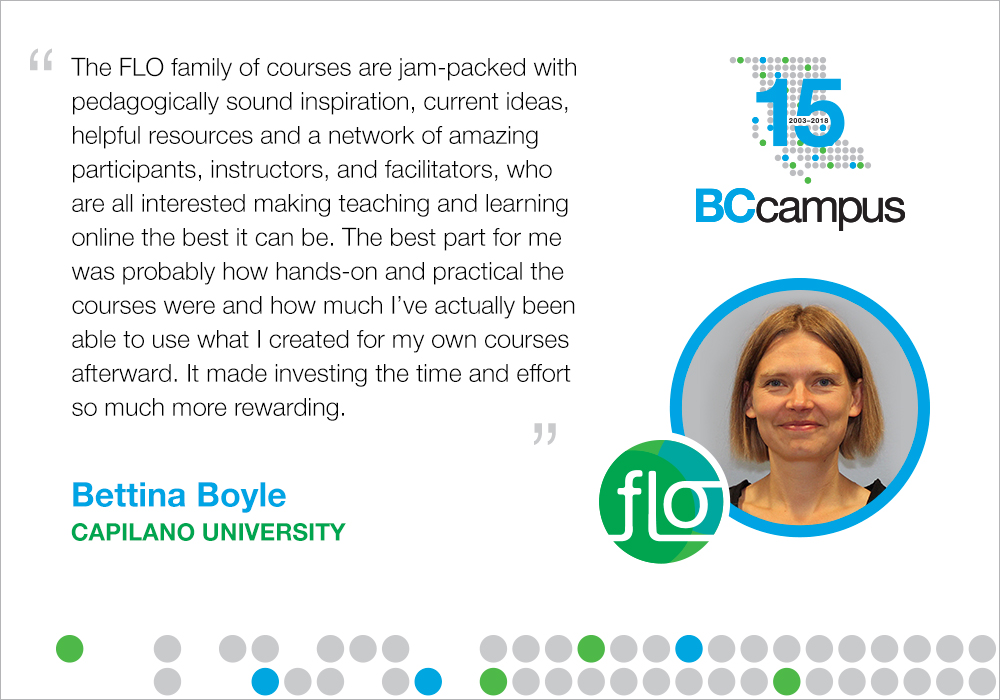 The courses
Listed below are the five courses in the FLO collection along with brief descriptions; we describe them more fully in subsequent chapters in this guide.
FLO Fundamentals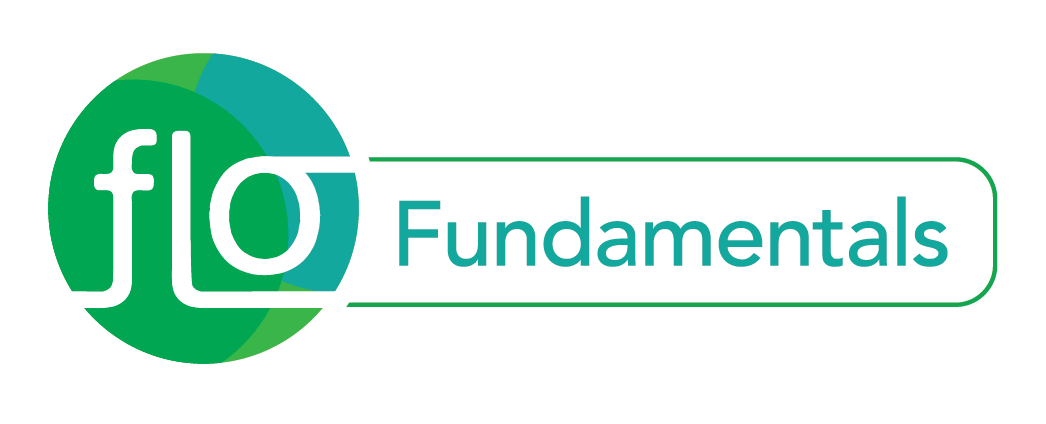 FLO Fundamentals is a five-week introduction to research-based adult and online learning concepts, principles, and strategies to make learning engaging and effective. You develop the skills you need to effectively facilitate learning in online environments by alternating between learner and facilitator roles to implement a series of short learning activities each week. The course includes opportunities for peer feedback and emphasizes reflection on your own experiences.
FLO Design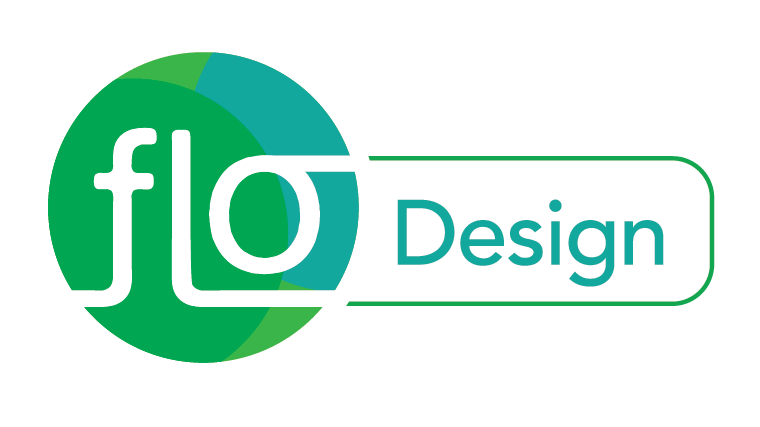 The four-week FLO Design course begins with a review of theories of learning, approaches to instructional and learning design, and different quality and accessibility frameworks for online course design. You can bring your own design project or work with others, sharing evolving designs and receiving constructive feedback in weekly studio forums.
FLO Synchronous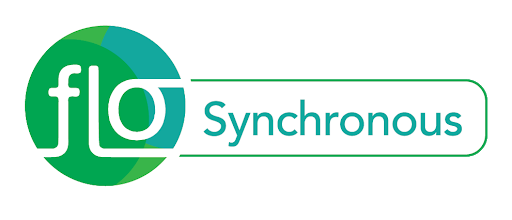 FLO Synchronous is a three-week immersion into planning and facilitating synchronous online learning sessions. We introduce you to best practice strategies, you'll learn from examples of synchronous online facilitation, and will practice in a safe environment. There are two role choices (tracks) in this workshop — Reviewing Participant and Practicing Facilitator — allowing for flexibility in learning outcomes.
FLO MicroCourses

MicroCourses are short, single-topic, hands-on and practical. In one week, you will dip into the FLO experience and leave with something practical and useful for your own teaching practice. Topics are emergent and relate to designing and facilitating learning online.
The FLO story (the short version!)
The first Facilitating Learning Online course was called Instructional Skills Workshop Online (ISWO) and was developed by Royal Roads University in 2008 through the BCcampus Online Program Development [https://bccampus.ca/open-education/] fund. This course was based on the well-known Instructional Skills Workshop, but focused on facilitating online, rather than in person.
In 2013, BCcampus began offering what is now called FLO Fundamentals. It is an adaptation of the original ISWO, and was subsequently revised several times. In 2015, the name of the workshop changed from Instructional Skills Workshop Online (ISWO) to Facilitating Learning Online (FLO), more closely reflecting the focus on online facilitation.
From the beginning, our goal was to prepare educators across the BC post-secondary system to effectively facilitate learning online- first by hosting, refining and growing the collection of courses, then by supporting the adoption and expansion process in a way that maintains a high quality and consistent experience for faculty and staff across institutions. All FLO courses are open educational resources (OER) and available for institutions to implement in-house.
The term Open Educational Resources (OER) was first defined by
UNESCO in 2002
as "any type of educational materials that are in the public domain or introduced with an open license" and can "range from textbooks to curricula, syllabi, lecture notes, assignments, tests, projects, audio, video and animation."
Over the years, participant feedback has informed our curriculum revisions and development, resulting in the redesign of FLO Fundamentals and the addition of two other courses: FLO Design and FLO Synchronous. Later, we recognized a need to appeal to faculty and staff who were unable to commit to a course spanning several weeks, and we introduced the one-week MicroCourse. We expect to grow the FLO family of MicroCourses. Suggestions for MicroCourse topics continue to emerge, such as assessing learning, multimedia development, open pedagogy, and digital literacy.
Who are the FLO learners?
We have attracted a range of learners to FLO courses: very experienced educators, experienced online instructors, new-to-online instructors, and even those new to both instruction and online learning. The courses have also been popular in teaching and learning centres and with other post-secondary institution staff, as well as with individuals from private and non-profit organizations.
What makes FLO unique?
FLO courses provide you with a participatory and learner-centred experience to enhance the skills you need to facilitate your own online courses and activities. The FLO experience is very different from an independent and self-directed study. In addition, the courses provide an ideal environment to mentor future FLO facilitators.
The following list captures our philosophy and approach:
Design and Development
Experienced learning designers and educators design and develop the courses.
We undergo pilots, extensive testing and improvement cycles, incorporating feedback and suggestions from educators from various fields and institutions.
Courses are licensed CC BY, meaning you can copy, remix, transform, and build upon the work, and we hope you will! You are only asked to provide attribution and keep the same open licence.
Participants
Experience the role of the learner while learning about and experiencing the role of the facilitator (and in FLO Design, they experience design and observe others and their approaches to design).
Learn about the implementation of collaborative teamwork while doing it.
Experiment with a variety of tools, techniques, and strategies.
Participate fully in activities and discussions throughout the entire course; these courses are a commitment!
Practice, seek advice and feedback, and share learning in a small, supportive community of peers; this is not a MOOC!
Learn together with colleagues from a variety of locations, settings and academic disciplines.
Engage in reflective practice.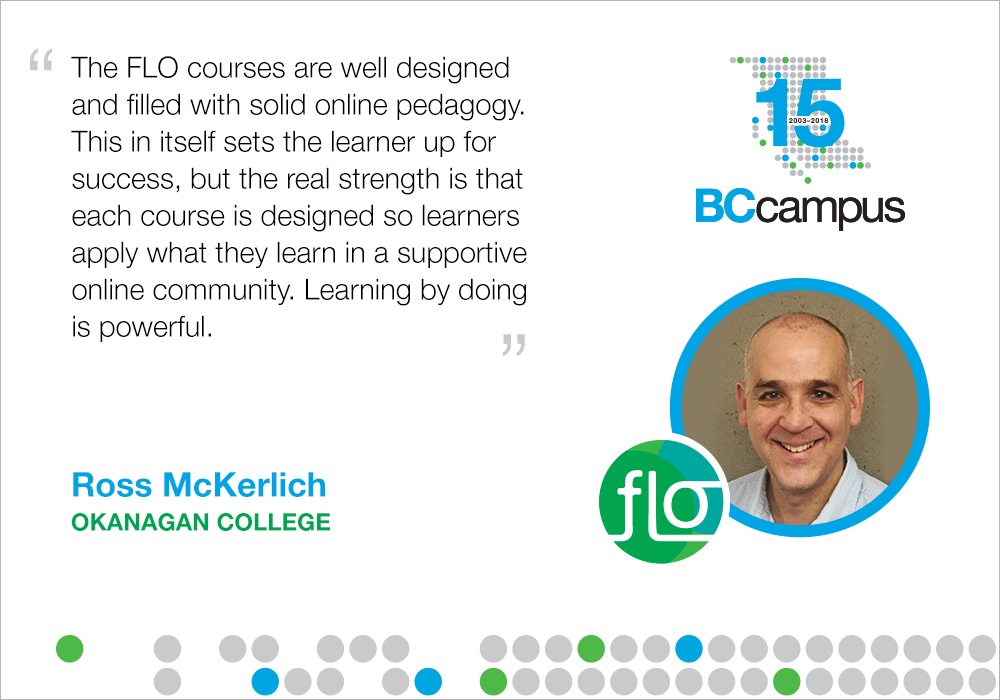 What's our big plan for FLO?
Our goal is to support the adoption of FLO courses at BC post-secondary institutions so that faculty and staff can create engaging online experiences for students. We hope there will be many, many facilitators ready to adopt FLO courses and implement them in their own institutions.
The next chapter looks at how to prepare for facilitating FLO courses.
Attributions
The OER definition from the Faculty OER Toolkit is used under a CC BY 4.0 Licence.
Image descriptions
"The FLO family of courses are jam-packed with pedagogically sound inspiration, current ideas, helpful resources and a network of amazing participants, instructors, and facilitators, who are all interested in making teaching and learning online the best it can be. The best part for me was probably how hands-on and practical the courses were and how much I've actually been able to use what I created for my own courses afterwards. It made investing the time and effort so much more rewarding."

— Bettina Boyle, Capilano University
The FLO courses are well designed and filled with solid online pedagogy. This in itself sets the learner up for success, but the real strength is that each course is designed so learners apply what they learn in a supportive online community. Learning by doing is powerful.

— Ross McKerlich, Okanagan College