Chapter 3: Facilitating FLO
This FLO Facilitation Guide will help you successfully facilitate FLO courses. In this chapter, we dive into the details of what becoming a FLO facilitator involves. Subsequent chapters will guide you through the steps and considerations for facilitating each course.
Roles and functions of FLO facilitators
FLO courses are built on a foundation of social constructivist perspectives, infused with a recognition of the importance of evidence-based practices, the power of shared reflection and inquiry, and the need for personally meaningful learning experiences.
FLO facilitators adapt their roles to the needs of each cohort of learners as they progress through a course. During the first week of each course, facilitator presence is high as the facilitators take on the roles of a community builder and a guide. FLO facilitators welcome and engage learners, post frequent reminders, clarify curriculum, troubleshoot problems, and encourage each learner to participate and learn. They take time to develop connections with and among learners to help develop a sense of community and mutually supportive learning.
As the course moves on and learners become more familiar with the course expectations, content and environment, they become more active participants in the co-creation of meaningful learning. FLO facilitators take on the roles of coach and mentor. They step back and encourage learning through the use of different questioning strategies and proven facilitation techniques. They participate in discussions but don't lead; instead, FLO facilitators highlight important concepts, weave together the ideas that participants share, and post frequent summaries to help learners keep track of the flow of conversations as they move in and out of the course environment.
FLO courses focus on helping each participant develop their own skills and knowledge. Although FLO facilitators provide frequent and constructive (formative) feedback, they also encourage participants to use the self-assessment rubrics and reflective practices embedded in each course to monitor and celebrate their own achievements. FLO facilitators help participants stay on track and make explicit links between course activities and learning outcomes.
As each course draws to a close, the FLO facilitators help individual participants complete activities and assess their progress. Participants share final reflections and often help plan and host a final wrap-up session to celebrate achievements and to look ahead to future connections and applications of new learning.
Developing FLO facilitation skills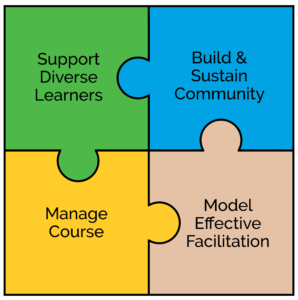 Developing skills in online facilitation is a journey, not something that can be accomplished over one iteration of a course! We encourage people interested in facilitating FLO courses to spend some time reading about online facilitation (such as in this Guide and beyond) before you facilitate your first FLO course. We also recognize that you could gain online facilitation skills while facilitating – including reflecting on that facilitation. Working with others to co-facilitate FLO courses can also support the development of online facilitation skills as we watch and learn from what our colleagues do.
We've gathered a list of skills that we have found effective in facilitating FLO courses and grouped them under four main categories: Support Diverse Learners Online, Build and Sustain Online Community, Manage the Online Course, and Model Effective Facilitation.
Core FLO Facilitation Skills
Core FLO Facilitation Skill
Description
Support Diverse Learners Online

Communicate goals and roles for group- and individual-learning activities.
Support learners to develop effective online learning strategies.
Encourage participatory, connected learning.
Encourage learners to take risks and try new approaches.
Respect and welcome diverse perspectives and experiences.
Promote reflective practice and critical/creative thinking.
Provide timely, formative feedback to individuals and group.
Assist learners in self-assessment of learning using rubrics.

Build and Sustain Online Community

Build a safe and supportive learning community.
Use strategies to build rapport with learners.
Develop guidelines for constructive feedback.
Model respectful, appreciative dialogue.
Encourage learners to identify norms of behaviour.
Assist learners to develop positive responses to conflicts.
Connect with external experts for selected topics or activities.
Explore open learning resources or communities.
Close community by supporting final reflections, individual self-assessments and shared learnings.

Manage Course Online

Design functional learning spaces that are easy to navigate.
Select appropriate tools within the learning system.
Organize content to make it easy to find.
Share content in varied ways.
Maintain currency and relevance of references and resources.
Aid learners to navigate the site and use tools and resources.

Model Effective Online Facilitation

Model a positive and professional presence throughout the course.
Plan effectively with co-facilitator(s).
Manage time effectively.
Seek regular feedback from learners.
Maintain a balanced presence throughout the course.
Use varied questioning techniques to extend and deepen discussions.
Develop strategies to monitor participation and respond to potential issues.
Engage in and model own reflective practice.
Explore new pedagogical approaches to enrich facilitation practice.
Develop technical skills and explore new tools.
We know it's a big list and probably not an exhaustive one, but it's a start. To create it, we drew skills from the self-assessment rubric included in FLO Fundamentals and crowd-sourced ideas from people who have facilitated FLO courses. We also drew some inspiration from the International Association of Facilitators (IAF)'s list of Core Competencies.
The interesting—and most exciting!—thing about facilitating FLO courses is that, in addition to talking about online facilitation skills with our participants throughout the course, we also model those same skills. We want our participants to see us continually working on enhancing the skills in ourselves – to model reflective practice as an online facilitator and to bring an authentic presence to our courses.
Throughout the chapters included in this guide, we'll dig deeper — and provide examples — into what it looks like to use these facilitation skills.
Our Model
It is beyond the scope of this guide to delve into institutional adoption needs and processes. Instead, we offer an emergent model that is proving to be effective in preparing FLO facilitators. Your institution may wish to adopt a similar model or consider partnering with other institutions that already have.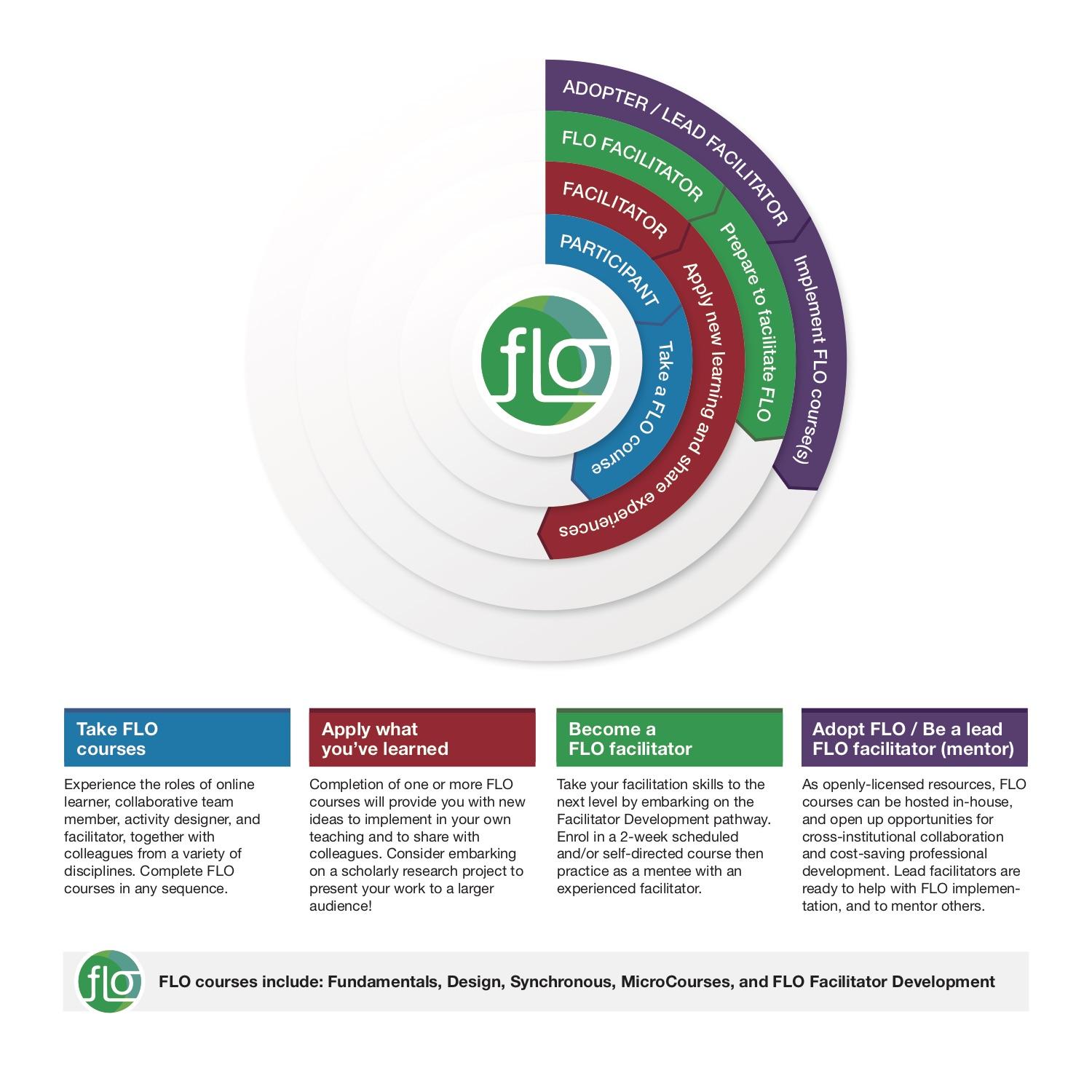 Take a FLO course. Experiencing the role of participant in the course you wish to facilitate is one of the best ways to understand the structure, flow and resources that make up the course. You will also experience the value of facilitated learning.
Apply new learning and share experiences. In other words, practice any chance you get, and share with your colleagues. Completing one or more FLO courses will provide you with new ideas to implement in your own teaching and to share with colleagues.
Prepare to facilitate FLO. Although the facilitators in FLO Fundamentals try to make their facilitation visible, a lot of planning and adaptations still take place behind the scenes. To give future facilitators a better idea about these backstage activities, we developed a 2-week FLO Facilitator Development course. The course is about learning how to (co)facilitate the FLO Fundamentals course, but it also touches on the facilitation of other FLO courses. Every time we offer the Development course, we invite alumni to take it again so they can stay current on curriculum changes and can continue to learn alongside the newcomers.
Volunteering your time and expertise to assist — and be mentored by — experienced FLO facilitators is a perfect mutual exchange. We have used a very flexible and collaborative approach, asking mentees and facilitators to negotiate the level of commitment and tasks.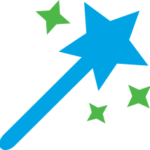 Use existing templates (see the task lists that accompany each course in this guide) as a starting point for planning and tracking tasks with your co-facilitator(s). We suggest using a collaborative online workspace so you're both on the same page, so to speak. This can also be a real time-saver, avoiding back and forth communication to make decisions. See
Tools to Support Co-Facilitation
in this chapter for some examples of tools co-facilitators have used to manage their tasks.
Become a lead facilitator and mentor. An obvious next step for your institution to sustain or expand FLO offerings is to bring more facilitators on board. Once you have the experience of facilitating FLO courses you are ready to mentor incoming facilitators.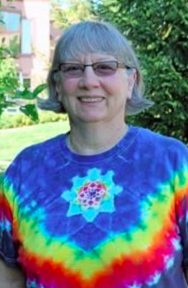 Leonne Beebe is a seasoned FLO participant and facilitator, having returned to FLO for every offering in some capacity, each time taking on more responsibility and new challenges. Leonne transitioned from being mentored to being a full-on facilitator by boldly accepting each invitation to take on more. She brings years of teaching experience and keen participatory observation skills to the workshop.
Leonne offers this for future facilitators:
"The FLO/FDO mentoring model for learning to facilitate online makes the learning both real and realizable. As a teacher, you have the concurrent experience of being a student while also being a teacher. Through your experiences, you will develop an awareness and empathy for the learning challenges and the strategies needed for student success. You may also find one time is just the beginning…"
Case Study: Rachel Loganberg

Rachel Loganberg from College of the Rockies volunteered her time and expertise by taking on an observer role in the FLO Design pilot. This role enabled her to provide feedback on the design of the workshop based on her observations of how learners were engaging. Rachel was also keen to understand more about the 5-week FLO Fundamentals course, and volunteered to co-facilitate so she would be ready to take the lead on a future FLO workshop. She then went on to co-facilitate the 2-week FLO Facilitator Development course. Rachel is now very well equipped to mentor future FLO facilitators! This is a terrific example of a mutual exchange model — learn and practice while giving back to the FLO community.
Governance by Enthusiasm
A group called FLO Enthusiasts guides the Facilitating Learning Online curriculum and mentorship of future facilitators. This group includes educators who are working their way through the layers, as it were, and championing FLO at their own institutions. We define ourselves as:
"A group that exists to guide FLO open educational resources through the process of widespread adoption while maintaining the integrity of the program."
In June 2017, a group of 12 FLO Enthusiasts met to envision the next steps for FLO.
An outcome of that gathering was the following list of qualities that we appreciate about FLO Fundamentals and, in the spirit of keeping this foundation course consistent, feel should remain intact going forward. Several of these qualities would apply to all FLO courses.
Required Qualities
The course design and implementation will:
Be evidence-based.
Include a reflective practice component.
Engage all participants in the experience of facilitating an activity.
Offer instructor and peer feedback on each learner's facilitation.
Provide a safe and encouraging learning environment.
Continue to be openly licensed.
Ideal Qualities
Ideally the course design and implementation will include these qualities, but we recognize they are not applicable in all contexts:
Create opportunities to experience working in teams.
Encourage exploration of a variety of online tools.
Issue certificates of completion.
Provide ongoing access after the course wraps up, or implement takeaway processes.
Integrate a mentorship model for preparing facilitators.
We also appreciate that facilitators and their respective institutions might wish to significantly customize FLO courses or develop new courses that would fit nicely in the FLO collection. Please consider sharing these new or revised versions back to the community![1] Also, if your revised courses do not follow the list of above qualities that makes FLO courses FLO, we ask that you consider changing the course name to avoid confusion.
We hope this guide is comprehensive enough to provide you with a good foundation for facilitating FLO courses.[2] Ideally, you will also seek opportunities to practice your facilitation and discuss plans and ideas with colleagues. How you go about becoming a confident and effective FLO facilitator is up to you.
The next four chapters guide you through the facilitation of each FLO course.
Long Descriptions
A puzzle with four interlocking pieces. The pieces read:
support diverse learners
build and sustain community
manage course
model effective facilitation
---
Ideally all FLO offerings will be listed in the Teaching and Learning Professional Development Portal. ↵
If your institution or organization adopts FLO Fundamentals, consider also adopting FLO Facilitator Development, or partnering with other institutions to offer this professional development. ↵