The easiest way to copy an open textbook from within the BCcampus Pressbooks network or from another Pressbooks network is to use the PB Cloning feature.
To do this:
1.Scroll over My Catalogue in the red PB menu bar
2.Click on "Clone A Book"

3.Enter the URL of the book that you would like to clone ("Source Book URL" field) — this is the source book — and a destination URL where you would like the book to be cloned to ("Target Book URL" field).
You do not need to create a book shell in advance; only assign the URL.
Add the descriptor used to create your target book's URL when creating it. Notice that 'pressbooks.bccampus.ca' has already been provided above the target book URL field.
4. Click the red "Clone It" button. Once the process is completed you can access the book copy using the target book URL.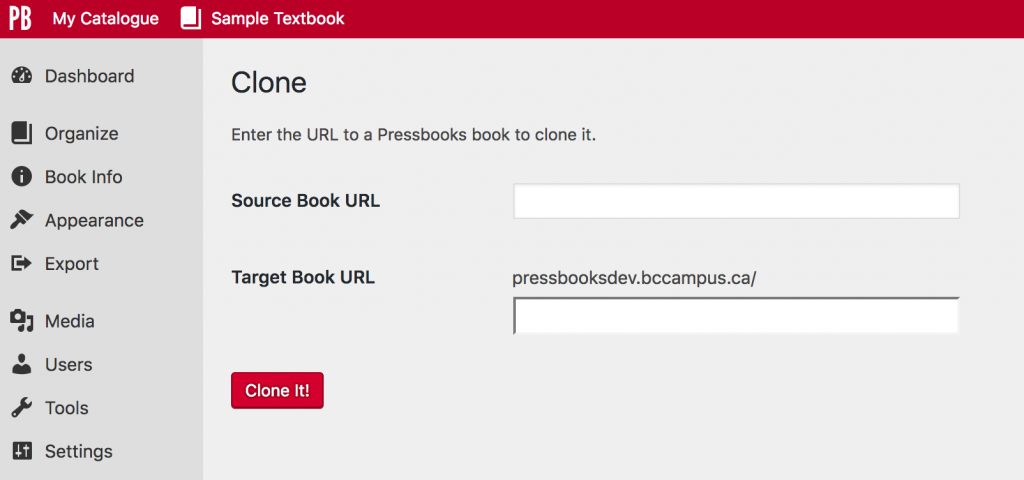 This feature works allows you to copy books from most Pressbook instances, as long as the book has been Creative Commons licensed, the book is marked as "public", and the Pressbooks instance is version 4.1 or higher. This feature does not work for books that use the ND (non-derivative) option of a Creative Commons licence or those marked as "private".
By default, books created in Pressbooks are marked as "All Rights Reserved" until a CC licence has been selected from the "Copyright License" drop-down menu on the Book Info page.
Please note this is a new feature and you may run into time out issues cloning from different Pressbooks networks. If you experience any problems, please contact the BCcampus Helpdesk using the Submit a Request form.