Chapter 10 Online Learning
10.2 Pros and Cons of Online Learning
As you evaluate whether or not online learning is a good fit for you, it helps to consider the pros and cons. Some of these pros and cons will be more important to you than others, depending on your situation, so it's important to consider your own specific circumstances and your learning strengths and weaknesses. Here are a few things to consider:
Pros
Schedule flexibility.  Increasingly, students have complicated schedules, often juggling several part-time jobs, family responsibilities, and other commitments. For many, education has been out of reach when traditional scheduled classes did not mesh with their busy schedules and obligations. Online learning means students can learn when it suits them. Students can do their readings throughout the day in between other commitments. They can work on and submit assignments in the middle of the night if that suits them. The time flexibility literally means that students who just couldn't take classes on a traditional schedule can now further their education on a flexible schedule according to their needs.
Location flexibility. Online learning also opens up education for people who live in areas that do not have post-secondary institutions, especially remote communities. People can study at home or in local libraries or in convenient locations that eliminate the need to commute to physical institutions. This can save students hours of daily commuting time. It can also save students substantial amounts of money if it means they do not have to relocate to attend school. This is a significant factor for many who have financial concerns, housing concerns, or have a family member who cannot relocate due to employment or other obligations. Even people in big cities that do have post-secondary institutions welcome the opportunity to forgo a long commute to and from a college or university numerous times a week.
Multi-media. Learning happens more efficiently when several modalities are engaged. It helps to see (read or watch), hear (lecture or demonstration), do (labs, practice a skill, or write), as well as practice. Often people think that learning online will restrict learning because they'll have to read everything. The opposite is actually true. With so many options for multi-media, modalities can be fully engaged through online learning. Courses can include video clips, lab demonstrations, and virtual labs where students can dissect something over and over until they've got it (as opposed to having one crack at it for an actual dissection). Courses can include hyperactive web links which can conveniently direct you to websites, web articles, and web demonstrations  that add fascinating content. Courses can include high quality diagrams, graphs, interactive demonstrations, video podcasts, animations, Ted-Talks, YouTube clips, interactive digital learning games, blogs, wikis, learning objects, virtual worlds, and much more. Edutainment is a term describing applications that incorporate multimedia entertainment with educational objectives. Quality online courses have an array of possibilities that can keep the curriculum current and engaging.
Classmates. Online learning offers a diversity in classmates that often exceeds that of a face-to-face class. As you get to know your classmates through class discussions, online forums, group work, and class presentations, you will often meet people from all over the world. This allows for some interesting perspectives and a more global way of thinking and interpreting information.
Course selection. Making the decision to learn online means that there are seemingly limitless options in course selection. You have the option of enrolling in a different college than the one you would have chosen if you had to move there. It doesn't matter how far away it is if you are learning online. You can choose courses according to price, convenience, and interesting topics. Often you do not necessarily have to take all your courses from one institution if there are courses elsewhere that interest you. If you are taking courses from more than one institution, just be sure to check out transferability into the program you are enrolled in or want to graduate from, prior to taking a course from elsewhere so you do not lose credit for the course. See Chapter 13 The BC Transfer Process for more information.
Financial. Tuition and books are often priced the same for online and face-to-face courses, however, there are financial considerations that can make online learning more affordable. Firstly, the flexibility of online means you may not need to quit your job, since you can work on coursework around work hours. (Be cautious that you don't work so much that you don't have time for your courses, though.) Having an income while going to school can relieve a great amount of financial burden and reduce accumulation of student loans. Secondly, you will not have extra accommodation fees or relocation costs taking online courses since you will not have to move to go to school. Even if the college or university is local, you won't have transportation costs including public transit costs or gas and parking fees to travel to and from the institution. If you are a parent, you will likely have less child-care costs. You can also save money, since students are likely to eat out more when traveling to a campus.
Combination of online and face-to-face. It can be an option to do some of your courses face-to-face and some online. This can cut down on commutes if you choose to do online courses on certain days and work your schedule accordingly. This strategy can take advantage of the pros of both. It can also allow you to get to know instructors from a program in person during your face-to-face classes, giving you a personal connection with them for your online classes. Another use for combining formats is to take missing prerequisites online so that you don't miss an opportunity to take a course according to your education plan. This can often save you from having to add an extra year to your education. Another pro of combining formats is that you can choose to take electives for your program online in the summer months, to get ahead on your education plan, or to lighten the load in the regular school year. There can be many advantages of taking a combination of online and face-to-face courses.
Author's Story: Pros of Online Learning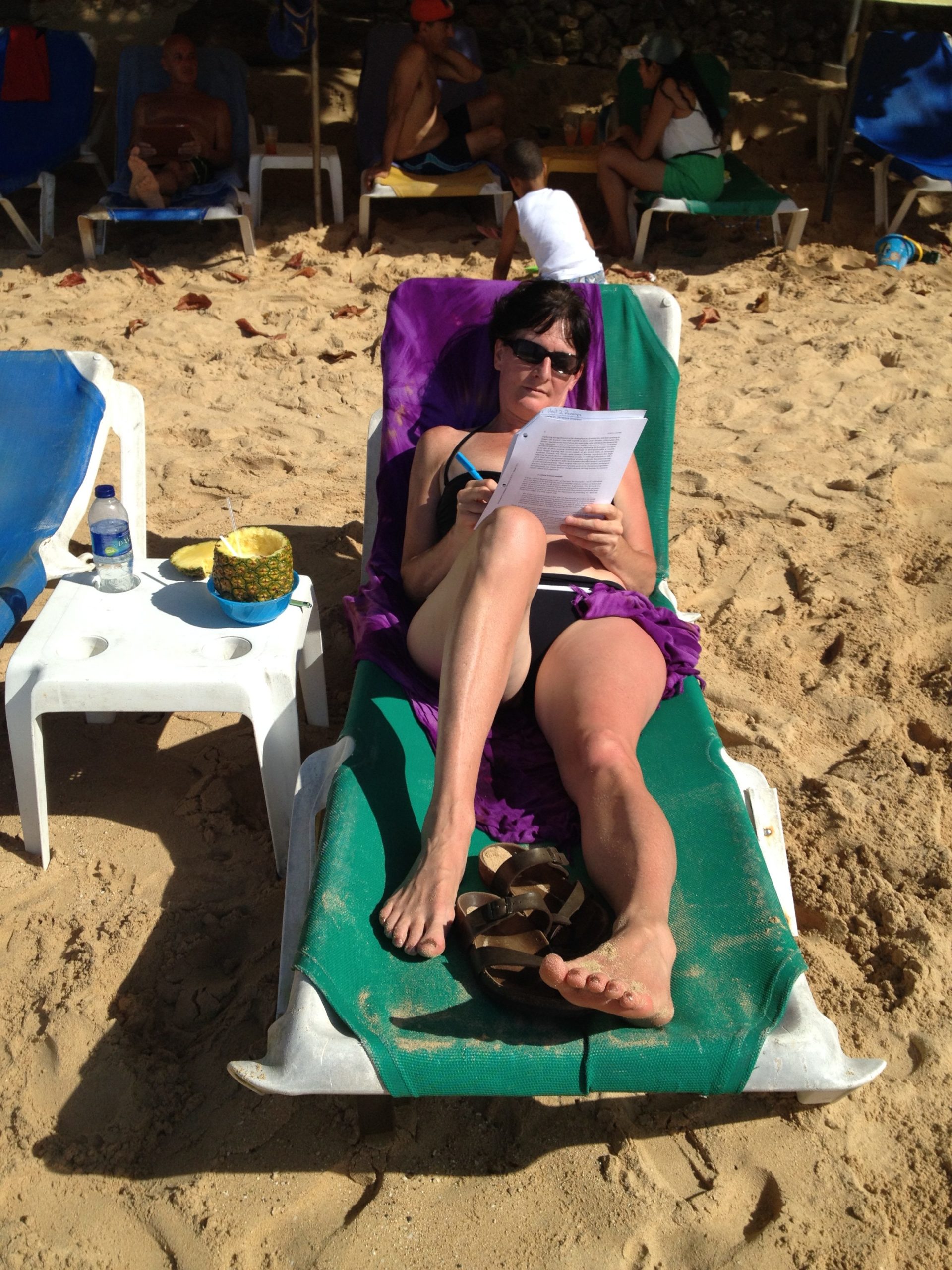 I did a Master's in online learning. I had an education leave from the college where I work, so I was free to travel and could have chosen to attend any one of several institutions. However, I chose to take my program online. I did this for several reasons. Since I was learning about online learning, it made sense to experience it firsthand while I was studying about it. It gave me many examples to draw from to demonstrate different learning theories.  It also gave me the freedom to travel around while I was working on it.
My program was a lot of work – to which I was committed. Even still, I took advantage of some of the fringe benefits of online learning. I spent the fall in my hometown, where I saw lots of family and old friends. Though my course load was heavy and I was working on my schooling 10-12 hours a day, it still meant that I had tea breaks with my mom, lunches and dinners with different family members and friends, and had the ability to just be around them even though I was busy a lot of the time. I look back at that time as incredibly precious. I otherwise could never have spent so much time with my mother in my adult years as I did that fall, and it was wonderful. Online learning made that possible.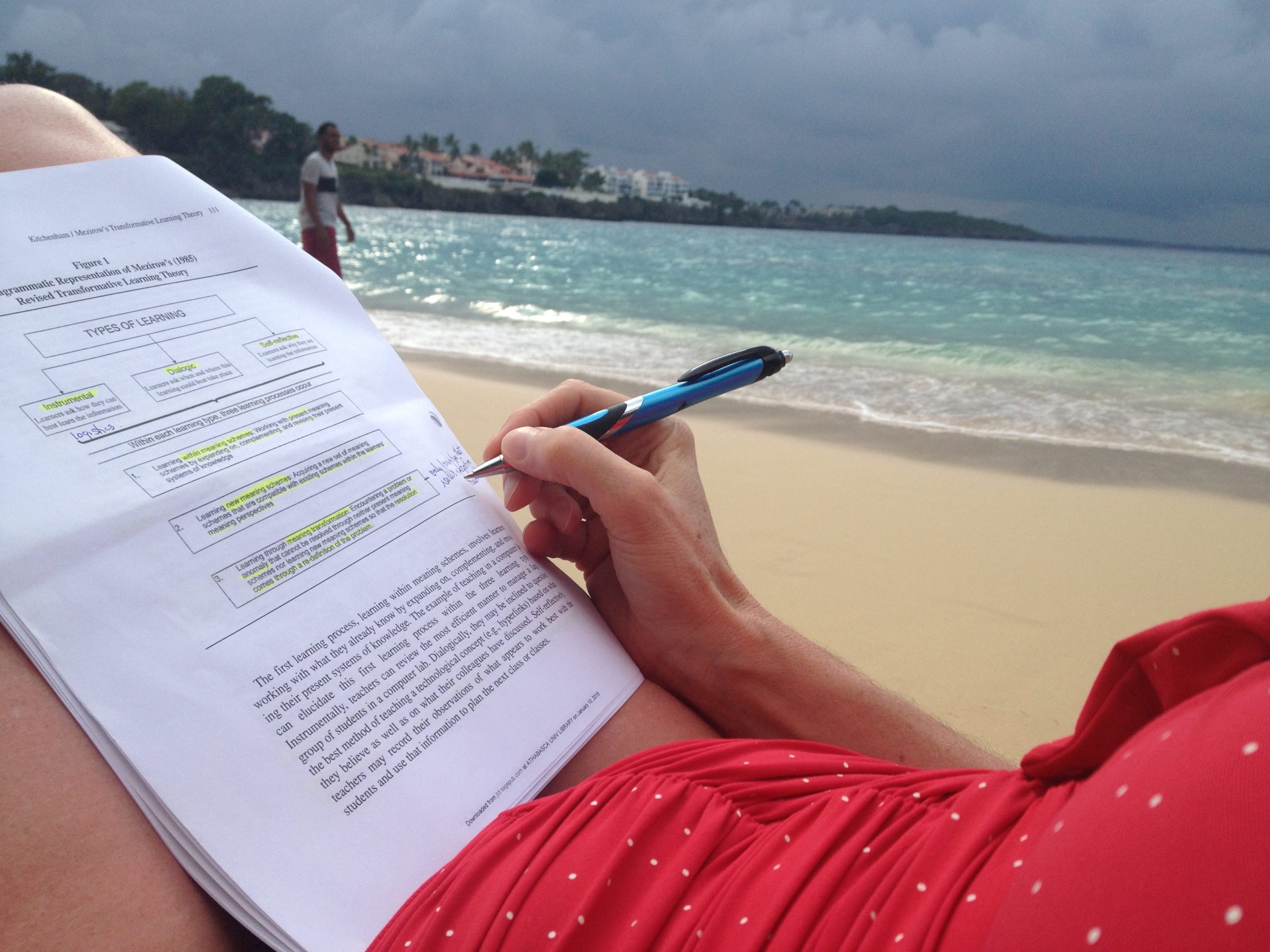 I was fortunate in that I went to the Dominican Republic for the winter semester. I rented out my home which more than paid for the rent on my beautiful villa by the ocean. I kept a rigorous schedule for my program. I woke up to the sounds of roosters crowing each morning at 6 a.m. I made coffee and went out onto the deck overlooking the ocean. I did my computer work in the morning, contributing to forum discussions and other course work. I did a work out,  made breakfast, and continued on the computer. After lunch, I went down to the beach, got settled into my lounge chair, did my readings, and took notes. I went for a long swim in the ocean every afternoon.  I dried off in the sun on my lounge chair while I continued my readings. In the evenings, I went back to the villa and worked on my assignments. This was my schedule all winter. I had the odd excursion and time out with people I met there, but my time included a lot of studying and writing papers. I had an amazing winter in the Dominican and met some incredible people. I had the opportunity to volunteer at a school there, which I thoroughly enjoyed. I learned a lot about their culture. The experience was life-enhancing, and I am so glad that I did my studies that way.
— Mary Shier, College of the Rockies
Cons
Time management. You have to be very organized when you take courses online. It is entirely up to you to stay on-track. Although this is true in a face-to-face class as well, students often feel more pressure when they have scheduled classes. They don't want to miss class or get behind. They have classmates around them talking about upcoming assignments and tests, who inadvertently pressure them into getting things done. When they know they have class Monday morning, for example, they make sure they complete the course work that is required before that class. These scheduled things are more conducive to keeping on track. Online students are notorious for procrastinating and getting behind. It is vital to keep a schedule as if you were attending face-to-face classes. Once your study times are in your schedule, don't divert from the schedule unless it is critically important. (That doesn't include that your friend called you up and asked you to go to the show!) You have to get used to telling people you are busy with your school work and that you are not available. Review Chapter 7: Time Management for further time management strategies.
Motivation. Motivation is another key factor for success in online learning. If you are constantly talking yourself out of doing assignments, doubting your abilities, or not willing to give it your all, this can seriously impede your ability to be successful. Some people know themselves and are aware that they don't have the motivation, self-drive, and determination to be consistent in their online studies. They will make the sacrifices required to commit to face-to-face courses. In other words, they are willing to commute and change their schedules to accommodate their scheduled classes, because they know that, for them personally, they are likely to be more successful in their courses.
Weak readers. Online learning most often involves a lot of reading. Some learners are strong readers and find they learn more by reading than listening in a class. Others find reading tedious and lose focus. If reading is a struggle, you may want to find out the differences in the amount of reading between the specific face-to-face classes and the online classes you are interested in taking. This may have a bearing on which format you choose.
Limited computer skills. Those who have very little experience with computers will find it more challenging doing online courses. As well as learning the course material and expectations of the instructor, these people will have to deal with learning computer skills concurrently. This is not necessarily a con as they will benefit greatly, however, it would be important to allow extra time needed for dealing with the learning curve of gaining the necessary computer skills. Of course, taking a face-to-face course likely will require computer skills as well, so it is wise to gain them regardless. Likely, it will initially be a little more challenging with an online course. Prior to starting online courses, it would be beneficial to take a computer skills course at a local community college, if possible.
The social aspect. Some learners enjoy the dynamics of being in a physical classroom. They get to form a personal relationship with the instructor. They meet classmates in person and can form study groups. They can benefit from the answers to questions that others ask or from the class discussions that arise. After class, they can easily discuss issues that they didn't understand or they can go deeper into an issue, furthering understanding. Even moral support is a beneficial perk of having face-to-face classes. Other classmates can detect whether or not you are struggling and can offer support, lend materials, and offer a much needed smile. Many people really appreciate the social aspect of attending classes and being part of a college or university where they can join teams and clubs, have a drink at the campus pub, live in residence, and develop a healthy social life. This is particularly important for young students who have recently left home after completing high school. Older students who already have children and jobs, may not necessarily be looking to expand their social lives.
The format of some online courses are specifically designed to include a social aspect to learning. The course incorporates group assignments and forum discussions. Students get to know each other even though they may all be in different locales. Other courses don't have any social component to them. Often in these online courses, students can feel very alone as they do their courses. If the social aspect is important to you, find out how the courses are structured at the institution where you are considering taking your program.
Author's Story: Social Interaction Online
I wouldn't have believed that social interaction online could match social interaction in a face-to-face classroom, but I experienced it. Of course, it depends on the structure of the course because some courses don't facilitate it in their set-up.
During my Master's online, the courses were designed using a constructivist philosophy. We regularly had to do group work and participate in online discussions. I got to know many of the people in my cohort. As a result, I got to know those I worked well with, and those I didn't necessarily want to work with again. As group work assignments were assigned, we had the option of choosing our groups. I went through the forum discussions to see people who I would likely work well with, and eventually I had specific people that I knew I worked well with, so we planned to work together in future assignments.
In order to do our assignments, we emailed, messaged, and Skyped often. We contributed to group documents, and commented regularly on each other's contributions. It became quite natural to be working together with folks who were all over the world. I got to know them, we asked each other about things going on in our lives, and encouraged each other through challenging times. I celebrated with a class mate in Greece, who got engaged. I knew throughout the term that she was hoping for a proposal, and I was genuinely excited when it finally happened. I learned about others' children and their struggles. I discovered others' tips and tricks for fitting the program into their busy lives. We regularly had class discussions about different concepts, and I learned a lot from my classmates.
When I went to the graduation ceremony, I met many fellow classmates and instructors for the first time in person, and yet it felt like I already really knew them. I did. It was a time of celebration. Even long after graduation, I am still in touch with a few classmates. We have contacted each other to catch up, get professional advice, and even to network for jobs. The social interaction in my online courses contributed richly to my educational experience.
— Mary Shier, College of the Rockies
Exercise: Evaluate if Online Learning is a Good Personal Option
Consider the several factors above and any others that apply. Relate them to your own personal circumstance, and evaluate whether online learning is a good personal option for you. As you evaluate consider the following:
your goals
your options
your circumstances that affect your ability to take classes
your strengths and weaknesses
your best choice
Write an answer that includes the above factors and explains why you came to the conclusion you reached.