36

James Joyce (1882–1941)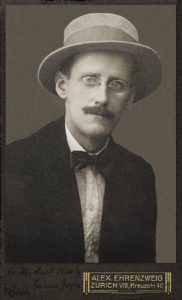 Biography
James Joyce was born in Dublin, Ireland, on February 2, 1882, the eldest of ten surviving children. He was educated by Jesuits at Clongowes Wood College and Belvedere College before going on to University College, then located on St Stephen's Green in Dublin, where he studied modern languages.
After he graduated from university, Joyce went to Paris, ostensibly to study medicine, and was recalled to Dublin in April 1903 because of the illness and subsequent death of his mother. He stayed in Ireland until 1904, and in June that year, he met Nora Barncale, the Galway woman who was to become his partner and later his wife.
In August 1904, the first of Joyce's short stories was published in the Irish Homestead magazine, which later published two others. In October of that year, Joyce and Nora left Ireland, going first to Pola (now Pula, Croatia), where Joyce got a job teaching English at a Berlitz school. Joyce returned to Ireland only four times in his life, the last visit being in 1912, after which he never returned again.
Six months after their arrival in Pola, James and Nola moved to Trieste, Italy, where they spent most of the next ten years. While there, they learned the local Triestine dialect, and Italian remained the family's home language for many years. Joyce wrote and published articles in Italian in the newspaper Il Piccolo della Sera and gave lectures on English literature. A portrait of Nora was painted by the Italian artist Tullio Silvestri in Trieste just before the First World War. The James Joyce Centre in Dublin has on display a reproduction of this portrait.
The year 1914 proved a crucial one for Joyce. With Ezra Pound's assistance, A Portrait of the Artist as a Young Man, Joyce's first novel, appeared in serial form in Harriet Weaver's Egoist magazine in London. His collection of short stories, Dubliners,[1] on which he had been working since 1904, was finally published, and he also wrote his only play, Exiles. Having cleared his desk, Joyce could then start in earnest on the novel he had been thinking about since 1907: Ulysses.
With the start of the First World War, Joyce and Nora, along with their two children, Giorgio and Lucia, were forced to leave Trieste. They moved to Zurich, Switzerland, where they lived for the duration of the war. The family had little money, relying on subventions from friends and family, people like Harriet Weaver in London, and Nora's uncle in Galway. They often ended up living in cramped, squalid accommodation as Joyce persisted in writing Ulysses. In fact, Joyce never really had a room or an office of his own in which to do his writing, and far from trying to block out the world around him while he wrote, Joyce included things going on around him as part of the book. Characteristics of his friends, Trieste, Zurich, and Paris are given to characters in the book, and, most notably, Nora's language and writing style become the voice of Molly Bloom in the novel.
Though Joyce wanted to settle in Trieste again after the war, the poet Ezra Pound persuaded him to come to Paris for a while, and Joyce stayed for the next 20 years. The publication of Ulysses in serial form in the American journal The Little Review was brought to a halt in 1921 when a court banned it as obscene. Shortly after, Harriet Weaver ran out of printers willing to set the text in England, and for a while, it looked as though Ulysses would never be published.
In July 1920, Joyce met Sylvia Beach, an American expatriate living in Paris who owned and ran the bookshop Shakespeare and Copany. In 1921, Beach offered to publish Ulysses and finally, on February 2, 1922, Joyce's 40th birthday, the first edition of the book was published. Beach continued to publish Ulysses through 1930.
After Beach gave up the rights to Ulysses, much of Joyce's business was taken over by Paul Léon, a Russian Jewish émigré living in Paris. As a close friend of Joyce and Joyce's family, Léon also became Joyce's business advisor, looking after his correspondence and dealing with his literary and legal affairs. The Léons' apartment became a centre for Joyce's studies, and Léon and others met Joyce there to discuss translations of Ulysses and the early serial publications of what became Finnegans Wake.
For the next ten years, Joyce and Léon were in almost daily contact, and Léon came to assume a role as necessary and important to Joyce and his work as Sylvia Beach had played in the 1920s. Not only did he manage Joyce's legal, financial, and daily existence, much as Beach had during the years she published Ulysses, Léon played an essential part in the composition and proofreading of Joyce's last and perhaps most challenging work, Finnegans Wake, which was published on May 4, 1939. It was immediately listed as "the book of the week" in the United Kingdom and the United States.
In 1940, when Joyce fled to the south of France ahead of the Nazi invasion, Léon returned to the Joyces' apartment in Paris to salvage their belongings and put them into safekeeping for the duration of the war, and it's thanks to Léon's efforts that much of Joyce's personal possessions and manuscripts survived.
Joyce died just short of age 59 on January 13, 1941, at 2 a.m., in Zurich, where he and his family had been given asylum. He is buried in Fluntern Cemetery, Zurich.
Dubliners: Eveline
She sat at the window[2] watching the evening invade the avenue. Her head was leaned against the window curtains and in her nostrils was the odour of dusty cretonne.[3] She was tired.
Few people passed. The man out of the last house passed on his way home; she heard his footsteps clacking along the concrete pavement and afterwards crunching on the cinder path before the new red houses. One time there used to be a field there in which they used to play every evening with other people's children. Then a man from Belfast bought the field and built houses in it — not like their little brown houses but bright brick houses with shining roofs. The children of the avenue used to play together in that field — the Devines, the Waters, the Dunns, little Keogh the cripple, she and her brothers and sisters. Ernest, however, never played: he was too grown up. Her father used often to hunt them in out of the field with his blackthorn stick; but usually little Keogh used to keep nix and call out when he saw her father coming. Still they seemed to have been rather happy then. Her father was not so bad then; and besides, her mother was alive. That was a long time ago; she and her brothers and sisters were all grown up her mother was dead. Tizzie Dunn was dead, too, and the Waters had gone back to England. Everything changes. Now she was going to go away like the others, to leave her home.
Home! She looked round the room, reviewing all its familiar objects which she had dusted once a week for so many years, wondering where on earth all the dust came from. Perhaps she would never see again those familiar objects from which she had never dreamed of being divided. And yet during all those years she had never found out the name of the priest whose yellowing photograph hung on the wall above the broken harmonium beside the coloured print of the promises made to Blessed Margaret Mary Alacoque.[4] He had been a school friend of her father. Whenever he showed the photograph to a visitor her father used to pass it with a casual word:
"He is in Melbourne now."
She had consented to go away, to leave her home. Was that wise? She tried to weigh each side of the question. In her home anyway she had shelter and food; she had those whom she had known all her life about her. O course she had to work hard, both in the house and at business. What would they say of her in the Stores when they found out that she had run away with a fellow? Say she was a fool, perhaps; and her place would be filled up by advertisement. Miss Gavan would be glad. She had always had an edge on her[5], especially whenever there were people listening.
"Miss Hill, don't you see these ladies are waiting?"
"Look lively, Miss Hill, please."
She would not cry many tears at leaving the Stores.
But in her new home, in a distant unknown country, it would not be like that. Then she would be married — she, Eveline. People would treat her with respect then. She would not be treated as her mother had been. Even now, though she was over nineteen, she sometimes felt herself in danger of her father's violence. She knew it was that that had given her the palpitations. When they were growing up he had never gone for her like he used to go for Harry and Ernest, because she was a girl but latterly he had begun to threaten her and say what he would do to her only for her dead mother's sake. And no she had nobody to protect her. Ernest was dead and Harry, who was in the church decorating business, was nearly always down somewhere in the country. Besides, the invariable squabble for money on Saturday nights had begun to weary her unspeakably. She always gave her entire wages — seven shillings — and Harry always sent up what he could but the trouble was to get any money from her father. He said she used to squander the money, that she had no head, that he wasn't going to give her his hard-earned money to throw about the streets, and much more, for he was usually fairly bad on Saturday night. In the end he would give her the money and ask her had she any intention of buying Sunday's dinner. Then she had to rush out as quickly as she could and do her marketing, holding her black leather purse tightly in her hand as she elbowed her way through the crowds and returning home late under her load of provisions. She had hard work to keep the house together and to see that the two young children who had been left to her charge went to school regularly and got their meals regularly. It was hard work — a hard life — but now that she was about to leave it she did not find it a wholly undesirable life.
She was about to explore another life with Frank. Frank was very kind, manly, open-hearted. She was to go away with him by the night-boat to be his wife and to live with him in Buenos Ayres where he had a home waiting for her. How well she remembered the first time she had seen him; he was lodging in a house on the main road where she used to visit. It seemed a few weeks ago. He was standing at the gate, his peaked cap pushed back on his head and his hair tumbled forward over a face of bronze. Then they had come to know each other. He used to meet her outside the Stores every evening and see her home. He took her to see The Bohemian Girl[6] and she felt elated as she sat in an unaccustomed part of the theatre with him. He was awfully fond of music and sang a little. People knew that they were courting and, when he sang about the lass that loves a sailor, she always felt pleasantly confused. He used to call her Poppens out of fun. First of all it had been an excitement for her to have a fellow and then she had begun to like him. He had tales of distant countries. He had started as a deck boy at a pound a month on a ship of the Allan Line going out to Canada. He told her the names of the ships he had been on and the names of the different services. He had sailed through the Straits of Magellan and he told her stories of the terrible Patagonians. He had fallen on his feet in Buenos Ayres, he said, and had come over to the old country just for a holiday. Of course, her father had found out the affair and had forbidden her to have anything to say to him.
"I know these sailor chaps," he said.
One day he had quarrelled with Frank and after that she had to meet her lover secretly.
The evening deepened in the avenue. The white of two letters in her lap grew indistinct. One was to Harry; the other was to her father. Ernest had been her favourite but she liked Harry too. Her father was becoming old lately, she noticed; he would miss her. Sometimes he could be very nice. Not long before, when she had been laid up for a day, he had read her out a ghost story and made toast for her at the fire. Another day, when their mother was alive, they had all gone for a picnic to the Hill of Howth. She remembered her father putting on her mother's bonnet to make the children laugh.
Her time was running out but she continued to sit by the window, leaning her head against the window curtain, inhaling the odour of dusty cretonne. Down far in the avenue she could hear a street organ playing. She knew the air. Strange that it should come that very night to remind her of the promise to her mother, her promise to keep the home together as long as she could. She remembered the last night of her mother's illness; she was again in the close dark room at the other side of the hall and outside she heard a melancholy air of Italy. The organ-player had been ordered to go away and given sixpence. She remembered her father strutting back into the sickroom saying:
"Damned Italians! coming over here!"
As she mused the pitiful vision of her mother's life laid its spell on the very quick of her being — that life of commonplace sacrifices closing in final craziness. She trembled as she heard again her mother's voice saying constantly with foolish insistence:
"Derevaun Seraun! Derevaun Seraun!"[7]
She stood up in a sudden impulse of terror. Escape! She must escape! Frank would save her. He would give her life, perhaps love, too. But she wanted to live. Why should she be unhappy? She had a right to happiness. Frank would take her in his arms, fold her in his arms. He would save her.
She stood among the swaying crowd in the station at the North Wall.[8] He held her hand and she knew that he was speaking to her, saying something about the passage over and over again. The station was full of soldiers with brown baggages. Through the wide doors of the sheds she caught a glimpse of the black mass of the boat, lying in beside the quay wall, with illumined portholes. She answered nothing. She felt her cheek pale and cold and, out of a maze of distress, she prayed to God to direct her, to show her what was her duty. The boat blew a long mournful whistle into the mist. If she went, tomorrow she would be on the sea with Frank, steaming towards Buenos Ayres. Their passage had been booked. Could she still draw back after all he had done for her? Her distress awoke a nausea in her body and she kept moving her lips in silent fervent prayer.
A bell clanged upon her heart. She felt him seize her hand:
"Come!"
All the seas of the world tumbled about her heart. He was drawing her into them: he would drown her. She gripped with both hands at the iron railing.
"Come!"
No! No! No! It was impossible. Her hands clutched the iron in frenzy. Amid the seas she sent a cry of anguish.
"Eveline! Evvy!"
He rushed beyond the barrier and called to her to follow. He was shouted at to go on but he still called to her. She set her white face to him, passive, like a helpless animal. Her eyes gave him no sign of love or farewell or recognition.
Dubliners: Araby
North Richmond Street being blind[9], was a quiet street except at the hour when the Christian Brothers' School set the boys free. An uninhabited house of two storeys stood at the blind end, detached from its neighbours in a square ground The other houses of the street, conscious of decent lives within them, gazed at one another with brown imperturbable faces.
The former tenant of our house, a priest, had died in the back drawing-room. Air, musty from having been long enclosed, hung in all the rooms, and the waste room behind the kitchen was littered with old useless papers. Among these I found a few paper-covered books, the pages of which were curled and damp: The Abbot,[10] by Walter Scott, The Devout Communicant [11]and The Memoirs of Vidocq.[12] I liked the last best because its leaves were yellow. The wild garden behind the house contained a central apple-tree and a few straggling bushes under one of which I found the late tenant's rusty bicycle-pump. He had been a very charitable priest; in his will he had left all his money to institutions and the furniture of his house to his sister.
When the short days of winter came dusk fell before we had well eaten our dinners. When we met in the street the houses had grown sombre. The space of sky above us was the colour of ever-changing violet and towards it the lamps of the street lifted their feeble lanterns. The cold air stung us and we played till our bodies glowed. Our shouts echoed in the silent street. The career of our play brought us through the dark muddy lanes behind the houses where we ran the gauntlet of the rough tribes from the cottages[13], to the back doors of the dark dripping gardens where odours arose from the ashpits, to the dark odorous stables where a coachman smoothed and combed the horse or shook music from the buckled harness. When we returned to the street light from the kitchen windows had filled the areas. If my uncle was seen turning the corner we hid in the shadow until we had seen him safely housed. Or if Mangan's sister came out on the doorstep to call her brother in to his tea we watched her from our shadow peer up and down the street. We waited to see whether she would remain or go in and, if she remained, we left our shadow and walked up to Mangan's steps resignedly. She was waiting for us, her figure defined by the light from the half-opened door. Her brother always teased her before he obeyed and I stood by the railings looking at her. Her dress swung as she moved her body and the soft rope of her hair tossed from side to side.
Every morning I lay on the floor in the front parlour watching her door. The blind was pulled down to within an inch of the sash so that I could not be seen. When she came out on the doorstep my heart leaped. I ran to the hall, seized my books and followed her. I kept her brown figure always in my eye and, when we came near the point at which our ways diverged, I quickened my pace and passed her. This happened morning after morning. I had never spoken to her, except for a few casual words, and yet her name was like a summons to all my foolish blood.
Her image accompanied me even in places the most hostile to romance. On Saturday evenings when my aunt went marketing I had to go to carry some of the parcels. We walked through the flaring streets, jostled by drunken men and bargaining women, amid the curses of labourers, the shrill litanies of shop-boys who stood on guard by the barrels of pigs' cheeks, the nasal chanting of street-singers, who sang a come-all-you[14] about O'Donovan Rossa, or a ballad about the troubles in our native land. These noises converged in a single sensation of life for me: I imagined that I bore my chalice safely through a throng of foes. Her name sprang to my lips at moments in strange prayers and praises which I myself did not understand. My eyes were often full of tears (I could not tell why) and at times a flood from my heart seemed to pour itself out into my bosom. I thought little of the future. I did not know whether I would ever speak to her or not or, if I spoke to her, how I could tell her of my confused adoration. But my body was like a harp and her words and gestures were like fingers running upon the wires.
One evening I went into the back drawing-room in which the priest had died. It was a dark rainy evening and there was no sound in the house. Through one of the broken panes I heard the rain impinge upon the earth, the fine incessant needles of water playing in the sodden beds. Some distant lamp or lighted window gleamed below me. I was thankful that I could see so little. All my senses seemed to desire to veil themselves and, feeling that I was about to slip from them, I pressed the palms of my hands together until they trembled, murmuring: "O love! O love!" many times.
At last she spoke to me. When she addressed the first words to me I was so confused that I did not know what to answer. She asked me was I going to Araby.[15] I forgot whether I answered yes or no. It would be a splendid bazaar, she said she would love to go.
"And why can't you?" I asked.
While she spoke she turned a silver bracelet round and round her wrist. She could not go, she said, because there would be a retreat that week in her convent. Her brother and two other boys were fighting for their caps and I was alone at the railings. She held one of the spikes, bowing her head towards me. The light from the lamp opposite our door caught the white curve of her neck, lit up her hair that rested there and, falling, lit up the hand upon the railing. It fell over one side of her dress and caught the white border of a petticoat, just visible as she stood at ease.
"It's well for you," she said.
"If I go," I said, "I will bring you something."
What innumerable follies laid waste my waking and sleeping thoughts after that evening! I wished to annihilate the tedious intervening days. I chafed against the work of school. At night in my bedroom and by day in the classroom her image came between me and the page I strove to read. The syllables of the word Araby were called to me through the silence in which my soul luxuriated and cast an Eastern enchantment over me. I asked for leave to go to the bazaar on Saturday night. My aunt was surprised and hoped it was not some Freemason[16] affair. I answered few questions in class. I watched my master's face pass from amiability to sternness; he hoped I was not beginning to idle. I could not call my wandering thoughts together. I had hardly any patience with the serious work of life which, now that it stood between me and my desire, seemed to me child's play, ugly monotonous child's play.
On Saturday morning I reminded my uncle that I wished to go to the bazaar in the evening. He was fussing at the hallstand, looking for the hat-brush, and answered me curtly:
"Yes, boy, I know."
As he was in the hall I could not go into the front parlour and lie at the window. I left the house in bad humour and walked slowly towards the school. The air was pitilessly raw and already my heart misgave me.
When I came home to dinner my uncle had not yet been home. Still it was early. I sat staring at the clock for some time and. when its ticking began to irritate me, I left the room. I mounted the staircase and gained the upper part of the house. The high cold empty gloomy rooms liberated me and I went from room to room singing. From the front window I saw my companions playing below in the street. Their cries reached me weakened and indistinct and, leaning my forehead against the cool glass, I looked over at the dark house where she lived. I may have stood there for an hour, seeing nothing but the brown-clad figure cast by my imagination, touched discreetly by the lamplight at the curved neck, at the hand upon the railings and at the border below the dress.
When I came downstairs again I found Mrs. Mercer sitting at the fire. She was an old garrulous woman, a pawnbroker's widow, who collected used stamps for some pious purpose. I had to endure the gossip of the tea-table. The meal was prolonged beyond an hour and still my uncle did not come. Mrs. Mercer stood up to go: she was sorry she couldn't wait any longer, but it was after eight o'clock and she did not like to be out late as the night air was bad for her. When she had gone I began to walk up and down the room, clenching my fists. My aunt said:
"I'm afraid you may put off your bazaar for this night of Our Lord."
At nine o'clock I heard my uncle's latchkey in the halldoor. I heard him talking to himself and heard the hallstand rocking when it had received the weight of his overcoat. I could interpret these signs. When he was midway through his dinner I asked him to give me the money to go to the bazaar. He had forgotten.
"The people are in bed and after their first sleep now," he said.
I did not smile. My aunt said to him energetically:
"Can't you give him the money and let him go? You've kept him late enough as it is."
My uncle said he was very sorry he had forgotten. He said he believed in the old saying: "All work and no play makes Jack a dull boy." He asked me where I was going and, when I had told him a second time he asked me did I know The Arab's Farewell to his Steed.[17] When I left the kitchen he was about to recite the opening lines of the piece to my aunt.
I held a florin[18] tightly in my hand as I strode down Buckingham Street towards the station. The sight of the streets thronged with buyers and glaring with gas recalled to me the purpose of my journey. I took my seat in a third-class carriage of a deserted train. After an intolerable delay the train moved out of the station slowly. It crept onward among ruinous house and over the twinkling river. At Westland Row Station a crowd of people pressed to the carriage doors; but the porters moved them back, saying that it was a special train for the bazaar. I remained alone in the bare carriage. In a few minutes the train drew up beside an improvised wooden platform. I passed out on to the road and saw by the lighted dial of a clock that it was ten minutes to ten. In front of me was a large building which displayed the magical name.
I could not find any sixpenny entrance and, fearing that the bazaar would be closed, I passed in quickly through a turnstile, handing a shilling to a weary-looking man. I found myself in a big hall girdled at half its height by a gallery. Nearly all the stalls were closed and the greater part of the hall was in darkness. I recognised a silence like that which pervades a church after a service. I walked into the centre of the bazaar timidly. A few people were gathered about the stalls which were still open. Before a curtain, over which the words Cafe Chantant[19] were written in coloured lamps, two men were counting money on a salver. I listened to the fall of the coins.[20]
Remembering with difficulty why I had come I went over to one of the stalls and examined porcelain vases and flowered tea-sets. At the door of the stall a young lady was talking and laughing with two young gentlemen. I remarked their English accents and listened vaguely to their conversation.
"O, I never said such a thing!"
"O, but you did!"
"O, but I didn't!"
"Didn't she say that?"
"Yes. I heard her."
"O, there's a . . . fib!"
Observing me the young lady came over and asked me did I wish to buy anything. The tone of her voice was not encouraging; she seemed to have spoken to me out of a sense of duty. I looked humbly at the great jars that stood like eastern guards at either side of the dark entrance to the stall and murmured:
"No, thank you."
The young lady changed the position of one of the vases and went back to the two young men. They began to talk of the same subject. Once or twice the young lady glanced at me over her shoulder.
I lingered before her stall, though I knew my stay was useless, to make my interest in her wares seem the more real. Then I turned away slowly and walked down the middle of the bazaar. I allowed the two pennies to fall against the sixpence in my pocket. I heard a voice call from one end of the gallery that the light was out. The upper part of the hall was now completely dark.
Gazing up into the darkness I saw myself as a creature driven and derided by vanity; and my eyes burned with anguish and anger.
Dubliners: After the Race
The cars came scudding in towards Dublin, running evenly like pellets in the groove of the Naas Road.[21] At the crest of the hill at Inchicore[22] sightseers had gathered in clumps to watch the cars careering homeward and through this channel of poverty and inaction the Continent sped its wealth and industry. Now and again the clumps of people raised the cheer of the gratefully oppressed. Their sympathy, however, was for the blue cars — the cars of their friends, the French.[23]
The French, moreover, were virtual victors. Their team had finished solidly; they had been placed second and third and the driver of the winning German car was reported a Belgian. Each blue car, therefore, received a double measure of welcome as it topped the crest of the hill and each cheer of welcome was acknowledged with smiles and nods by those in the car. In one of these trimly built cars was a party of four young men whose spirits seemed to be at present well above the level of successful Gallicism: in fact, these four young men were almost hilarious. They were Charles Ségouin, the owner of the car; André Rivière, a young electrician of Canadian birth; a huge Hungarian named Villona and a neatly groomed young man named Doyle. Ségouin was in good humour because he had unexpectedly received some orders in advance (he was about to start a motor establishment in Paris) and Rivière was in good humour because he was to be appointed manager of the establishment; these two young men (who were cousins) were also in good humour because of the success of the French cars. Villona was in good humour because he had had a very satisfactory luncheon; and besides he was an optimist by nature. The fourth member of the party, however, was too excited to be genuinely happy.
He was about twenty-six years of age, with a soft, light brown moustache and rather innocent-looking grey eyes. His father, who had begun life as an advanced Nationalist,[24] had modified his views early. He had made his money as a butcher in Kingstown and by opening shops in Dublin and in the suburbs he had made his money many times over. He had also been fortunate enough to secure some of the police contracts and in the end he had become rich enough to be alluded to in the Dublin newspapers as a merchant prince. He had sent his son to England to be educated in a big Catholic college and had afterwards sent him to Dublin University to study law. Jimmy did not study very earnestly and took to bad courses for a while. He had money and he was popular; and he divided his time curiously between musical and motoring circles. Then he had been sent for a term to Cambridge to see a little life. His father, remonstrative, but covertly proud of the excess, had paid his bills and brought him home. It was at Cambridge that he had met Ségouin. They were not much more than acquaintances as yet but Jimmy found great pleasure in the society of one who had seen so much of the world and was reputed to own some of the biggest hotels in France. Such a person (as his father agreed) was well worth knowing, even if he had not been the charming companion he was. Villona was entertaining also — a brilliant pianist — but, unfortunately, very poor.
The car ran on merrily with its cargo of hilarious youth. The two cousins sat on the front seat; Jimmy and his Hungarian friend sat behind. Decidedly Villona was in excellent spirits; he kept up a deep bass hum of melody for miles of the road. The Frenchmen flung their laughter and light words over their shoulders and often Jimmy had to strain forward to catch the quick phrase. This was not altogether pleasant for him, as he had nearly always to make a deft guess at the meaning and shout back a suitable answer in the face of a high wind. Besides Villona's humming would confuse anybody; the noise of the car, too.
Rapid motion through space elates one; so does notoriety; so does the possession of money. These were three good reasons for Jimmy's excitement. He had been seen by many of his friends that day in the company of these Continentals. At the control[25] Ségouin had presented him to one of the French competitors and, in answer to his confused murmur of compliment, the swarthy face of the driver had disclosed a line of shining white teeth. It was pleasant after that honour to return to the profane world of spectators amid nudges and significant looks. Then as to money — he really had a great sum under his control. Ségouin, perhaps, would not think it a great sum but Jimmy who, in spite of temporary errors, was at heart the inheritor of solid instincts, knew well with what difficulty it had been got together. This knowledge had previously kept his bills within the limits of reasonable recklessness, and if he had been so conscious of the labour latent in money when there had been question merely of some freak of the higher intelligence, how much more so now when he was about to stake the greater part of his substance! It was a serious thing for him.
Of course, the investment was a good one and Ségouin had managed to give the impression that it was by a favour of friendship the mite of Irish money was to be included in the capital of the concern. Jimmy had a respect for his father's shrewdness in business matters and in this case it had been his father who had first suggested the investment; money to be made in the motor business, pots of money. Moreover Ségouin had the unmistakable air of wealth. Jimmy set out to translate into days' work that lordly car in which he sat. How smoothly it ran. In what style they had come careering along the country roads! The journey laid a magical finger on the genuine pulse of life and gallantly the machinery of human nerves strove to answer the bounding courses of the swift blue animal.
They drove down Dame Street. The street was busy with unusual traffic, loud with the horns of motorists and the gongs of impatient tram-drivers. Near the Bank[26] Ségouin drew up and Jimmy and his friend alighted. A little knot of people collected on the footpath to pay homage to the snorting motor. The party was to dine together that evening in Ségouin's hotel and, meanwhile, Jimmy and his friend, who was staying with him, were to go home to dress. The car steered out slowly for Grafton Street[27] while the two young men pushed their way through the knot of gazers. They walked northward with a curious feeling of disappointment in the exercise, while the city hung its pale globes of light above them in a haze of summer evening.
In Jimmy's house this dinner had been pronounced an occasion. A certain pride mingled with his parents' trepidation, a certain eagerness, also, to play fast and loose for the names of great foreign cities have at least this virtue. Jimmy, too, looked very well when he was dressed and, as he stood in the hall giving a last equation to the bows of his dress tie, his father may have felt even commercially satisfied at having secured for his son qualities often unpurchaseable. His father, therefore, was unusually friendly with Villona and his manner expressed a real respect for foreign accomplishments; but this subtlety of his host was probably lost upon the Hungarian, who was beginning to have a sharp desire for his dinner.
The dinner was excellent, exquisite. Ségouin, Jimmy decided, had a very refined taste. The party was increased by a young Englishman named Routh whom Jimmy had seen with Ségouin at Cambridge. The young men supped in a snug room lit by electric candle lamps. They talked volubly and with little reserve. Jimmy, whose imagination was kindling, conceived the lively youth of the Frenchmen twined elegantly upon the firm framework of the Englishman's manner. A graceful image of his, he thought, and a just one. He admired the dexterity with which their host directed the conversation. The five young men had various tastes and their tongues had been loosened. Villona, with immense respect, began to discover to the mildly surprised Englishman the beauties of the English madrigal, deploring the loss of old instruments. Rivière, not wholly ingenuously, undertook to explain to Jimmy the triumph of the French mechanicians. The resonant voice of the Hungarian was about to prevail in ridicule of the spurious lutes of the romantic painters when Ségouin shepherded his party into politics. Here was congenial ground for all. Jimmy, under generous influences, felt the buried zeal of his father wake to life within him: he aroused the torpid Routh at last. The room grew doubly hot and Ségouin's task grew harder each moment: there was even danger of personal spite. The alert host at an opportunity lifted his glass to Humanity and, when the toast had been drunk, he threw open a window significantly.
That night the city wore the mask of a capital. The five young men strolled along Stephen's Green in a faint cloud of aromatic smoke. They talked loudly and gaily and their cloaks dangled from their shoulders. The people made way for them. At the corner of Grafton Street a short fat man was putting two handsome ladies on a car in charge of another fat man. The car drove off and the short fat man caught sight of the party.
"André."
"It's Farley!"
A torrent of talk followed. Farley was an American. No one knew very well what the talk was about. Villona and Rivière were the noisiest, but all the men were excited. They got up on a car, squeezing themselves together amid much laughter. They drove by the crowd, blended now into soft colours, to a music of merry bells. They took the train at Westland Row and in a few seconds, as it seemed to Jimmy, they were walking out of Kingstown Station. The ticket-collector saluted Jimmy; he was an old man:
"Fine night, sir!"
It was a serene summer night; the harbour lay like a darkened mirror at their feet. They proceeded towards it with linked arms, singing Cadet Roussel[28] in chorus, stamping their feet at every:
"Ho! Ho! Hohé, vraiment!"
They got into a rowboat at the slip and made out for the American's yacht. There was to be supper, music, cards. Villona said with conviction:
"It is delightful!"
There was a yacht piano in the cabin. Villona played a waltz for Farley and Rivière, Farley acting as cavalier and Rivière as lady. Then an impromptu square dance, the men devising original figures. What merriment! Jimmy took his part with a will; this was seeing life, at least. Then Farley got out of breath and cried "Stop!" A man brought in a light supper, and the young men sat down to it for form's sake. They drank, however: it was Bohemian. They drank Ireland, England, France, Hungary, the United States of America. Jimmy made a speech, a long speech, Villona saying: "Hear! hear!" whenever there was a pause. There was a great clapping of hands when he sat down. It must have been a good speech. Farley clapped him on the back and laughed loudly. What jovial fellows! What good company they were!
Cards! cards! The table was cleared. Villona returned quietly to his piano and played voluntaries for them. The other men played game after game, flinging themselves boldly into the adventure. They drank the health of the Queen of Hearts and of the Queen of Diamonds. Jimmy felt obscurely the lack of an audience: the wit was flashing. Play ran very high and paper began to pass. Jimmy did not know exactly who was winning but he knew that he was losing. But it was his own fault for he frequently mistook his cards and the other men had to calculate his I.O.U.'s for him. They were devils of fellows but he wished they would stop: it was getting late. Someone gave the toast of the yacht The Belle of Newport and then someone proposed one great game for a finish.
The piano had stopped; Villona must have gone up on deck. It was a terrible game. They stopped just before the end of it to drink for luck. Jimmy understood that the game lay between Routh and Ségouin. What excitement! Jimmy was excited too; he would lose, of course. How much had he written away? The men rose to their feet to play the last tricks, talking and gesticulating. Routh won. The cabin shook with the young men's cheering and the cards were bundled together. They began then to gather in what they had won. Farley and Jimmy were the heaviest losers.
He knew that he would regret in the morning but at present he was glad of the rest, glad of the dark stupor that would cover up his folly. He leaned his elbows on the table and rested his head between his hands, counting the beats of his temples. The cabin door opened and he saw the Hungarian standing in a shaft of grey light:
"Daybreak, gentlemen!"
Dubliners: Counterparts
The bell rang furiously and, when Miss Parker went to the tube,[29] a furious voice called out in a piercing North of Ireland accent:
"Send Farrington here!"
Miss Parker returned to her machine, saying to a man who was writing at a desk:
"Mr. Alleyne wants you upstairs."
The man muttered "Blast him!" under his breath and pushed back his chair to stand up. When he stood up he was tall and of great bulk. He had a hanging face, dark wine-coloured, with fair eyebrows and moustache: his eyes bulged forward slightly and the whites of them were dirty. He lifted up the counter and, passing by the clients, went out of the office with a heavy step.
He went heavily upstairs until he came to the second landing, where a door bore a brass plate with the inscription Mr. Alleyne. Here he halted, puffing with labour and vexation, and knocked. The shrill voice cried:
"Come in!"
The man entered Mr. Alleyne's room. Simultaneously Mr. Alleyne, a little man wearing gold-rimmed glasses on a cleanshaven face, shot his head up over a pile of documents. The head itself was so pink and hairless it seemed like a large egg reposing on the papers. Mr. Alleyne did not lose a moment:
"Farrington? What is the meaning of this? Why have I always to complain of you? May I ask you why you haven't made a copy of that contract between Bodley and Kirwan? I told you it must be ready by four o'clock."
"But Mr. Shelley said, sir ——"
"Mr. Shelley said, sir . . . . Kindly attend to what I say and not to what Mr. Shelley says, sir. You have always some excuse or another for shirking work. Let me tell you that if the contract is not copied before this evening I'll lay the matter before Mr. Crosbie. . . . Do you hear me now?"
"Yes, sir."
"Do you hear me now? . . . Ay and another little matter! I might as well be talking to the wall as talking to you. Understand once for all that you get a half an hour for your lunch and not an hour and a half. How many courses do you want, I'd like to know. . . . Do you mind me now?"
"Yes, sir."
Mr. Alleyne bent his head again upon his pile of papers. The man stared fixedly at the polished skull which directed the affairs of Crosbie & Alleyne, gauging its fragility. A spasm of rage gripped his throat for a few moments and then passed, leaving after it a sharp sensation of thirst. The man recognised the sensation and felt that he must have a good night's drinking. The middle of the month was passed and, if he could get the copy done in time, Mr. Alleyne might give him an order on the cashier. He stood still, gazing fixedly at the head upon the pile of papers. Suddenly Mr. Alleyne began to upset all the papers, searching for something. Then, as if he had been unaware of the man's presence till that moment, he shot up his head again, saying:
"Eh? Are you going to stand there all day? Upon my word, Farrington, you take things easy!"
"I was waiting to see . . . "
"Very good, you needn't wait to see. Go downstairs and do your work."
The man walked heavily towards the door and, as he went out of the room, he heard Mr. Alleyne cry after him that if the contract was not copied by evening Mr. Crosbie would hear of the matter.
He returned to his desk in the lower office and counted the sheets which remained to be copied. He took up his pen and dipped it in the ink but he continued to stare stupidly at the last words he had written: In no case shall the said Bernard Bodley be . . . The evening was falling and in a few minutes they would be lighting the gas: then he could write. He felt that he must slake the thirst in his throat. He stood up from his desk and, lifting the counter as before, passed out of the office. As he was passing out the chief clerk looked at him inquiringly.
"It's all right, Mr. Shelley," said the man, pointing with his finger to indicate the objective of his journey.
The chief clerk glanced at the hat-rack, but, seeing the row complete, offered no remark. As soon as he was on the landing the man pulled a shepherd's plaid cap out of his pocket, put it on his head and ran quickly down the rickety stairs. From the street door he walked on furtively on the inner side of the path towards the corner and all at once dived into a doorway. He was now safe in the dark snug of O'Neill's shop, and filling up the little window that looked into the bar with his inflamed face, the colour of dark wine or dark meat, he called out:
"Here, Pat, give us a g.p.[30], like a good fellow."
The curate brought him a glass of plain porter. The man drank it at a gulp and asked for a caraway seed. He put his penny on the counter and, leaving the curate to grope for it in the gloom, retreated out of the snug as furtively as he had entered it.
Darkness, accompanied by a thick fog, was gaining upon the dusk of February and the lamps in Eustace Street had been lit. The man went up by the houses until he reached the door of the office, wondering whether he could finish his copy in time. On the stairs a moist pungent odour of perfumes saluted his nose: evidently Miss Delacour had come while he was out in O'Neill's. He crammed his cap back again into his pocket and re-entered the office, assuming an air of absent-mindedness.
"Mr. Alleyne has been calling for you," said the chief clerk severely. "Where were you?"
The man glanced at the two clients who were standing at the counter as if to intimate that their presence prevented him from answering. As the clients were both male the chief clerk allowed himself a laugh.
"I know that game," he said. "Five times in one day is a little bit . . . Well, you better look sharp and get a copy of our correspondence in the Delacour case for Mr. Alleyne."
This address in the presence of the public, his run upstairs and the porter he had gulped down so hastily confused the man and, as he sat down at his desk to get what was required, he realised how hopeless was the task of finishing his copy of the contract before half past five. The dark damp night was coming and he longed to spend it in the bars, drinking with his friends amid the glare of gas and the clatter of glasses. He got out the Delacour correspondence and passed out of the office. He hoped Mr. Alleyne would not discover that the last two letters were missing.
The moist pungent perfume lay all the way up to Mr. Alleyne's room. Miss Delacour was a middle-aged woman of Jewish appearance. Mr. Alleyne was said to be sweet on her or on her money. She came to the office often and stayed a long time when she came. She was sitting beside his desk now in an aroma of perfumes, smoothing the handle of her umbrella and nodding the great black feather in her hat. Mr. Alleyne had swivelled his chair round to face her and thrown his right foot jauntily upon his left knee. The man put the correspondence on the desk and bowed respectfully but neither Mr. Alleyne nor Miss Delacour took any notice of his bow. Mr. Alleyne tapped a finger on the correspondence and then flicked it towards him as if to say: "That's all right: you can go."
The man returned to the lower office and sat down again at his desk. He stared intently at the incomplete phrase: In no case shall the said Bernard Bodley be . . . and thought how strange it was that the last three words began with the same letter. The chief clerk began to hurry Miss Parker, saying she would never have the letters typed in time for post. The man listened to the clicking of the machine for a few minutes and then set to work to finish his copy. But his head was not clear and his mind wandered away to the glare and rattle of the public-house. It was a night for hot punches. He struggled on with his copy, but when the clock struck five he had still fourteen pages to write. Blast it! He couldn't finish it in time. He longed to execrate aloud, to bring his fist down on something violently. He was so enraged that he wrote Bernard Bernard instead of Bernard Bodley and had to begin again on a clean sheet.
He felt strong enough to clear out the whole office single-handed. His body ached to do something, to rush out and revel in violence. All the indignities of his life enraged him. . . . Could he ask the cashier privately for an advance? No, the cashier was no good, no damn good: he wouldn't give an advance. . . . He knew where he would meet the boys: Leonard and O'Halloran and Nosey Flynn. The barometer of his emotional nature was set for a spell of riot.
His imagination had so abstracted him that his name was called twice before he answered. Mr. Alleyne and Miss Delacour were standing outside the counter and all the clerks had turn round in anticipation of something. The man got up from his desk. Mr. Alleyne began a tirade of abuse, saying that two letters were missing. The man answered that he knew nothing about them, that he had made a faithful copy. The tirade continued: it was so bitter and violent that the man could hardly restrain his fist from descending upon the head of the manikin[31] before him:
"I know nothing about any other two letters," he said stupidly.
"You — know — nothing. Of course you know nothing," said Mr. Alleyne. "Tell me," he added, glancing first for approval to the lady beside him, "do you take me for a fool? Do you think me an utter fool?"
The man glanced from the lady's face to the little egg-shaped head and back again; and, almost before he was aware of it, his tongue had found a felicitous moment:
"I don't think, sir," he said, "that that's a fair question to put to me."
There was a pause in the very breathing of the clerks. Everyone was astounded (the author of the witticism no less than his neighbours) and Miss Delacour, who was a stout amiable person, began to smile broadly. Mr. Alleyne flushed to the hue of a wild rose and his mouth twitched with a dwarf's passion. He shook his fist in the man's face till it seemed to vibrate like the knob of some electric machine:
"You impertinent ruffian! You impertinent ruffian! I'll make short work of you! Wait till you see! You'll apologise to me for your impertinence or you'll quit the office instanter! You'll quit this, I'm telling you, or you'll apologise to me!"
He stood in a doorway opposite the office watching to see if the cashier would come out alone. All the clerks passed out and finally the cashier came out with the chief clerk. It was no use trying to say a word to him when he was with the chief clerk. The man felt that his position was bad enough. He had been obliged to offer an abject apology to Mr. Alleyne for his impertinence but he knew what a hornet's nest the office would be for him. He could remember the way in which Mr. Alleyne had hounded little Peake out of the office in order to make room for his own nephew. He felt savage and thirsty and revengeful, annoyed with himself and with everyone else. Mr. Alleyne would never give him an hour's rest; his life would be a hell to him. He had made a proper fool of himself this time. Could he not keep his tongue in his cheek? But they had never pulled together from the first, he and Mr. Alleyne, ever since the day Mr. Alleyne had overheard him mimicking his North of Ireland accent to amuse Higgins and Miss Parker: that had been the beginning of it. He might have tried Higgins for the money, but sure Higgins never had anything for himself. A man with two establishments to keep up, of course he couldn't. . . .
He felt his great body again aching for the comfort of the public-house. The fog had begun to chill him and he wondered could he touch Pat in O'Neill's. He could not touch him for more than a bob[32] — and a bob was no use. Yet he must get money somewhere or other: he had spent his last penny for the g.p. and soon it would be too late for getting money anywhere. Suddenly, as he was fingering his watch-chain, he thought of Terry Kelly's pawn-office in Fleet Street. That was the dart! Why didn't he think of it sooner?
He went through the narrow alley of Temple Bar quickly, muttering to himself that they could all go to hell because he was going to have a good night of it. The clerk in Terry Kelly's said A crown! [33] but the consignor held out for six shillings; and in the end the six shillings was allowed him literally. He came out of the pawn-office joyfully, making a little cylinder, of the coins between his thumb and fingers. In Westmoreland Street the footpaths were crowded with young men and women returning from business and ragged urchins ran here and there yelling out the names of the evening editions. The man passed through the crowd, looking on the spectacle generally with proud satisfaction and staring masterfully at the office-girls. His head was full of the noises of tram-gongs and swishing trolleys and his nose already sniffed the curling fumes punch. As he walked on he preconsidered the terms in which he would narrate the incident to the boys:
"So, I just looked at him — coolly, you know, and looked at her. Then I looked back at him again — taking my time, you know. 'I don't think that that's a fair question to put to me,' says I."
Nosey Flynn was sitting up in his usual corner of Davy Byrne's and, when he heard the story, he stood Farrington a half-one, saying it was as smart a thing as ever he heard. Farrington stood a drink in his turn. After a while O'Halloran and Paddy Leonard came in and the story was repeated to them. O'Halloran stood tailors of malt, hot, all round and told the story of the retort he had made to the chief clerk when he was in Callan's of Fownes's Street; but, as the retort was after the manner of the liberal shepherds in the eclogues[34], he had to admit that it was not as clever as Farrington's retort. At this Farrington told the boys to polish off that and have another.
Just as they were naming their poisons who should come in but Higgins! Of course he had to join in with the others. The men asked him to give his version of it, and he did so with great vivacity for the sight of five small hot whiskies was very exhilarating. Everyone roared laughing when he showed the way in which Mr. Alleyne shook his fist in Farrington's face. Then he imitated Farrington, saying, "And here was my nabs, as cool as you please," while Farrington looked at the company out of his heavy dirty eyes, smiling and at times drawing forth stray drops of liquor from his moustache with the aid of his lower lip.
When that round was over there was a pause. O'Halloran had money but neither of the other two seemed to have any; so the whole party left the shop somewhat regretfully. At the corner of Duke Street Higgins and Nosey Flynn bevelled off to the left while the other three turned back towards the city. Rain was drizzling down on the cold streets and, when they reached the Ballast Office, Farrington suggested the Scotch House. The bar was full of men and loud with the noise of tongues and glasses. The three men pushed past the whining matchsellers at the door and formed a little party at the corner of the counter. They began to exchange stories. Leonard introduced them to a young fellow named Weathers who was performing at the Tivoli as an acrobat and knockabout artiste. Farrington stood a drink all round. Weathers said he would take a small Irish and Apollinaris[35]. Farrington, who had definite notions of what was what, asked the boys would they have an Apollinaris too; but the boys told Tim to make theirs hot. The talk became theatrical. O'Halloran stood a round and then Farrington stood another round, Weathers protesting that the hospitality was too Irish. He promised to get them in behind the scenes and introduce them to some nice girls. O'Halloran said that he and Leonard would go, but that Farrington wouldn't go because he was a married man; and Farrington's heavy dirty eyes leered at the company in token that he understood he was being chaffed. Weathers made them all have just one little tincture at his expense and promised to meet them later on at Mulligan's in Poolbeg Street.
When the Scotch House closed they went round to Mulligan's. They went into the parlour at the back and O'Halloran ordered small hot specials all round. They were all beginning to feel mellow. Farrington was just standing another round when Weathers came back. Much to Farrington's relief he drank a glass of bitter this time. Funds were getting low but they had enough to keep them going. Presently two young women with big hats and a young man in a check suit came in and sat at a table close by. Weathers saluted them and told the company that they were out of the Tivoli.[36] Farrington's eyes wandered at every moment in the direction of one of the young women. There was something striking in her appearance. An immense scarf of peacock-blue muslin was wound round her hat and knotted in a great bow under her chin; and she wore bright yellow gloves, reaching to the elbow. Farrington gazed admiringly at the plump arm which she moved very often and with much grace; and when, after a little time, she answered his gaze he admired still more her large dark brown eyes. The oblique staring expression in them fascinated him. She glanced at him once or twice and, when the party was leaving the room, she brushed against his chair and said "O, pardon!" in a London accent. He watched her leave the room in the hope that she would look back at him, but he was disappointed. He cursed his want of money and cursed all the rounds he had stood, particularly all the whiskies and Apollinaris which he had stood to Weathers. If there was one thing that he hated it was a sponge. He was so angry that he lost count of the conversation of his friends.
When Paddy Leonard called him he found that they were talking about feats of strength. Weathers was showing his biceps muscle to the company and boasting so much that the other two had called on Farrington to uphold the national honour. Farrington pulled up his sleeve accordingly and showed his biceps muscle to the company. The two arms were examined and compared and finally it was agreed to have a trial of strength. The table was cleared and the two men rested their elbows on it, clasping hands. When Paddy Leonard said "Go!" each was to try to bring down the other's hand on to the table. Farrington looked very serious and determined.
The trial began. After about thirty seconds Weathers brought his opponent's hand slowly down on to the table. Farrington's dark wine-coloured face flushed darker still with anger and humiliation at having been defeated by such a stripling.
"You're not to put the weight of your body behind it. Play fair," he said.
"Who's not playing fair?" said the other.
"Come on again. The two best out of three."
The trial began again. The veins stood out on Farrington's forehead, and the pallor of Weathers' complexion changed to peony. Their hands and arms trembled under the stress. After a long struggle Weathers again brought his opponent's hand slowly on to the table. There was a murmur of applause from the spectators. The curate, who was standing beside the table, nodded his red head towards the victor and said with stupid familiarity:
"Ah! that's the knack!"
"What the hell do you know about it?" said Farrington fiercely, turning on the man. "What do you put in your gab for?"
"Sh, sh!" said O'Halloran, observing the violent expression of Farrington's face. "Pony up, boys. We'll have just one little smahan more and then we'll be off."
A very sullen-faced man stood at the corner of O'Connell Bridge waiting for the little Sandymount tram to take him home. He was full of smouldering anger and revengefulness. He felt humiliated and discontented; he did not even feel drunk; and he had only twopence in his pocket. He cursed everything. He had done for himself in the office, pawned his watch, spent all his money; and he had not even got drunk. He began to feel thirsty again and he longed to be back again in the hot reeking public-house. He had lost his reputation as a strong man, having been defeated twice by a mere boy. His heart swelled with fury and, when he thought of the woman in the big hat who had brushed against him and said Pardon! his fury nearly choked him.
His tram let him down at Shelbourne Road and he steered his great body along in the shadow of the wall of the barracks. He loathed returning to his home. When he went in by the side-door he found the kitchen empty and the kitchen fire nearly out. He bawled upstairs:
"Ada! Ada!"
His wife was a little sharp-faced woman who bullied her husband when he was sober and was bullied by him when he was drunk. They had five children. A little boy came running down the stairs.
"Who is that?" said the man, peering through the darkness.
"Me, pa."
"Who are you? Charlie?"
"No, pa. Tom."
"Where's your mother?"
"She's out at the chapel."
"That's right. . . . Did she think of leaving any dinner for me?"
"Yes, pa. I—"
"Light the lamp. What do you mean by having the place in darkness? Are the other children in bed?"
The man sat down heavily on one of the chairs while the little boy lit the lamp. He began to mimic his son's flat accent, saying half to himself: "At the chapel. At the chapel, if you please!" When the lamp was lit he banged his fist on the table and shouted:
"What's for my dinner?"
"I'm going . . . to cook it, pa," said the little boy.
The man jumped up furiously and pointed to the fire.
"On that fire! You let the fire out! By God, I'll teach you to do that again!"
He took a step to the door and seized the walking-stick which was standing behind it.
"I'll teach you to let the fire out!" he said, rolling up his sleeve in order to give his arm free play.
The little boy cried "O, pa!" and ran whimpering round the table, but the man followed him and caught him by the coat. The little boy looked about him wildly but, seeing no way of escape, fell upon his knees.
"Now, you'll let the fire out the next time!" said the man striking at him vigorously with the stick. "Take that, you little whelp!"
The boy uttered a squeal of pain as the stick cut his thigh. He clasped his hands together in the air and his voice shook with fright.
"O, pa!" he cried. "Don't beat me, pa! And I'll . . . I'll say a Hail Mary for you. . . . I'll say a Hail Mary for you, pa, if you don't beat me. . . . I'll say a Hail Mary. . . . "
Activities
Describe Eveline's home life.
How does she expect her new life to be different?
Is Buenos Aires a symbol?
List specific references to dust. What is the significance of the dust image?
What is Eveline's father like? Compare him to Mansfield's late colonel or to O'Casey's Capt. Boyle.
What was her mother like? What happened to her? Does Eveline identify with her mother in any way?
What do you think her mother meant by her repeating "the end of pleasure is pain"?
What does her father mean when he tells her, "I know these sailor chaps"? What possible reasons would he have for trying to break up her romance with Frank?
What type of person is Frank? What does she actually know about him?
Has Eveline romanticized Frank in any way? Is her father's objection to him perhaps justified?
What is Eveline's duty to her father? What promise did she make to her dying mother?
What is her duty to herself? Does she really believe she has "a right to happiness"? Why or why not?
How does Eveline feel about leaving her brother, Harry?
In what ways is Eveline "like a helpless animal"? What is she afraid of?
Why do you think her eyes give Frank "no sign of love or farewell or recognition"?
Do you think Eveline made the right decision? Why or why not?
Read the notes on the musical allusion to "The Lass that Loves a Sailor" as well as the lyrics to the song. Then discuss how it contributes to a contrast between Frank and Eveline's father.
In an essay of 1,000 to 1,500 words, give a feminist interpretation of the story.
Study Questions
What are some connotations of the word "Araby"?
Give a few examples of how the narrator distances himself from the boy he once was.
What is the main meaning of the word in the last sentence? In what sense was the protagonist "driven and derided by vanity"?
In a brief essay, discuss how religious imagery relates to the theme.
Discuss the motif of initiation or innocence to experience in the story.
Resources
Listen to John McCormack's "I'll Sing Thee Songs of Araby" or read the lyrics of "I'll Sing Thee Songs of Araby." It's possible that this song inspired "Araby," which refers to an actual fair that took place in Dublin in May 1894. To learn more, see Music in the Works of James Joyce.
Study Questions
Comment on the thematic significance of paragraph 1, "…this channel of poverty and inaction" and of "cheer of the gratefully oppressed."
Describe Jimmy's education. Why is his father secretly proud of his excesses?
Why is Jimmy taken with Ségouin?
In what is Jimmy about to invest? Does this seem to be a good investment? Why or why not?
How does Ségouin diffuse the heated discussion of politics? What does this say about him?
What meaning do you take from the line "he would lose, of course"?
What is Routh's nationality, and why is it significant to the theme?
Study Questions
What is the narrative point of view in the story?
In the office scene, what is the narrator's attitude toward Farrington? How does he refer to him? List some descriptions used.
Is there any difference between the descriptions and references to Farrington in the office scene and in the bar scenes?
Describe the atmosphere of the office.
Describe Mr. Alleyne.
Describe Farrington. What is his response after the arm-wrestling loss? What is his attitude to the chief clerk? The pub keeper (curate)?
The story breaks naturally into three main scenes. List them.
Describe the atmosphere of Farrington's home.
Is Tom's beating inevitable? That is, are you surprised when Farrington lashes out at him? If not, why not?
What is the significance of the title? Look up "counterpart" in a good dictionary.
Is it significant that Alleyne is from Northern Ireland, Weathers is from England, and the divided family is from Southern Ireland?
The protagonist Farrington beats his young son Tom (see last paragraph of story). Write a 600-word essay on what causes the beating. Try to find at least two or three major causes. If you decide that one of the causes of the beating is excessive alcohol consumption, be sure to make the logical link to violence. Otherwise, you might commit a post hoc ergo propter hoc fallacy, which occurs when the writer substitutes a mere correlation for the cause. An example: "Let's not invite Tom to our next picnic. Whenever he has attended our picnics, it has rained; whenever he was absent, it was sunny."
In an essay of 1,500 to 2,000 words, discuss "After the Race" and "Counterparts" as stories dealing with imperialism. Incidentally, the first chapter ("Telemachus") of Joyce's Ulysses also relates to the theme of colonialism: pay particular attention to Stephen's words to the English visitor Haines: "I am the servant of two masters…an English and an Italian." Identify these two masters and how they touch upon the colonialism topic. Also Joyce, in his portrait of the poor old milkwoman in the same chapter, alludes to Cathleen ni Houlihan, a traditional symbol of Ireland herself: she serves Mulligan and the Englishman Haines, "Her conqueror [Haines] and her gay betrayer [Mulligan]."
Additional Resources
Ulysses
Text Attributions
Biography: James Joyce's Life by the James Joyce Centre. Adapted by James Sexton. Used with permission.
"Eveline" by James Joyce is free of known copyright restrictions in Canada.
"Araby" by James Joyce is free of known copyright restrictions in Canada.
"After the Race" by James Joyce is free of known copyright restrictions in Canada.
"Counterparts" by James Joyce is free of known copyright restrictions in Canada.
---